If you were in a car crash then it is very important to speak to a Manhattan car accident lawyer who can help you obtain fair compensation for your damages. You may be wondering whether or not the insurance company will cover your car repairs, medical bills, and recovering compensation due to lost wages. Our attorneys at Cellino Law can help you get started with the process with our initial free consultation. So no matter how severe your motor vehicle accident was, we can answer any concerns or questions you may have and an experienced accident lawyer can give you advice.
We have Manhattan personal injury lawyers who are prepared to defend your right as an accident victim. Our personal injury law firm will work hard to ensure that you receive maximum compensation as one of our clients. We will make sure we are there for you at this difficult time when you really need us. Our success, knowledge, and proficiency are why we have earned the reputation of being one of New York's most experienced injury law firms.
If you have been in a car crash, Call Cellino! There is a very good chance that you are under a great deal of stress. We want to take your stress away and allow you to completely focus on healing and your recovery as we work on your case for you. You can speak to us any day in the week and at any time of day. Also, you won't need to worry about making any payments since we are only paid after you win. If you were injured due to being involved in a Manhattan car accident, speak to one of our legal representatives so we can get the process started to help you receive the compensation that you deserve.

How Are Car Accidents Reported In New York?
Under New York state law, drivers are required to inform the proper authorities of a car accident, particularly when an accident led to the death or injury of another individual. The first person who should file a police report of a Manhattan car accident should be the driver at fault or another driver who was involved in the accident. Some auto accidents cause property damage. When that happens, the at-fault driver should report the accident regardless of whether or not the other driver is present. Drivers are only able to make an accident damage report when the amount of damage exceeds $1,000.
Drivers in Manhattan, NY, state have up to a maximum of ten days following an accident to complete their written report. Although there are no specifications made by the law about accident reports, if a driver was injured as a result of the accident, a majority of personal injury professionals recommend that a written accident report be filed by the driver as soon as they physically can do it.
Most Dangerous Intersections In Manhattan
According to the United States Department of Transportation, intersections are some of the most dangerous places for drivers, as they're the site of 50% of traffic-related injuries and 25% of deaths. Unfortunately, the cross streets of Manhattan are representative of this issue. When driving in this borough, be especially careful at the following intersections.
West 34th Street and 8th Avenue
Boasting several eateries, West 34th Street and 8th Avenue is a busy hub. Heavy foot traffic can make an intersection more dangerous, as motorists must pay attention to more factors. To keep yourself safe, eliminate distractions such as phones.
East 34th Street and 2nd Avenue
The intersection of East 34th Street and 2nd Avenue is close to several playgrounds and the NY 17, combining the dangers of high foot and vehicle traffic. Knowing the area can minimize hazards, so plan your route before heading down busy streets.
East 125th Street and 2nd Avenue
New York is infamous for its traffic jams, so give yourself plenty of time to reach your destination. Doing so reduces the pressure to rush, saving you from accidents in busy intersections, such as East 125th Street and 2nd Avenue.
1st Avenue and East 96th Street
Highway exits can cause high traffic and confusion among motorists, especially if there are many signs directing vehicles. At intersections near highways, such as 1st Avenue and East 96th Street, pay extra attention to traffic signs and don't be afraid to take things a little slower.
The Bowery and Kenmare Street
The Bowery and Kenmare Street intersection boasts many great restaurants, making it busy during certain times of the day. When navigating this kind of cross street, drive defensively to avoid motorists running red lights or failing to yield the right of way.
Collision Statistics for Manhattan
Manhattan streets and roadways are full of traffic every day. Unfortunately, collisions happen daily also. Car crashes can injure or kill drivers, passengers, pedestrians and cyclists. Those injured can face mounting medical expenses and long recovery times. Liable insurance companies don't always pay claims willingly, but Cellino Law can help.
Manhattan Collision Statistics for 2022
To give you an idea of how motor vehicle collisions affect people in Manhattan, consider these Manhattan crash facts for 2022:
Total collisions: 16,826
Total collisions with injuries or fatalities: 6,020
Total fatalities: 36
Total injuries: 7,420

Of those injured, there were:
2,482 drivers
1,936 passengers
1,393 cyclists
1,609 pedestrians

The months with the highest total number of collisions were June (1,596), May (1,547), and September (1,486). Months that included the most collisions producing injuries or fatalities were May (595), June (574), and October (555). The yearly average of total crashes was 1,402 per month, with the average number of collisions producing injuries or fatalities being 502.
As you can see, over one-third of the accidents in Manhattan in 2022 caused bodily harm. The injured likely needed medical treatments, and the families of those who lost their lives wanted justice.
An Experienced Manhattan Car Accident Lawyer Can Help
Filing an insurance claim for your damages often doesn't end with the insurer paying reasonable compensation. These companies may deny your claim or make lowball settlement offers. Many people don't realize you don't have to accept unfair treatment from insurance carriers.
Those injured and the survivors of the deceased deserve fair financial compensation for their losses. An attorney can help you to recover damages through personal injury or wrongful death claims, including:
Medical expenses, lost wages and property damage
Funeral expenses
Pain and suffering
Loss of support
What Are The Most Common Reasons For Auto Accidents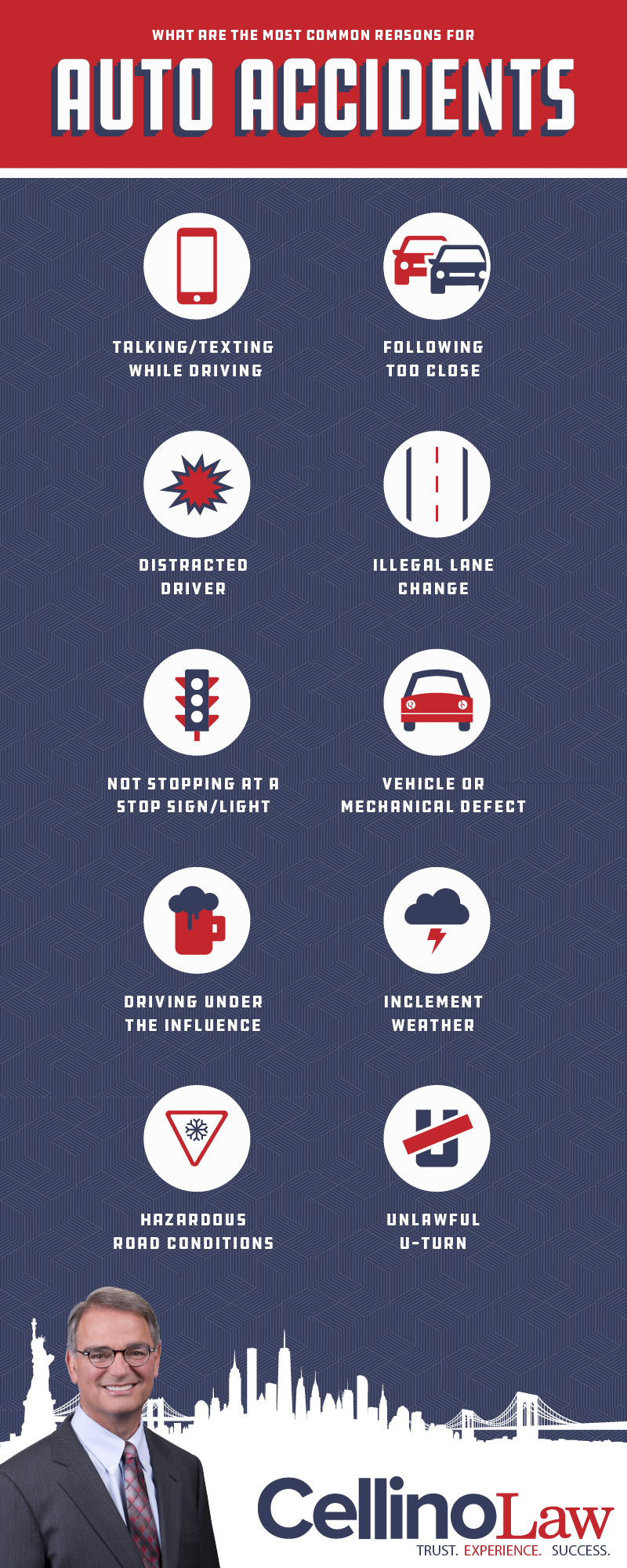 The New York state government offers compensation to drivers for personal injuries they have sustained in an auto accident. However, for an injured driver to be eligible for personal injury compensation, the driver must file a report that details the kind of car accident they were in such as one of the following:
Talking/texting while driving
Following too close
Distracted driver
Illegal lane change
Not stopping at a stop sign/light
Vehicle or mechanical defect
Driving while under the influence of medication and/or alcohol
Inclement weather
Hazardous road conditions
Driving over the posted speed limit
An unlawful U-turn
Some drivers may be at fault for an auto accident due to being negligent while driving the car. You should call a Manhattan personal injury lawyer. An experienced attorney can help you understand how your own negligence might have contributed to the auto accident.
It can be very challenging and nerve-wracking to drive on Manhattan's highways and roads due to the very high number of accidents that take place each year in the area. Drivers frequently become impatient and frustrated while driving and experience road rage.
Those emotions can result in impulse decisions being made that may cause a driver to make a poor decision that can result in an accident. Also, with the increased number of 'stop and go' signs on the roads in Manhattan, there also is a higher risk of accidents taking place on those roads.
When you call Cellino Law Firm, you can talk to one of our experienced Manhattan car accident lawyers. They will evaluate your claim and provide you with all the support that you need in order to collect the maximum compensation possible.
What Are Some Of The More Common Personal Injuries That Are Caused By Car Accidents?
There is a good chance that you are not fully aware of how awful car accidents really can be. Injuries that arise from those kinds of accidents include truck accidents, failure to yield or stop, rental cars, accidents that occur in parking lots, young drivers, pedestrians, motorcycles, side-swipes, head-on collision, rear-end accidents, hit and runs, roll-overs, and other kinds of vehicles on the road.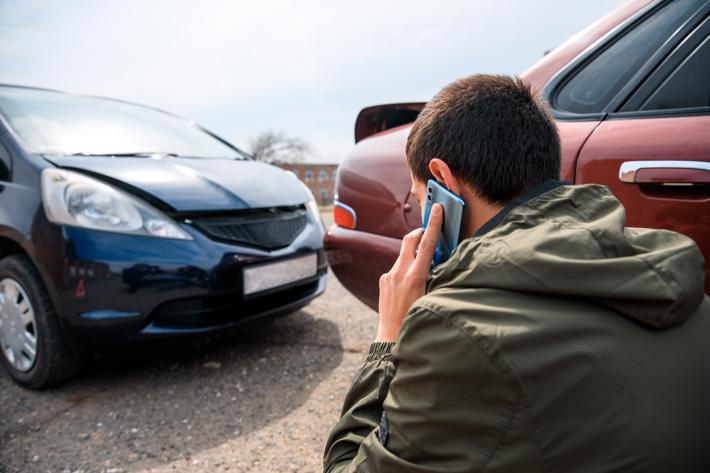 According to New York state laws, drivers who are in car crashes can qualify for compensation for their loss of wages and medical bills no matter who was at fault for the accident. This also stands for Manhattan car accidents. When you hire a personal injury lawyer, you can be confident that your attorney will take all of the actions necessary to ensure you receive the compensation that you deserve and need for your pain and suffering and injuries that were caused by the auto accident.
Under New York State law, a serious, personal injury can be defined as being one or more of:
Extreme physical disfigurement or loss of limb
Permanent limitation of using an organ or body part
Permanent loss of using a body function, body system, organ, or body part
Extreme limitation in using a body system or body function
Bone fracture
Death
Any physical ailment where you are affected for at least three months following an accident
How Much Does It Cost To Hire A Car Accident Attorney In Manhattan?
Cellino Law Firm does not charge any upfront fees after you decide to hire our skilled personal injury attorney to take care of your personal injury case for you. That makes our legal services very affordable for anybody who is injured in an auto accident since typically car accident victims have high medical expenses. That means we will not ask you to pay for anything until we have helped you obtain the compensation that you need and deserve.
Our Manhattan car accident lawyers work on a contingency-fee-basis. That means we cover all of our expenses while handling your case. The fees that we receive will depend on us successfully getting fair compensation for you.
This fee structure also means we have an incentive to win your case since we pay all of the expenses which include court costs and filing the paperwork. However, after we recover your compensation, our expenses and fees will be deducted from the total amount that you have been awarded.
The contingency-fee structure is also a good reason for you to hire us to represent you in your personal injury lawsuit. We decide which car accident cases to work on based on their merit. So that means if we think there is even a small chance that we can win your car accident case, we will make the decision to take it on.
The process starts when we offer you our no-risk consultation. During your free consultation, we will ask questions to help us better understand what happened on the day that your accident occurred. Once the initial consultation is complete, you can make the decision to hire us.
What Kind Of Compensation Can I Receive After I Am In A Car Accident?
Compensation for a personal injury claim caused by a car accident typically involves payments for losses. Those include both non-economic and economic losses. In certain personal injury cases, victims will get punitive damages also due to the misconduct or negligence of another driver.
Generally, economic compensation gives direct repayments to a victim for any loss they have sustained as a result of being in an accident. They can include the following:
Loss of income
Vehicle and other types of property damage
Current and potential future loss of being able to earn a living
Current and estimated future medical expenses caused by the accident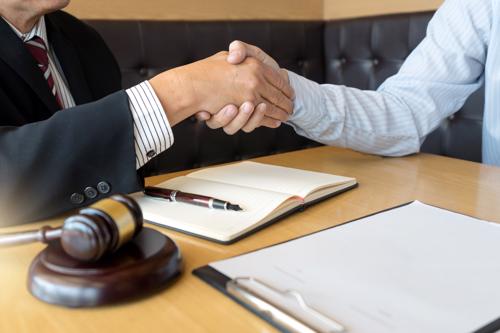 Section 5102 of New York's State Insurance Law states that victims are entitled to receive non-economic payment only if they have suffered from a "serious" injury. If you suffered any of the following you will receive compensation for your non-economic losses:
Loss of limb
Extreme limitation in using or the functioning of a body organ or body system
Loss of function of a body organ or body system
Bone fracture
Loss of an infant in utero
Suffering a physical disfigurement
As previously mentioned, in addition to the compensation for non-economic and economic loss, you can possibly receive compensation as a form of punitive damages if the defendant's negligent actions or misconduct resulted in a fatality. Typically those kinds of damages are multiplied a couple of times over that amount you will receive for compensation damages only.
How Can An Attorney Help Prove My Car Accident Claim?
The best thing to do is call a Manhattan car accident attorney just as soon as possible following an accident since according to state law car accident claims need to be filed within a certain period of time.
So the answer to this question is yes. New York does have a time limitation for filing a car accident claim. Your claim should be filed against a defendant within one week after the accident took place. The statute of limitations, as with car accidents, is critical in many kinds of lawsuits.



Accident victims have a time frame of three years from the precise date that the accident occurred to file their lawsuit against a defendant. However, be aware, that if the defendant of your lawsuit happens to be a government agency, then you have just 90 days to file your lawsuit.
What that said, time is definitely of the essence. It is very important to contact an experienced and skilled personal injury car accident lawyer as soon as you possibly can. Your attorney will ensure your case remains within the statute of limitations guidelines to improve the chances that you win your case.
Another important thing to remember is that these kinds of cases do not get resolved overnight. It may take a very long time to resolve this type of case due to how complex a personal injury case can be. Car accident attorneys will need to conduct several different investigations. This includes examining your medical bills and property damage.
Your lawyer also will need time to talk to medical authority in order to fully understand the extent of your car accident injuries and interview witnesses of your accident. Your attorney will need to have a team of various professionals to replicate your accident scene to fully understand what took place. Your lawyer will also need to have enough time to get all of the court orders that are necessary to obtain certain evidence including items such as cell phone records and receipts.
What Are The Most Common Kinds OF Car Accidents?
The following are some of the most common kinds of car accidents:
Accidents form failing to yield or stop
Head-on accidents
Side-swiping
Rollover accidents
Accidents that involve rental vehicles, trucks, motorcycles, or other types of vehicles
Accidents that occur in parking lots
Rear-end accidents
Young drivers
Hit and runs
Although you might be at fault for your accident, you still might be able to obtain compensation for your loss of income and medical bills. That is why it is very important to work only with experienced car accident attorneys who specialize in personal injury claims. Those attorneys know how to employ certain strategies at trial to ensure you receive the most money for your car accident injuries. Cellino Law Firm is ready to help you if you are ever in this kind of situation.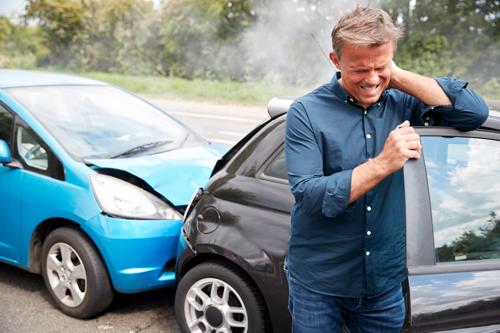 An auto accident may result in serious injuries that may cause permanent losses of an organ or body part, limitations with body systems, organs, and functions, disfigurement, multiple bone fractures, or death. Severe injuries might also include physical impairments that turn into life-threatening conditions within a three-month period following an accident.
That is the main reason why you should call a car accident lawyer right away. The sooner you make the decision to hire a lawyer, the higher your chances will be that you receive the compensation that you deserve since your attorney will have more time for collecting all of the necessary evidence that they need to prove that the defendant is at fault for your accident.
Is There Any Information That You Should Collect Following An Accident?
When you are still at the accident scene, you should try to gather the following information if you can physically do it:
The car accident location
The responding police officer's badge number, name, and police division or precinct
Every driver's name, phone number, address, insurance information, current registration information, and driver's license number.
The kind of car (year, make, model) and license tag of all of the cars that were involved in your accident
What Should I Do If I Was Injured In A Car Accident And The Other Driver Was At Fault?
Accident victims commonly ask this question after they have been in a car accident. The first thing you should do is contact the police and file an accident report. You should also report the accident to your insurer.
New York state has no-fault insurance law. That means your insurance company is liable whether or not you are at fault. In addition to your insurer, you might also decide that you want to seek compensation from the defendant's insurance company. That is particularly true if you were left with disfigurement, permanent injuries or scarring by the accident or a loved one lost their life.
Your lawyer will file a lawsuit on your behalf. Your chances will be increased to receive compensation if you hire a person with experience and legal knowledge to represent you. If you make the decision not to hire an attorney, then expect that the insurance company will attempt to offer you a very low amount of compensation.
What If The Other Drive Does Not Have Insurance Or Left The Accident?
If you were in a hit and run accident, it can be hard to collect all of the information that you need. However, you can still obtain compensation for whatever injuries you suffered as a result of the accident. The insurer will try settling for a low amount of compensation. Never try negotiating with an insurer by yourself. Let Cellino Law Firm do the negotiations with the insurance company for you to ensure you get a fair amount of compensation.
Will I Need To Go To Trial For A Car Accident Claim?
Lawyers usually prefer settling these kinds of cases out of court if possible. They attempt to reach a deal so that it isn't necessary for a plaintiff to file a court case. If the insurer rejects all fair claims, however, then the case might need to go to court.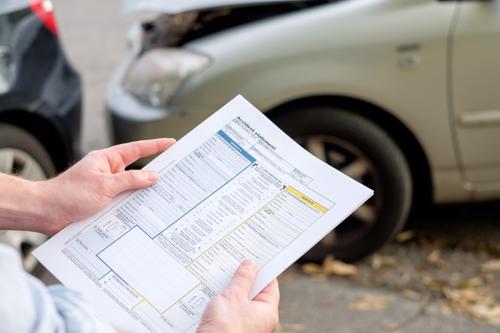 Cellino Law Firm always makes sure to take the necessary time to review the whole incident thoroughly. That allows our car accident attorneys to determine what a fair amount of compensation is for your case. We will negotiate with the defendant's lawyers for a fair settlement. So it won't take a long time for the case to be dismissed. However, if their attorneys do not wish to settle, we will continue to fight to ensure you receive the compensation that you deserve.
How Long Do I Have To File An Injury Claim For A Car Accident In NY?
It is critical to keep that statute of limitations of New York state in mind any time you are in an auto accident. Whether you are the defendant or the plaintiff does not matter. Either way, your case needs to be filed by a specific time.
Under normal conditions, you will have up to three years from the date that your accident occurred to get a personal injury claim filed. However, the best thing to do is hire a lawyer immediately following your accident.
Manhattan car accident lawyers must go through a number of investigations, interviews, and checks to fight for you and win your case. This all takes time. That is why you don't want to hesitate and hire a lawyer right away.
Should I Talk To The Other Driver After The Accident?
No matter who was at fault, you should never speak to the other driver. Do not talk to them about the claim or the accident. Even if you think you are guilty and caused the accident, you should never apologize to the other driver. When you apologize that means you have accepted fault for the accident.
Just check to ensure that any occupants and the other driver are not injured. However, do not discuss the accident. That can easily backfire and could cost you winning your claim.
Receive Your Free Consultation Today! Call A Manhattan Car Accident Lawyer At Cellino Law
If you were involved in a car accident and you were not at fault, then you need help from a car accident attorney. We have a team of legal representatives ready to assist you. Our Manhattan personal injury firm will provide you with a free initial consultation so we can provide you with legal advice for your car accident case. You will also have the chance to ask any questions you might have and receive answers from our highly trained attorneys regarding your car accident and learn about the options that are available to you. You can speak to an attorney in confidence about the car accident.
Speak to the experienced Manhattan car accident lawyers at Cellino Law so that we can start working on your case. Our car accident attorneys are skilled and experienced and can help you obtain the compensation that you deserve for your injuries and car damages. We are here to help you. Call us today to schedule your free consultation.
Mark Kochanowicz is from far the best attorney you can have. Mark treats you like a friend more than a client. He truly cares and go the extra mile for you and your case, contacts you to update you in regards to your case and keep you informed at all times. Mark represented me twice and settled my cases for way more than I expected. I highly recommend Mark Kochanowicz because he is just the best on what he does!!! Thank you Mark!!!!

Maria

Thank you for all your help. It has been a long journey. At last, the light at the end of the tunnel. Also, thank Tom for the help and work he put in.

Ron

This is to express our gratitude to you and your team in helping us and Stephanie navigate through the legal process following her car accident. We are very satisfied with the outcome and grateful for your hard work and attention to details. We fell confident that with this compensation, Stephanie will be able to move forward with her studies and her life with the ability to care for some of her health needs resulting from the injuries sustained following her car accident. Thank you very much and may God continue to bless your efforts.

Jose & Rose

This letter is to thank Ms. Diane D'Andrea, assistant to Mr. George Gridelli, Attny for all the hard work, dedication, and attentiveness she showed during the representation of my case. She was always cheerful and ready to help in whatever way she could. All messages left for Mr. Gridelli were always relayed and Mr. Gridelli always promptly returned our calls. She was a very competent assistant. Cellino Law has proven to be a model of what legal representation should be. Throughout the 6 ½ years of this case, I have heard many horror stories from people with "bad lawyer stories." We consider ourselves to be very lucky to have chosen Cellino Law and will always recommend you to those looking for good, honest representation with a personal touch.

Joseph

I am writing this letter to say how much I appreciate your services pertaining to my case. Your injury attorney took a hands-on approach and left me fully informed at all times as to where my case was going as well as how much ground we had to cover; leaving the final decisions in my hands but making sure that I knew all of the risks involved in the choices. I have dealt with a few law firms in my life on various different cases and this is the first time that I never had to call and/or track down my lawyer… because of this, I have and will continue to recommend Cellino Law to my friends and associates.

Denise

Now that reality has set in, I want to thank you for all your work and assistance in obtaining my settlement for the pelvic mesh. This money will make my life so much easier in the future. Medicare just isn't sufficient. I know that I will have enough to live on. I truly appreciate of your efforts. Thank you!

Loraine