Many people don't really understand workers' compensation insurance issues. That is a shame because it often leads to workers who are entitled to compensation not getting what they deserve or are entitled to. There have been times of individuals signing away rights they had and not even knowing it, or a company trying to take advantage of them to settle for pennies on the dollar. This is unacceptable, and our New York workers compensation lawyers are here to help employees with their injury claims.
The truth is that workers' compensation insurance is there to cover employees who are injured. Whether this happens from accidents with or without negligence, general dangers of a job, the insurance exists for a reason. If you work in a factory that handles hazardous chemicals and exposes you to potential injuries, you are covered. On the other hand, if you're working in a factory and the forklift driver isn't paying attention and bumps into your work station, injuring you, then you are entitled to compensation.
Whatever the reason, the injury, or the cause, if you are entitled to workers' compensation then it is your right to get medical bills covered, including those for recovery and rehabilitation, as well as replacement of lost wages. Our experienced New York injury attorneys at Cellino Law are passionate about helping workers make sure they get every penny of the compensation they are legally entitled to.
How Does Workers' Compensation Law Work in New York?
There are many regulations and rules that relate to workers' compensation. The Workers' Compensation Act is a major part of the act that involves all the laws relating to workers' compensation and the rights that workers have. This creates the insurance that is bought by employers to cover their workers with those legal protections. This covers accidents, mishaps, and other injuries in the workplace. This is meant to protect both the worker and the company so the worker gets the help he or she deserves while the company isn't bankrupted from gigantic medical bills.
You should never feel afraid to make a claim. This is a legal right that workers have and they can not be legally fired for exercising those rights. New York State law is very clear on that point. Financial compensation under the law protects you and your family. This is not just for medical bills and living expenses but also includes psychological recovery, as well.
What Injuries Qualify for Workers Comp in New York?
Unfortunately not every injury is going to qualify for compensation. New York State's laws are there to clarify which workplace injuries are covered and which are not. Believe it or not, there are certain situations where even a job-ending injury might not fall under protective legal guidelines.
Don't forget that these laws are here to protect both the employee and the employer. This means having rules in place that help make sure an employer isn't hurt by someone who fakes their injury or the severity of the injury. The guidelines outlined by these laws will help set the stage for what can be claimed and what can't.
So what's this mean for you? It underlines the importance of knowing how the liability laws for the state of New York work.
Liability Laws
Under these regulations and liability laws for the state, there are several important points to keep track of. One is that an employer can not shirk the responsibility of Workers' Compensation. They are actually required by law to have this coverage. This is to cover injury or accident while you are on the clock, doing something that was required of you by your employer for the job. The type of injury can be physical, it can be illness, it can be any type of disability resulting directly from what happened as a result of that accident.
There are steps that need to be taken to make sure any worker affected can collect compensation. one of the major ones is the requirement to give the employer written notice within 30 days of the injury with the intent to claim Workers Comp. This step is absolutely crucial! If a worker misses that window, the claim will almost certainly be tossed.
Employees do need witnesses, medical reports, and to be able to provide evidence. This is done to protect both employers and insurance companies from getting hamstrung by false claims. This does put a degree of burden of proof on the employee.
Does Workers' Compensation Cover Domestic Workers?
This is a good question. In many states, domestic workers don't qualify, but in New York, it depends on the hours worked. Workers like nannies, au pairs, babysitters, private chefs, and gardeners can often qualify for workers' compensation but if, and only if, they work 40 hours a week or more. If that is the case then an employer is required to cover them. If not, then they don't qualify to be employees covered under these laws.
What is the Average Workers' Compensation Settlement?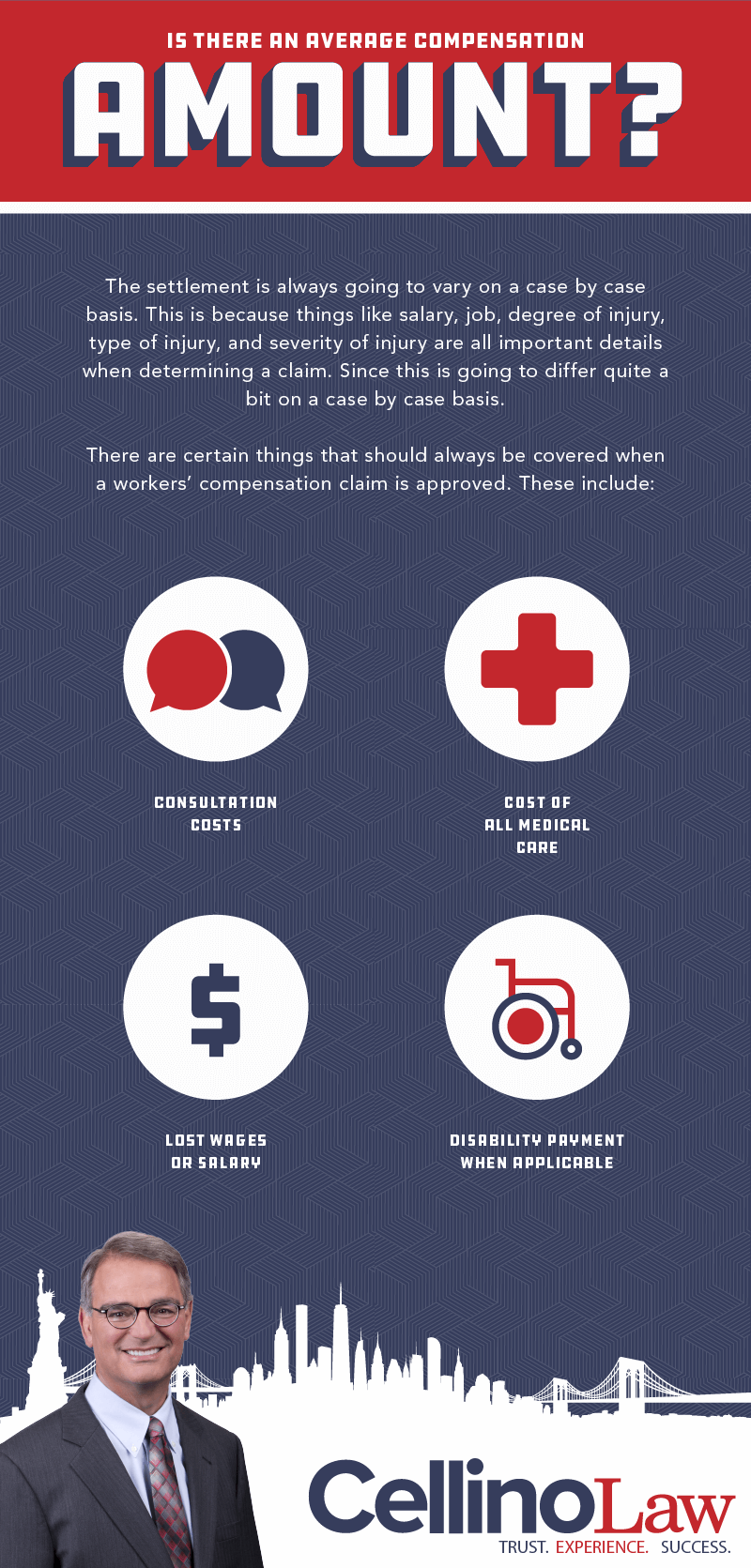 The settlement is always going to vary on a case by case basis. This is because things like salary, job, degree of injury, type of injury, and severity of injury are all important details when determining a claim. Since this is going to differ quite a bit on a case by case basis.
There are certain things that should always be covered when a workers' compensation claim is approved. These include:
Cost of all medical care
Consultation costs
Any upcoming or impending treatments for complications that arise due to injury
Any further tests needed relating to the original injury
Last wages or salary (bonuses not included)
Disability payment when applicable
What Benefits are Covered by Workers' Compensation?
Medical expenses and weekly wages are pretty standard compensation in many cases. On a case by case basis, the claims for workers' comp are overseen by the New York Workers' Compensation Board. This is where medical expenses, missed wages, and other expenses/compensation are discussed.
In some cases, there might be other benefits or compensation that are appropriate. This will vary on a case by case basis but this is the time when those discussions will take place. These can include cash benefits, medical benefits, Social Security benefits, death benefits, or anything that falls under supplemental benefits. Some of these are fairly extreme but unfortunately, when those situations come up individuals will need legal representation to make sure the injured worker, or surviving family members, are properly taken care of.
It's worth noting that cash benefits are usually a percentage of disability caused as well as 2/3 wages being the residual payment for as long as the worker is off work or a pre-set and predetermined time.
Whatever the injury or situation a workers' compensation claim needs to be filed. This is a crucial first step whether it's a minor injury sidelining a worker for a few weeks or a worker death. The report needs to be filed.
Workers' compensation is what needs to be discussed for any level of disability whether it is from physical injury or illness, partial disability or total disability. Whatever the situation, workers in New York need the type of workers compensation experience that Cellino Law Firm can offer.
Disability and Workers' Compensation
Partial disability refers to any situation where the worker due to illness or injury can't do the full array of physical work as a result of the injury. Sometimes this is because of a permanent physical or neurological injury. This could be due to the loss of a body part, a sense. Basically, if the injury prevents them from coming back to the job with the full ability they had prior to the injury.
Sometimes this prevents someone from doing that job, or they have to shift to another job within the company. Considerations include if the new lighter jobs mean lower wages or less of a ceiling. These are issues that can shift compensation since your future earnings were affected.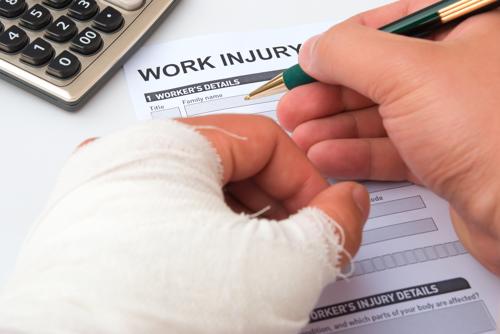 Total disability is what it sounds like. This is when the injury in question means that a person can no longer do their previous job, period. This could be due to nerve damage, sickness, broken bones that can only heal so well, or any of another wide array of reasons. If the affected worker can't get back to work, then that must go into consideration with what the proper compensation package would be.
Can Workers' Compensation Affect Job Security?
In New York the answer is clear, at least from a legal standpoint: no, your job shouldn't be affected. If somehow it is then there are legal ramifications for sure. One of the protections afforded to legitimately injured workers is that their job should be protected. You should not be able to lose your job because of injury.
Part of the point of Workers' Compensation is taking enough of the burden that a business isn't hamstrung by an injury and they can do right by the injured worker. While no system is perfect, the rules and regulations are created to attempt to make that fair balance that helps to take care of all parties involved and alleviate the pressure that might otherwise be there.
What to do if You're Fired After Filing a Workers' Compensation Claim
There are multiple legal rights that workers have they need to be aware of. Sometimes despite what the rules state there can be some struggles, disagreements, and arguments between employee and employer. If a worker does get fired, then under the Medical & Family Leave Act the worker has a right to three months (12 weeks) of unpaid leave if that worker is suffering from severe injury or illness. There are paid leave benefits a worker is entitled to for recovery. Under the act, there are certain rules that allow for legally claiming the right to that job back.
Claiming workers' compensation is not an acceptable reason for a worker to be fired by an employer. There are protections for this in addition to additional compensation or possible legal action if this takes place anyway. An employer can't reveal past workers comp claims or ask a potential employee if they've ever been on workers comp. So in other words, it should not affect the long-term employment options that a worker has available.
Overview of the Workers' Compensation Claims Process
This is a scenario that unfortunately happens all too often. While the type of injury and the way in which it occurs from case to case can be different, we'll walk through this for an example of how filing a workers' compensation claim goes. The fictitious character of John Doe will represent the average injured employee:
John Doe is at work when a machine malfunction injures John forces him to go to the hospital. John makes sure his supervisor knows about the injury right away. This is crucial since later John might be forced to give evidence of his injury, and the proper notification to a supervisor or eye witness accounts of co-workers will matter.
With that important detail taken care of, the immediate concern is getting proper treatment for the injury. This should always be the first priority. However, once healthy enough from the injury to be out of the hospital John puts an official notification in writing for his employer informing them of the details of the accident. John Doe makes sure to make copies of all these documents.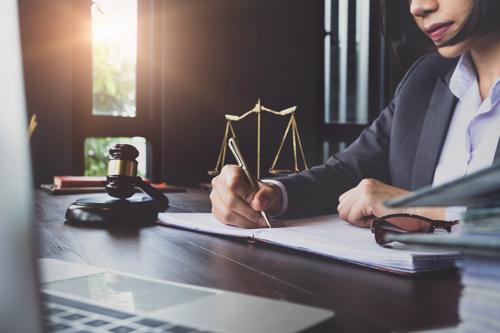 This is done as quickly as possible, and John specifically goes for filling out a Form C-3 since that is the form that needs to be filled out and sent to the Workers' Compensation District Office. At this point, the employer then needs to file forms with their insurance provider as well as with the committee. Insurance needs to respond, and if things go smoothly then within about 40 to 50 days John should start receiving benefits.
Having a good workers comp attorney on your side, like those from Cellino Firm, can sometimes help smooth out the process. Especially if someone along the way attempts to throw a wrench into it.
While John Doe is recovering from his injury, and any illnesses or additional injuries that take place as a result of this injury, the Board will expect a report from a therapist or doctor every 45 days. This report talks about the injury, the damage, and what progress is being made towards recovery or how a more long-term timeline is needed. Assuming that John doesn't recover within 12 weeks then the insurance provider will consider other options for treatment or rehabilitation if it is applicable. Residual benefits will start paying out at this point.
While a very severe injury may mean that John isn't happy, he should be able to get as much time as he needs with the financial and medical support needed to keep him moving in the right direction. Under New York law, his job needs to be there for him once he has fully recovered and can return to work.
Contact a New York Workers Compensation Lawyer With Cellino Law Today!
If you need legal representation to help you through the often complicated workers' comp process then give our injury firm in New York a call. This process can be extremely stressful. Having our skilled and experienced lawyers on your side can help see you through this process. We'll stress so you don't have to, and we'll fight to make sure you get the legal compensation and protection that you deserve!
Thank you for your help in settling the case of my father's accident. I could always count on you to answer my questions honestly and in terms I could understand. If all lawyers at Cellino Law are like you, I understand why they are an A-1 law firm.

Bedner

I want to thank your law firm for settling my lawsuit where others failed. You treated me with the utmost respect and care, because of your law firm the dream of owning my own home finally came true. For the first time in a long time, we're living out our dream home. Thank you a million times over. Thank you for making my dream come true.

Marcy

We want to send a big "Thank you" from the both of us. We know you both fought for us and did a great job with our case. You did it in a timely manner and we appreciate it.

Kerrijo & Jerry

Cellino Law is an amazing firm with a great team. I worked with Greg Pajak and his assistant, Tracey Falconer. I cannot express enough how dedicated they are. The personal attention I received was excellent; they were always available to help with questions and concerns and put me at ease in the unknown territory I found myself in. I highly recommend them to anyone needing representation. A huge thank you to them for all they accomplished for me!

Liane

It was a great pleasure working with you on my lawsuit. You certainly gave 150% of your time and interest in settling my case and for that, I am extremely grateful. Therefore, I want to thank you very much for helping me win my settlement and wish you the very best.

Linda

Thank you for all your help. It has been a long journey. At last, the light at the end of the tunnel. Also, thank Tom for the help and work he put in.

Ron