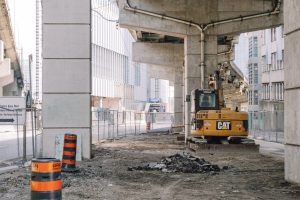 You probably know that in most cases you can get workers' compensation benefits if you sustain injuries while you're at work. Do you know what is considered an on-the-job injury? Are you aware that you may potentially have a personal injury claim as well?
Cellino Law understands that many accidents have complexities that may confuse the average person. We can assess your accident for free and tell you what kind of case(s) you have.
What Is an On-the-Job Injury?
The answer to that question includes the location where you sustain an injury, the category it falls into, and the circumstances surrounding it.
Work Environment
First, you need to understand what a work environment is. The Occupational Safety and Health Administration definition is "the establishment and other locations where one or more employees are working or are present as a condition of their employment. The work environment includes not only physical locations, but also the equipment or materials used by the employee during the course of his or her work."
Work environments differ. For delivery people, their work environment includes a vehicle, the goods' place of origin, and the destination. Retail workers' are stores. Some people go to different sites during a workday; for instance, caterers or florists may create items in one location and deliver or set up in another.
Types of On-the-Job Injuries
Qualifying workplace injuries typically fall into three categories. If you have a pre-existing condition and it worsens because of a workplace accident or other qualifying injury, you may still be able to receive workers' comp benefits. Ask your workers' compensation attorney from Cellino Law for clarification.
Physical Injury
Some sort of physical injury is the most common:
Broken bones
Muscle sprains or strains
Bruises
Cuts
Twisted ankles
Back injuries
These usually happen in one of three ways:
A general workplace accident: you might trip over loose cords and fall.
Someone else injures you: a coworker accidentally hits you, for example.
Your work duties cause an accident: for instance, lifting heavy or awkward objects can hurt your back.
Repetitive Stress Injury
Some job duties require you to perform the same movements repeatedly. Lifting, twisting, and typing are examples. Over time, your body can rebel. You can experience back issues, knee problems, and carpal tunnel syndrome as a result.
Occupational Illness
You can contract certain illnesses in your workplace that qualify as on-the-job injuries. Hospital staff may become infected due to exposure to ill patients. You can develop COPD or asthma if your work environment includes fumes or dust.
Illnesses such as a common cold or stomach bug usually don't qualify.
Circumstances
Even if you're injured at your workplace, it may not qualify as an on-the-job injury in some cases. Some of these exceptions are:
You're there on your own time doing personal tasks and not doing anything work-related. You might have left your workout clothes in your office and gone back to retrieve them, for example.
You're present as a member of the general public rather than an employee. For instance, you may be shopping at the retail store where you work.
You voluntarily participate in a fitness, medical, or recreational activity.
Your accident happens while you're preparing or consuming a drink or food (in most cases.)
You intentionally hurt yourself.
Mental illness (unless a qualified professional stated that it is work-related).
You experience a non-work-related exposure or event outside the workplace that causes an injury or illness that begins to surface while you're at work.
Your injury or illness results from a car accident while commuting.
If you're not sure your injury or illness qualifies, contact Cellino Law.
Can You File a Personal Injury Suit for an On-the-Job Injury?
Most personal injury cases are based on negligence. If your workplace accident and injury results from negligence, you might qualify to pursue a personal injury claim. Some examples of employer negligence are:
Unrepaired structural damage like loose handrails or stair treads
Failure to provide safety equipment
Poorly maintained tools or equipment
Incomplete training
Dim lighting
Loose electrical cords, especially in a walkway
Lack of appropriate supervision
To prove negligence, the employer must have known — or should have known — about an issue yet failed to do anything about it. You'll need proof showing when they found out about the hazard and finding it can be tricky.
Your attorney from Cellino Law knows what kinds of evidence to look for and how to find it. Further, we have the resources to perform an in-depth investigation to substantiate your claim.
Workers' comp benefits can help you, but you'll likely get more compensation if your injury or illness qualifies you to file a personal injury claim.
What Compensation Can You Get Through a Personal Injury Claim?
If you can file a personal injury claim, you may be eligible to recover compensation for different types of damages. Your attorney from Cellino Law can tell you which damages you might receive and what your case is worth.
Economic Damages
Your injury or illness will likely cost you money. Economic damages reimburse you for directly related expenses, including:
Medical treatments, rehabilitation, therapy, medications, medical equipment, and transportation to and from medical appointments
Lost wages due to the time you lose from work
Costs associated with hiring a caregiver
Certain daily expenses
Property damage
Because you'll be reimbursed for specific amounts, you'll need to keep all bills and receipts. Your attorney will use these as proof for your claim.
Non-Economic Damages
On-the-job illnesses and injuries can affect your life in ways that aren't financial, and you deserve compensation for these things too:
Mental, emotional, and physical pain and suffering
PTSD
Anxiety and depression
Losing your ability to enjoy life
Permanent disfigurement or disability
Personal relationship damage
Punitive Damages
Not all personal injury claims qualify for punitive damages. The negligent party must act with deliberate maliciousness or recklessness. Punitive damages aren't awarded to compensate victims. Instead, they are imposed to further punish the offender.
How Can an Attorney Help You?
When you're injured on the job, you might not know what options are available to recover compensation. When you hire Cellino Law, we'll advise you of your options and help you decide which to pursue. We will also:
Investigate your accident or the cause of your illness
Gather evidence that supports your claim
Prepare and submit paperwork
Speak to insurance companies and investigators on your behalf
Negotiate a favorable settlement
Take your case to trial if necessary
Cellino Law is a big firm with extensive resources, but we give each client personal attention and respect. We'll be there beside you during each step of your claim process.
Do You Need Competent Legal Assistance?
The attorneys at Cellino Law have been assisting injured New Yorkers with accident claims and lawsuits for more than 60 years. If you suffered injuries on-the-job, we can help you too. We'll provide information, guidance, and legal advice, and take care of your claim for you so you can focus on recovering from your injury.
You can contact Cellino Law 24/7 to request your free case review. Remember, you won't pay us any upfront fees. In fact, you won't pay us unless you win. Call us at (800) 555-5555 or submit our contact form today so we can get started working for you.
Thank you for your time, effort, and hard work on my case. I appreciate your expertise and compassion. I never experienced what I went through and I would have been completely lost without you.

Martha

I want to thank your law firm for settling my lawsuit where others failed. You treated me with the utmost respect and care, because of your law firm the dream of owning my own home finally came true. For the first time in a long time, we're living out our dream home. Thank you a million times over. Thank you for making my dream come true.

Marcy

Choosing the right attorney to represent you after an accident can make all the difference. This is no cliche. I recently experienced these words to live by first hand. After a tractor trailer rear ended me at high speed in 2017 I retained Allan Silverstein to handle my case. I quickly realized that bringing a lawsuit rapidly snowballs into a mountain of details that can make or break your results. Documents, case histories, doctor visits, bills, and lots of phone calls all need to be accurately kept track of if a successful outcome it to be attained. To complicate matters I reside in New York and the incident took place in New Jersey. Luckily, Allan was licensed in multiple states. I was fortunate to find Allan to handle this matter from the New York area. Armed with an accurate account of the facts Allan went to work on the difficult job of negotiating with the defending insurance company as well as my no fault carrier in order to obtain the best possible outcome for my set of circumstances. In a lawsuit communication is key and and events can be of a timely nature. Allan never failed to return my calls - usually the same day! He fought skillfully and respectfully to get me the best possible settlement. He is easy to deal with and a likeable down to earth guy. He always listened with compassion and respect to my issues. He guided me with objective understanding as well as a realistic analysis of the merits of my case. When we finally settled Allan got me a fair agreement beyond my expectations and negotiated with my doctors to make sure all my bills were paid. It was a great experience having Allan represent me. Quality work in any aspect of life is hard to find. Quality is what I got with Allan Silverstein. I highly recommend him if you find yourself in need of a personal injury attorney.

Theodore

I can only say great things about my attorney Allan Silverstein. He is professional, he calls back right away, he keeps me informed, and makes me feel comfortable as this entire ordeal is stressful. I have total confidence in his ability to handle whatever comes his way. He is no nonsense and very good at his job. Thank you Allan... he is a true asset to the team!

Mrs Steward

It was a great pleasure working with you on my lawsuit. You certainly gave 150% of your time and interest in settling my case and for that, I am extremely grateful. Therefore, I want to thank you very much for helping me win my settlement and wish you the very best.

Linda

Cellino Law and more specifically my attorney, Gregory V. Pajak, Managing Attorney, and as a whole the Cellino Law Firm and its organization. This is by far one of the most professional law firms and attorney I have ever engaged with and retained in my 35 years. The level of professionalism goes beyond words, the care and constant engagement with me as the client was touching. I was never ever just treated as simply a CASE with potentially a significant dollar number attached to my file. I was engaged regularly, Tracey (Ass't) and Greg always made sure to remain constant, as well as consistent in overseeing that my case was handled properly and that it did matter in many ways - ensuring that the end result(s) would be fair and reasonable to my case/injury. The regular follow-up calls were very satisfying, knowing that you're involved in your case matters significantly AND always. One of my main items to recognize Cellino Law and Gregory is that whenever I called, I was able to get through to speak directly to my Lawyer and he would answer any if not all of my questions in a very professional and genuinely caring manner. I always felt cared for and protected legally and more importantly, I was made feel as a human being that was being cared for and always keeping me abreast of all matters connected to the case. There was never a point I felt let down, on the contrary -the level of service was "STELLAR". Greg is the consummate professional, a 'role model', if you will, for what other attorneys should strive to become when dealing with their clients.

Anthony