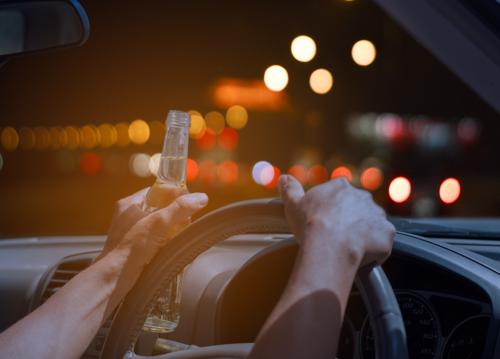 A drunk driver can change a person's life in a matter of seconds. After suffering a car accident caused by a drunk driver, a person can be left with life-changing injuries or worse. In fact, in 2018, 307 people lost their lives due to drunk driving accidents in New York alone. To put it another way, every 52 minutes, a person is killed in a crash caused by a drunk driver in the US.
For a person impaired by alcohol to get behind the wheel and attempt to drive a motor vehicle in New York constitutes a gross form of negligence. To add insult to injury, the drunk driver may hire a lawyer in an effort to lessen his or her accountability for the accident. This highlights the need for the victims of drunk driving accidents to have an experienced law firm in New York protecting their rights for fair compensation.
The personal injury lawyers at Cellino Law, serving all of New York including Staten Island, have successfully won over 2 billion dollars for our clients. Our team of experienced and compassionate attorneys are here for you every step of the way from your initial case evaluation to when your case closes. If a drunk driver caused you to be injured, or you have lost a loved one in a drunk driving accident, call us at (800) 555-5555 to speak with a personal injury attorney today.
What Constitutes Drunk Driving in New York State?
In New York State, when a driver has a blood alcohol content (BAC) level of 0.08 or higher, he or she is considered to be driving under the influence (DUI). However, if it is a commercial vehicle, then the offense starts at level 0.04. Or if the driver is less than 21 years old, then the determining BAC level is 0.02.
The BAC level is measured by a breathalyzer or blood test taken by a police officer.
In New York, if the BAC level is lower than the legal limit, the officer can still make an arrest if there are clear signs of a DUI. Some of these include weaving while driving, smelling alcohol on the breath, watery eyes, droopy eyelids, and slurred speech.
Drunk driving is a criminal act
Drunk driving is a serious crime that puts lives at risk. The offense could be a misdemeanor or a felony, resulting in several forms of punishment by the State of New York. These can include costly fines, revocation of driver's license, and even imprisonment. New York's "zero tolerance law" allows drunk drivers under the age of 21 to be penalized.
If a DUI accident causes the death of another person, the punishment is severe. When this happens in New York, the drunk driver can face criminal charges for first-degree, second-degree, aggravated vehicular manslaughter, or even vehicular homicide.
Leandra's Law (Child Passenger Protection Act)
This law was created as a result of a tragedy. Eleven-year-old Leandra Rosado was killed while riding in the car with the mother of her friend, who was driving while intoxicated and lost control. After this sad incident, the State of New York made changes to the law.
Under this law, anyone driving a vehicle while intoxicated with a passenger under the age of 16 can face up to 4 years in prison. And, if the child has suffered a serious injury, then the punishment may be up to 15 years in prison. If the child is killed, though, the punishment may be up to 25 years in prison.
Common Injuries From Accidents Involving a Drunk Driver
Car accidents, in general, can result in injuries. However, when it comes to a DUI accident, the injuries can be catastrophic. This is because a drunk driver has his or her senses dulled, which results in driving at high speeds, running red lights and stop signs, and failing to brake.
Drunk driving accident victims can suffer life-changing or even fatal injuries. Common injuries can include the following:
Whiplash
When a person's head moves back and forth with great force, this is known as whiplash. This type of injury is usually caused by rear-end collisions, which are common in a drunk driving crash. Whiplash can cause tissue damage, vertebral fractures, and herniated cervical discs. Most people recover quickly. Others, however, may suffer long-lasting complications.
Skin injuries
Drunk driving car accidents frequently leave victims with cuts, lacerations, and burns. These injuries can range from mild to severe. Victims may experience pain and be left permanently scarred or disfigured.
Traumatic brain injury (TBI)
There are various types of traumatic brain injuries. Some types of brain injuries occur within the skull, while others are external, in which the skull has broken open. These include concussion and hemorrhage, which both require immediate medical attention as potentially life-threatening conditions.
Spinal cord injury (SCI)
Since the spinal cord is how the brain sends messages to control various functions of the body, any degree of SCI is cause for concern. Injuries to the spinal cord can range from mild to severe. A weakening of the muscles, loss of motion, and even paralysis can result. In some cases, the paralysis is irreversible.
Loss of limbs
Due to the force of the impact in an accident, limbs can get trapped, crushed, or shattered, perhaps leading to amputation. The loss of a limb is definitely a devastating, life-changing event that impact the victim's ability to perform day-to-day functions or work
Broken bones
Victims of drunk driving accidents can suffer fractures to bones internally and externally. Broken bones in the arms, shoulders, legs, ribs, and pelvic area are common after a car accident. Although it may not be life-threatening, a fracture or break can be very painful, may require surgery, and could take a while to heal.
Internal injuries
Damage to organs such as the kidneys, liver, spleen, heart, and lungs can also occur in drunk driving accidents. Bones could be broken from the impact and puncture a vital organ. Internal bleeding can occur in various areas of the body, which can be life-threatening.
Psychological injuries
In addition to suffering physical injuries, victims of accidents from drunk drivers often suffer emotional and mental trauma as well. Post-traumatic stress disorder (PTSD), anxiety, mood swings, loss of appetite, and depression are common. Professional therapy is often needed in order to return to a normal daily life.
Sadly, far too often, an intoxicated driver causes the death of an innocent victim. The loss of a loved one can cause an incredible amount of pain and suffering to a family. But when that loss occurs unexpectedly, and due to someone else's negligence, the trauma may be compounded.
The law in New York stipulates that all drivers in New York must carry auto insurance. This includes uninsured and underinsured motorist coverage of an equal amount as the driver's liability coverage, and Personal Injury Protection (PIP) or No-Fault coverage.
This means that when it comes to accidents in New York, insurance companies may cover some related damages regardless of who was at fault. Therefore, the victims of an uninsured drunk driver can receive some compensation from insurance companies under this provision.
How Can a Drunk Driving Accident Attorney Help Victims Of a Drunk Driver?
Although a drunk driver may be facing criminal charges, the victim or their family can recover compensation for damages by means of a claim or civil lawsuit. This is especially crucial if damages exceed the limit covered by the driver's insurance company. Nevertheless, getting compensation from a drunk driver can be difficult when he or she hires an attorney.
What's more, New York DUI laws can be complicated to navigate without the help of an auto accident attorney that has experience in drunk driving cases. There may be other third parties liable for personal injuries as well, which further complicates matters.
All of the above highlights the need for drunk driving accident victims to consult experienced drunk driving accident lawyers, like Cellino Law serving all of New York, to assist with pursuing compensation for loss and damages.
Dram Shop Laws
New York is one of several states that has established what is known as "dram shop law." Under this law, any alcohol vendor (bar, restaurant, hotel, etc.) could be found liable for damages if it serves alcohol to a person who is visibly intoxicated or under the age of 21, if that person causes serious injuries to another.
Types of Compensation a Lawyer Can Help Pursue
It only makes sense for the person or establishment who carelessly caused a personal injury to innocent victims to pay compensation for their losses and recovery.
Compensation can be used to help cover:
Present and future medical bills
Present and future lost wages
Pain and suffering
Emotional distress
Loss of enjoyment of life
Compensation for wrongful death
Victims of New York drunk driving accidents should be compensated and receive punitive damages for their losses. Those who hire a lawyer to assist with their claim will fare better than the ones who do not, and the specific lawyer who is chosen will have a direct impact on the outcome of the claim.
At Cellino Law, you will have access to lawyers who are experienced in several practice areas and know how to handle personal injury litigation in the right way. Our trustworthy team of personal injury attorneys have successfully recovered billions of dollars in compensatory and punitive damages for our clients.
You too can get valuable legal assistance from a personal injury lawyer with our law firm. Our accident attorneys are available 24/7 to offer injury victims a free consultation. Call (800) 555-5555 to speak with a member of our personal injury team.
I can only say great things about my attorney Allan Silverstein. He is professional, he calls back right away, he keeps me informed, and makes me feel comfortable as this entire ordeal is stressful. I have total confidence in his ability to handle whatever comes his way. He is no nonsense and very good at his job. Thank you Allan... he is a true asset to the team!

Mrs Steward

This is to express our gratitude to you and your team in helping us and Stephanie navigate through the legal process following her car accident. We are very satisfied with the outcome and grateful for your hard work and attention to details. We fell confident that with this compensation, Stephanie will be able to move forward with her studies and her life with the ability to care for some of her health needs resulting from the injuries sustained following her car accident. Thank you very much and may God continue to bless your efforts.

Jose & Rose

Thank you for your efforts on my behalf. I am very pleased (and surprised) at the amount of the settlement. We will use the funds to help pay down the debt on the truck we had to purchase after ours was totaled. Thank you again.

Linda

I highly recommend Cellino Law to anyone involved in a car crash. I worked with Michael Lovecchio, and had a wonderful experience given the circumstances. He was very attentive, and got the best possible outcome I could have wanted.

Susan

We'd like to thank you for all the assistance and time you spent on our case. Your professionalism and honesty will always be appreciated. The staff was always courteous and we were always impressed with your accountability. Your passion and dedication will never be forgotten, nor will you.

Sarah

Now that reality has set in, I want to thank you for all your work and assistance in obtaining my settlement for the pelvic mesh. This money will make my life so much easier in the future. Medicare just isn't sufficient. I know that I will have enough to live on. I truly appreciate of your efforts. Thank you!

Loraine