CAR CRASH? CALL CELLINO
If you or a loved one have suffered a personal injury in Buffalo, you'll need a skilled personal injury attorney by your side. At Cellino Law Accident Attorneys, our Buffalo, NY injury attorneys have decades of hard-fought experience to help ensure you receive the compensation you're entitled to after an accident.
AVAILABLE 24/7
NO UPFRONT FEES
FREE CASE EVALUATION
NO FEES UNLESS WE WIN!
CHOOSE CELLINO LAW FOR YOUR BUFFALO, NY PERSONAL INJURY CASE
If you have suffered an injury of any kind in Buffalo, NY, Cellino Law is ready to help you get the compensation you deserve. Our firm provides professional legal counsel and delivers exceptional results. We are available 24 hours a day, 7 days a week to answer your questions and help you through the process of filing your injury claim. Contact our office today to schedule a free case evaluation with one of our personal injury attorneys. Get the representation you need and deserve, all while paying nothing unless we win your case!
Personal injury lawyers specialize in a specific type of law called tort law. Tort law is the legal system used to handle personal injury claims. If a person is injured in a car accident, hurt on a construction site, the victim of product liability, dog bites, or sustained an injury in any other way in which another person, or entity is at fault or negligent, it is legally considered a personal injury. Victims of personal injury in Buffalo, New York are allowed to seek compensation for their losses by filing a personal injury lawsuit or claim.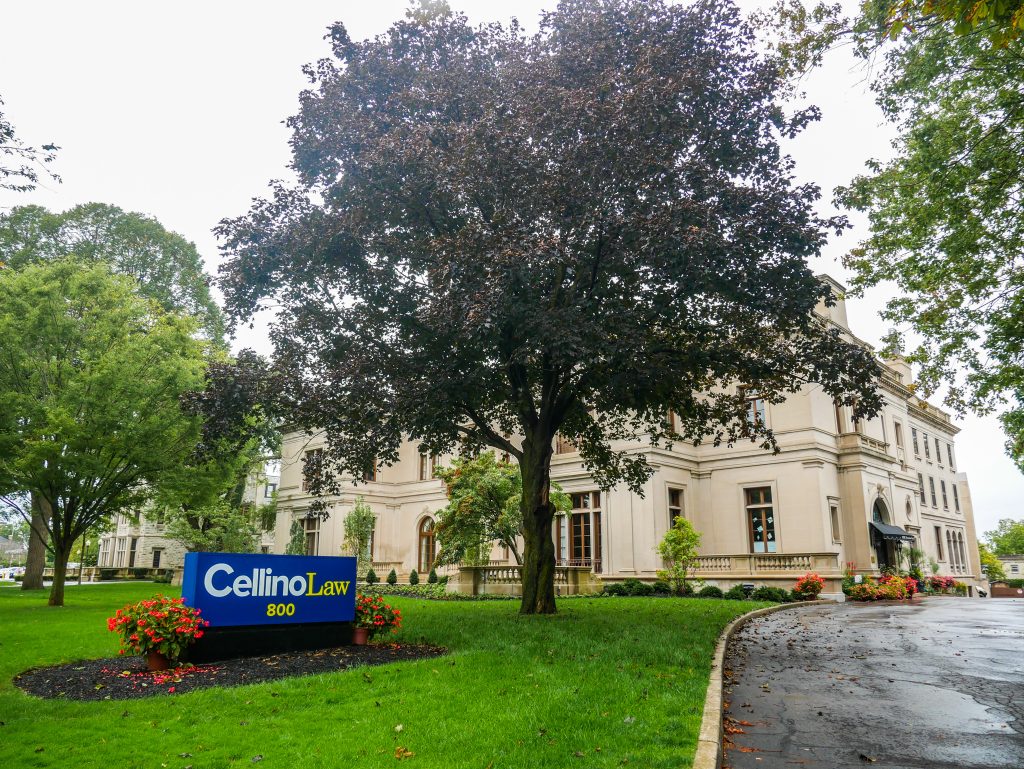 BUFFALO, NY PRACTICE AREAS
Buffalo, NY Personal Injury Lawyers Help Accident Victims
While it is possible to pursue compensation in Buffalo without a personal injury attorney, it is not recommended. Having an experienced law firm on your side greatly increases the odds of a successful outcome.
A Buffalo personal injury attorney can help clients determine if they have a case worth pursuing from the outset, saving valuable time and resources. Not all injuries or scenarios meet the definition required for a personal injury case. A lawyer can discuss the specifics of your case and give knowledgeable legal advice on how best to proceed.
When a Buffalo law firm agrees to take your case the attorneys will represent you in all legal matters pertaining to your claim. The law firm will send demand letters, prepare pleadings, and file all necessary paperwork in compliance with the statute of limitations that applies. Along with legal representation, Buffalo personal injury attorneys also help clients in the following ways.
Investigate and Gather Evidence
In order to successfully prove your claim, Buffalo personal injury lawyers must present evidence proving that the victim was injured due to the negligence or fault of the other party. Evidence to establish liability is critical to personal injury cases and may include:
Police reports
Witness testimony
Photographic evidence
Medical reports
Expert testimony
Along with liability, evidence of damages must also be gathered to justify and support the amount of the personal injury claim. Our personal injury attorneys in Buffalo, NY often gather the following as evidence of damages:
Medical bills
Ambulance bills
Costs of rehabilitation, physical therapy
Wheelchairs, walkers, crutches
Surgery expenses
Medication and prescription costs
Employment records
Negotiate With Insurance Companies
Insurance companies are often involved in personal injury claims in Western New York and throughout the city. An insurance company is motivated to settle for the least amount of money they possibly can, even if the amount is less than the victim deserves. Personal injury lawyers protect victims from these low-ball offers from the insurance company by negotiating a settlement that is in the best interest of their client. Insurance companies want to avoid the expense of going to court, while at the same time, minimizing their liability. Experienced Buffalo personal injury lawyers are not intimidated by insurance adjusters and aren't afraid to take a case to court if it is in their client's best interest.
Represent Clients In Court
If a fair settlement cannot be reached by negotiation, Buffalo personal injury attorneys will represent their client in court. Experienced personal injury attorneys are well-versed in all aspects of personal injury law and will ensure that all court procedures and customs are followed. In court, law firms present all the evidence pertaining to liability and damage amounts in order to secure a fair settlement for the victim.
At Cellino Law, we offer a free consultation to accident victims in the Buffalo, NY area to discuss the merits of their case, whether it's a slip and fall injury, motor vehicle accidents, or a tragic case of wrongful death. Cellino Law has the experience necessary to successfully litigate all personal injury practice areas. Take the first step to getting the justice you deserve by calling Cellino Law at (716) 714-0464.
Common Personal Injury Law Practice Areas
Any instance where a person is injured due to the neglect or carelessness of another person is a case of personal injury. It is critical that accident victims hire a personal injury lawyer with the knowledge required to successfully pursue their claim. Most personal injury claims fall under these common areas:
Motor Vehicle Accidents in Buffalo, NY
Car accidents, truck accidents and motorcycle accidents are all too common in the Buffalo-Niagara Falls metropolitan area. Every two months, on average, 3 Niagara county residents die from injuries received in a motor vehicle accident, 19 residents are hospitalized, and 297 are treated in Emergency Departments throughout the Buffalo area. Personal injuries resulting from these accidents cost $4.8 million dollars in hospitalization charges and $2.8 million dollars in Emergency Department bills.
Traumatic Brain Injuries (TBI) are common in car and truck accidents, with the risks of TBI increasing in motorcycle accidents. However, proper use of seatbelts and helmets help to greatly decrease the risk of head injuries.
If you or a loved one have sustained injuries from a motor vehicle accident, injury lawyers in Buffalo and nearby cities are available to help. Cellino Law is a personal injury law firm with a team of experienced attorneys dedicated to helping accident victims recover damages. With a total of over 2 billion dollars won for their clients, Cellino Law has the expertise necessary to help victims receive compensation for their personal injuries. Contact Cellino Law for a free, no risk consultation to discuss your case.
Liability Medical Malpractice in Buffalo, NY
Medical Malpractice occurs when a healthcare professional is negligent, unskilled or improper in their treatment of a patient, and the improper treatment causes injuries. Due to the complexity of medical malpractice cases, a lawyer is needed to help victims and their families recover damages. A personal injury lawyer is particularly important if the medical malpractice resulted in a wrongful death.
Common Causes of Medical Malpractice:
Anesthesia errors
Misdiagnosis
Surgical errors
Wrong medication/dosage mistakes
Missing informed consent
Lack of pre or post-operative care
Infections
Childbirth errors
Our team of attorneys in Buffalo and throughout New York can help victims of medical malpractice receive compensation for their injuries. There are specific rules involved in medical malpractice cases in New York, one such rule is the statute of limitations which determines the filing deadline attorneys must meet to have the case considered. Other rules include the discovery rule, statute of limitations for minor children, shared fault or comparative negligence rule and the requirement for a "Certificate of Merit" when filing a personal injury lawsuit. As you can see, a medical malpractice case requires an attorney with a thorough knowledge of the laws governing medical malpractice injuries.
Cellino Law is an established Buffalo personal injury law firm with an excellent track record of fighting for medical malpractice accident victims. Your rights as a patient deserve to be protected and defended. No one deserves to be mistreated by a medical professional. Cellino Law helps victims hold the medical establishment responsible for their negligent actions. Cellino Law is available 24 hours a day 7 days a week by calling (716) 714-0464.
Buffalo, NY Slip and Fall Premises Liability Lawyers
A slip and fall accident is often more than just embarrassing, it can cause serious injury. New York property owners are required by law to ensure that their premises are safe, even if it is a construction site. If a premises isn't safe, and a person gets injured, they may be held responsible for damages under premises liability laws.
Injuries that commonly occur in a slip and fall accident include broken bones, traumatic brain injuries, spinal cord injuries, cuts, and contusions. A personal injury lawyer with experience in slip and fall injury accidents can help victims hold business owners accountable for unsafe conditions on their premises.
Proving negligence is critical in slip and fall personal injury cases. An injury attorney can help you prove if there was negligence and that it was directly responsible for your injuries. Dangerous conditions that can lead to a slip and fall accident include:
Curled floor mats
Exposed cables and cords
Liquid spills, water, milk, engine oil
Inadequately spaced stairs
Uneven walking paths, parking lots, sidewalks
Dim lighting
Snow and ice
Other hazards
Contact a Buffalo area attorney as soon as possible after you have been injured to increase your odds of a successful settlement. Often a business will negotiate with attorneys for a fair settlement rather than risk going to court. The Buffalo personal injury attorneys at Cellino Law have the experience necessary to successfully negotiate your slip and fall case. Call Cellino Law at (800)555-5555 to arrange for a free case review.
Nursing Home Abuse Lawyer In Buffalo, New York
When a loved one can no longer care for themselves at home, sometimes the difficult decision is made to place family members in a care facility. Families trust that the care center and its employees will be competent, professional and kind. When that trust is broken and nursing home abuse occurs, it can be devastating to everyone involved.
Signs of Nursing Home Abuse and Neglect
Residents in nursing homes are often unable to report if abuse is happening to them due to declining health, Alzheimers, fear of retribution or a desire to not cause trouble. It is critical that family members know the signs of abuse and know where to turn for help.
Signs Of Physical Abuse
Broken bones
Bruises
Welts
Broken glasses
Withdrawal from social activities
Unexplained fear, startles easily
Signs of Neglect
Uncleanliness, soiled diapers, dirty clothes, unwashed hair
Weight loss that is unexplained
Bed sores
Dehydration
Untreated illnesses
Injuries left untreated
Unclean room
Being ignored by staff
Signs of Emotional Abuse
Behavior change with no obvious cause
Depression
Anxiety
Fear of being alone
Regression, rocking back and forth, sucking thumb etc.
If you suspect a loved one is being abused or neglected in a nursing home, contact the appropriate authorities immediately and secure the safety of your family member. Once safety has been secured, contact our personal injury law firm in Buffalo, NY. Cellino Law is available 24 hours, 7 days a week. Call (716) 714-0464.
Buffalo, New York Personal Injury Claims Attorneys
Damages awarded to victims of personal injury are separated into two main categories; economic and non-economic damages. Punitive damages may also be awarded by a judge for actions by the at-fault party that are particularly egregious.
Compensation For Economic Damages May Include:
Medical Bills
Hospital Bills
Surgical Expenses
Ambulance Costs
Medication Expenses
Lost Wages and Future Lost Wages
Rehabilitation fees, physical therapy, skilled nursing etc.
Compensation for Non-Economic Damages May Include:
Pain and Suffering
Disability or Disfigurement
Loss of Enjoyment of Life
Mental Anguish
In the tragic case of wrongful death, families are allowed to recover specific damages, including:
Funeral and Burial Expenses
Loss of Victim's Earnings
Medical Bills
Loss of Benefits
Survivor Pain and Suffering
Loss of Love and Companionship
Loss of Consortium From Lost Spouse
Cellino Law is a New York law firm with extensive expertise and experience in personal injury law. Whether you have been injured in a car accident, suffered a dog bite or been injured by product liability, Cellino Law is dedicated to helping you receive the compensation you deserve. With a proven track record of millions of dollars in successful settlements, Cellino Law puts their clients best interest first.
What is Buffalo, NY Best Known For?
There are many notable accomplishments in both Buffalo's history and current achievements that enrich the city's reputation in the minds of its visitors and residents. (We will address some of these in a moment.)
However, there is one factor that, regardless of a person's interest, is unmistakably noticeable to inhabitants and tourists who visit the city in winter: snow.
The snow in Buffalo, NY
Consider this: The average amount of snow throughout the US is 28 inches. On the other hand, Buffalo has an average of 85 inches per year. At the end of the 2021-2022 snow season, Buffalo won both the National Golden Snow Globe contest and the New York Golden Snowball contest.
For that award-winning season, the snow total was 96 inches. Even Anchorage, Alaska, came in behind Buffalo. In most years, Buffalo ranks near or at the top in the amount of snow accumulated in medium-to-large cities in the US.
The first snowfall can occur as early as October while the last usually falls in April. A white blanket of flakes can result from a regular storm, a Nor'easter, or lake effect snow. Regardless of job, age, or reason for being in the city, a person in Buffalo, NY, during winter will very likely have his or her life affected by snow.
Buffalo – the "City of Light"
When you hear the nicknames "The Windy City," "Sin City," and "Mile High City," you may name Chicago, Las Vegas, and Denver. The list of city nicknames in the US is long and diverse. Usually, we can quickly see the relationship between the nickname and city. Why, though, is Buffalo called the "City of Light"?
The reason is connected to something else Buffalo is known for specifically, its close proximity to Niagara Falls. In 1881, the Brush Electric Light Company of Buffalo built the city's first electric plant. Following the construction of the electric power plant, twelve carbon arc lights were installed over a distance of a mile on Ganson Street.
Having twelve streetlights on one street is insignificant by today's standard. However, in that era, Buffalo became known as the first US city to have "widespread" streetlight technology. In time, these streetlights would be powered by the electric plants generating electricity from Niagara Falls.
Today, many tourists who also want to visit Niagara Falls will stay in Buffalo, which is only about twenty miles away.
Football's Buffalo Bills
Football is a treasured American pastime. The City of Buffalo is home to a team called the Buffalo Bills. The team's name originates from the American soldier-turned-showman of the late 19th century, Buffalo Bill.
The Buffalo Bill's Wild West show drew spectators and loyal supporters in its heyday. In much the same way, football fans of the Buffalo Bills have a reputation for being intense defenders and advocates of their favorite team. During football season, it is common to see blue and red painted faces of men, women, and children adoring the Buffalo Bills throughout the city.
Is Buffalo, NY, a Nice City?
"The best-planned city…in the United States, if not the world," said Frederick Law Olmsted of Buffalo, New York. Of course, the renowned "father of landscape architecture" was referring primarily to the city's grid plan. Nonetheless, this is certainly something for the residents of Buffalo to be proud of as a part of their heritage.
Buffalo is a city with a diverse history. Nonetheless, it is not a city trapped in the past. Even now, it has many modern, relevant points of interest for both its permanent residents and visitors. The magazine "Travel + Leisure" ranked it as the seventh-best city in the United States for visitors to get acquainted with in 2021.
Considering these assessments from both the past and recent history, we can indeed say that Buffalo, NY is a nice place to live and visit. Let us explain a bit more about why we feel this way.
The neighborhoods of Buffalo
Buffalo's neighborhoods have changed considerably since the city was first incorporated in 1832. Back then, around 10,000 people lived in the city. Today, the population is nearly 280,000.
Buffalo is apportioned into five districts, each with some thirty-five neighborhoods. The city is also distinguished by an East Side and a West Side. Main Street separates the two areas of the city.
The Main Street area is also referred to as Downtown Buffalo and it is the oldest part of the city. According to some historians, portions of downtown Buffalo date back to 1798. Today, the region offers visitors everything from interesting historical architecture to performing arts, bars, restaurants, and shops.
Getting around in Buffalo
Whether a visitor or a resident of Buffalo, the need to travel throughout the city easily is an important factor. Thankfully, there are various hassle-free methods to get around Buffalo.
People primarily use public transportation and cars for longer travel within the city. However, for shorter distances, walking and bikes are popular and convenient. The small size of the downtown area makes walking particularly advantageous. Especially since finding parking can be a challenge.
Buses, a metro system, and car and bike sharing are all great options for commuters. The cost to use these services is average, compared to other cities in the US. The only notable frustration to getting around in Buffalo, is, at times, the weather.
Buffalo weather is pretty fair
The climate of Buffalo is temperate much of the year. There are months in winter that can be challenging, though. Summer can present a similar frustration but for the opposite reason. Put simply, it's hot and dry in July and August and cold and wet in January and February.
These temperatures can bring abundant sunshine or enchanting snow. Both can add to beautiful scenery, but they can also create hardships and dangers when traveling. Depending on the type of weather you prefer, it might be the factor that tests whether Buffalo is a "nice" city or not.
What is the Best Area to Live in Buffalo, NY?
Where you choose to live can affect your employment and educational opportunities, your safety and security, and your cost of living. With so many crucial factors on the line, making a good choice is essential. We hope the information we share today can help you determine the best living area for you in Buffalo, NY.
For many families, a good neighborhood has:
Low crime rates
Effective public schools
Low cost of living
Plentiful job opportunities
Things to do
No place is perfect, but the following areas tick a lot of boxes.
Parkside
Parkside offers many amenities for its 3,389 inhabitants. According to the Parkside Community Association, the neighborhood "is unmatched for its stable blend of social, safety, and affordability factors."
The best-known attractions are the Darwin Martin House Complex designed by Frank Lloyd Wright and the Buffalo Zoo. Families might also enjoy the regular local events offered, including scavenger hunts, movies in the park, and community clean-ups.
Architecture lovers can find the home of their dreams among the American Four Square, Victorian, Colonial Revival, Craftsman, and Arts & Craft bungalow styles.
Central Park
Central Park is one of the oldest neighborhoods in Buffalo. Located near Delaware Park, historical homes, bars, and parks give a unique old-new vibe to this locale. Most residents own their homes, but there is a strong rental market.
One other appeal of this area is its variety of transportation options. Metro Rail stations, buses, cyclist paths, and ride-sharing apps make it easy to travel around Central Park and to its surrounding suburbs.
North Buffalo
If you dream of living on a tree-lined road adorned by turn-of-the-century Victorian houses, North Buffalo might feel like home to you. On the other hand, if you prefer apartment living and industrial landscapes, North Buffalo seems to have something for everyone.
The neighborhood is particularly popular among young families, perhaps because of its proximity to downtown Buffalo. Yet, one of North Buffalo's strongest selling points is its culture. You will find art galleries, Little Italy, and a growing theater scene interspersed among the distinct districts comprising North Buffalo.
All of Buffalo's neighborhoods have their charm. Yet, its suburbs also have appealing characteristics.
Suburbs of Buffalo, NY
Suburbs are often smaller than cities. Residents of suburbs often live farther apart and on larger lots than in an urban area. For some, suburbs are more convenient and affordable than large cities.
Two Buffalo suburbs stand out for their winning attributes:
The top-ranked public schools and low crime rating of Williamsville make it appealing for children with families. Young professionals can find their place in its bustling business district. Local events include parades, garden walks, live music concerts, and a farmer's market boasting local fruits, vegetables, flowers, and artisan crafts.
Eggertsville is about a 15-minute drive from Buffalo. This quiet suburb has a population of about 15,000 and the distinction of being near the infamous Niagara Falls.
Which area do you think is best?
The Most Dangerous Intersections in Buffalo, NY
In 2020, over 7,500 traffic accidents occurred in Buffalo. According to the Federal Highway Administration (FHWA), more than 50 percent of fatal and injury crashes occur at or near intersections.
The 10 intersections listed below are among the most dangerous in Buffalo based on Erie County crash statistics:
East Ferry Street And Humboldt Parkway
State Highway 5 And Church Street
Broadway Street And Bailey Avenue
Bailey Avenue And Seneca Street
East Delavan Avenue And Bailey Avenue
Walden Avenue And Bailey Avenue
Genesee Street And Bailey Avenue
Clinton Street And Bailey Avenue
Sheridan Drive And Delaware Avenue
Sheridan Drive And North Forest Road
Why so dangerous?
Why do certain intersections seem more hazardous than others?
High traffic: The likelihood of accidents increases with the number of vehicles using the intersection at the same time
Limited visibility: Weather or lighting conditions can make it difficult for drivers to see
Inadequate signs or signals: Missing, malfunctioning, or confusing traffic signals or markings can distract drivers or contribute to poor decisions
Knowledge can reduce the danger
Understanding the best practices and traffic rules for crossroads could reduce your risk of a collision. Take intersections, for example. These are junctions where different streets join or cross each other.
Four common intersection styles include:
Three-leg (T): One road ends at a three-leg intersection, so vehicles must turn right or left
Four-leg: Two roads cross, usually at a right angle, allowing traffic to turn or continue straight
Multi-leg: Intersections with 5 or more legs, often created by diagonal streets
Roundabout: Circular intersections with a central island around which entering traffic yields to circulating traffic
Right-of-way
All drivers should yield to the driver who arrived first when you approach an intersection. Yet, even if you have the right-of-way, you cannot assume that all other drivers will wait their turn. Always make a complete stop and look both ways before crossing.
What if two motorists arrive at the same time? The driver turning left should yield to traffic moving straight or turning right.
Traffic lights
At some intersections, you have a green arrow that indicates when you can turn. If there is no indicator, you should wait for oncoming traffic to clear before turning left during a green light. Unless signs indicate otherwise, you can turn right on red after coming to a complete stop.
Pedestrians
Drivers must yield to pedestrians at marked or unmarked crosswalks. You must wait for crossing pedestrians and bicyclists before taking your turn.
Best practices for encountering intersections
Please remember these additional tips when you encounter intersections:
Signal your intention to turn with blinkers or hand signals
Reduce your speed when approaching an intersection
Yield the right-of-way to emergency vehicles, such as fire trucks, ambulances, and police cars
Watch for traffic heading toward you from the left or the lane you intend to cross
Practice judging the speed and distance of different vehicles, such as motorcycles and semi-trailers
Though many factors are out of a driver's control, negligent or reckless driving can turn any intersection into an accident scene. Be cautious and avoid unnecessary risks as you drive in Buffalo, New York. The legal team at Cellino Law wishes you safe travels.
LOCAL RESOURCES