Filing a lawsuit is the last thing on the mind of someone who just lost a loved one in New York. However, filing one is sometimes necessary, especially if the death of your loved one was due to the negligent actions of another person. Wrongful death lawsuits are, sometimes, the best way to find closure and to get compensated for your loss.
If you have wrongfully lost a loved one, we at Cellino Law encourage you to give us a call and speak to one of our caring and experienced Buffalo wrongful death lawyers as soon as you can. This is because wrongful death case deadlines are stricter than with other cases, and we'd like to ensure that you get the process underway as soon as possible.
From our Buffalo injury law firm, we represent families and individuals who've lost a loved one in all types of fatal accidents, including:
Trips, Slips, and falls
Motor vehicle accidents
Defective products
Dog attacks
Unsafe property conditions
What's Wrongful Death?
A death is considered wrongful if it was caused by another person's reckless or negligent act. Wrongful deaths are often caused by truck accidents, medical malpractice, nursing home neglect or abuse, construction accidents, or car accidents.
When it comes to wrongful death, the decedent's estate representative is allowed to file a wrongful death lawsuit against those responsible for his or her death.
In a wrongful death lawsuit, claims generally seek to cover the damages suffered by the deceased and his or her beneficiaries and heirs. In most cases, this includes:
The decedent's significant other
The decedent's offspring; and
The parents of a child considered a minor
If someone you held dear met their demise due the reckless or negligent actions of another person, give Cellino Law in Buffalo, New York a call by dialing (800) 555-5555 for a free, no-obligation consultation. Our lines are open 24-hours a day, seven days a week. We understand that you are going through a tough time, and that's why we have our attorneys come to you. It is also worth noting that we do not charge any fees until we've won the case for you.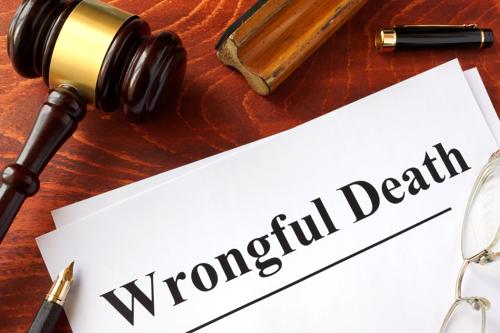 We understand how emotionally-challenging these cases are and treat you with the utmost care and concern. Seeing that this is a complicated process, our lawyers take their time to listen to your situation and do their best to explain the legal details of the process. As the go-to legal representatives in Buffalo, we truly are here to help you.
What Types of Wrongful-Death-Related Cases Do Lawyers Handle?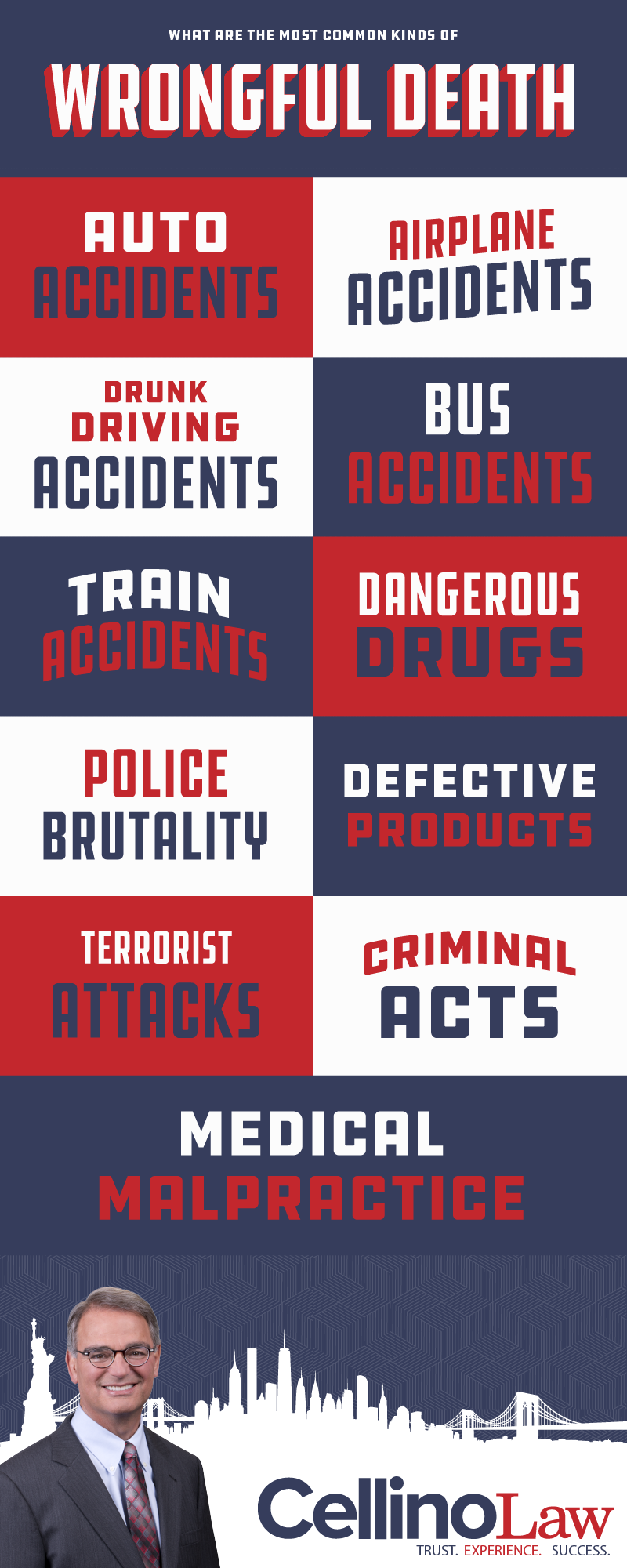 Claims can be based on a variety of circumstances in a wrongful death case. However, there are wrongful death cases that we handle quite often at Cellino Law, and they include:
Airplane accidents
Drunk driving accidents
Bus accidents
Train accidents
Medical malpractice
Dangerous drugs
Defective products
Criminal acts
Police brutality
Terrorist attacks
How Do You Prove A Wrongful Death Claim?
In most cases, in order to successfully establish a claim, you will have to prove that the responsible party's recklessness or negligence is what led to the untimely death of your loved one. Furthermore, you will have to prove that the defendant's recklessness or neglect was a contributing or direct cause of their death.
Negligence is defined as the failure to act or address a situation with the same level of care a reasonable individual would under similar circumstances. Recklessness, on the other hand, is defined as the conscious disregard of the risk of harming others.
Once you hire our law firm to represent you, we will build a case against the defendant by proving the following things happened:
The Responsible Party Owed a "Duty"
People accept responsibility for the likely consequences of their actions. This is called duty. This, therefore, means that everyone has the legal obligation to refrain from acts or actions that would harm others or the legal obligation to do things in a way that keeps others safe.
The Defendant Breached Their Legal Duty
In order to prove the death of an individual was wrongful, there has to be evidence showing that the defendant's actions were careless, reckless, or negligent, or that they did not act reasonably, as a reasonable and prudent individual would have.
For instance, anyone operating a vehicle owes the general duty of care by ensuring they operate their car the same way a reasonably-prudent individual would. To act like someone who's reasonably prudent means obeying the rules of the road.
As such, if anyone dies as a result of the perpetrator's wrongful act such as speeding, not paying attention to the road, following too closely, or any other reckless or negligent conduct, the plaintiff has an opportunity to prove that they, the defendant, breached their duty.
If the defendant's conduct, or lack of the same, was the proximate cause of your loved one's death, they will be held responsible for their death if their breach of duty to your loved one led to foreseeable fatal harm.
For instance, if someone dies because an anesthesiologist administered lethal doses of anesthesia, their loved ones reserve the right to file a wrongful death case against the anesthesiologist. This is because the anesthesiologist, who's the defendant, in this case, caused damages.
After the wrongful death of a loved one, family members can recover compensation for some of the following things:
Medical and Hospital expenses for services prior to death
Loss of the decedent's expected earnings
Loss of companionship
Loss of consortium
Funeral costs
How Do Buffalo Wrongful Death Lawyers Help With Claims?
When handling claims related to wrongful death, we typically retain the services of economic experts for a professional financial analysis of your case. Losses here can include lost wages and potential earnings. The cost of lost care and counseling are also analyzed. The financial analysis of a case is one of the most crucial parts of the claim, and if done right, could lead to the ideal results for our clients.
The personal injury lawyers at Cellino Law are top-rated attorneys when it comes to wrongful death claims. If you are looking for professional, New York State-based wrongful death lawyers, then consider giving us a call. Even though we are located near Buffalo, we handle wrongful death cases all over the state of New York. So, if you are ever in need of a wrongful death attorney in New York, just remember Cellino Law has got your back.
Who Can File a Wrongful Death Case in Buffalo?
In New York, state laws require that the personal representative (i.e., administrator or executor) of the decedent's estate file the claim. The County Surrogate's Court appoints the deceased's representative of the estate. If the decedent left a will, the executor he or she named in their will is the one to do so. If there isn't one, the Surrogate's Court judge will appoint an Administrator.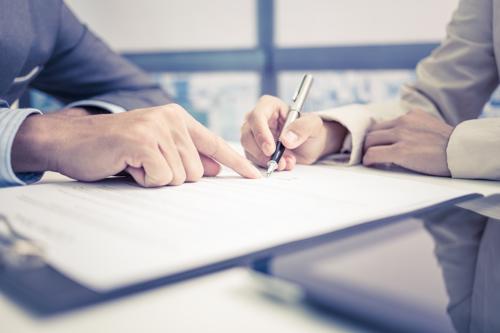 Irrespective of the title, it's this individual who's authorized to file a wrongful death lawsuit against the responsible party for the death of the decedent. Wrongful death claims are filed by the person who the decedent appointed to be the estate's representative. It is also worth noting that this type of claim is filed on behalf of the decedent's estate and his or her surviving family members.
Here's a list of some of the family members that often file wrongful death claims in New York:
Spouses
Parents
Biological or adopted children
Dependent blood relatives
Is There a Time Limit for Filing A Wrongful Death Claim in New York?
Before discussing the time limit for filing a wrongful death claim in New York, it is worth noting that a distinction between the cause of action for wrongful death and the cause of action for conscious suffering and pain must first be made. Conscious suffering and pain action is subject to similar time limitations as those of a personal injury claim that would have been brought forward by the deceased if they were alive. In New York, the statute of limitations for actions involving negligence that caused death is two (2) years from the day of the death. Actions brought pursuant to wrongful death statutes must be commenced within two years of the day of death.
However, it's worth keeping in mind that time limitations are generally shorter when conscious suffering pain actions involve medical malpractice, which is generally two and a half years from the date of the misconduct. It is also worth noting that they are considerably shorter when a public authority or municipality is the defendant – for instance, in such cases, the ninety (90)-day Notice of Claim has to be filed before you can sue.
Time limitations for wrongful death cases have to be calculated separately for each action. A case can be timely under wrongful death statutes; however, untimely, with respect to the cause of action, for conscious suffering and pain, and vice versa. In such instances, claims can only be recovered for timely causes of action.
How Much is the Claim Worth in a Wrongful Death Case?
While no amount of money could ever alleviate the grief associated with the death of a loved one, the most commonly awarded damages in wrongful death lawsuits in the State of New York are generally economical in nature. There are two main types of damages that most people recover. The most common one is compensating the pain and suffering the victim most likely experienced before their passing away. This is generally determined by expert analysis, generally through the testimony given by a professional forensic pathologist. While this is unpleasant to think of, it is one of the ways used to ensure the deceased's family gets compensated for their loved one's untimely death.
The other form of damage the affected family can recover through a wrongful death claim is post-death damages that are related to loss of finances. These damages are generally focused on how the death of a loved one will affect the decedent's remaining family members financially. In such a case, the victim's family can claim damages for the monetary loss they'll experience due to the loss of their loved one. Good post-death damages examples include:
Costs associated with the cremation, funeral or burial of the victim
Medical expenses incurred because of the accident
Services the decedent provided, such as health insurance or childcare
Lost wages that the victim was earning and would have continued earning had they continued living
A reduction in the assets or inheritance the victim would have left behind for the family
The parental guidance that the children of the deceased have lost
When calculating economic damages, two main factors are considered, especially when it comes to lost wages. These two are the life expectancy and the age of the victim at the time of their death. When a child loses one of the parents unexpectedly, there are many years of lost wages they could have been entitled to.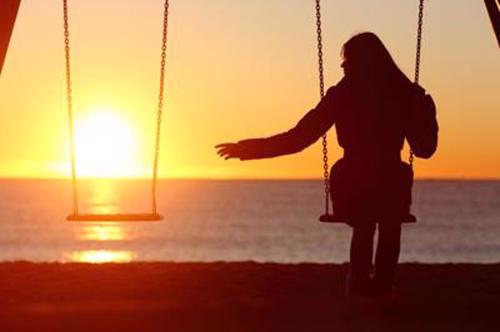 Sadly, the laws surrounding wrongful death in New York currently don't recognize the emotional suffering and pain of surviving members as damages for which a family can get compensated for. It is unfortunate that this law lacks compassion and is one area of New York's Law that we, wrongful death attorneys of New York, have been fighting for a while now, to change.
What If A Wrongful Death Victim is Being Blamed for An Accident?
Sadly, it is quite common to see people blaming the person who died for the accident. Nevertheless, that does not mean that the victims are always blameless. There are instances where it was the victim's own negligence that led to their death. However, that does not automatically mean that you cannot file a claim for wrongful death and get compensated. With that being said, it is worth noting that it could affect how much you will be able to recover by the end of it all.
New York is what we call a comparative negligence state. In New York, everyone who shares the blame is held responsible to some degree. If the victim contributed to the accident, the amount of cash you receive for damages would be reduced to reflect the same. For instance, let us say they are attributed 25% of the blame for the crash, the amount of you will receive for wrongful death damages will be reduced by 25%.
Do not hesitate to give the experienced wrongful death lawyers at Cellino Law a call if you need help, especially if at-fault parties or insurers are trying to pin the blame on your loved one. Our law firm will do everything in its power to minimize their role in the death-causing incident. The lesser the fault attributed to them, the more cash you will recover.
Call Cellino Law if You Have A Wrongful Death Case
The most important thing is that you consider the set deadlines for commencing any actions, especially if the case involves a public authority or municipality. As such, make sure you consult a legal representative as soon as possible for guidance and advice. While the trauma of losing a loved one might make it hard for you to even think about contacting a Buffalo personal injury lawyer, courts don't provide the option of extending the statute of limitations.
One of the topics that arise, albeit sensitive, is whether autopsies should be done. While we make no judgments or comments about a person's religious or personal beliefs concerning autopsies, the ability to prove the cause of a victim's death at trial is often the difference between having a feasible case, or not. This is often the case in suits where medical malpractice is suspected.
Thank you for your efforts on my behalf. I am very pleased (and surprised) at the amount of the settlement. We will use the funds to help pay down the debt on the truck we had to purchase after ours was totaled. Thank you again.

Linda

Joe and I just wanted to send you this note thanking you for the professional way you handled our lawsuit. Your kindness was extremely appreciated in a very difficult time. When we found out the people that caused the accident had no insurance, we thought our chances of receiving any settlement was nonexistent. Once we met with you and released you were able to help us our minds were put at ease. Your aggressive manner of handling the case exceeded our expectations. Please feel free to use us as a reference. Thank you so much and best wishes,

Danielle and Joe

I really appreciated your determination and efforts on handling my case. You have done an outstanding job, and I am very satisfied with the outcome of the settlement. Thank you so so much John.

Amparo

Now that reality has set in, I want to thank you for all your work and assistance in obtaining my settlement for the pelvic mesh. This money will make my life so much easier in the future. Medicare just isn't sufficient. I know that I will have enough to live on. I truly appreciate of your efforts. Thank you!

Loraine

Thank you for your help in settling the case of my father's accident. I could always count on you to answer my questions honestly and in terms I could understand. If all lawyers at Cellino Law are like you, I understand why they are an A-1 law firm.

Bedner

It was a great pleasure working with you on my lawsuit. You certainly gave 150% of your time and interest in settling my case and for that, I am extremely grateful. Therefore, I want to thank you very much for helping me win my settlement and wish you the very best.

Linda