Slips and falls are very common and sometimes they result in serious injuries. They can occur almost anywhere including shopping malls, supermarkets, hotels, restaurants, and parking lots. While some people are simply clumsy, many slip and fall accidents are due to the negligence of property owners so it is important to contact a trustworthy New York slip and fall lawyer after an accident. If you have been injured by a fall on a neglected property contact the New York personal injury firm of Cellino Law.
Common Causes of Slip and Falls and the Injuries They Cause
It is natural for infrastructure to show wear and tear over time. Property owners in New York have a responsibility to ensure their properties are safe for visitors. They should address hazards promptly or clearly warn visitors about the danger. Placing a sign, cordoning off the area, or asking an employee to steer people away are common responses to hazards. Unfortunately, visitors aren't always warned, which can lead to slip and fall accidents.
Several types of dangerous conditions can lead to slip and fall accidents. Among them are:
Uneven pavements

Poor lighting

Slippery floors

Snow and ice

Loose carpets

Broken stairs and handrails

Cracked Tiles

Damaged sidewalks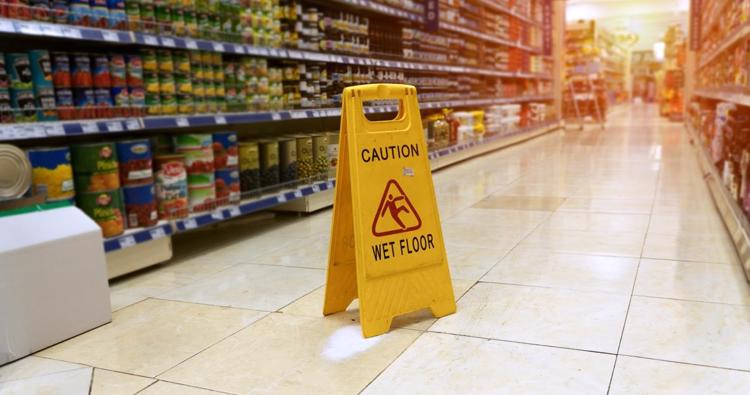 If you suffered injuries because of any of these things, you need the services of a New York slip and fall lawyer. If your injuries are serious, you may face high medical bills, lots of time away from work, and lost wages. Some victims suffer slip and fall accidents so severe that they never return to normal. They may have to live with chronic pain or face a lifetime of medical treatment. The slip and fall injury list includes:
Bone fractures

Back strains

Knee injuries

Contusions
Your slip and fall attorney will be instrumental in helping you to prove all the elements of negligence. As any premises liability lawyer will tell you, you can't claim damages simply because you fell on someone's property. Even falling and breaking your leg isn't enough on its own. You must be able to show that the property owner's negligence actually led to a dangerous condition that ultimately caused your injuries. Otherwise, your personal injury claims may be denied and you may suffer a terrible setback.
How to Hold the Property Owner Liable for Your Slip and Fall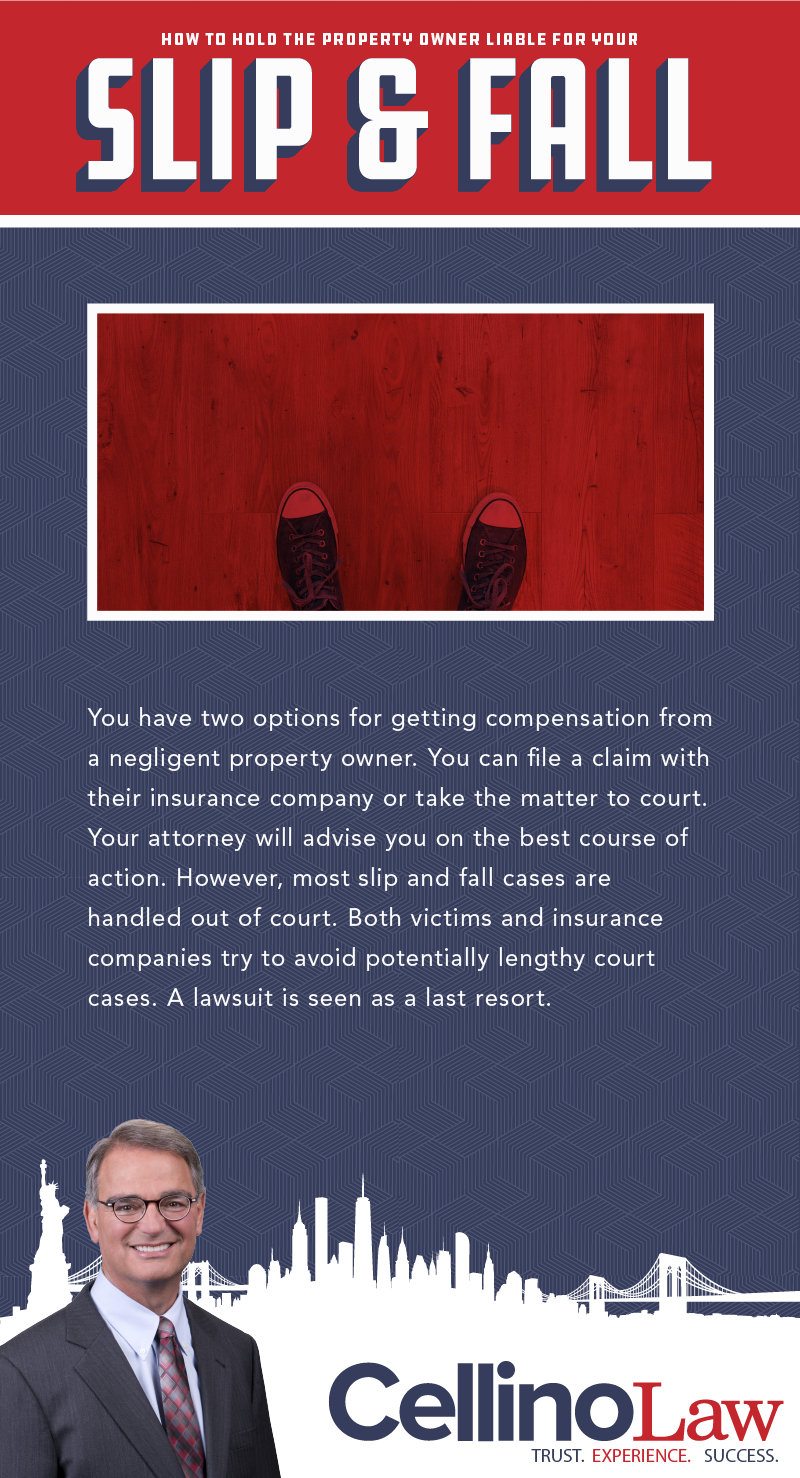 You have two options for getting compensation from a
negligent property owner
. You can file a claim with their insurance company or take the matter to court. Your attorney will advise you on the best course of action. However, most slip and fall cases are handled out of court. Both victims and insurance companies try to avoid potentially lengthy court cases. A slip and fall accident lawsuit is seen as a last resort.
The property owner can be held liable if they created the conditions which caused the accident. They may also have to pay damages if they knew about the conditions but didn't address them. Some courts have held owners liable because the dangerous condition existed for so long that they should have known about it. Your attorney will seek to prove that one of these situations led to your slip and fall injury.
What to do After a Slip and Fall Accident to Strengthen Your Claim
There are some things you need to do after your fall to ensure you have evidence of the accident. If you don't have evidence to support your slip and fall claim, you can kiss the idea of compensation goodbye.
Make sure you know the hazardous condition that led to your accident. Look for loose carpets, spilled liquid, broken flooring, or any other dangerous condition of the sort.
Identify witnesses to your fall. Try to get the contact information of people who were in the area when your slip and fall injury happened. Even if they didn't see the incident, they may have seen the dangerous condition which led to it.
Take photos of the scene and write down details of your accident. If you can, capture the object or condition which caused you to trip. It is likely to be cleared away or cleaned up quickly.
Obtain an incident report. If you fell in a business place, you should notify the manager. They may give you a form to fill out or they may ask you to detail the incident. Either way, ensure you get a copy of the report. Your slip and fall attorney can definitely put that to good use.
Seek medical attention. This step is very important. Even if you don't think you're seriously hurt, you should go to the doctor immediately. If you want to get compensation, you need to have a medical report outlining the injuries you suffered in that particular slip and fall accident. If you wait too long to see the doctor, the property owner will argue that you received your injuries elsewhere.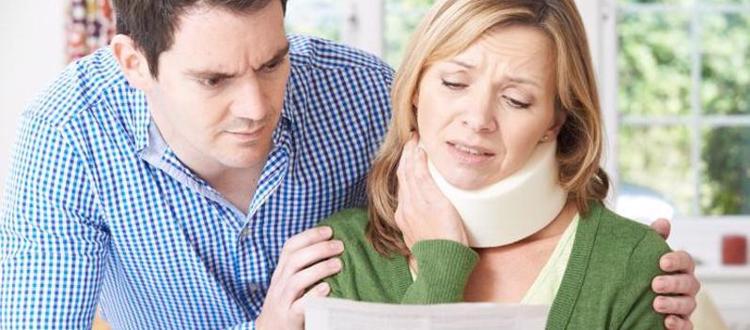 Important Considerations in Your New York Slip and Fall Case
As your slip and fall attorney will explain, a number of laws and legal rules will affect your case. A significant one is the statute of limitations which is the deadline by which you must file your lawsuit. Under New York Civil Practice Laws & Rules section 214, you must file your case within three years of the incident. Even though this seems like a long time, you should contact a personal injury attorney about your case as soon as possible. If you try to file a lawsuit after the time has passed, the court will probably throw it out.
Another important factor is the concept of shared fault or comparative negligence. The property owner is likely to argue that you share some of the blame for your own slip and fall accident. They may say:
You were in a section of the property where visitors aren't allowed
You weren't looking to see where you were going
Also, you were wearing shoes that were inappropriate for the situation
You should have noticed the conditions were dangerous
If your slip and fall accident case goes to trial and the jury finds you were partially responsible, your damages will be reduced. Even if the case doesn't make it that far, your negligence will come up during settlement negotiations. If you want to get the maximum compensation for your injuries, you need an experienced New York slip and fall lawyer on your side.
Contact a New York Slip and Fall Accident Lawyer at Cellino Law For a Free Consultation
Injuries from a slip and fall accident can throw your life into a tailspin. A victim who doesn't have an expert slip and fall attorney on their side is more likely to accept a low settlement offer. However, your attorney will take all your losses into consideration including medical bills, lost wages, and future loss of income. They will help you with your premises liability claims. They will work hard to negotiate a settlement so you can start to get your life back on track. If the insurance company refuses to make a fair offer, they will ensure you file a lawsuit within the stipulated time. If you want your claim to be successful, call us today to schedule a consultation. Our New York personal injury lawyers have the skills and experience you need.
Cellino Law and more specifically my attorney, Gregory V. Pajak, Managing Attorney, and as a whole the Cellino Law Firm and its organization. This is by far one of the most professional law firms and attorney I have ever engaged with and retained in my 35 years. The level of professionalism goes beyond words, the care and constant engagement with me as the client was touching. I was never ever just treated as simply a CASE with potentially a significant dollar number attached to my file. I was engaged regularly, Tracey (Ass't) and Greg always made sure to remain constant, as well as consistent in overseeing that my case was handled properly and that it did matter in many ways - ensuring that the end result(s) would be fair and reasonable to my case/injury. The regular follow-up calls were very satisfying, knowing that you're involved in your case matters significantly AND always. One of my main items to recognize Cellino Law and Gregory is that whenever I called, I was able to get through to speak directly to my Lawyer and he would answer any if not all of my questions in a very professional and genuinely caring manner. I always felt cared for and protected legally and more importantly, I was made feel as a human being that was being cared for and always keeping me abreast of all matters connected to the case. There was never a point I felt let down, on the contrary -the level of service was "STELLAR". Greg is the consummate professional, a 'role model', if you will, for what other attorneys should strive to become when dealing with their clients.

Anthony

Thank you for your time, effort, and hard work on my case. I appreciate your expertise and compassion. I never experienced what I went through and I would have been completely lost without you.

Martha

It was a great pleasure working with you on my lawsuit. You certainly gave 150% of your time and interest in settling my case and for that, I am extremely grateful. Therefore, I want to thank you very much for helping me win my settlement and wish you the very best.

Linda

Thank you for your help in settling the case of my father's accident. I could always count on you to answer my questions honestly and in terms I could understand. If all lawyers at Cellino Law are like you, I understand why they are an A-1 law firm.

Bedner

This letter is to thank Ms. Diane D'Andrea, assistant to Mr. George Gridelli, Attny for all the hard work, dedication, and attentiveness she showed during the representation of my case. She was always cheerful and ready to help in whatever way she could. All messages left for Mr. Gridelli were always relayed and Mr. Gridelli always promptly returned our calls. She was a very competent assistant. Cellino Law has proven to be a model of what legal representation should be. Throughout the 6 ½ years of this case, I have heard many horror stories from people with "bad lawyer stories." We consider ourselves to be very lucky to have chosen Cellino Law and will always recommend you to those looking for good, honest representation with a personal touch.

Joseph

Mark Kochanowicz is from far the best attorney you can have. Mark treats you like a friend more than a client. He truly cares and go the extra mile for you and your case, contacts you to update you in regards to your case and keep you informed at all times. Mark represented me twice and settled my cases for way more than I expected. I highly recommend Mark Kochanowicz because he is just the best on what he does!!! Thank you Mark!!!!

Maria