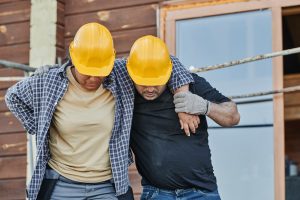 Slips and falls are among the most common workplace injuries. Depending on the circumstances, victims can suffer injuries that affect the rest of their lives. The first step in getting the compensation you need is to speak with a personal injury attorney about the best way to pursue compensation, given the specifics of your case. You may not need to file a lawsuit to get the help you need, and an initial consultation alone can give you peace of mind.
What New York Laws Govern Slip and Fall Accidents at Work?
When a slip and fall accident occurs at work, specific state-mandated laws apply to that type of accident. For example, premises liability governs most slip and fall cases. Still, when an accident occurs on the job, most employees turn to workers' compensation to recover damages as quickly as possible. If you are to file a lawsuit, you have to consider comparative negligence and the statute of limitations. Both can impact your ability to recover damages.
Premises liability is a legal concept that states property owners owe legal visitors a duty of care, meaning they are responsible for ensuring the property is safe for anyone present. Therefore, when a slip and fall occurs on the property because the owner failed to keep it safe, they could be liable for any damages the victim incurred. For example, if you work in a restaurant and the property owner fails to fix broken tiles on the floor behind the front line, the owner could be liable if you tripped over a tile, fell, and suffered a severe injury.
In New York, nearly all employers must provide a minimum of workers' compensation insurance and post notice of it at the facility. In addition, specific industries and positions, such as volunteer firefighters, construction workers, and ambulance workers, have specific coverages based on the risks associated with their jobs. However, the foundation of workers' comp is that it provides workers with access to compensation for medical expenses necessary for their injuries and lost wages, but employees do not need to supply proof of negligence to qualify because workers' comp is a no-fault system.
Some examples of cases where the injured employee may bypass the workers' comp process and file a lawsuit for a workplace injury include:
If the injury resulted from a negligent act of a third party
If the accident that caused the injury was the result of defective equipment, products, or machinery
If someone intentionally caused the injury, such as by pouring a slick substance on the floor so you would slip and fall
If your employer failed to provide workers' compensation insurance
Injuries that occur in the workplace are not always the direct fault of the employer, and when they are not, you can sue for damages. Workers' compensation protects the employer from liability, but it does not apply to a third party.
Comparative Negligence Rule
If you are eligible to sue for your slip and fall injury, prepare for the defendant to claim you are at least partially liable for your injuries. This is a common tactic used to reduce the defendant's financial responsibilities. However, if you are partly responsible, it will impact the damages you recover. According to the comparative negligence rule, the plaintiff in a personal injury lawsuit can still recover damages, but the amount they receive equals the total value of their losses minus a portion equal to their share of liability.
In New York, the pure comparative negligence rule states that your fault does not affect your ability to recover damages as long as you are not entirely liable. Therefore, you can be as much as 99% responsible for your slip and fall and still recover 1% of your total losses.
Statute of Limitations
A statute of limitations is a law that mandates a deadline for filing a lawsuit. New York's statute of limitations for a slip and fall injury suit is three years, starting with the day the injury occurred. You can file a claim with the at-fault party's insurance provider and attempt to receive compensation without interference from the civil court. However, be wary of bad faith tactics, such as ignoring your attempts to communicate, denying your valid claim without reason, or delaying the investigation into your case. These are common tactics insurers may use to avoid settling your case and running out the clock so you cannot file a lawsuit.
What Does a Personal Injury Lawyer Do?
Personal injury lawyers handle every type of accident case, from car crashes and slip and fall accidents to workplace injuries and medical malpractice. Their area of expertise is in personal injury, and you always want to find one who understands the laws in your state and has experience with similar cases. They take care of every element of the legal process and ensure no party involved violates your right to compensation. Some specific tasks they perform for you include:
Negotiating on your behalf to reach a settlement
Preparing your claim for trial before the statute of limitations runs out
Investigating the accident and the consequences to identify negligence and damages
Representing you in all conversations with the insurance company and anyone else involved in your case
Ensuring you do nothing to damage your claim or your job
Helping you access experts who can testify on your behalf and strengthen your claim
Interviewing eyewitnesses and writing interrogatories to ask the defendant in your case
Representing you during your deposition to protect you from rights violations
Acting as a compassionate friend during an emotionally charged and physically challenging time
A common concern for most people when deciding whether to hire a personal injury lawyer to handle their case is the fear of hefty lawyer bills appearing during the process. A unique benefit of personal injury lawyers is most of them work on a contingency fee basis and charge no upfront fees for their services. This means you can access experienced legal representation at no initial costs. Additionally, most charge nothing unless they win a settlement or award for you. At that point, they take their fees from the win.
How Soon Should You Schedule Your Free Consultation With a Personal Injury Attorney in New York?
If your case meets any of the requirements for filing a lawsuit or you have questions about the specific details, you can always schedule a meeting with a personal injury attorney. Unfortunately, these cases can quickly become complex, and very few people realize they have legal options when they do not have adequate compensation to cover their losses following a slip and fall accident at work. At Cellino Law, we help victims of workplace injuries get the help they need to focus on their recovery rather than stress over the financial strain their accident causes. We consider every loss you incurred, down to any emotional or psychological damage the entire incident and your injuries may cause. Your life does not have to derail entirely because of one accident, and we are available to do everything we can to stop that from happening. Contact Cellino Law at (800) 555-5555 to schedule your free consultation today and learn more about what we can do to help you.
I really appreciated your determination and efforts on handling my case. You have done an outstanding job, and I am very satisfied with the outcome of the settlement. Thank you so so much John.

Amparo

Thank you for all your help. It has been a long journey. At last, the light at the end of the tunnel. Also, thank Tom for the help and work he put in.

Ron

I can only say great things about my attorney Allan Silverstein. He is professional, he calls back right away, he keeps me informed, and makes me feel comfortable as this entire ordeal is stressful. I have total confidence in his ability to handle whatever comes his way. He is no nonsense and very good at his job. Thank you Allan... he is a true asset to the team!

Mrs Steward

Thank you for your time, effort, and hard work on my case. I appreciate your expertise and compassion. I never experienced what I went through and I would have been completely lost without you.

Martha

This letter is to thank Ms. Diane D'Andrea, assistant to Mr. George Gridelli, Attny for all the hard work, dedication, and attentiveness she showed during the representation of my case. She was always cheerful and ready to help in whatever way she could. All messages left for Mr. Gridelli were always relayed and Mr. Gridelli always promptly returned our calls. She was a very competent assistant. Cellino Law has proven to be a model of what legal representation should be. Throughout the 6 ½ years of this case, I have heard many horror stories from people with "bad lawyer stories." We consider ourselves to be very lucky to have chosen Cellino Law and will always recommend you to those looking for good, honest representation with a personal touch.

Joseph

Cellino Law was a great company to work with. From the beginning they came out and met with my uncle and myself and assured us that everything would be taken care of from beginning to end our lawyer state and constant contact with us to make sure that everything would go smoothly and it did. I would definitely recommend anybody to go to Cellino Law for whatever help they need. And specifically please ask for the lawyer that we had Mr. Alan Silverstein. He was amazing and his staff was always attentive. Please go with them for your next law needs.

Eshaunda