CAR CRASH? CALL CELLINO
If you or a loved one have suffered a personal injury, you'll need a skilled personal injury attorney by your side. At Cellino Law, our injury attorneys have decades of hard-fought experience to help ensure you receive the compensation you're entitled to after an accident.
AVAILABLE 24/7
NO UPFRONT FEES
FREE CASE EVALUATION
NO FEES UNLESS WE WIN!
BRONX , NY PRACTICE AREAS
BRONX, NY
PERSONAL INJURY LAWYER
It can truly be a difficult situation if you or a loved one was injured to the negligence of someone else in the Bronx. You may have found yourself out of work and are hounded by medical bill collectors. You find yourself worried and confused and do not know where to turn to. If this is your current situation, you are in the right place. Our Bronx personal injury lawyers know how to handle these complex claims. We offer our clients a professional and solid reputation for fighting the good fight in the court of law and dedicate ourselves to gaining the compensation you need to regain your life.
We're not afraid of large insurance companies, we'll stand toe to toe with them until they agree to provide you with fair compensation. Do not wait until it is too late to file a claim, contact our injury firm in the Bronx at 800-555-5555. We will meet with you at your convenience and offer you the best advice and answer your questions and concerns about moving forward.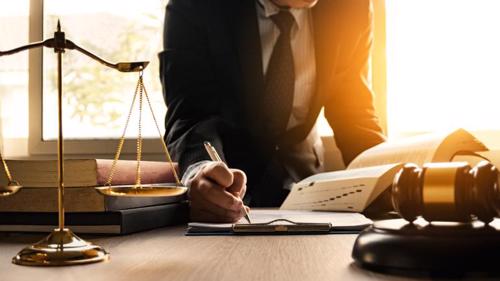 How Can An Attorney Help My Injury Claim?
It is always wise to seek legal advice after an accident. Our highly skilled and experienced lawyers at Cellino Law are ready to help you. You do not have to worry about the cost because we offer free consultation services to all clients in the Bronx. There is nothing you can lose by reviewing your situation with our highly experienced legal team. In fact, there is a lot of benefit in consulting with a personal injury attorney. Some of the benefits include:
Receive Reliable Legal Counsel
One way to fail or get denied compensation is by assuming or speculating things. It is never a wise thing to speculate or assume things when it comes to your well-being or future. The whole process may become complicated, and this is where you will need to speak to an attorney.
Receive Step-By-Step Assistance
After an accident, victims often are left in a state of confusion, without knowing what to do. However, with the help of a professional personal injury lawyer, you will receive step-by-step assistance through the whole process.
They Will Handle Claim Filing
In New York, compensation filing laws and deadlines are stringent. Even the smallest of errors can affect a victim's compensation. This is why seeking the services of a highly skilled attorney is essential because they have the expertise and experience of filing such claims.
Perform Comprehensive Investigation
If you have never filed a claim before, the chances are that you do not know how to undertake an in-depth accident investigation, how to gather the record needed, how to record witness statements, and much more. For these reasons, seeking the services of a professional team of lawyers to handle your case will be highly beneficial.
They Will Deal With The Insurance Company For You
A majority of people forget that insurance companies are like any other business. As such, their main goal also is to maximize profit and minimize expenses. This is why, after an accident, they will send an insurance claim adjuster with the aim of reducing the insurance claim amount. However, by hiring a professional lawyer, your chances of getting a high compensation amount increases.
Trial Experience And Expertise
Even though many of the personal injury claims are settled out of court in New York, there are those defendants who prefer fighting the claim in court. For this reason, you need a lawyer who is ready and capable of taking or presenting your case in court.
Network of Attorneys
Any reputable law firm in New York will most definitely have a team of professional witnesses who can strengthen the validity of the claim. Experienced witnesses help provide details about your case providing negligence to the jury or judge. Therefore, when you work with a professional lawyer, you will get access to these witnesses and other valuable resources.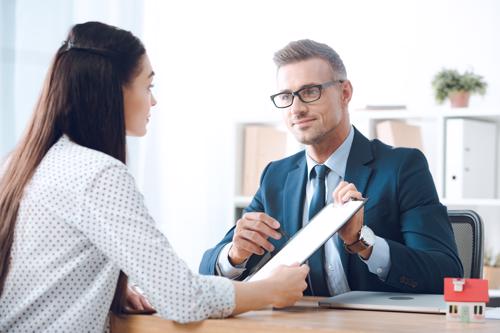 All these reasons are the reasons you should seek the services of our personal injury lawyers in the Bronx. Most personal injury claims go beyond the knowledge and scope of anyone who is not a lawyer and often becomes a challenge for such a person to understand. Going solo will most definitely expose you to the fury of insurance claim adjusters. However, with the help of an attorney, they will tackle all the issues for you regarding your case at every stage. Contact our professionals at Cellino Law, and you will receive the best legal representation.
Through our services, you do not have to worry about the cost because we offer free consultation services. We do not get paid if we do not win you any compensation in court. Working with us will give you time to recover and eliminating the hustle of the process.
The Basics Of Personal Injury Lawsuit – What Is It?
Personal injury lawsuit can be defined as a conflict that arises when one party has sustained an injury or suffered harm as a result of another party's negligence or recklessness. Generally, the insurance company of the responsible person or defendant will take responsibility and compensate that victim for medical bills, pain suffered, emotional suffering, and any other relevant cost. In the case of a medical malpractice case, the personal injury attorney in the Bronx will communicate with attorneys from both the insurance company and the hospital.
A lawsuit involving personal injuries is made formal when an attorney or any other legal expert represents the case to the courts. The court will then work to determine the party that is legally responsible for the accident and the injuries. However, a personal injury claim can be settled out of court through a formal agreement that has been agreed upon by both parties before filing a lawsuit.
The outcome of each personal injury claim is different from each other. However, there are a few similarities, which include:
Informal Settlement
This is the most common way used to solve a conflict related to personal injury. This form of settlement involves all parties engaging in a negotiation until a resolution is found or reached. After which a written agreement is drafted. Remember, after reaching an agreement and signing it, all parties waive the right to seek any further legal actions.
Formal Lawsuit
This occurs when a petitioner (often a private person) files a civil lawsuit against a defendant (usually an agency, individual, corporation, or business). The aim of a formal lawsuit is trying to prove the defendant behaved recklessly or irresponsibly and caused injury or harm.
The Common Causes Of Personal Injuries
It was found that many people do not have a clear idea of the circumstances that result in a personal injury lawsuit, but the good news is that the law in New York covers a wide range of negligence and injuries that may affect the lives of victims and families forever. Below are frequent events that result in one filing for a personal injury lawsuit:
Train and bus crashes
Work-related accidents like in construction sites
Faulty consumer products
Defective and dangerous pharmaceuticals and medical devices
Physical assaults
In most cases, all the above events and accidents result in severe and even permanent harm to the victim, and it is the victim who is left to pick up the pieces without any assistance. A victim is left with medical bills, disabilities, pain management, physical impairment, or even psychological issues.
Under these conditions, you will need help from a professional Bronx personal injury lawyer at Cellino Law. Our lawyers will review the facts of your case, collect relevant evidence, and gather a team of an experienced legal team who will help in building a solid case so that a victim can receive the financial compensation they deserve.
The Basics Of Personal Injury Law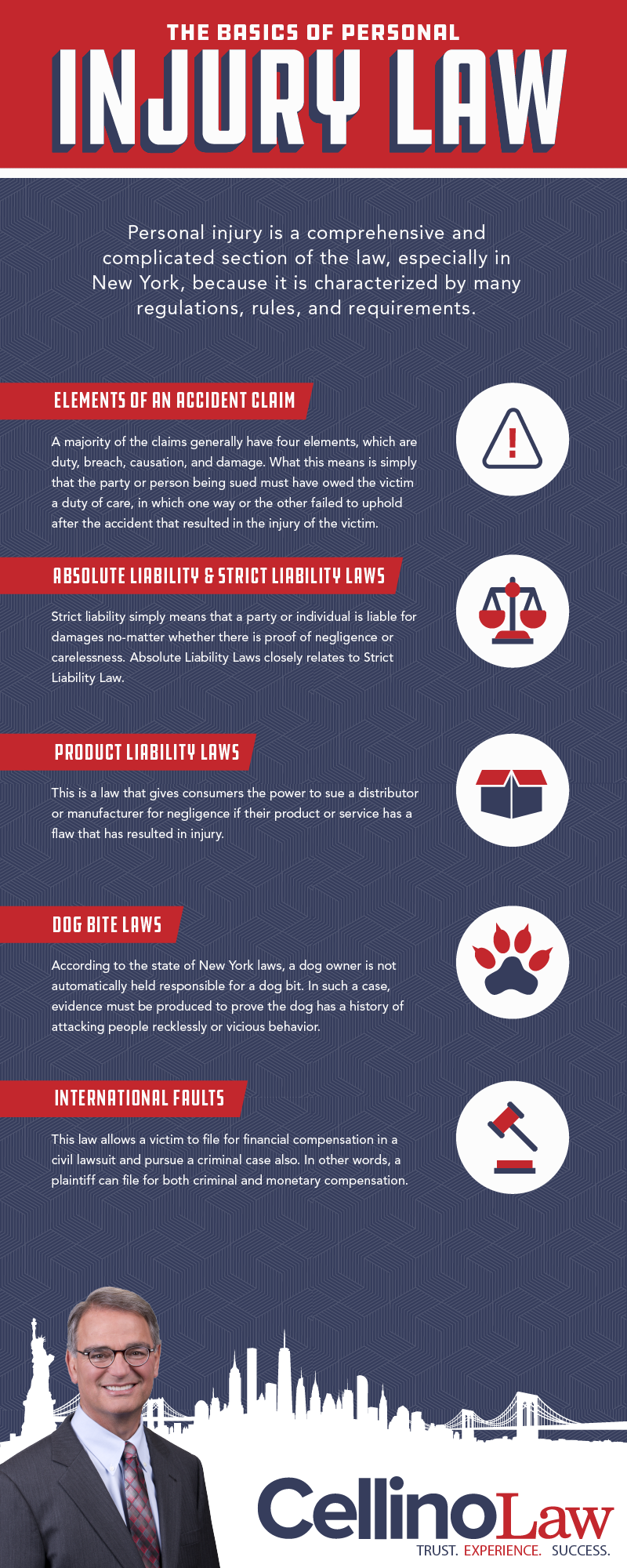 Personal injury is a comprehensive and complicated section of the law, especially in New York, because it is characterized by many regulations, rules, and requirements. Fault law gives a victim the right to seek monetary compensation for losses or damages sustained due to the negligence of another person or party. Therefore, the personal injury law seeks to 'make the victim whole again' after suffering both physical, emotional, and financial losses. Every personal injury lawsuit is unique and demands a personalized approach in order to arrive at an affordable outcome. However, there are basics that do not change and often act as a guide. They include:
The Element Of An Accident Claim
A majority of the claims generally have four elements, which are duty, breach, causation, and damage. What this means is simply that the party or person being sued must have owed the victim a duty of care, in which one way or the other failed to uphold after the accident that resulted in the injury of the victim. You should note that strict liability and absolute liabilities do not necessarily need to have these four elements.
Strict Liability And Absolute Liability Laws
Strict liability simply means that a party or individual is liable for damages no-matter whether there is proof of negligence or carelessness. In New York, for example, the above laws are mostly applied in the product liability claim, more specifically where there is an error in manufacturing.
Absolute Liability Laws closely relates to Strict Liability Law. Through this law, a person or party is liable for damages without relying on any actual proof of negligence. This law is commonly used in dog bite and construction accident cases.
Product Liability Law
This is a law that gives consumers the power to sue a distributor or manufacturer for negligence if their product or service has a flaw that has resulted in injury. Such cases are categorized under strict liability or breach of negligence.
Dog Bite Laws
According to the state of New York laws, a dog owner is not automatically held responsible for a dog bit. In such a case, evidence must be produced to prove the dog has a history of attacking people recklessly or vicious behavior. If this evidence has been provided, then the owner is held responsible. Of course, there are many ways to prove that a dog is either vicious or attacks people. It is important to note that a dog is given a 'one free bite' ticket. With other additional tickets, it is a clear indicator that the dog has vicious behavior, and the dog owner is then deemed 100% liable for the injuries.
Intentional Faults
This law allows a victim to file for financial compensation in a civil lawsuit and pursue a criminal case also. In other words, a plaintiff can file for both criminal and monetary compensation.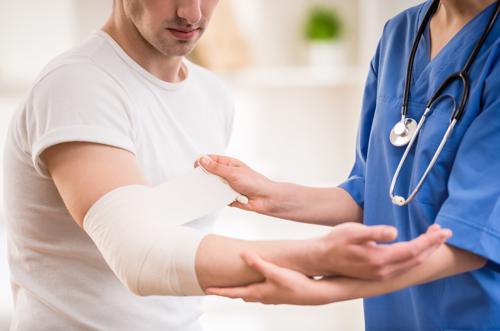 When it comes to personal injury compensations, there is a wide range of local, state, and federal laws that come into play. With the help of an experienced Bronx personal injury lawyer, you will get the help you need to file a lawsuit, and by taking advantage of these laws, ensure you get the compensation you deserve.
The General Negligence Laws In New York
According to the state of New York, negligence is defined as a situation where a party, entity, or person fails to act sensibly or logically and under that circumstance causes harm, damage, or injuries to another person. In other words, a person, business, or entity is considered negligent if they fail to provide proper care to another person causing injuries in the process.
Pure Comparative Negligence Laws
New York applies pure comparative negligence law. What does this law refer to? Well, with this law, the victim's behaviors during the accident will not hinder compensation, but rather, the courts may decide to reduce the compensation amount.
Assumption Of Risk
With this law, a person is not withheld to seek compensation if they took up a risk before the accident occurred in New York. For example, skydiving, surgery, and construction jobs are all activities full of uncertainties. However, this New York law does not limit a person from seeking compensation after an accident.
It is common knowledge that negligence may cause accidents that may lead to injuries. Therefore, for a person or entity to file a negligence lawsuit, they must prove that:
The defendant had the responsibility of ensuring the plaintiff was safe and out of harm's way
The defendant breached their duty of care
The main contributor to the accident is a breach of care
The extent of injuries, damages, pain, and suffering
The Best Time To File A Personal Injury Claim
Every experienced and professional lawyer will tell you that the best time to file a personal injury claim is immediately after the accident. Doing this will give your attorney enough time to work on your case. The first thing the lawyer will do is begin with an investigation, which will include talking to witnesses and collecting other pieces of evidence. By acting fast, your chances of getting better compensation amounts are high.
You can also seek legal advice even if time has passed after the day of the accident. According to the state of New York, personal injury claims have a statute of limitations of 3 years from the day the accident occurred. What does this mean? Well, it merely means that a person has 3 years to file a personal injury claim.
On the other hand, if your case involves a federal entity or the state (New York), you may need to file your claim a bit sooner, because the statute of limitation is 90 days from the day of the accident. Generally, it is wise to seek financial compensation immediately.
The Types Of Compensation You Can Receive From Personal Injury Lawsuit
It is important to remember that every personal injury case is unique and different. Therefore, the compensation received varies greatly and depending on the unique nature and circumstances that surround the case. Nevertheless, there are a few common compensations for victims with serious injuries. These include:
Suffering And Pain
Severe injuries come with a lot of physical, emotional, and mental pain suffering. As such, sometimes, a person will need money top combat and care for the pain and suffering.
Lost Wages
Any severe injuries will most definitely affect a victim's income. This is mainly because they are unable to go to work. Therefore, such a person is entitled to receive lost wages even if it is time off or sick leave. When it comes to lost wages compensation, the amount will differ depending on the extend. For example, if the injuries are permanent, the victim will get even future lost wages compensation.
Medical Bills
This is one of the most common forms of compensation a person gets. Medical bill compensation acts as a refund to all medical bills a victim may have paid or incurred. This amount may include hospital admission, physical therapy, medical devices surgery, medication, and any future medical expenses.
Punitive Damage
In some situations, a plaintiff may be eligible to receive punitive damages. This form of compensation acts as a form of punishment to the defendant for careless or reckless behavior.
Property Damage
This is a type of damage that covers, repairs or replaces any damages to property. This may include motorcycles, cars, and so on.
Can A I Still File For A Personal Injury Claim If I Was Partially Responsible For The Accident?
Most Definitely! You could seek compensation even if you were 99% at fault. Remember, the state of New York has a pure comparative fault law that allows an individual to seek compensation even if their conduct contributed to an accident. However, the amount you will get will be limited based on the part you played for the injuries. For example, you will get only $90,000 if you were found to be 70% at fault for the injuries and you were claiming $300,000 as compensation.
The Types Of Cases Personal Injury Lawyers Handle
We can help you if you have been injured or sustained injuries as a result of another person's negligence or carelessness and living in New York. We have handled many types of personal injury cases, which include:
Birth Injuries
Motorcycle accidents
Bicycle accidents
Vehicle accidents
Slip and fall accidents
Nursing home neglect and abuse
Medical malpractices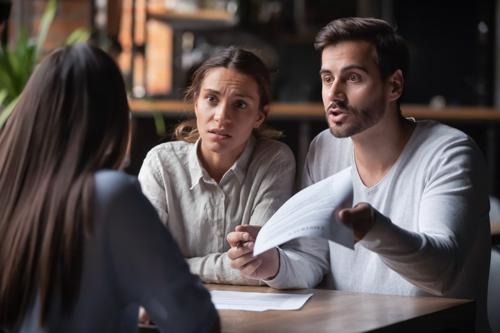 Our lawyers are highly skilled, trained, professional, and experienced in handling all the cases mentioned above. If your loved one has died due to another party's negligence or carelessness, we can help you file for wrongful death.
You can get in touch with us through 800-555-5555.
How Do I Know If I Have A Personal Injury Case?
The million-dollar question is, have you sustained injuries due to another person's negligence or carelessness? Well, if the answer is yes, then you have a case. This means that you can file a personal injury case and seek compensation for your losses. The compensation amount may include medical bills, pain suffered, lost wages, and much more.
You can book an appointment to talk to a professional. Remember, we offer free consultation services. During the consultation, we will give you the best legal action to take.
The first thing our attorney will do is listen to your case (both injuries and accidents) and then identify the party at fault. They will then look to identify the fault act related to your situation. Later try to calculate the total loss you have incurred as accurately as possible. After all this, they will then attempt to get you the compensation you deserve. If the first steps (approaching the insurance company) are not successful, our lawyer will file a civil lawsuit in court.
Personal Injury Statute of Limitation Exceptions In New York
New York, like many states in the U.S., has a strict statute of limitation laws. However, although this is the case, there are few circumstances in a case which cannot be affected by the statute of limitation. Below are two scenarios where it is possible to pause or alter the deadline of the statute of limitations.
The First Scenario
The New York Civil Practice Law; Section 208 – If a victim has a legal disability at the time of the accident. In other words, if the victim either is underage or 'not of sound mind,' then the statute of limitation deadline will be calculated to the date where the legal disability is deemed over.
The Second Scenario
New York Civil Practice Law; Section 207 – This applies when the alleged at-fault individual for the accident is not within the state after the accident has already occurred and before the lawsuit has been filed or they live outside the state for more than four months. If this is the fact, then the 3-year statute limitation will not apply. Also, the statute of limitations may be extended if the defendant is living within the state but under a false identity or alias.
With the information above, if you are not sure if your deadline has passed or simply have any questions regarding the above scenario, contact us today for help. Our professionals will help guide you through the whole process.
Will I Have To Go To Court For An Injury Claim?
The good thing is that many of the cases are settled out of court. In such a situation, the defendant will reach out first to the plaintiff to settle the case before it goes to court. However, if the defendant's insurance company is unwilling to settle the case out of court, then the case will go to court. Therefore, as your representative or attorney, and the case ends up in court, know that our team is well experienced to handle everything that comes with the case. Our lawyers will deliver a passionate case argument to ensure you get the compensation you deserve.
Contact A Bronx Personal Injury Lawyer at Cellino Law
We pride ourselves on being one of the best personal injury law firms in the Bronx, New York. At Cellino Law, we have a team of professionals ready to take your case and protect your rights. Our experience in New York's negligence cases is vast. Remember, we offer a free consultation service, where you can ask any questions regarding the case. Furthermore, we only get paid when we win the case. Get in touch with us today to receive the best legal advice.
CHOOSE US FOR YOUR PERSONAL INJURY CASE
AVAILABLE 24/7
NO UPFRONT FEES
FREE CASE EVALUATION
NO FEES UNLESS WE WIN!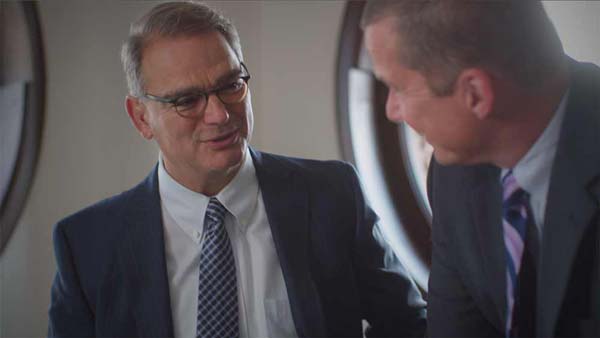 LOCAL RESOURCES