If you're the victim of a car crash, it's essential that you speak with a Bronx car accident lawyer that will ensure that you're properly compensated for these damages. You may be wondering whether or not you can depend on the insurance company to cover the cost of your car repairs, medical expenses, and lost wages. When you work with Cellino Law, you won't have to spend anything to get the ball rolling. Our initial consultation is completely free. Regardless of the severity of your accident, we'll be able to provide answers to your questions, address concerns, ask questions, and provide you with guidance on how to go about your case.
Our legal team has plenty of experience with personal injury cases, and we'll work hard to ensure that your rights as an accident victim are protected. We'll work to ensure that you receive the highest possible compensation and will be there to assist you whenever you need it. We bring extensive experience and knowledge to the table, and we have an excellent track record as well. That's why we're known as one of New York's top injury firms.
After someone is involved in an accident, it's likely that they'll experience a great deal of stress. It's our goal to relieve that stress. We want you to be able to devote your attention to recovering from your injuries. We'll focus on your case. Feel free to contact us on any day and at any time. Payment isn't something you have to worry about. After all, we don't get paid unless you win your case. If your Bronx car accident leads to an injury, you'll want to speak with one of our experienced personal injury attorneys in the Bronx right away. We'll fight to ensure that you get the compensation that you're owed.
What is the Process of Reporting an Auto Accident in the State of New York?
The law requires drivers to contact the authorities after a car wreck, particularly if a party was injured or killed in the accident. One of the drivers involved in the accident should file a police report. Ideally, the first driver to file should be the one that is at fault. In some cases, car wrecks lead to property damage. If this happens, the driver at fault should make a report even if the other driver leaves the scene of the accident. Drivers will only be able to make an accident damage report if the damages exceed $1,000.
In New York, drivers must file a written report within 10 days of the incident. Although the law does not have any specifications involving accidents in which a driver was injured, personal injury attorneys generally recommend drivers file written accident reports as soon as they possibly can.
What Are The Most Typical Reasons For Car Accidents?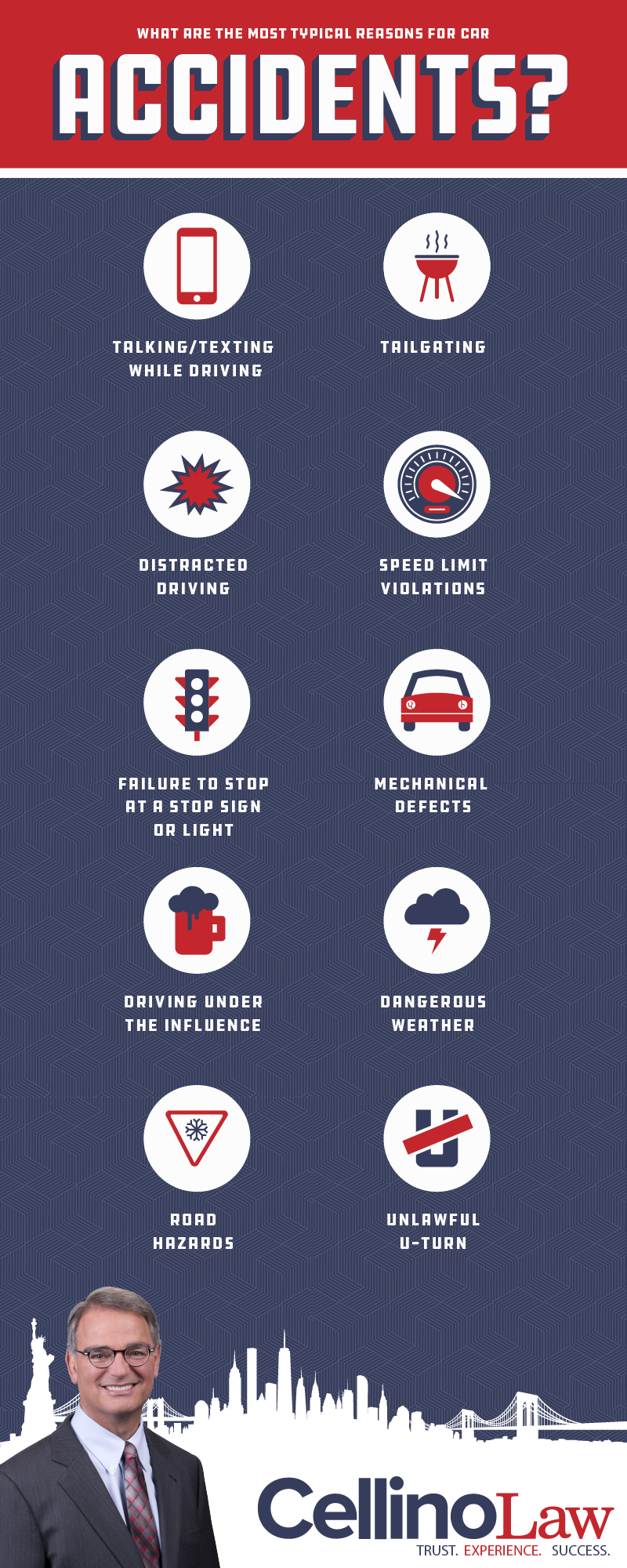 New York's state government provides compensation to drivers that sustained personal injuries after a car wreck. With that said, drivers will not be able to receive compensation unless they file a report specifying the type of wreck they were involved in, like:
Speed limit violations
Unlawful U-turns
Dangerous weather conditions
Road hazards
Driving under the influence of drugs, medication, or alcohol
Mechanical defects
Failure to stop at a stop sign or light
Distracted driving
Tailgaiting
Distracted driving
Texting while driving
A driver may be at fault for a car wreck because they demonstrated negligent behavior while driving. Even if you were at fault, you should speak with an attorney in The Bronx, NY. The attorney you talk to will be able to explain the impact your behavior may have had on the accident.
Driving in the Bronx area isn't always easy. The accident rate in this area is very high, which makes staying safe while driving a challenge. It isn't unusual for drivers to experience road rage. In some cases, they may become impatient when they're stuck in traffic.
When emotions are high, people are more likely to engage in impulsive behavior. This means drivers are far more likely to engage in behaviors that will lead to an accident. Beyond that, since there are more "stop and go" signs on the roads in Bronx, the risk of accidents has increased.
After contacting Cellino Law Firm, you'll have the chance to talk with one of our accomplished and qualified Bronx car accident lawyer that is skilled in personal injury cases. If you've suffered a personal injury because of a car wreck in New York, then we'll assess your claim and decide on the best course of action.
What Are Some Of The Most Common Personal Injuries That Occur As A Result Of Car Accidents?
Most people underestimate the severity of car wrecks. There are many kinds of accidents that can lead to injuries, such as hit and runs, roll-overs, rear-ends, sideswipes, head-on collisions, parking lot accidents, motorcycle and truck accidents, collisions with pedestrians, failure to yield or stop, as well as many other types of accidents.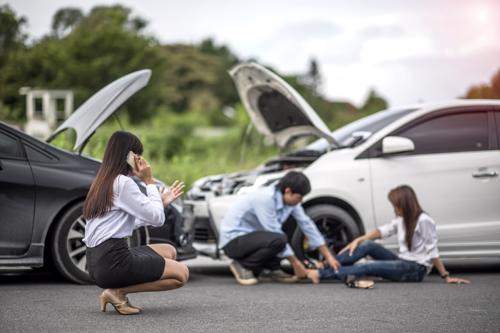 New York state laws say that drivers who were involved in a car wreck qualify to be compensated for wage loss and medical bills no matter who was at fault. If you work with a personal injury lawyer, you can be confident that your attorney will work to secure the compensation that you are owed.
New York state law defines a personal injury as one of more of these things:
Permanent limits in the usage of an organ or body part
Permanent loss of a body part, organ, or function
Physical disfigurement or loss of a limb
Bone fractures
Severe limitations to a body system or function
Physical ailments lasting for three months or more
Fatality
How Much Does A Bronx Car Accident Attorney Cost?
When you work with Cellino Law Firm, you won't be responsible for any fees upfront. Because of this, anyone that's been involved in a car wreck can afford our services. In most cases, car accident victims have to cover medical expenses, which means finances may be tight. When you work with us, you won't have to pay for a thing until after we've secured the compensation that you're owed.
Our attorneys work on contingency. This means that we won't ask you to cover our expenses when we're handling your case. We'll pay to file paperwork and even cover court costs. Instead, we'll take a percentage of the payment that we secure for you.
Using this pay model means that we're incentivized to win your case and secure the highest settlement possible. Our fees and expenses will simply be deducted from the compensation we recover for you.
Knowing that we work on contingency is an excellent reason for you to trust our law firm. We choose cases bases on the merit of the case. If we believe that we can win your case, we'll choose to take it on.
You can get the process started with a free consultation. Over the course of this no-risk meeting, we'll ask questions so that we can get a better understanding of what happened on the day of the accident. Once the meeting is over, you can decide whether or not you'd like to hire us.
What Type Of Compensation Can I Get After Being In An Auto Accident?
In most cases, compensation for a car wreck personal injury claim involves payment for certain losses. Losses can be both economic and non-economic. In certain cases, victims may receive punitive damage because another party showed negligent behavior.
Economic compensation is designed to directly repay victims for the losses they took on after the wreck. Some examples are:
Damage to a vehicle or property
Loss of wages
Current and future medical bills
Loss of earning potential
New York's State Insurance Law says that victims are only eligible to receive non-economic if the injury they've sustained qualifies as severe. Examples of non-economic losses you could be compensated for include:
Physical disfigurement
Losing a pregnancy
Loss of body organ or system function
Bone fracture
Losing a limb
Severe limits on the usage or function of a body organ or system
As previously stated, in addition to being compensated for economic and non-economic losses, a victim may receive punitive damages if another party engaged in negligent behavior or misconduct, particularly if that behavior leads to a fatality. These damages usually are significantly larger than the standard compensatory damages you would be entitled to receive.
Is There A Time Limit On When I Can File A Car Accident Claim In New York?
Ideally, you should speak with a car accident lawyer near The Bronx right away. New York state law says that car accident claims must be made within a specific timeframe.
That means that yet, there's a time limit when it comes to filing a claim involving a car accident. Your claim should be filed within seven days of the incident. The statute of limitations has a major impact on lawsuits of many types, and there is no exception with car accidents.
When it comes to a lawsuit against a defendant, victims have three years to file. However, if a government agency is a defendant in a case, a lawsuit must be filed within 90 days.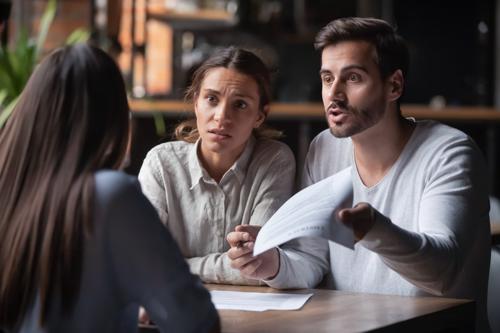 It's crucial to get things done within the appropriate time. You should make sure that the personal injury lawyer is contacted as soon as possible. When you work with an accomplished lawyer, they'll ensure that your case doesn't go beyond the guidelines established by the statute of limitations. This means that it's much more likely that you'll win your case.
Remember that cases like this usually can't be resolved immediately. Personal injury cases can be complex, and because of that, it can take a while before things are completely resolved. It's likely that the lawyer will investigate numerous things, including medical bills and property damage.
Beyond that, your lawyer will need to make sure they have ample time to speak with witnesses and consult with medical experts to get a better understanding of any injuries that you have sustained. Attorneys may have professionals work to recreate the accident scene so that they can get a clearer picture of what actually happened. Beyond that, lawyers will need to have enough time to secure any court orders required so that they can gather evidence that supports your case. This could include cell phone records, receipts, and many other types of evidence?
What Are the Most Common Types of Car Accidents?
Examples are auto accidents that frequently take place include:
Hit-and-run incidents
Inexperienced drivers
Parking lot accidents
Rear ending
Truck, motorcycle, rental vehicle, accidents
Rollovers
Sideswiping
Head-on collisions
Accidents that are caused by a failure to yield or stop
Even if you're the party that is at fault in an accident, you may be able to receive compensation that will help cover your lost wages and medical bills. Because of this, it's crucial for you to hire a car accident attorney that has plenty of experience with car accident cases and personal injury claims. Attorneys understand what kinds of strategies should be implemented during a trial. This means that you'll be able to receive more funds for the injuries that you've suffered. If you're in this sort of situation, you should know that Cellino Law Firm is ready and able to assist you.
A car wreck can lead to serious injuries, including body organ and function limitations, loss of a limb, bone fractures, disfigurement, or even death. If a physical impairment has the potential to become a life-threatening injury within three months of a car wreck, the injury will be classified as severe.
This is the main reason why you won't want to hold off on reaching out to a car accident lawyer. If you choose to work with an attorney right away, you'll have a much higher chance of receiving all of the compensation that you are owed. When your attorney has more time to secure evidence, they'll be able to prove that the defendant is at fault and will build a strong case for you.
What Information Should You Get After A Car Accident in NY?
There are certain types of information you'll want to collect at the accident if it is possible for you to do so. With that said, you should not put your health at risk. Information that should be collected include:
The license plate numbers and make, model, and year of every vehicle that was a part of the accident
The name, phone number, address, driver's license number, insurance policy number, and registration information of every driver involved in the accident
The name, precinct or division, and badge number of any officers that respond at the scene
Where the car accident took place
What Should I Do If I Was Hurt In An Auto Accident And I Believe The Other Driver Is At Fault?
Many car accident victims ask themselves this question after being involved in a car wreck. Before you do anything else, you'll want to contact the polices that you can file an accident report. You'll also want to contact your insurance company so that you can report the accident to them.
In the state of New York, no-fault insurance law is in place. Because of this, your insurance company will be liable to provide compensation regardless of whether you're determined to be at fault. In addition to seeking compensation from your insurance company, you may want to try to get compensation from the insurance company of the defendant. It's more likely that you'll want to do this if the accident leads to a permanent injury, scarring, a permanent injury, or a fatality.
When you hire a lawyer, they'll file a lawsuit on your behalf. It's more likely that you'll receive appropriate compensation if you hire someone that has the experience and knowledge necessary to give you the representation that you need. If you decide against hiring an attorney, you should keep in mind that the insurance company will try to give you less compensation than you are entitled to.
What If The Other Driver Left After The Accident Or They Do Not Have Insurance?
If you were in a hit-and-run accident, you may not be able to get all of the information you need at the scene of the accident. Still, it's possible for you to receive compensation if you have been injured. In most cases, insurance companies will try to offer you the lowest possible amount. Because of this, you won't want to negotiate with an insurance company without the help of a lawyer. Instead, you should work with Cellino Law Firm so that you can receive the compensation that you are owed.
Will I Have To Go To Trial?
In most cases, it is the preference of lawyers to settle cases out of court when that is a possibility. Deals are made, which means it won't be necessary for the plaintiff to file a court case. With that said, if an insurance company is rejecting fair claims, it may be necessary for the case to proceed to trial.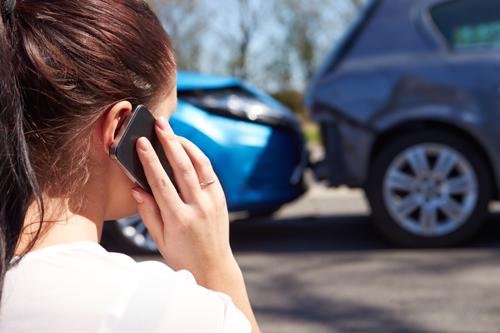 When you work with Cellino Law Firm, you can trust us to review the accident in detail. This means we can accurately calculate the compensation that you are entitled to. We'll work with attorneys to negotiate a fair settlement for you. This means that the case should be resolved quickly. Of course, if the attorneys of the defendant choose not to settle, we'll continue to fight and will make sure you receive everything that you are entitled to.
My Auto Accident Happened A While Ago, But I Can No Longer Pay The Medical Expenses Is It Too Late To File A Claim?
You should always take the statute of limitations in New York into consideration after an auto wreck. Whether you're the defendant or the plaintiff, it's necessary for the case to be filed within a specific time frame.
Typically, you can file a personal injury claim within three years of the accident date. With that said, you'll be better off if you hire an attorney as you possibly can.
Car accident lawyers must complete a number of interviews and investigations so that they can build a strong case for you. This can be a time-consuming process, and that's why you shouldn't hold off on hiring a lawyer. Acting quickly is essential.
After A Car Accident, Should I Speak With The Other Driver?
It doesn't matter who is at fault; you shouldn't speak with the other driver. You shouldn't discuss either the accident or the claim with them. You may feel guilt about the accident, but that doesn't mean that you should apologize. A verbal apology implies that you are admitting you are at fault for the accident.
You should check to confirm that neither the other driver or the occupants in their vehicle sustained an injury. However, you shouldn't say a word about the accident. If you speak up on the accident, it could hurt your case, and it could even keep you from winning your claim. Say as little as possible at the scene of the accident. Being quiet now could help you in the future.
Get a Free Consultation! Contact Cellino Law Today
If you've been a part of a car wreck, and you were not the one at fault, you'll want assistance from a car accident attorney. Our Bronx personal injury firm is here to provide assistance. We can offer a no-risk consultation and provide you with guidance regarding your case. We'll be able to discuss your options with you and provide answers to all of your questions. You'll have the opportunity to have a confidential discussion about your car accident with an experienced attorney.
Speak with one of the Bronx auto accident lawyers at Cellino Law so that we can get the ball rolling on your case. We have ample experience and can fight to secure the compensation that you are owed. We're ready to help you. Just call us to schedule a free consultation. The sooner you talk to us, the sooner we can work to get you your compensation.
Cellino Law was a great company to work with. From the beginning they came out and met with my uncle and myself and assured us that everything would be taken care of from beginning to end our lawyer state and constant contact with us to make sure that everything would go smoothly and it did. I would definitely recommend anybody to go to Cellino Law for whatever help they need. And specifically please ask for the lawyer that we had Mr. Alan Silverstein. He was amazing and his staff was always attentive. Please go with them for your next law needs.

Eshaunda

It was a great pleasure working with you on my lawsuit. You certainly gave 150% of your time and interest in settling my case and for that, I am extremely grateful. Therefore, I want to thank you very much for helping me win my settlement and wish you the very best.

Linda

My wife and I would like to take this opportunity to thank you for a fantastic job as our attorney. We could not have been more pleased with the work you and your team has done on this case. This past four years or so has been such a roller coaster for our family. We are very pleased and grateful with the result. We have made a good choice by choosing you. Thank you.

Dave

I am writing to let you know what an outstanding job George Gridelli did for me in my personal injury lawsuit. His professionalism and expertise were evident at our first metting and he and his paralegal Diane D'Andrea took care of me as if I was a friend and not merely a client. They both went above and beyond for me in so many ways that it would be too numerous to list and I am grateful to have had such an exemplary team represent me. When working with George and watching him in court he personified to me what a lawyer is supposed to be - an honest, extremely compentent man who helped guide me through the legal system. I could not have obtained better representation anywhere else at any price. To me that says a lot abut you and your firm's integrity. Thank you again for representing me and for having such stellar individuals working for you! I will continue to recommend your firm.

Carol

Joe and I just wanted to send you this note thanking you for the professional way you handled our lawsuit. Your kindness was extremely appreciated in a very difficult time. When we found out the people that caused the accident had no insurance, we thought our chances of receiving any settlement was nonexistent. Once we met with you and released you were able to help us our minds were put at ease. Your aggressive manner of handling the case exceeded our expectations. Please feel free to use us as a reference. Thank you so much and best wishes,

Danielle and Joe

Thank you for your help in settling the case of my father's accident. I could always count on you to answer my questions honestly and in terms I could understand. If all lawyers at Cellino Law are like you, I understand why they are an A-1 law firm.

Bedner