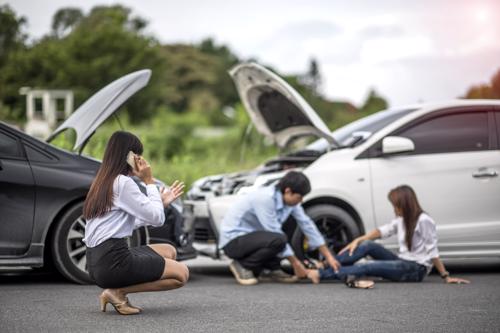 Midtown Manhattan boasts the world's largest business district, tens of millions of annual visitors, and employs several million. Bumper-to-bumper traffic and crowded sidewalks are normal. With so many people in a small area, car accidents happen often.
If you sustained injuries in a car accident in Manhattan, NY, you are not alone. Do you know what to do or whom to call for assistance? Cellino Law is here to help.
Is Midtown Manhattan Dangerous?
The New York Police Department publishes monthly motor vehicle collision reports. Of the 1,049 Manhattan car accidents in February 2023, 377 of them included injuries or fatalities. Those crashes injured 466 people:
170 drivers
112 passengers
100 pedestrians
77 cyclists
One driver and one cyclist also lost their lives. Pedestrians and cyclists don't have the protection that traveling in an automobile provides, and their injuries are likely to be more severe.
People injured in car accidents likely need medical treatments, time away from work during their recovery period, and personal property repairs or replacements. They may need assistance doing everyday tasks. All these things cost money, and injured accident victims deserve compensation for these unexpected but unavoidable expenses.
Unfortunately, obtaining reasonable compensation isn't as easy as you might think. Many people call Cellino Law to find an experienced midtown Manhattan car accident injury lawyer for assistance.
What Should You Do After a Car Accident?
Car collisions happen quickly, and victims often find it hard to focus in the aftermath. Keep this list handy, so you'll know what to do while at the accident scene.
Render Reasonable Assistance
If your injuries allow, try to aid others involved in the accident. That doesn't mean you're responsible for giving first aid; you can help in other ways.
Dial 911
Even though it's likely that someone else will call the police also, you may have information that others don't. For instance, you can tell the operator about the types of injuries those in the wreck sustained. If the operator doesn't dispatch enough medical personnel, lives might be at stake.
Gather Evidence
Many other people will search for evidence after the fact, but accident scenes can shift quickly. Investigators who arrive later may miss vital pieces because they changed. As soon as possible, use your phone to take videos or pictures of all pertinent details, including:
The entire accident scene from various angles
Vehicle damage and placement
All witnesses and others involved in the wreck
Statements
Skid marks
For example, if you believe that a malfunctioning traffic light contributed to the wreck, collect video evidence. Your car accident attorney will use anything you gather when building your case.
Accept or Seek a Medical Assessment
Dispatchers will likely send medical personnel to the scene of your car crash. Allow them to examine you even if you don't believe your injuries are serious. Adrenaline can mask pain, but these professionals may spot problems that aren't immediately apparent. A quick diagnosis can prevent later complications.
Your well-being is the most crucial reason to seek medical attention after a car collision, but there's another. Whoever examines you will document your medical condition in a report. You'll desire compensation for your injuries and other damages, and the official report serves as baseline evidence in your claim.
Call a Car Accident Injury Lawyer
Car accident claims can become complex quickly, and you may not have the knowledge, resources, or time to handle your claim alone. When you call Cellino Law to request your free case review, we'll provide helpful information regardless of whether you choose to hire us.
How Are Midtown Manhattan Car Accidents Complicated?
Some car accident claims are relatively straightforward, but others may have complications. We'll discuss a few common complexities to illustrate why calling Cellino Law can benefit you.
No-Fault Insurance
New York laws require licensed drivers to carry Personal Injury Protection insurance. PIP policies pay specific damages in car accidents regardless of who is at fault. However, PIP benefits may not be enough to cover your expenses, and they don't pay some types of damages.
You can seek compensation from the at-fault party if your PIP benefits aren't sufficient, but you'll need to prove their degree of fault to ensure you get maximum compensation. You'll need to investigate the accident thoroughly on your own to gather evidence unless you hire a car accident lawyer.
Pure Comparative Negligence
Many accidents have more than one at-fault party. New York uses pure comparative negligence in these cases to determine how much compensation each party must pay and how much they can receive. The good news is that you can seek compensation even if you hold the majority of the blame, but there's a catch.
Say your assigned degree of fault is 35%, and damages are $100,000. You are responsible for paying $35,000 (35%), but you can seek $65,000 ($100,000 – 35%) in compensation.
Ensuring that you don't shoulder an unfair portion of fault for your accident is one of your attorney's most crucial tasks.
Commercial Vehicles
Tractor-trailers, delivery vans, and rideshare automobiles are examples of commercial vehicles seen daily in and around midtown Manhattan. When one of these vehicles causes an accident, multiple parties may be responsible, including:
The driver
The company
Maintenance companies
Vehicle or parts manufacturers
An accident investigation involving commercial vehicles is much more in-depth and requires more time and resources.
Government Involvement
Government agencies are responsible for maintaining roads, traffic signals, and street lights. Government vehicles also travel through Manhattan's busy streets. If a government-related issue causes your car accident, your claim is subject to strict regulations and deadlines.
Won't Insurance Companies Pay Your Claim Anyway?
Insurance companies aren't your friends. They don't want to pay more than the bare minimum for your damages, and they often use underhanded tactics attempting to get you to settle for less than your case is worth. Injured accident victims with legal representation typically receive more compensation than those who handle their claims alone.
When you hire Cellino Law, we can handle all communications with insurance company representatives for you. We will protect your rights and fight to obtain maximum compensation.
What Else Does a Car Accident Injury Lawyer Do?
At Cellino Law, we understand that you need to focus on recovering from your injuries. We can take care of many tasks so you won't need to. These include:
Providing legal advice
Submitting accident-related paperwork and insurance claims
Investigating your accident and gathering evidence to substantiate your case
Negotiating with insurance companies to obtain a favorable settlement offer
Taking your case to trial if necessary
Most car accident injury claims settle out of court. However, insurance companies sometimes refuse to offer a fair settlement. Cellino Law's experienced litigators won't hesitate to suggest filing a civil lawsuit if it's in your best interests.
Do You Need a Midtown Manhattan Car Accident Injury Lawyer?
Cellino Law focuses on personal injury cases, so we know how to handle any issue that may arise. We have served injured New Yorkers for over 60 years, helping them to obtain more than $2 billion in settlements. Although we have the experience, power, and resources of a large firm, our accident attorneys give every client the personal attention they deserve.
You won't pay Cellino Law unless we win compensation for you, so don't wait. Request your free case review 24/7 by calling (800) 555-5555 or completing and submitting our online contact form.
Cellino Law is an amazing firm with a great team. I worked with Greg Pajak and his assistant, Tracey Falconer. I cannot express enough how dedicated they are. The personal attention I received was excellent; they were always available to help with questions and concerns and put me at ease in the unknown territory I found myself in. I highly recommend them to anyone needing representation. A huge thank you to them for all they accomplished for me!

Liane

We want to send a big "Thank you" from the both of us. We know you both fought for us and did a great job with our case. You did it in a timely manner and we appreciate it.

Kerrijo & Jerry

Thank you for your time, effort, and hard work on my case. I appreciate your expertise and compassion. I never experienced what I went through and I would have been completely lost without you.

Martha

This letter is to thank Ms. Diane D'Andrea, assistant to Mr. George Gridelli, Attny for all the hard work, dedication, and attentiveness she showed during the representation of my case. She was always cheerful and ready to help in whatever way she could. All messages left for Mr. Gridelli were always relayed and Mr. Gridelli always promptly returned our calls. She was a very competent assistant. Cellino Law has proven to be a model of what legal representation should be. Throughout the 6 ½ years of this case, I have heard many horror stories from people with "bad lawyer stories." We consider ourselves to be very lucky to have chosen Cellino Law and will always recommend you to those looking for good, honest representation with a personal touch.

Joseph

Now that reality has set in, I want to thank you for all your work and assistance in obtaining my settlement for the pelvic mesh. This money will make my life so much easier in the future. Medicare just isn't sufficient. I know that I will have enough to live on. I truly appreciate of your efforts. Thank you!

Loraine

I am writing to let you know what an outstanding job George Gridelli did for me in my personal injury lawsuit. His professionalism and expertise were evident at our first metting and he and his paralegal Diane D'Andrea took care of me as if I was a friend and not merely a client. They both went above and beyond for me in so many ways that it would be too numerous to list and I am grateful to have had such an exemplary team represent me. When working with George and watching him in court he personified to me what a lawyer is supposed to be - an honest, extremely compentent man who helped guide me through the legal system. I could not have obtained better representation anywhere else at any price. To me that says a lot abut you and your firm's integrity. Thank you again for representing me and for having such stellar individuals working for you! I will continue to recommend your firm.

Carol