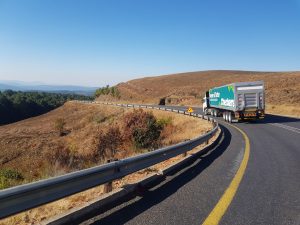 Truck accidents often leave injured victims with lengthy recovery times and mounting medical expenses. To make it worse, injuries can mean time off work and the loss of income. You deserve compensation, but getting it isn't always an easy process.
Several laws can affect how, how much, and when you can obtain compensation. These vary widely from state to state, leaving victims wondering what to do. Fortunately, a truck accident attorney from Cellino Law can help if your accident occurred in New York, Pennsylvania, or New Jersey.
What Is a Statute of Limitations?
A statute of limitations is the maximum amount of time you have to initiate a legal claim or lawsuit after a qualifying event. State legislatures set these statutes and often have differing periods for different kinds of incidents. If you don't file a claim before the statute of limitations expires, you'll likely lose any right to pursue a claim.
The statute of limitations for truck accidents can vary significantly by state. Some states allow up to four years, while others require you to file a claim within one year of the accident date. Cellino Law serves accident victims in these states:
New York: three years
New Jersey: two years
Pennsylvania: two years
Although these time frames are general rules, some exceptions can apply. For instance, you may have only a few months to file a claim if your accident involved a truck registered to any form of government.
It's crucial to find out the statute of limitations that applies to your specific truck accident because you could miss the opportunity to obtain damages. Your truck accident lawyer will help.
How Long Should You Wait To Hire a Truck Accident Lawyer?
You don't have to hire a lawyer right away, but contacting a truck accident attorney immediately after the collision can ensure that you're able to file a claim within the statute of limitations.
Truck accidents are typically more complicated than car accidents, and it can take your attorney longer to investigate and prepare your case. If you wait until the statute of limitations is about to expire, they might not have enough time to file a claim on your behalf.
Other factors indicate that hiring a lawyer sooner rather than later is better. We can:
Speak to witnesses while their memories are fresh
Obtain evidence that might be unavailable later
Prepare and file required paperwork
Speak to insurance company representatives on your behalf
Use our investigators and resources to find the cause of your accident and hold the guilty party or parties responsible
Advise you of your options as the case progresses
Arrange for examinations by experts who can testify on your behalf
Negotiate a favorable settlement or take your case to trial
Truck accident claims have more moving parts than many other personal injury cases, and you may have trouble understanding how they affect you. You could unwittingly make mistakes early on that hinder your ability to recover compensation. The advice provided by a truck accident attorney can make the entire claims process easier to understand and navigate while preventing you from making costly errors.
What If You're Partially Responsible for the Truck Accident?
Another type of statute comes into play when more than one party is responsible for a truck accident. Most states use modified comparative negligence, although some follow pure negligence rules.
Each driver (or other parties, as explained later) involved in a truck accident receives a percentage of blame for causing the wreck. This percentage reduces the amount of compensation you can receive proportionally.
Suppose total damages in a truck accident are $100,000 and you are 20% responsible. Deduct 20% of $100,000; the most you can receive is $80,000.
In some states, laws state that you can't recover any compensation if you're 50% or 51% at fault. Understanding your state's laws regarding the percentage of blame is important because they affect the damages you may qualify to receive.
In addition to investigating the accident to place blame appropriately, your truck accident attorney will also find evidence to support your innocence. Insurance company attorneys may try to blame you unfairly, and they might get away with it without a competent lawyer from Cellino Law on your side.
Who Can Be Held Liable for Truck Accidents?
Cars and other vehicles can cause truck accidents, but we'll look at the fault involving the truck. Not only might the truck driver be at fault, but other parties can hold responsibility as well:
Trucking company
Truck owner
Truck and parts manufacturers
Companies responsible for maintaining the truck
Cargo shipper or owner
Cargo loader
As you can imagine, it takes significant amounts of time to dig into the root cause of the accident to hold the guilty people accountable. You likely don't have the time, know-how, or resources to conduct a thorough investigation, but Cellino Law does.
How Can Trucking Companies Contribute to Driver Fatigue?
Many truck accidents result from a fatigued driver. Everyone gets tired, right? Yes, but fatigue takes it a step further. Fatigue can have physical effects similar to those associated with alcohol and drug usage:
An inability to focus or concentrate
Blurred and limited vision
Delayed response times
Impaired judgment
Lack of control
Risk of falling asleep at the wheel
Any of these conditions represent a potential risk, so drivers won't drive if they're fatigued, correct? Unfortunately, that's not always the case. Laws regulate how many consecutive hours truckers can drive and mandate rest periods.
Delivery deadlines sometimes mean more to trucking companies than driver safety does, and they may require truckers to keep driving beyond their permitted hours to make on-time deliveries.
To make things more difficult on drivers, many deadlines are early in the morning. This means they must drive at night, which can add to fatigue.
What Is a No-Fault State?
Some states, including New Jersey, New York, and Pennsylvania, are known as no-fault states. This refers to auto insurance. Licensed drivers in no-fault states must obtain personal injury protection insurance which pays for your medical and certain other expenses up to your policy limit. As with most regulations, some exceptions apply.
You're not eligible to recover some types of damages if your PIP policy is the one paying. However, your insurance company can attempt to recover its payout from the guilty party's carrier. Your personal injury lawyer can help you understand how the no-fault status can affect your compensation.
How Can Cellino Law Help You?
If you sustain injuries in a truck accident, you need to focus on your recovery. You likely don't have the time or knowledge to deal successfully with the challenges a truck accident claim presents. For over 60 years, Cellino Law has represented injured accident victims like you, recovering billions of dollars worth of settlements. We want to assist you too.
We at Cellino Law understand that now isn't the time for you to have extra expenses, so we make it easy for you. You won't pay us unless we win for you. We have several offices to serve you, but we'll make arrangements to come to you if it's more convenient.
We'll begin with a free case evaluation. We'll ask for details about your accident and tell you how we can help. Cellino Law is available 24/7, so don't wait to contact us. Call us at (800) 555-5555 or submit our contact request form.
We want to send a big "Thank you" from the both of us. We know you both fought for us and did a great job with our case. You did it in a timely manner and we appreciate it.

Kerrijo & Jerry

Now that reality has set in, I want to thank you for all your work and assistance in obtaining my settlement for the pelvic mesh. This money will make my life so much easier in the future. Medicare just isn't sufficient. I know that I will have enough to live on. I truly appreciate of your efforts. Thank you!

Loraine

Choosing the right attorney to represent you after an accident can make all the difference. This is no cliche. I recently experienced these words to live by first hand. After a tractor trailer rear ended me at high speed in 2017 I retained Allan Silverstein to handle my case. I quickly realized that bringing a lawsuit rapidly snowballs into a mountain of details that can make or break your results. Documents, case histories, doctor visits, bills, and lots of phone calls all need to be accurately kept track of if a successful outcome it to be attained. To complicate matters I reside in New York and the incident took place in New Jersey. Luckily, Allan was licensed in multiple states. I was fortunate to find Allan to handle this matter from the New York area. Armed with an accurate account of the facts Allan went to work on the difficult job of negotiating with the defending insurance company as well as my no fault carrier in order to obtain the best possible outcome for my set of circumstances. In a lawsuit communication is key and and events can be of a timely nature. Allan never failed to return my calls - usually the same day! He fought skillfully and respectfully to get me the best possible settlement. He is easy to deal with and a likeable down to earth guy. He always listened with compassion and respect to my issues. He guided me with objective understanding as well as a realistic analysis of the merits of my case. When we finally settled Allan got me a fair agreement beyond my expectations and negotiated with my doctors to make sure all my bills were paid. It was a great experience having Allan represent me. Quality work in any aspect of life is hard to find. Quality is what I got with Allan Silverstein. I highly recommend him if you find yourself in need of a personal injury attorney.

Theodore

Thank you for your efforts on my behalf. I am very pleased (and surprised) at the amount of the settlement. We will use the funds to help pay down the debt on the truck we had to purchase after ours was totaled. Thank you again.

Linda

Thank you for all your help. It has been a long journey. At last, the light at the end of the tunnel. Also, thank Tom for the help and work he put in.

Ron

My experience during the time of negotiations was extremely positive. Josh Sandberg handled my lawsuit with the utmost integrity. He returned all my phone calls in a timely manner and answered all my questions. Josh made things less stressful. I would highly recommend Josh and the entire staff at Cellino Law.

Arthur