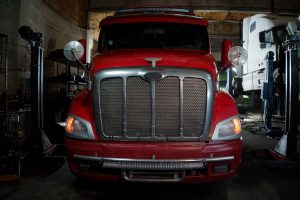 In 2019, 12.6% of all motorists in the U.S. were uninsured. While Texas did better than most, with an 8.3% rate of uninsured motorists, it is still disconcerting for drivers to know that a driver involved in a car accident might not have insurance. The consequences can be catastrophic when the uninsured party is a truck driver or trucking company.
Truck accidents can result in significant injuries to motorists. If you sustain injuries in a truck accident and discover the driver or motor carrier doesn't have insurance, you may need to dig a little deeper to determine your options.
Private Motor Carrier Liability Requirements
Truck owners have a legal obligation to carry liability protection on commercial vehicles. The federal government regulates insurance requirements for all commercial motor carriers, regardless of whether they operate interstate or intrastate. The Federal Motor Carriers Safety Administration regulates and oversees the trucking industry and establishes the following liability requirements for commercial vehicles:
Trucks weighing less than 10,000 pounds and transporting non-hazardous cargo must have $300,000 in liability protection
Trucks weighing more than 10,000 pounds and transporting non-hazardous freight must have $750,000 in liability protection
Trucks weighing more than 10,000 pounds and transporting hazardous cargo must have $5,000,000 in liability protection
The truck owner can satisfy this requirement through insurance or a surety bond.
Who Is Responsible for the Coverage?
The truck owner is responsible for having sufficient liability protection. Often the owner is a trucking company, and the company maintains a fleet of vehicles. However, sometimes the owner is the truck driver. Though the driver uses the truck to transport materials for other companies, the driver is essentially the trucking company and must have sufficient liability protection.
Why Don't All Trucks Have Protection?
Though the law stipulates that all commercial trucks must have liability protection, not all owners adhere to the law. Most larger companies that operate between states have coverage. However, occasionally smaller, local companies may not have the protection they need and may run operations that allow them to function without getting noticed for the lack of coverage. They may get coverage initially and then let it lapse. Though many states now require insurance companies to notify the state when a policy lapses, not every state does. It can also take time for the system to send the notification.
Government Owned Truck Liability
Government-owned trucks also don't usually have insurance. Instead, the government financially backs its fleet. Government immunity does not hold in truck accident cases involving a government vehicle. According to federal law and other state laws (including Texas), the government can be held liable when a traffic collision resulting in injuries, death or property damage involves a government employee operating a government vehicle.
However, the employee must perform duties that fall under the scope of the job. If the employee is engaged in an activity that is not permissible or acceptable for the work the driver performs, then the driver is liable and not the government. In that case, the driver likely has no insurance to cover the damages.
Texas Motorist Insurance Requirements
Texas legally requires coverage for all registered vehicles in the state. However, the state also mandates insurance companies include uninsured/underinsured motorists and personal injury protection coverages on all policies. If you don't want either, you must decline coverage in writing. If you have them, they can help you recover damages when the at-fault driver doesn't have truck insurance.
Personal Injury Protection
PIP insurance pays damages related to injuries sustained in a traffic accident, no matter who is responsible for the crash. If you have PIP insurance, it will pay for all medical expenses related to the accident. It also covers 80% of wages you lose when your injuries prevent you from working. It pays for the same damages when your passengers get hurt. However, it only pays up to the policy limits.
Uninsured/Underinsured Motorist Protection
Uninsured/underinsured motorist protection pays for damages to your car and medical expenses when the at-fault driver does not have truck insurance. The policy only covers damages up to the limits.
Non-Economic Damages
Truck accidents can result in losses beyond those covered under a typical insurance policy. If the at-fault driver does not have truck insurance, obtaining non-economic damages is an even greater concern.
Your Options When the At-Fault Driver Does Not Have Truck Insurance
Your options may be limited when the at-fault driver does not have truck insurance. You can file a claim with your insurance company if you have PIP or uninsured/underinsured motorist coverage. You may also be able to file a claim with your health insurance provider.
Additionally, there is the possibility that another party is at least partially at fault in the accident. Whether the at-fault driver has insurance, it is always a good idea to investigate the case to determine if any other parties have liability. The federal government holds multiple sectors responsible for safety when trucks are engaged in interstate commerce. The following parties may be liable in a truck accident:
Trucking companies
Shipping companies
Contracted maintenance and repair companies
A truck accident lawyer can examine the evidence to determine if other parties share liability and help you pursue a claim. You may also be able to file a lawsuit against the at-fault party, including a government entity.
Personal Injury Legal Claim Requirements
Filing a lawsuit is generally an option when the at-fault party does not have sufficient insurance to pay for all your losses. You can also file a claim when the insurance company refuses to pay a fair settlement. If you attempt to recover damages from your provider and it won't cover your losses even if you have the coverage, you can file a claim seeking fair compensation for economic damages.
You can also pursue a legal claim for non-economic damages if your injuries are serious. Severe injuries are those that result in the following:
Broken bones
Permanent disfigurement
Dismemberment
Loss of bodily function or system
Fetal loss
While pursuing a legal claim is often an option, you must consider whether doing so is worth it.
Considerations for Filing a Lawsuit
If you are thinking about pursuing a legal claim to recover your losses when the at-fault driver doesn't have truck insurance, there are a few considerations to bear in mind. Obtaining compensation can be challenging if the party does not have money in the bank. However, filing a claim in this instance can still produce favorable results. If the court decides in your favor, the court may release an order to seize the at-fault party's property and liquidate other assets to fulfill the judgment against the individual or entity.
Another consideration is your role in the accident. According to Texas's modified comparative fault law, you are not entitled to the entire settlement if your actions contributed to the crash. You can only recover a percentage equal to the other party's portion of the liability. If you are more than 50% to blame, you are not entitled to receive compensation.
Truck Accident Attorney Assistance
Cellino Law truck accident lawyers can help you understand your options when you sustain injuries in a traffic collision, and the at-fault party does not have truck insurance. We're here for you if you need assistance dealing with insurance companies or filing a lawsuit. We won't charge anything until you win. Contact us today for a free case review and find out what you can do to recover your losses.
I just want to let you know that I did receive my settlement check. More importantly, I want to thank you again for all you did for both me and my family. I could not be more pleased with my experience at Cellino Law. From the moment I first spoke with you I felt comfortable - you took a sincere interest in my case, clearly explained the process and effected a quick settlement. From this day forward, when someone asks if I can recommend a good lawyer I will, without hesitation, say "Cellino Law". Thanks again.

Walter

My wife and I would like to take this opportunity to thank you for a fantastic job as our attorney. We could not have been more pleased with the work you and your team has done on this case. This past four years or so has been such a roller coaster for our family. We are very pleased and grateful with the result. We have made a good choice by choosing you. Thank you.

Dave

Thank you for your efforts on my behalf. I am very pleased (and surprised) at the amount of the settlement. We will use the funds to help pay down the debt on the truck we had to purchase after ours was totaled. Thank you again.

Linda

Thank you for your help in settling the case of my father's accident. I could always count on you to answer my questions honestly and in terms I could understand. If all lawyers at Cellino Law are like you, I understand why they are an A-1 law firm.

Bedner

I can only say great things about my attorney Allan Silverstein. He is professional, he calls back right away, he keeps me informed, and makes me feel comfortable as this entire ordeal is stressful. I have total confidence in his ability to handle whatever comes his way. He is no nonsense and very good at his job. Thank you Allan... he is a true asset to the team!

Mrs Steward

Cellino Law is an amazing firm with a great team. I worked with Greg Pajak and his assistant, Tracey Falconer. I cannot express enough how dedicated they are. The personal attention I received was excellent; they were always available to help with questions and concerns and put me at ease in the unknown territory I found myself in. I highly recommend them to anyone needing representation. A huge thank you to them for all they accomplished for me!

Liane