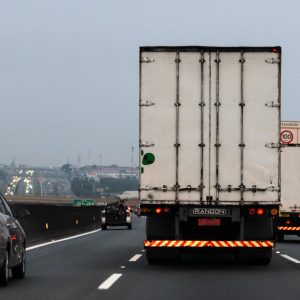 Rear-end truck collisions can have devastating consequences. Of the 5,005 fatalities in accidents involving large trucks in 2019, 23% were rear-end collisions. Nationwide, the number of people injured in a truck collision was an estimated 139,000. Rear-end collisions can lead to serious injuries with long-term and sometimes life-long impacts.
If a semi rear-ended you, you might be able to sue for damages. A rear-end fender-bender with minor or no injuries is unlikely to have sufficient grounds for filing unless the insurance company denies your claim for economic damages. However, if you sustained severe harm, you may have a case for a lawsuit.
Insurance Impacts on Your Claim
The law requires you and the trucker to have vehicle insurance. As a New York resident, you need personal injury protection. Truck drivers or their employers must carry liability insurance, but they don't need PIP. Here's how the two coverages can impact your claim and ability to file a suit.
New York's At-Fault Car Insurance Rules
This state is a no-fault auto insurance state, requiring all motorists to file a claim with their insurance provider if they get hurt in an accident. Fault is not a consideration; your insurance company must pay reasonable medical expenses regardless of who is to blame.
New York's minimum coverage limits for PIP insurance are higher than many other states with no-fault insurance laws. The minimum is set at $50,000 per accident per person. The benefits pay for medical expenses, up to $2,000 per month in lost wages for no more than three years and up to $25 daily for a year of relevant miscellaneous expenses. The law limits when you can file a legal claim.
What Are the Rules for Filing a Lawsuit?
New York allows you to file a lawsuit if your expenses exceed your insurance coverage. If a large truck rear-ends you, you may not have sufficient PIP coverage. For example, a common injury in a rear-end collision is a traumatic brain injury. While costs vary by location and with the injury severity, estimates of some of the expenses you may incur from a severe TBI include:
Emergency services: In addition to the standard fee for an emergency room visit, TBI patients may require CT scans — ranging from $5,000-$8,000 — or an emergency craniectomy that may run as high as $40,000.
Hospitalization: If admitted to the hospital, the daily average cost is nearly $4,000, and the average stay for TBI patients is three to seven days.
Rehabilitation: Severe traumatic brain injuries may require short- or long-term specialized treatment in a memory care facility, costing several thousand dollars monthly. Physical therapy sessions cost $125 per session on average.
These costs are only for potential medical expenses and do not account for missed work time or non-economic losses such as emotional suffering.
If you meet the criteria for a serious injury, you can also file a lawsuit to pursue non-economic damages. The state's insurance law defines a serious injury as one that fits in any of the following categories:
Fractured bone
Dismemberment
Significant disfigurement
Permanent loss of a body organ's use
Significant and permanent limitations in a body organ or function
Non-permanent injury which impairs daily functioning for 90 days or more
The loss of a fetus and fatal damage also qualify.
Federal Law for Trucker Liability Coverage
The primary laws for the U.S. commercial trucking industry come from the federal government. Generally, states enact laws that enforce federal regulations. However, they may have rules that differ from the federal laws for trucks operating within the state and on state roadways. All commercial vehicles must have sufficient liability protection to cover damages in accidents where the trucker is at fault.
Trucks that weigh no more than 10,000 pounds and don't carry hazardous freight must have at least $300,000 in liability protection. Semis weighing more than that and carrying non-hazardous cargo require $750,000 in coverage, while those carrying hazardous materials need $5,000,000 in protection. The responsible party can obtain the required protection through insurance or a surety bond.
If your injuries exceed your limits or you wish to sue for non-economic damages, you will most likely file a claim against the truck driver or the trucking company, depending on who carries the insurance and owns the rig. There may also be other parties at fault. If brake failure caused the rear-end collision, the trucking company might be liable, but so might the brake manufacturer or maintenance and repair companies. Federal laws hold these entities responsible for ensuring commercial vehicles are operating safely.
Personal Injury Law Impacts
Most people assume that the trailing vehicle's driver is at fault in a rear-end collision. In general, that individual usually carries at least the bulk of the blame. However, the lead vehicle's driver may also bear some responsibility. Sometimes, the passenger vehicle driver may be primarily at fault. Primary liability may go to the lead driver if that individual cut off the trucker or purposefully slammed on their brakes. These types of incidents often occur as a result of road rage.
When you file a legal claim, your degree of fault matters. Obtaining sufficient evidence to prove the truck driver's liability is imperative. The defense attorneys will seek to demonstrate that you share the responsibility or are primarily to blame. As the claimant, you carry the burden of proof, so you want to ensure you have a solid case when you file. A truck accident lawyer can help you construct a case that incorporates evidence from all potential sources, protecting the integrity of your case and your rights.
What Happens When You Share Liability?
If you share responsibility for the accident, it impacts the outcome of your case. Fortunately, New York is one of only 13 states with a pure contributory negligence law. Under this rule, you can recover damages even if you are partially or primarily at fault. How much you receive depends on your share of liability.
During negotiations, both sides usually agree on a settlement amount. However, you won't receive the total amount when you have liability in the accident. Instead, you will receive a percentage equal to the other party's share of the blame. For instance, if you are 40% at fault and the trucking company is 60% liable, you take home 60% of the awarded settlement.
Is There a Deadline for Filing a Lawsuit?
If you are recovering from a rear-end truck collision, your attention is understandably focused on healing and getting your life back. You may also feel like you need to wait until you know how much your injuries will cost. However, if you wait too long, you will miss the legally established deadline for filing a personal injury lawsuit. In New York, you have three years from the accident to submit your intent to file. If you don't file in time, you lose the opportunity to sue.
Experienced New York Truck Accident Lawyers
If you were injured in a New York truck accident, Cellino Law's attorneys are here for you. We have vast experience in handling truck crash lawsuits. Our in-depth knowledge and personalized attention ensure you get the support you need through this difficult time. Let us take care of the legal work while you take care of yourself. We won't charge any fees until you win. Contact us today for a free, no-risk case review.
Thank you for your time, effort, and hard work on my case. I appreciate your expertise and compassion. I never experienced what I went through and I would have been completely lost without you.

Martha

Thank you for all your help. It has been a long journey. At last, the light at the end of the tunnel. Also, thank Tom for the help and work he put in.

Ron

We'd like to thank you for all the assistance and time you spent on our case. Your professionalism and honesty will always be appreciated. The staff was always courteous and we were always impressed with your accountability. Your passion and dedication will never be forgotten, nor will you.

Sarah

I really appreciated your determination and efforts on handling my case. You have done an outstanding job, and I am very satisfied with the outcome of the settlement. Thank you so so much John.

Amparo

My experience during the time of negotiations was extremely positive. Josh Sandberg handled my lawsuit with the utmost integrity. He returned all my phone calls in a timely manner and answered all my questions. Josh made things less stressful. I would highly recommend Josh and the entire staff at Cellino Law.

Arthur

I can only say great things about my attorney Allan Silverstein. He is professional, he calls back right away, he keeps me informed, and makes me feel comfortable as this entire ordeal is stressful. I have total confidence in his ability to handle whatever comes his way. He is no nonsense and very good at his job. Thank you Allan... he is a true asset to the team!

Mrs Steward