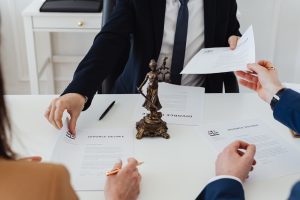 If you recently suffered an injury or lost someone close to you in a truck accident caused by another party's negligent behavior, a truck accident lawyer can represent you and your damages claim. Commercial trucks are oversized and dangerous with an inexperienced driver behind the wheel or a careless company managing operations. Often these cases require fighting large corporations with unlimited resources. To better your chances of a fast and fair settlement, you need the advantages that come with hiring a truck accident lawyer.
Calculating Damages in a Truck Accident Case
The legal term for losses you can recover financially is compensatory damages. The value of your claim equals the total of damages you suffered. A significant benefit of hiring a truck accident lawyer is their experience in identifying damages and calculating the monetary value of losses with no dollar equivalent. The varying types of compensatory damages fall under one of two categories: economic damages or non-economic damages.
Economic Damages
The immediate financial losses you can think of would be economic damages. You can typically back these claims with receipts, bills, and other tangible documentation. Examples include:
Your medical bills for the treatment you received or will need in the future for your injuries
The wages you lost from missing work or from losing the ability to complete the same job you did before the accident
What it costs to fix or replace your vehicle damaged in the accident as well as any other damaged property
Suppose you file a wrongful death lawsuit as a representative of a loved one lost in a truck accident. In that case, you can include their medical bills, funeral expenses, burial costs, and lost income, inheritance, or benefits you would have received from them.
Non-Economic Damages
Given the often devastating outcome of truck accidents, the psychological damages can be just as significant as your physical injuries. Auto accident victims often suffer from anxiety or post-traumatic stress syndrome, especially when attempting to get back on the road. A truck accident attorney uses precedent, experience, and other means to calculate and prove the non-economic damages in your case, including:
Lost ability to enjoy life
Pain and suffering from physical injuries
Anxiety and depression
Emotional distress
Mental anguish
If you lost a loved one, non-economic damages might include loss of companionship or consortium and loss of the nurturing your loved one provided. A truck accident lawyer will identify these losses and protect your right to compensation for them.
Determining Liability and Collecting Evidence to Support It
In a truck accident case, as in any personal injury case, you must determine and prove negligence to receive compensation for your damages. For a person with no legal experience, this element of the claim would likely be the most difficult, especially considering the potential for multiple liable parties in a truck accident case.
Potentially Liable Parties
The first step a truck accident lawyer will take is to investigate your accident to look for proof of negligence. A concept unique to truck accident cases is that the driver is not always the only liable party. Sometimes they are not even liable at all. Parties that could be responsible include:
The company that owns the truck is responsible if the truck driver, whom they employ, does something to cause the accident while within the scope of their employment. For example, they could be liable if they violate the legal hours of operation allotted to truck drivers or fail to provide adequate training. The company is also responsible for ensuring the trucks are safe through routine maintenance and inspection.
A third-party company could be responsible if the truck company outsources the responsibility of performing maintenance and inspections. For example, if they skipped an inspection and missed a balding tire that blew, causing an accident, the third-party company would be liable.
The loading party is liable if the accident's cause was fallen, shifted, or overweight cargo. This could be the driver, the truck company, or a third party.
The company manufacturing the truck or its parts could be liable if a defective part caused the accident.
The truck driver would be responsible regardless if the accident resulted from a road law violation, such as driving while intoxicated or making illegal turns. However, self-employed, independent drivers who own their trucks have more responsibilities than drivers employed by the company.
Your truck accident lawyer's job can become more complicated with more than one party being responsible. For example, if the brake system failed and the cargo shifted on a turn, causing the truck to tip over, the potential for multiple defendants is high. As a result, your attorney may recommend a truck accident lawsuit against the loading company and a product liability lawsuit against the manufacturer of the part that created the brakes.
Negotiating With the Insurance Companies
For a truck accident victim, one of the most rewarding benefits of working with an attorney is not dealing with the insurance companies. Truck accidents typically result in significant damages, making the payout for insurers high. As a result, these companies task adjustors with protecting company interests above all else. Unfortunately, this sometimes means they resort to what the industry calls "bad faith tactics." Bad faith tactics can include:
Denying your claim without providing an evidenced reason
Delaying the investigation into your claim to run out the clock on the statute of limitations for filing a lawsuit
Failing to disclose the existence of coverage
Making threatening statements, such as accusing you of lying or blaming you for the accident
Refusing to pay your claim even if you provide sufficient evidence to show it is valid
Offering a settlement significantly lower than the claim is worth
Refusing reasonable requests for documents
Intentionally misrepresenting the policy's language or changing the wording to suit the company's agenda
Insurance companies often use these tactics on unsuspecting people who may not fully understand their rights in this situation. However, they are less likely to try it with an experienced truck accident attorney. As soon as your attorney collects the evidence you need to support your claim, they will begin negotiations with the insurance companies to argue for a fast and fair settlement, allowing you the peace of never talking to adjustors.
Contact a Truck Accident Lawyer Today
If you have questions about your case and what a truck accident lawyer can do for you, you can call to schedule a free consultation. Most personal injury attorneys work on contingency, meaning they do not charge upfront fees for their services. Should they choose to represent you, they do not receive payment until you receive a settlement through negotiation or an award through trial. When a truck accident lawyer hears the details of your case and agrees to take you on as a client, it means they have confidence in the evidence and their ability to secure payment for both of you.
At Cellino Law, we understand the burdens truck accident victims face. In most states, the statute of limitations for filing a lawsuit against the at-fault party from an auto accident is only two or three years. By then, the bills can pile high, and the stress of the situation can cause significant psychological damage. Our attorneys will build your case and start negotiating a settlement for you immediately. Contact Cellino Law today for your free case evaluation. You are not obligated to hire an attorney for your case, but you can only benefit from legal representation.
Thank you for all your help. It has been a long journey. At last, the light at the end of the tunnel. Also, thank Tom for the help and work he put in.

Ron

I really appreciated your determination and efforts on handling my case. You have done an outstanding job, and I am very satisfied with the outcome of the settlement. Thank you so so much John.

Amparo

Cellino Law and more specifically my attorney, Gregory V. Pajak, Managing Attorney, and as a whole the Cellino Law Firm and its organization. This is by far one of the most professional law firms and attorney I have ever engaged with and retained in my 35 years. The level of professionalism goes beyond words, the care and constant engagement with me as the client was touching. I was never ever just treated as simply a CASE with potentially a significant dollar number attached to my file. I was engaged regularly, Tracey (Ass't) and Greg always made sure to remain constant, as well as consistent in overseeing that my case was handled properly and that it did matter in many ways - ensuring that the end result(s) would be fair and reasonable to my case/injury. The regular follow-up calls were very satisfying, knowing that you're involved in your case matters significantly AND always. One of my main items to recognize Cellino Law and Gregory is that whenever I called, I was able to get through to speak directly to my Lawyer and he would answer any if not all of my questions in a very professional and genuinely caring manner. I always felt cared for and protected legally and more importantly, I was made feel as a human being that was being cared for and always keeping me abreast of all matters connected to the case. There was never a point I felt let down, on the contrary -the level of service was "STELLAR". Greg is the consummate professional, a 'role model', if you will, for what other attorneys should strive to become when dealing with their clients.

Anthony

Cellino Law was a great company to work with. From the beginning they came out and met with my uncle and myself and assured us that everything would be taken care of from beginning to end our lawyer state and constant contact with us to make sure that everything would go smoothly and it did. I would definitely recommend anybody to go to Cellino Law for whatever help they need. And specifically please ask for the lawyer that we had Mr. Alan Silverstein. He was amazing and his staff was always attentive. Please go with them for your next law needs.

Eshaunda

I want to thank your law firm for settling my lawsuit where others failed. You treated me with the utmost respect and care, because of your law firm the dream of owning my own home finally came true. For the first time in a long time, we're living out our dream home. Thank you a million times over. Thank you for making my dream come true.

Marcy

We'd like to thank you for all the assistance and time you spent on our case. Your professionalism and honesty will always be appreciated. The staff was always courteous and we were always impressed with your accountability. Your passion and dedication will never be forgotten, nor will you.

Sarah