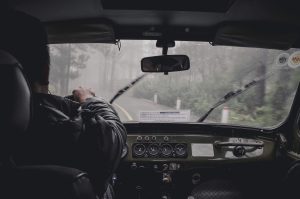 The substantial size of commercial trucks alone makes them a potential danger to everyone on the road. That is why truck drivers and everyone else involved in the trucking industry are responsible for ensuring the safety of other drivers who share the road. When they breach that duty of care by acting negligently and causing an accident, they are responsible for covering the losses victims incur. If you were harmed or lost a loved one in a truck accident, there are multiple potentially liable parties you could sue for damages.
Common Causes for Truck Accidents
Because the basis of a truck accident lawsuit is negligence, identifying the cause of the accident is the first step in determining the liable party. Every accident is unique in some way, but some of the most common causes of truck accidents include:
Driver fatigue. Driving while tired is as dangerous as driving under the influence of a mind-altering substance. Unfortunately, it is a common problem in the trucking industry. Drivers sometimes do not follow the federal limitations on hours of service, resulting in fatigued driving.
Distracted driving. Like anyone else, truck drivers can make the mistake of diverting their attention from the road while driving. Talking or texting on the phone, eating, daydreaming, or even listening to the radio could distract a driver long enough to cause an accident.
Improper cargo loading. The center of gravity on a commercial truck is substantially higher than on a smaller vehicle. Therefore, loading cargo haphazardly could lead to a shift while turning a curb, causing the truck to tip over. In addition, exceeding the weight limit could cause a tire blowout.
Driving recklessly. Speeding is the most common form of reckless driving, and truck drivers sometimes exceed the limits to ensure cargo delivers on time or ahead of schedule.
Insufficient training. Driving a commercial vehicle is a skill. An unskilled driver without proper training could easily make dangerous mistakes on the road.
Driving under the influence. Truck drivers must follow the same road laws as other drivers, but they are an even greater danger to other drivers if they are not on high alert while driving.
Not all truck accidents are the result of a single cause. Combining possible causes only increases the risk. For example, speeding during inclement weather while pulling a poorly loaded trailer significantly increases the risk of an accident and potentially involves multiple liable parties.
Liability in a Truck Accident Case
One element that makes truck accident cases significantly different from a collision involving passenger vehicles or motorcycles is the possibility of liable parties not even present at the accident. Therefore, to prove negligence for your claim, you need to understand who is actually at fault for your damages.
Truck Drivers
The most apparent liable party in a truck accident is the truck driver. However, in some cases, the driver may not even be responsible for the accident. Some examples of when a truck driver is at fault include:
If they violated the rules of the road
If they operated the vehicle outside of the scope of their job
If they are an independent truck driver, solely responsible for the truck and operating under their own personal insurance policy
Proving negligence when the truck driver is at fault is typically reasonably straightforward because their presence on the road already holds them to a duty of care owed to other drivers.
Trucking Companies
Trucking companies are responsible for the trucks in their fleets and even their drivers. For example, some ways a trucking company can act negligently include not properly training or vetting their drivers, missing mandatory inspections, or not performing regular maintenance on their trucks. In addition, some companies incentivize their drivers to go beyond their legal hours of service by offering bonuses for early delivery or ignoring falsified truck logs when it works in favor of the company.
Third-Party Maintenance Teams
To alleviate the burden of constant maintenance and inspections, some trucking companies will outsource these elements to a third-party mechanic or maintenance company. If an accident occurs due to poor maintenance, an injured person could hold the company responsible. For example, if the cause of your accident was a failed brake system missed because of a skipped inspection, the company in charge of inspections would be liable.
Loading Company or Person
There are multiple ways that improperly loaded trucks could cause an accident:
Unsecured cargo could fall off an uncovered trailer and fall onto the road.
Improperly loaded cargo in a covered trailer could shift on a turn or curve, causing an imbalance that could make the truck tip and fall over.
Cargo exceeding the federally mandated weight limits could cause structural problems or make the truck wear and tear faster than it usually would.
Sometimes the loading party is the truck driver or the trucking company. Sometimes it is a third-party company or person. Regardless, the truck driver is also responsible for maintaining a log of brief inspections at every stop to ensure the cargo remains in place. One of the first things your attorney may do is ask for a copy of those logs to look for damaging mistakes that prove negligence.
Parts Manufacturers
When the source of the accident is a faulty part, your claim may shift to a product liability lawsuit. For example, suppose the truck manufacturer installed a defective locking mechanism on the trailer door, opening the door and spilling cargo onto the road. In that case, you may file a lawsuit against the company that built and distributed the truck. These cases are often significantly more complex than truck accident cases. Your attorney may dig deeper into the company to see if similar complaints have been made, if the company missed a recall for the part, if the defect is in the design or the manufacturing, and if the lock was used as intended. This can be a lengthy case and almost always requires the help of legal representation.
Advantages of Hiring a Truck Accident Lawyer
If you have questions about the details of your truck accident case, a personal injury attorney specializing in truck accidents can help you understand what legal options can lead you to compensation and how to get there. Your attorney will handle all necessary paperwork to file your claim or lawsuit. In addition, they will represent you in all elements of the process, including negotiations with the insurance companies. Truck accident cases can become complex and challenging, given the number of potentially liable parties. Still, your attorney will investigate your case, gather all the evidence needed to support your claim for damages, and prepare your case for trial should the defendant refuse to offer a settlement that adequately covers your losses.
At Cellino Law, our clients are our top priority. We understand the devastation a truck accident can cause victims and their families. Our team of proficient and experienced lawyers has years of experience building cases to help clients get their lives back or adapt to a new life. You deserve total compensation for your losses, and the party responsible for your accident and injuries should have to pay. That is why personal injury law exists. Contact Cellion Law today for your free consultation. There is no commitment required and no risk of further loss. We will answer your questions and ensure you know the best step to take next.
I am writing this letter to say how much I appreciate your services pertaining to my case. Your injury attorney took a hands-on approach and left me fully informed at all times as to where my case was going as well as how much ground we had to cover; leaving the final decisions in my hands but making sure that I knew all of the risks involved in the choices. I have dealt with a few law firms in my life on various different cases and this is the first time that I never had to call and/or track down my lawyer… because of this, I have and will continue to recommend Cellino Law to my friends and associates.

Denise

My wife and I would like to take this opportunity to thank you for a fantastic job as our attorney. We could not have been more pleased with the work you and your team has done on this case. This past four years or so has been such a roller coaster for our family. We are very pleased and grateful with the result. We have made a good choice by choosing you. Thank you.

Dave

Now that reality has set in, I want to thank you for all your work and assistance in obtaining my settlement for the pelvic mesh. This money will make my life so much easier in the future. Medicare just isn't sufficient. I know that I will have enough to live on. I truly appreciate of your efforts. Thank you!

Loraine

Joe and I just wanted to send you this note thanking you for the professional way you handled our lawsuit. Your kindness was extremely appreciated in a very difficult time. When we found out the people that caused the accident had no insurance, we thought our chances of receiving any settlement was nonexistent. Once we met with you and released you were able to help us our minds were put at ease. Your aggressive manner of handling the case exceeded our expectations. Please feel free to use us as a reference. Thank you so much and best wishes,

Danielle and Joe

I really appreciated your determination and efforts on handling my case. You have done an outstanding job, and I am very satisfied with the outcome of the settlement. Thank you so so much John.

Amparo

I just want to let you know that I did receive my settlement check. More importantly, I want to thank you again for all you did for both me and my family. I could not be more pleased with my experience at Cellino Law. From the moment I first spoke with you I felt comfortable - you took a sincere interest in my case, clearly explained the process and effected a quick settlement. From this day forward, when someone asks if I can recommend a good lawyer I will, without hesitation, say "Cellino Law". Thanks again.

Walter