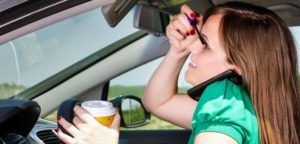 In recent years, the use of smartphones has become increasingly common. While these devices provide us with a way to stay in touch with friends and family, they can also pose a dangerous distraction to drivers. Many New York car accidents are caused by drivers texting, checking social media, or talking on the phone while behind the wheel.
Car accidents can cause serious injuries that may have long-term effects on the victims and their family's physical, mental, and emotional health. If you were injured by a distracted driver, though, you shouldn't have to pay the price for someone else's negligence. A personal injury lawyer can help you work through the complexities of a distracted driving accident claim.
Cellino Law has over 60 years of experience defending the legal rights of car accident victims in New York. Our attorneys care about our clients and are ready to do what is necessary to make a difference in their lives. Call us 24/7 at (800) 555-5555 to get a free case evaluation – you pay us nothing unless we win.
What is Distracted Driving?
Most New Yorkers live busy lives and spend their days multitasking just to get everything done. While multitasking can sometimes be productive, it is risky driving behavior. Driving is a complex task that requires your full attention. Any task that takes a driver's attention away from driving is considered a distraction.
There are three main categories of distracted driving:
Visual distractions: A visual distraction is anything that takes your eyes off the road. Glancing back at an accident, looking at your phone, or glancing at your kids in the backset are all examples of visual distractions.
Manual distractions: Any distraction that takes your hands off of the steering wheel is manual. Smoking, reaching for something in your bag, or programming your GPS are all forms of manual distractions.
Cognitive: This type of distraction is when your mind is not focused on driving. Examples include daydreaming, driving while drowsy, or arguing with a passenger.
While each one of these categories is dangerous on its own, many forms of distracted driving involve all three types. These are sometimes referred to as "triple threats." Texting is an example of a triple threat and one of the most common causes of distracted driving accidents.
What Are Some Common Causes of Distracted Driving in New York?
According to the CDC, over 400,000 people may be injured in distracted driving-related accidents in the US annually. Many of those motor vehicle crashes occur right here in New York. At Cellino Law, we believe that distracted drivers should be held liable for the losses they cause car accident victims.
The personal injury lawyers at our firm have helped clients who have been victims of a number of different types of distracted driving accidents. The following are some common distractions that cause accidents in New York:
Texting
Eating or drinking
Reaching for something in the backseat
Programming a GPS
Adjusting the radio
Talking to a passenger
Applying make-up
Reading
Taking a photo
Rubbernecking to view an accident
Checking the weather or traffic reports
How Dangerous Are Cell Phones While Driving?
We know that cell phone use contributes to more than a few motor vehicle crashes, but we don't know the full extent of just how many accidents they cause. Unlike alcohol consumption in drunk driving cases, there is no breathalyzer for cell phone use. Beyond that, drivers involved in crashes often don't admit they were using a phone at the time of the collision.
Statistics show that cell phone-related car accidents are especially common among young adults. According to the CDC, twenty-five percent of distracted drivers in fatal crashes were aged 20-29.
Driver distractions while using a cell phone include:
Reading and sending text messages
Talking on the phone
Posting and checking social media
Looking at emails
Programming your GPS
Changing music or podcasts
Many drivers use cell phones even though they are aware of the risks. It can be difficult to prove that a driver was using a cell phone at the time of the accident. The attorneys at Cellino Law in New York can investigate the cause of the car accident and gather the evidence needed to establish a solid case for you.
When building a claim for you, our New York distracted driving accident lawyers may issue a subpoena to access cell phone records, speak to witnesses, examine video footage from CCTV cameras in the area, and hire accident reconstructionists. If you were injured in a car accident caused by a distracted driver using a cell phone, contact an attorney at our law firm today.
Why Should I Hire a New York Distracted Driving Accident Lawyer?
If you have been injured in a New York distracted driving accident, you may be wondering whether you need to hire a lawyer or whether you should file a claim with the insurance company on your own. While you are not obligated to seek legal counsel after a motor vehicle accident, there are many benefits to having a trusted attorney on your side.
After taking on your distracted driving accident case, our personal injury lawyers will:
Prove negligence: Just because you were injured in a car accident doesn't automatically mean that you will easily receive compensation. Our attorneys will gather evidence to prove that the driver was negligent and that his or her negligence was the cause of the accident and your injuries. This will secure your claim.
Defend your legal rights: Most drivers won't admit fault after an accident, and some may claim that your actions were the cause of the crash. Our attorneys are knowledgeable in New York's driving laws, we will defend your legal rights and fight to ensure the distracted driver is held liable.
Calculate the value of your claim: Insurance adjusters may offer you a quick settlement amount that is far less than what your claim is worth. An experienced accident lawyer will know what damages you are eligible to file for and be able to accurately calculate the value of your claim.
Negotiate with the insurance company: Most distracted driving accident claims are settled out of court through negotiations with the other driver's lawyers and the insurance companies. However, the lawyers at our Cellino law are skilled negotiators. We will fight to get your claim paid as quickly as possible and won't back down until you have been awarded just and fair compensation.
Give you peace of mind. After a severe car accident, you may be suffering from physical pain, emotional distress, and the stress of mounting medical bills. When you have an experienced lawyer on your side, though, you can have the peace of mind that you'll receive the maximum amount of compensation you deserve.
What Are New York's Distracted Driving Laws?
In New York, distracted driving is the number one contributing factor in motor vehicle accidents. In recent years, the governor has increased efforts to stop distracted driving, especially drivers' use of cellular phones. April has even been designated as "Distracted Driving Awareness Month," and there are specially designated "texting zones" along the state's highways where drivers can pull over and safely check their text messages.
In the State of New York, while driving it is illegal to:
Talk on a portable electronic device
Compose or read text messages or emails
Browse web pages
Take pictures or videos
Play electronic games
Drivers who choose to disobey the distracted driving laws in New York are subject to receiving tickets and fines. Points are also accumulated on your license for each offense.
Compensation After Your New York Distracted Driving Accident
If you were injured by a driver who was driving distracted, you may be able to recover financial compensation. The car accident attorneys at Cellino Law can help you file a claim for damages against the driver who is at fault for the crash.
The personal injury attorneys at our law firm may help you recover damages for:
Medical expenses
Lost wages
Disability
Rehabilitation
Pain and suffering
Call the New York Personal Injury Attorneys at Cellino Law
Sadly, regardless of how careful of a driver you are, you can still become a victim of a car accident due to the negligence of another driver. While you can't control the actions of others, you can fight to hold the responsible party accountable if you were injured while he or she was texting or engaging in another form of distracted driving.
If you or a loved one sustained injuries in a distracted driving accident, our law firm is here to help. At Cellino Law, our experienced team of lawyers have been helping residents of New York recover compensation for their car accident claims for over 60 years. We care about our clients and are eager to make a difference in your life.
Contact our law office 24/7 or fill out the online evaluation form to schedule a free consultation. Our legal team will be glad to sit down with you, discuss your options, and answer any questions that you have.
I am writing to let you know what an outstanding job George Gridelli did for me in my personal injury lawsuit. His professionalism and expertise were evident at our first metting and he and his paralegal Diane D'Andrea took care of me as if I was a friend and not merely a client. They both went above and beyond for me in so many ways that it would be too numerous to list and I am grateful to have had such an exemplary team represent me. When working with George and watching him in court he personified to me what a lawyer is supposed to be - an honest, extremely compentent man who helped guide me through the legal system. I could not have obtained better representation anywhere else at any price. To me that says a lot abut you and your firm's integrity. Thank you again for representing me and for having such stellar individuals working for you! I will continue to recommend your firm.

Carol

I am writing this letter to say how much I appreciate your services pertaining to my case. Your injury attorney took a hands-on approach and left me fully informed at all times as to where my case was going as well as how much ground we had to cover; leaving the final decisions in my hands but making sure that I knew all of the risks involved in the choices. I have dealt with a few law firms in my life on various different cases and this is the first time that I never had to call and/or track down my lawyer… because of this, I have and will continue to recommend Cellino Law to my friends and associates.

Denise

My wife and I would like to take this opportunity to thank you for a fantastic job as our attorney. We could not have been more pleased with the work you and your team has done on this case. This past four years or so has been such a roller coaster for our family. We are very pleased and grateful with the result. We have made a good choice by choosing you. Thank you.

Dave

Thank you for all your help. It has been a long journey. At last, the light at the end of the tunnel. Also, thank Tom for the help and work he put in.

Ron

Thank you for your help in settling the case of my father's accident. I could always count on you to answer my questions honestly and in terms I could understand. If all lawyers at Cellino Law are like you, I understand why they are an A-1 law firm.

Bedner

We'd like to thank you for all the assistance and time you spent on our case. Your professionalism and honesty will always be appreciated. The staff was always courteous and we were always impressed with your accountability. Your passion and dedication will never be forgotten, nor will you.

Sarah