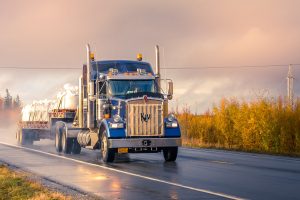 Personal injury law specifically allows you the legal avenue to sue someone personally after a truck accident. However, that is not always the most advisable place to start when looking for compensation for your losses. Most auto accident cases, including those involving commercial trucks, are settled outside the courtroom. With solid evidence to show the other party's negligence and recoverable damages, you can typically convince the insurance company to offer a fair settlement before taking the case to trial. With the help of a truck accident lawyer, you could likely do it faster and recover more money.
Who Could Be Liable for Your Truck Accident?
Negligence in truck accident cases can quickly become a challenge. Sometimes you face more than one defendant or more than one claim, depending on the actual cause of your accident. To better understand the correct legal move, you need to identify the responsible party for your accident, starting with hiring a lawyer to investigate the crash. First, consider who could potentially be liable in a truck accident case.
The Driver
Whether employed by a trucking company or working as an independent contractor, the driver could be solely or partially responsible for the accident under several circumstances:
Getting the compensation you need in a case involving the truck driver as the sole at-fault party can be relatively straightforward, depending on the exact cause of the accident. However, many cases involve negligent behavior from other parties as well.
The Driver's Employer
The law recognizes a close relationship between the driver and the trucking company for which they work. As a result, the trucking company is sometimes vicariously liable through the driver. Some responsibilities of the truck company include:
Training drivers to operate, maintain, inspect, and load their trucks
Teaching drivers to keep an activity log while on the road to ensure they perform within the company and federal safety standards
Doing background checks on drivers before onboarding to ensure they have no history of recurring road law violations, particularly with DUI or DWI offenses
Doing regular inspections and maintenance on trucks to ensure they are always in top working order
Failure to withhold these responsibilities is a breach of the duty of care owed to their drivers and other people on the road.
An Outside Party
Other parties play a road in the trucking industry. When a third party fails to uphold its responsibilities, causing an accident, it can be held liable. Some potential third parties involved in trucking include:
An outsourced mechanic. Suppose the trucking company hires another company to take on the responsibility of inspecting and maintaining the trucks. In that case, that company is liable if anything goes wrong on the road, causing an accident.
A cargo loading party. The Federal Motor Carrier Safety Administration mandates weight restrictions and cargo securing rules to keep trucks from shifting or spilling loads in transit. Any person or party loading a commercial truck must understand and adhere to those conditions or risk liability if cargo issues cause an accident.
A parts manufacturer. Anytime a company manufactures and distributions a product, they are responsible for ensuring that it is safe when used according to company instructions. If a part malfunctions on a truck without human error interference, the manufacturer could be liable for the damages caused by an accident.
These cases can get exceptionally complex when more than one party is liable. For example, suppose the brake system suddenly stopped working without reason while the truck driver was speeding to get to their stop faster. In that case, you could file a claim against the driver for violating road laws and the brake system manufacturer for making a faulty product. In this case, you would even have two separate lawsuits. You would file a truck accident case against the driver and a product liability case against the manufacturer, doubling your responsibility to provide proof of negligence.
When Would You Sue Someone Personally?
Under certain circumstances, you may need to sue someone personally. For example, if the truck driver is self-employed and does not carry insurance, you would sue the driver personally. However, these cases do not always have an ideal outcome, even when you are within your rights to sue. An individual may not have the income or assets to provide a lump sum settlement, and sometimes, the best you can do is collect small installments over a long period. Thankfully, this scenario is rare in truck accidents. You will typically go through an insurance company to collect, and the payout can be substantial when the defendant is a large company.
Can You Still Sue if You Are Partially Responsible?
Not all truck accidents result in negligence on the part of one party. If you share responsibility for the accident, you are partially responsible for damages according to the comparative negligence rule adopted by most states. If your state follows the pure comparative negligence rule, your portion of fault does not affect your ability to receive compensation unless you are entirely at fault. In a modified comparative negligence state, you can only recover damages if you are less to blame than the defendant. In either case, you will recover damages less the percentage of fault you bear.
How Could a Truck Accident Lawyer Help You Build Your Case To Sue?
Truck accident lawsuits are highly emotionally charged, given the substantial losses and the high financial stakes for victims. There is no legal requirement for hiring a truck accident attorney to handle your case, but you have everything to gain from having representation. At the same time, you can concentrate on recovering from your injuries or mourning the loss of your loved one. As the person filing a lawsuit, the burden of proof fails on you. First, you must prove that the defendant owed you a duty of care, breached it, and caused an accident that resulted in your injuries. Then, you must provide sufficient evidence to support the damages you claim. Proving negligence in a truck accident case can become highly complex. Adding to that the challenge of collecting all the evidence you need for damages, you can see how trying to sue on your own could quickly become too overwhelming.
At Cellino Law, we understand the importance of recovering every dime needed to help get your life back on track. Our team of proficient lawyers has years of experience working with truck accident victims and their families to build a water-tight case with substantial evidence and better your chances of receiving a fast settlement that adequately reflects what is owed to you. We collaborate with all the necessary experts and are always available to answer your questions and provide a supportive presence. Contact Cellino Law for your free consultation today. You can call any time, 24 hours a day, seven days a week, at 800-555-5555 to schedule your meeting with a truck accident lawyer.
I really just wanted to say thank you so much for taking my case, answering all my questions, and mostly for being very patient with me. I feel that without you and Roza I would not have been able to get anything at all. I hope to never need a lawyer again, but if I do I will definitely want you both working for me. Again thank your for you hard work, time and patience.

Veola

Choosing the right attorney to represent you after an accident can make all the difference. This is no cliche. I recently experienced these words to live by first hand. After a tractor trailer rear ended me at high speed in 2017 I retained Allan Silverstein to handle my case. I quickly realized that bringing a lawsuit rapidly snowballs into a mountain of details that can make or break your results. Documents, case histories, doctor visits, bills, and lots of phone calls all need to be accurately kept track of if a successful outcome it to be attained. To complicate matters I reside in New York and the incident took place in New Jersey. Luckily, Allan was licensed in multiple states. I was fortunate to find Allan to handle this matter from the New York area. Armed with an accurate account of the facts Allan went to work on the difficult job of negotiating with the defending insurance company as well as my no fault carrier in order to obtain the best possible outcome for my set of circumstances. In a lawsuit communication is key and and events can be of a timely nature. Allan never failed to return my calls - usually the same day! He fought skillfully and respectfully to get me the best possible settlement. He is easy to deal with and a likeable down to earth guy. He always listened with compassion and respect to my issues. He guided me with objective understanding as well as a realistic analysis of the merits of my case. When we finally settled Allan got me a fair agreement beyond my expectations and negotiated with my doctors to make sure all my bills were paid. It was a great experience having Allan represent me. Quality work in any aspect of life is hard to find. Quality is what I got with Allan Silverstein. I highly recommend him if you find yourself in need of a personal injury attorney.

Theodore

This letter is to thank Ms. Diane D'Andrea, assistant to Mr. George Gridelli, Attny for all the hard work, dedication, and attentiveness she showed during the representation of my case. She was always cheerful and ready to help in whatever way she could. All messages left for Mr. Gridelli were always relayed and Mr. Gridelli always promptly returned our calls. She was a very competent assistant. Cellino Law has proven to be a model of what legal representation should be. Throughout the 6 ½ years of this case, I have heard many horror stories from people with "bad lawyer stories." We consider ourselves to be very lucky to have chosen Cellino Law and will always recommend you to those looking for good, honest representation with a personal touch.

Joseph

Thank you for your efforts on my behalf. I am very pleased (and surprised) at the amount of the settlement. We will use the funds to help pay down the debt on the truck we had to purchase after ours was totaled. Thank you again.

Linda

Thank you for your help in settling the case of my father's accident. I could always count on you to answer my questions honestly and in terms I could understand. If all lawyers at Cellino Law are like you, I understand why they are an A-1 law firm.

Bedner

I just want to let you know that I did receive my settlement check. More importantly, I want to thank you again for all you did for both me and my family. I could not be more pleased with my experience at Cellino Law. From the moment I first spoke with you I felt comfortable - you took a sincere interest in my case, clearly explained the process and effected a quick settlement. From this day forward, when someone asks if I can recommend a good lawyer I will, without hesitation, say "Cellino Law". Thanks again.

Walter