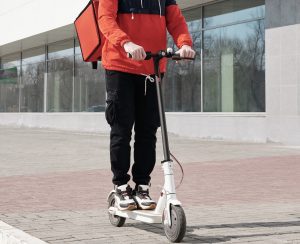 Electric scooters are a popular way to get around the city due to their lightweight and eco-friendly features. In addition, the availability of e-scooter share companies in Manhattan has increased the use of this transportation method.
Although e-scooters typically offer a safe mode of transportation, mishaps can still occur. The number of scooter accident injuries in the United States increased by 222% between 2014 and 2018. Scooter-related accidents are rising in New York City, affecting pedestrians and riders. Often these incidents are the result of someone's negligence.
If you sustained injuries involving an electric scooter, it is crucial to understand your rights under the law. You may have a right to seek recovery, depending on the details of your case. With the help of a knowledgeable electric scooter accident lawyer, you can help secure the settlement you deserve.
ELECTRIC SCOOTER ACCIDENT STATISTICS
Electric scooters have received mixed feedback from public officials, the general public, and riders. Some people praise the accessibility and sustainability benefits, but there is no ignoring e-scooter statistics.
A 2022 report from 7 On Your Side News estimates that 680 people in New York City suffered injuries related to e-scooter accidents from January 1 to July 27, 2022. This represented a 16% increase from the same period in the previous year.
In July 2023, a new report showed that deaths on e-bikes, e-scooters, and other micro-EVs had surpassed the death rates for traditional bikes. In 2019, 23 people died in bicycle accidents, but this decreased to 10 people in 2022. New York City only started tracking all micro-EVs in 2021. In that year, 26 people died in accidents involving these vehicles, which increased to 30 by 2022.
Despite the numbers, public officials warn people not to view the micro-EVs as the problem. Instead, they pointed out that New York City needs better infrastructure to ensure the safe use of roadways by non-traditional vehicles.
HOW POPULAR ARE ELECTRIC SCOOTERS?
Electric scooters have become increasingly popular worldwide, especially in urban centers like New York City. Statista estimates that global use will reach 133.8 million users by 2027. Here are some additional statistics reported by the organization:
User penetration will climb from 1.2% in 2023 to 1.27% in 2027.
Most revenue for electric scooters will continue to come from the U.S. market.
The U.S. market expects to generate roughly $695.9 million by the end of 2023.
Since the popularity of electric scooters, we have received a lot of questions from our clients. Here are our answers to some of the most common.
What are typical problems that lead to e-Scooter accidents?
Like any other vehicle, electric scooters can malfunction. These are the most common ones across the board:
Brakes becoming less responsive, which increases stopping distance or can lead to total brake failure
Wheel wobbling, which increases wear and tear on the bike and can affect the ability to control it
Error codes and beeping that render the e-scooter unrideable or could cause failures during riding
Damaged fitting and accessories, which are usually caused by manufacturing errors or failure to keep up with maintenance
Are electric scooters easy to fix?
Like cyclists, many scooter riders are ready to get back on the road after an accident. Remember to follow your doctor's orders regarding when you can ride again. As for your scooters, you can do simple repairs yourself. However, after an accident, your best bet is to let professionals handle the job.
How dangerous is a fall from an e-scooter?
Electric scooters can travel at high speeds, so falling can cause serious injuries. Road rash, cuts, lacerations, and broken bones are not uncommon. Head injuries are also a significant concern, so riders should always wear a properly rated helmet.
Are electric scooters safe for riding in the rain?
Rain and other adverse weather conditions can introduce additional risks for riding scooters. Riders should reconsider riding during these conditions. Some scooters can handle light rain, but manufacturers often discourage riders from getting the scooters wet. Check your manual or the docking company's user guide for specific information.
Are E-Scooters Legal in New York City?
New York City permits electric scooters that meet the following conditions:
Have a floorboard or seat
Have handlebars
Powered by electric or human power
You do not need a license to operate an e-scooter, but you must be at least 16 years old to do so in New York. The state requires that riders ages 16 and 17 wear helmets. Scooter operators must abide by a 15 mph speed limit. They can ride in bike lanes or streets with motor vehicle speed limits of 30 mph but cannot operate e-scooters on sidewalks.
What Are Some Common Causes of Scooter Accidents?
Many electric scooter accidents stem from reckless or negligent behavior. They can involve motor vehicles, pedestrians, riders and manufacturers. Some typical reasons for these incidents include the following:
Failure to abide by traffic laws
Inexperienced drivers
Riding on the sidewalk
Manufacturing defects
Operating a scooter or motor vehicle under the influence of alcohol or drugs
Uneven pavement and potholes
Electric scooter accidents often involve potentially preventable elements, and you may have the right to pursue a legal claim to recover compensation for your injuries.
Accidents Involving Pedestrians
Although the legal speed limit for e-scooters in New York is 15 mph, electric scooters can legally have maximum speeds of up to 20 mph. These speeds can cause significant harm if a rider hits a person walking. If someone operating an electric scooter in the Manhattan area injured you, you must know your rights. You may have a legal claim against the rider if the scooter operator was not following traffic laws or was otherwise reckless or negligent.
Incidents Due to Road Hazards
Dangerous road conditions can be especially hazardous for people riding on electric scooters. E-scooters have slow braking speeds and small tires, making debris on the road or potholes particularly treacherous. If poor road conditions cause you to suffer injuries, a municipal agency or business may be liable for your damages.
Crashes With Bicycles
Although riders cannot operate an electric scooter on the sidewalk in New York, they can ride in bike lanes. This practice can lead to wrecks if scooter riders fail to take adequate care or follow the rules. If a rider strikes you or forces you out of the bike lane, resulting in injuries, you may have a legal claim.
Collisions Between Electric Scooters and Motor Vehicles
Automobile driver negligence can cause severe bodily harm to scooter riders. If a driver hits you while speeding, ignoring traffic laws, failing to yield or not signaling correctly, they may be liable for your damages. Other factors may include distracted driving or impaired driving. Approximately 20% of e-scooter injuries that require emergency treatment involve automobiles.
Injuries Caused by Scooter Company Negligence
Scooter accidents can result from issues with the scooter itself, such as:
Steering difficulties
Battery failures
Faulty brakes
Computer malfunctions
Electrical problems
Mechanical issues
Software mistakes
You have the right to file a liability claim against the company if manufacturing defects, design flaws, insufficient safety features, or inadequate warnings contributed to your accident. Share companies may also be responsible if they fail to maintain and repair their scooters.
Burns Due to Faulty Components
Electric scooter share services hire people to gather dockless scooters and charge the batteries. If scooter parts are defective, charging the batteries can result in fires, burns, and other injuries.
What Type of Injuries Stem From E-Scooters?
Accidents involving electric scooters can result in bodily damages that range in severity. Even at low speeds, riders, pedestrians and cyclists can suffer serious harm, including:
Broken bones
Lacerations
Burns
Concussions
Facial trauma
Dental injuries
Neck, back or spinal injuries
Nerve damage
Internal wounds
What Damages Can You Recover in a Scooter Accident Claim?
Injuries from scooter crashes can result in significant medical bills and lost wages. If your mishap results from a defective scooter, negligent rider, or reckless automobile driver, you may have a valid legal scooter accident case. An electric scooter accident lawyer can help you seek compensation for damages, such as:
Emergency care costs
Medical bills
Ongoing treatment expenses
Lost wages
Diminished earning capacity
Decreased quality of life
How Can You Prove Your Injury Claim?
You will need to collect evidence that supports your claim. Write down the details you remember about the accident as soon as possible. Gather photographs of the scene, eyewitness statements, video surveillance, and police reports to help prove the negligence that led to your accident and injuries. The experienced scooter accident lawyers at Cellino Law can help you compile evidence, identify the liable party or parties in your case and determine a fair amount of compensation.
You must see a healthcare professional to assess the gravity of your scooter accident injuries and get the necessary treatment. Keep all medical records and bills to show the expenses related to your accident.
Insurance companies work to minimize the amount of money they pay for claims. Knowing how to deal with these agencies can ensure you recover reasonable compensation. A knowledgeable injury lawyer can help you negotiate with these companies.
What Steps Can You Take To Prevent Electric Scooter Accidents?
Electric scooters offer no protection when a collision occurs. If you get in an accident, you are likely to suffer injuries that can be severe. Your scooter will also likely incur extensive damage. You must follow the laws of the road and take safety precautions whenever you ride to prevent potential harm, expensive repairs and costly medical treatments.
Do not wear headphones: These devices can prevent you from hearing oncoming cars, honking horns or other dangers. They can also distract you from paying attention to the operation of your scooter, road conditions and more.
Wear a helmet: Although helmet use is optional for adult scooter operators, a crash can cause traumatic skull and brain injuries without this protective gear.
Use bike lanes when possible: Riding in the streets can increase the potential danger from passing cars, distracted drivers and speeding vehicles.
Follow NYC traffic laws: Obeying the laws regarding speed, right-of-way, signaling and more help you stay safe on the roads.
How Can a Manhattan Electric Scooter Accident Lawyer Help You?
An accident involving an electric scooter in Manhattan can leave you with significant injuries and medical bills. Fight for your rights with the assistance of an experienced electric scooter accident lawyer. At Cellino Law, our extensive background helps you get the compensation you deserve. Contact our law firm at (332) 263-3382 today for a free case review.
Thank you for your time, effort, and hard work on my case. I appreciate your expertise and compassion. I never experienced what I went through and I would have been completely lost without you.

Martha

I can only say great things about my attorney Allan Silverstein. He is professional, he calls back right away, he keeps me informed, and makes me feel comfortable as this entire ordeal is stressful. I have total confidence in his ability to handle whatever comes his way. He is no nonsense and very good at his job. Thank you Allan... he is a true asset to the team!

Mrs Steward

Choosing the right attorney to represent you after an accident can make all the difference. This is no cliche. I recently experienced these words to live by first hand. After a tractor trailer rear ended me at high speed in 2017 I retained Allan Silverstein to handle my case. I quickly realized that bringing a lawsuit rapidly snowballs into a mountain of details that can make or break your results. Documents, case histories, doctor visits, bills, and lots of phone calls all need to be accurately kept track of if a successful outcome it to be attained. To complicate matters I reside in New York and the incident took place in New Jersey. Luckily, Allan was licensed in multiple states. I was fortunate to find Allan to handle this matter from the New York area. Armed with an accurate account of the facts Allan went to work on the difficult job of negotiating with the defending insurance company as well as my no fault carrier in order to obtain the best possible outcome for my set of circumstances. In a lawsuit communication is key and and events can be of a timely nature. Allan never failed to return my calls - usually the same day! He fought skillfully and respectfully to get me the best possible settlement. He is easy to deal with and a likeable down to earth guy. He always listened with compassion and respect to my issues. He guided me with objective understanding as well as a realistic analysis of the merits of my case. When we finally settled Allan got me a fair agreement beyond my expectations and negotiated with my doctors to make sure all my bills were paid. It was a great experience having Allan represent me. Quality work in any aspect of life is hard to find. Quality is what I got with Allan Silverstein. I highly recommend him if you find yourself in need of a personal injury attorney.

Theodore

I highly recommend Cellino Law to anyone involved in a car crash. I worked with Michael Lovecchio, and had a wonderful experience given the circumstances. He was very attentive, and got the best possible outcome I could have wanted.

Susan

Mark Kochanowicz is from far the best attorney you can have. Mark treats you like a friend more than a client. He truly cares and go the extra mile for you and your case, contacts you to update you in regards to your case and keep you informed at all times. Mark represented me twice and settled my cases for way more than I expected. I highly recommend Mark Kochanowicz because he is just the best on what he does!!! Thank you Mark!!!!

Maria

Joe and I just wanted to send you this note thanking you for the professional way you handled our lawsuit. Your kindness was extremely appreciated in a very difficult time. When we found out the people that caused the accident had no insurance, we thought our chances of receiving any settlement was nonexistent. Once we met with you and released you were able to help us our minds were put at ease. Your aggressive manner of handling the case exceeded our expectations. Please feel free to use us as a reference. Thank you so much and best wishes,

Danielle and Joe