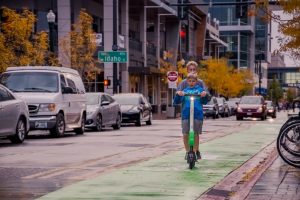 Electric scooters are a popular way to get around the city due to their lightweight and eco-friendly features. In addition, the availability of e-scooter share companies in Manhattan has increased the use of this transportation method.
Although e-scooters typically offer a safe mode of transportation, mishaps can still occur. The number of injuries related to e-scooters in the United States increased by 222% between 2014 and 2018. Scooter-related accidents are rising in New York City, affecting pedestrians and riders. Often these incidents are the result of someone's negligence.
If you sustained injuries involving an electric scooter, it is crucial to understand your rights under the law. You may have a right to seek recovery, depending on the details of your case. With the help of a knowledgeable electric scooter accident lawyer, you can help secure the settlement you deserve.
Are E-Scooters Legal in New York City?
New York City permits electric scooters that meet the following conditions:
Have a floorboard or seat
Have handlebars
Powered by electric or human power
You do not need a license to operate an e-scooter, but you must be at least 16 years old to do so in New York. The state requires that riders ages 16 and 17 wear helmets. Scooter operators must abide by a 15 mph speed limit. They can ride in bike lanes or streets with motor vehicle speed limits of 30 mph but cannot operate e-scooters on sidewalks.
What Are Some Common Causes of Scooter Accidents?
Many electric scooter accidents stem from reckless or negligent behavior. They can involve motor vehicles, pedestrians, riders and manufacturers. Some typical reasons for these incidents include the following:
Failure to abide by traffic laws
Inexperienced drivers
Riding on the sidewalk
Manufacturing defects
Operating a scooter or motor vehicle under the influence of alcohol or drugs
Uneven pavement and potholes
Electric scooter accidents often involve potentially preventable elements, and you may have the right to pursue a legal claim to recover compensation for your injuries.
Accidents Involving Pedestrians
Although the legal speed limit for e-scooters in New York is 15 mph, electric scooters can legally have maximum speeds of up to 20 mph. These speeds can cause significant harm if a rider hits a person walking. If someone operating an electric scooter in the Manhattan area injured you, you must know your rights. You may have a legal claim against the rider if the scooter operator was not following traffic laws or was otherwise reckless or negligent.
Incidents Due to Road Hazards
Dangerous road conditions can be especially hazardous for people riding on electric scooters. E-scooters have slow braking speeds and small tires, making debris on the road or potholes particularly treacherous. If poor road conditions cause you to suffer injuries, a municipal agency or business may be liable for your damages.
Crashes With Bicycles
Although riders cannot operate an electric scooter on the sidewalk in New York, they can ride in bike lanes. This practice can lead to wrecks if scooter riders fail to take adequate care or follow the rules. If a rider strikes you or forces you out of the bike lane, resulting in injuries, you may have a legal claim.
Collisions Between Electric Scooters and Motor Vehicles
Automobile driver negligence can cause severe bodily harm to scooter riders. If a driver hits you while speeding, ignoring traffic laws, failing to yield or not signaling correctly, they may be liable for your damages. Other factors may include distracted driving or impaired driving. Approximately 20% of e-scooter injuries that require emergency treatment involve automobiles.
Injuries Caused by Scooter Company Negligence
Scooter accidents can result from issues with the scooter itself, such as:
Steering difficulties
Battery failures
Faulty brakes
Computer malfunctions
Electrical problems
Mechanical issues
Software mistakes
You have the right to file a liability claim against the company if manufacturing defects, design flaws, insufficient safety features, or inadequate warnings contributed to your accident. Share companies may also be responsible if they fail to maintain and repair their scooters.
Burns Due to Faulty Components
Electric scooter share services hire people to gather dockless scooters and charge the batteries. If scooter parts are defective, charging the batteries can result in fires, burns and other injuries.
What Type of Injuries Stem From E-Scooters?
Accidents involving electric scooters can result in bodily damages that range in severity. Even at low speeds, riders, pedestrians and cyclists can suffer serious harm, including:
Broken bones
Lacerations
Burns
Concussions
Facial trauma
Dental injuries
Neck, back or spinal injuries
Nerve damage
Internal wounds
What Damages Can You Recover in a Scooter Accident Claim?
Injuries from scooter crashes can result in significant medical bills and lost wages. If your mishap results from a defective scooter, negligent rider or reckless automobile driver, you may have a valid legal case. An electric scooter accident lawyer can help you seek compensation for damages, such as:
Emergency care costs
Medical bills
Ongoing treatment expenses
Lost wages
Diminished earning capacity
Pain and suffering
Decreased quality of life
How Can You Prove Your Injury Claim?
You will need to collect evidence that supports your claim. Write down the details you remember about the accident as soon as possible. Gather photographs of the scene, eyewitness statements, video surveillance and police reports to help prove the negligence that led to your accident and injuries. An experienced attorney can help you compile evidence, identify the liable party or parties in your case and determine a fair amount of compensation.
You must see a health care professional following your accident to assess the extent of your injuries and get the necessary treatment. Keep all medical records and bills to show the expenses related to your accident.
Insurance companies work to minimize the amount of money they pay for claims. Knowing how to deal with these agencies can ensure you recover reasonable compensation. A knowledgeable injury lawyer can help you negotiate with these companies.
What Steps Can You Take To Prevent Scooter Accidents?
Electric scooters offer no protection when a collision occurs. If you get in an accident, you are likely to suffer injuries that can be severe. Your scooter will also likely incur extensive damage. You must follow the laws of the road and take safety precautions whenever you ride to prevent potential harm, expensive repairs and costly medical treatments.
Do not wear headphones: These devices can prevent you from hearing oncoming cars, honking horns or other dangers. They can also distract you from paying attention to the operation of your scooter, road conditions and more.
Wear a helmet: Although helmet use is optional for adult scooter operators, a crash can cause traumatic skull and brain injuries without this protective gear.
Use bike lanes when possible: Riding in the streets can increase the potential danger from passing cars, distracted drivers and speeding vehicles.
Follow NYC traffic laws: Obeying the laws regarding speed, right-of-way, signaling and more help you stay safe on the roads.
How Can an Attorney Help You?
An accident involving an electric scooter in Manhattan can leave you with significant injuries and medical bills. Fight for your rights with the assistance of an experienced electric scooter accident lawyer. At Cellino Law, our extensive background helps you get the compensation you deserve. Contact us at (332) 263-3382 today for a free case review.