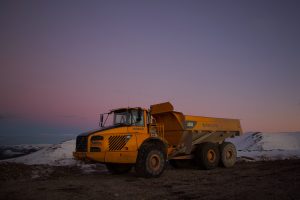 Given that the average loaded dump truck weighs upward of 56,000 pounds, it is no wonder that dump truck accidents cause serious property damage, injuries, and death.
Recovering from injuries or the loss of a loved one is never easy. Coping with misfortunes that you know were avoidable can be even more difficult.
At Cellino Law, we want things to get better for you. Our legal team is ready to direct the power of our extensive resources and experience toward serving your needs. We never charge for initial consultations because we want you to get the information you deserve.
Getting justice will not change the past, but it can brighten your future. With Cellino Law on your side, life-changing compensation is within your reach. Call (800) 555-5555 to schedule your free case review today.
What a Dump Truck Driver Does
Not every dump truck company focuses on the same type of work. In general, a dump truck driver might perform tasks such as:
Performing routine inspections and maintenance
Reporting mechanical issues to management
Inspecting materials to ensure they meet weight and safety regulations
Loading materials (or overseeing the loading of materials)
Transporting materials (e.g. rock, sand, gravel, construction debris)
Recording information in driver logs
Besides being large and heavy, dump trucks could carry hazardous materials. Therefore, not just anyone can drive a dump truck. In New York, dump truck operators must qualify for a special license called a Class B commercial driver license (CDL).
Some CDL requirements are:
Holding valid New York driver license or out-of-state CDL
Passing a federal medical examination
Proving legal presence in the United States
Demonstrating skill (e.g. checking air brakes, parking, offset backing) on a road test
Performing a pre-trip inspection
CDL licenses help keep inexperienced or unqualified drivers off the road. Yet, even valid CDL holders or the companies they work for sometimes take actions that put the public at risk.
Why Dump Truck Accidents Occur
What are some driver errors and acts of negligence that contribute to dump truck accidents?
Distracted driving
Nearly 80 percent of accidents involve one driver looking away from the roadway in front of his or her car just before the collision. Cell phones are the biggest temptation, leading the State of New York to prohibit texting, game playing, and other uses of handheld devices while driving.
Other risky behaviors include:
Interacting with other passengers or pets
Reading
Eating or drinking
Grooming
Applying makeup
Adjusting dials for climate control, music, or other auto features
Even a 2-second long moment of distraction doubles the risk of a collision. Experienced personal injury attorneys can investigate your case to determine whether distracted driving led to your accident.
Fatigued driving
In 2018, New York police reported 2,337 accidents related to drivers falling asleep, fatigued, or driving while drowsy. "Commercial drivers are at a significantly higher risk for crashes caused by drowsiness," the report stated. Why?
Consider the following contributing factors. Dump truck drivers may:
Spend extended periods on the road
Take long-distance trips
Have a higher risk for sleep disorders
Travel across time zones
Take night or early morning shifts
In a recent year, fatigue-related collisions cost $109 billion in costs associated with injuries and death.
Impaired driving
New York law prohibits drivers from operating trucks while under the influence of alcohol or drugs. The legal BAC for passenger vehicle drivers is 0.08, but the limit for commercial vehicle drivers is stricter, set at 0.04.
Dump truck drivers should also avoid taking any drug, including over-the-counter and prescription medication, that could impair their ability to handle a vehicle. The NHTSA cautions against driving while the following substances are in your system:
Marijuana
Opioids
Methamphetamines
Cocaine
Medicines that cause drowsiness, dizziness, or other dangerous side effects
Medicines that warn against "operating heavy machinery" on the label
According to the NHTSA, "impaired drivers can't accurately assess their own impairment." So rather than take a dump driver's word, call law enforcement right away after an accident. You can also reach out to our lawyers at (800) 555-5555 to receive free advice after your collision.
Poor reactions to road and weather conditions
Road conditions vary from one area to another, so dump truck drivers should stay alert. They may need to rely on their training and expertise to make decisions about how to drive on a road. At times, local authorities can be held liable for neglected roads and highways.
Unsafe road conditions might include:
Potholes
Missing barriers or guardrails
Absent or confusing signage, especially in work zones
Uncleared ice, snow, branches, roadkill, or debris
Faded lines
Changes in the road surface (e.g. uneven lanes, speed bumps)
Non-breakaway poles or poles within railings
Trees that hang into the roadway
Bridges that are too narrow or poorly designed
Sharp curves
Busy intersections
Drivers must also deal with changing weather conditions. No driver can control the weather, but he or she must know how to respond to:
Storms
Snow
Ice
Sleet
Rain
Fog
High winds
Reckless driving
A reckless driver does not take into account the safety of others. A dump truck operator performing any of the following actions would present a grave danger to motorists and pedestrians:
Running red lights or stops signs
Ignoring right-of-way laws
Failing to use turn signals
Failing to check blind spots
Displaying road rage
In New York City, 70 percent of pedestrian traffic fatalities happen because drivers made the wrong decisions. By taking legal action against a driver, you can play a role in making the streets safer for everyone.
Failed company responsibilities
Accidents are not always the driver's fault. Dump truck companies must:
Follow appropriate hiring and training practices to ensure only qualified drivers take the wheel
Maintain trucks in good working order
Provide adequate supervision
Give workers' sufficient time and resources to accomplish task
Enforce breaks and mandatory time off
Manufacturers must also ensure that dump truck parts and equipment are safe for their intended use. They could face legal consequences for producing and selling defective products.
Claiming Compensation After an Accident
A dump truck accident attorney can help you to calculate your total compensation. Our attorneys have won over $2 billion in damages for our clients, including:
Medical expenses
Lost wages
Lost earning potential
Punitive
Every dump truck accident is different, so please come talk to Cellino Law about the specifics of your case. We can identify who holds the financial responsibility for the crash and walk you through each step of filing your insurance claim.
Would you like a free consultation? Fill out the brief form on our contact page.
Schedule Your Personal Injury Case Review Today
After any traumatic experience, human tendency could be to put off making decisions. Yet, in New York, the law requires victims to act within a certain amount of time after a collision.
If you wait, you could miss the deadline. When you make this mistake, you will not be able to receive a settlement, even if you suffered significant injuries and property damage.
Our attorneys understand the urgency. Thus, we make things as easy as possible for accident victims. We also have the resources to make sure the process goes smoothly and that your claim is filed on time.
When you work with Cellino Law, you will not be charged any service fees unless we win damages on your behalf – so there is no risk of financial obligation! The only decision you need to make now is if you are ready to take steps to secure a better future.
If you are, contact us now at (800) 555-5555 for a risk-free consultation. Our representatives are ready to take your call any time of day or night.
Thank you for your efforts on my behalf. I am very pleased (and surprised) at the amount of the settlement. We will use the funds to help pay down the debt on the truck we had to purchase after ours was totaled. Thank you again.

Linda

Cellino Law and more specifically my attorney, Gregory V. Pajak, Managing Attorney, and as a whole the Cellino Law Firm and its organization. This is by far one of the most professional law firms and attorney I have ever engaged with and retained in my 35 years. The level of professionalism goes beyond words, the care and constant engagement with me as the client was touching. I was never ever just treated as simply a CASE with potentially a significant dollar number attached to my file. I was engaged regularly, Tracey (Ass't) and Greg always made sure to remain constant, as well as consistent in overseeing that my case was handled properly and that it did matter in many ways - ensuring that the end result(s) would be fair and reasonable to my case/injury. The regular follow-up calls were very satisfying, knowing that you're involved in your case matters significantly AND always. One of my main items to recognize Cellino Law and Gregory is that whenever I called, I was able to get through to speak directly to my Lawyer and he would answer any if not all of my questions in a very professional and genuinely caring manner. I always felt cared for and protected legally and more importantly, I was made feel as a human being that was being cared for and always keeping me abreast of all matters connected to the case. There was never a point I felt let down, on the contrary -the level of service was "STELLAR". Greg is the consummate professional, a 'role model', if you will, for what other attorneys should strive to become when dealing with their clients.

Anthony

We want to send a big "Thank you" from the both of us. We know you both fought for us and did a great job with our case. You did it in a timely manner and we appreciate it.

Kerrijo & Jerry

I am writing this letter to say how much I appreciate your services pertaining to my case. Your injury attorney took a hands-on approach and left me fully informed at all times as to where my case was going as well as how much ground we had to cover; leaving the final decisions in my hands but making sure that I knew all of the risks involved in the choices. I have dealt with a few law firms in my life on various different cases and this is the first time that I never had to call and/or track down my lawyer… because of this, I have and will continue to recommend Cellino Law to my friends and associates.

Denise

Cellino Law is an amazing firm with a great team. I worked with Greg Pajak and his assistant, Tracey Falconer. I cannot express enough how dedicated they are. The personal attention I received was excellent; they were always available to help with questions and concerns and put me at ease in the unknown territory I found myself in. I highly recommend them to anyone needing representation. A huge thank you to them for all they accomplished for me!

Liane

I am so grateful for your expertise, patience, and perseverance which resulted with such a successful settlement regarding my car accident. I also want to let you know how impressed I was with you and your firm and I won't hesitate to recommend you to anyone who needs assistance from an accident. I truly appreciated your care and professionalism. Thank you again for your kindness and support

Lisa