If you have ever been in a rideshare vehicle, and if you are involved in a car wreck, there are insurance policies that can help you get compensation. These policies will provide coverage for over $1 million. Unfortunately, there are some problems that can arise when filing these claims.
One of the largest issues that can happen is if the driver was on duty, or off duty when the wreck occurs. You need to have this information by checking their logs and deciding what the situation was when you were driving with them. All of these facts should provide you with the information you need to see if you qualify. There are certain questions regarding coverage that you will need to have prepared in case you are going to receive pushback from the rideshare company, something that a Garden City Uber accident lawyer can help you with.
There are also other concerns that might be of interest such as access to the limits of the policy. If there were multiple passengers or numerous people from different parties during the accident, this can change things significantly. The amount of 1.25 million can be quickly depleted as a result of that many people involved in an accident. Negligent driving, or even reckless driving, can lead to depletions that are even faster.
When situations like this arise, you and the other people involved may have to pursue the at-fault driver's policy coverage. If it is a ridesharing accident, there is a complex legal process, which is where our Garden City car accident lawyers come in.
What You Need To Know About Rideshare Accidents
If there is a wreck, police will need to be contacted right away and a report will have to be prepared. Emergency service providers will need to be brought in in order to provide medical care as soon as possible. Pictures must be taken of the accident, and information must be gathered from witnesses, drivers, and passengers.
If a rideshare driver does hit you, and you were driving, proper compensation should be provided to you because of your injuries. To get this compensation, it is imperative that you show the liability of the driver that hit you, and you need to document what was happening during the time of the accident. This record is going to help you when trying to determine the amount of compensation, which is why it needs to be so detailed.
It will not be uncommon for Uber or Lyft to try to lowball everything and keep you from the money you deserve. Do not ever fall for this. A rideshare lawyer, regarding your rights and your compensation, is not going to be on your side and you never want to sign or agree to anything.
For us to work on your case, you will need to have a lawyer who can speak with the rideshare companies, as well as the insurance companies. Doing so will help determine the type of coverage that may apply to your particular situation. Both of these rideshare companies are not going to want to pay out anything, especially if there is some indication that it was your fault. If the driver's phone failed, it could be very challenging to determine who was at fault and what both drivers were actually doing at the time of the incident.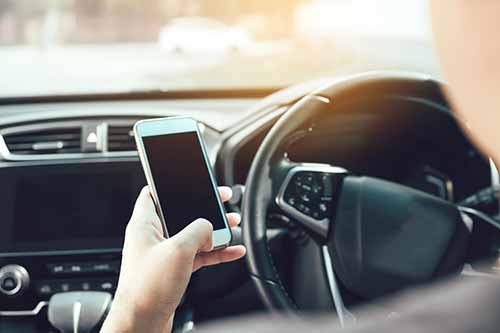 These rideshare services will try to convey that their driver was not working for them when the wreck occurred, or that they were off duty, and that the private insurance company that they have is going to be involved and not theirs. In short, this is going to be a long battle to simply determine who was at fault.
When you are hit with a situation like this, you need to understand that a game of denial is going to be played. Even if the driver that hit you denies fault, they may simply not have any insurance to cover your injuries. Uber and Lyft are never going to want to pay you anything and will try to blame something else. That's why having an experienced auto lawyer is so important to cut through red tape and aggressively pursue the compensation you deserve.
How To Get A Garden City Uber Accident Lawyer To Help You
Determining fault with a rideshare accident can be a long and drawn-out process. These insurance companies will try to avoid rewarding you for any type of compensation.
That's why you need to work with a personal injury attorney that has experience in these matters. Contact Cellino Law today for a free case evaluation. There are several ways we'll help you make your claim.
Collect Evidence
Our job is to collect evidence, including a police report, surveillance videos, and any eyewitness testimonials. We can work with a reconstruction expert that can re-create the accident if they are going to dispute liability.
The Value Of Your Case
There are actually no standard values associated with accident cases. We simply have to look at the medical bills, and all of the other details, such as pay stubs, to come up with a value. We will speak with medical experts and vocational specialists to determine how accurate this information is.
We Handle Communication With The Insurance Companies
It is so easy to jeopardize any type of compensation that you may have coming to you by speaking with the wrong person or saying the wrong thing. That's why we want to handle all of the communication that will be between us and the insurance companies to make sure no mistakes are made.
Build Up Your Defense
There are many situations where you may have additional injuries. This could be because you did not actually have your seatbelt on, or perhaps you were distracted. When this occurs, we are going to try to build a defense for you to take away these accusations and help you recover as much money as possible when trying to determine what your compensation value is.
We Negotiate With The Insurance Company
The goal of any insurance company is to avoid making payouts. If they don't have to pay out as much, they are going to be very pleased. To achieve this goal, those settlements are often presented to get to this point. That's why we will need to negotiate with the insurance companies to get you a fair settlement.
We Represent You In Court
The refusal of compensation offers is quite common with insurance companies when they are dealing with the victims. It is also not unusual for the victims to simply accept what is offered, but we are not going to back down. Insurance companies are simply not going to give you what you deserve, and we're not afraid to take them to court to get what is owed to you.
Common Causes Of Uber Accidents In Garden City
Rideshares are becoming more common today, especially in New York, and this will include the Garden City area. There are quite a few drivers out there, and as a result, both of these rideshare companies are having more accidents. In Nassau County and Suffolk County, there are many of them.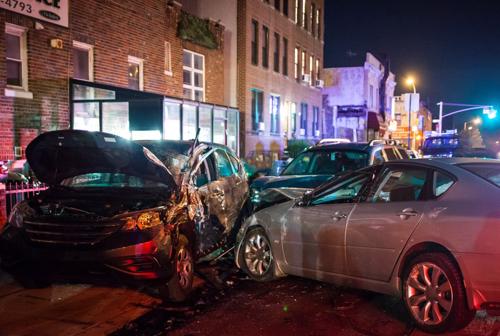 Rideshare accidents can occur because of:
Speeding
Illegal turns
Drunk driving
Unsafe turns
Failure to yield
Following too close
Stopping in dangerous areas and intersections
You may also have factors such as defective equipment, inclement weather, traffic conditions, and hazardous road conditions.
Rideshare Accident Liabilities And Injuries
It is not automatic that just because a Uber or Lyft driver was driving that they are at fault. Car wrecks can happen for many reasons. There will always be contributing factors that will lead to the accident. Compensation can be recovered, regardless, even if the parties involved were careless, negligent, or if some type of a wrongful action has occurred.
Other liable parties may include:
Bus drivers
Bicyclists
Negligent third parties
Negligent Uber drivers
Government agencies
Defective vehicles
Negligent parties and their employers
Pedestrians
Transit Companies
It is so important to do a thorough investigation if there is an Uber accident. This is really the only way to identify the liable parties. Cellino Law will do their best to find compensation for you if you were injured in a rideshare-related accident.
Do You Get Compensation If The Uber Driver Was Actually At Fault?
Let's say that you are in an Uber accident. It is, in your opinion, the fault of the Uber driver. The compensation is always going to be dependent on how the app was being used at the time of the accident. So this is what you need to know.
Uber App Not Used by the Driver
When an Uber driver is not logged directly in through the app, then they are not technically working for Uber. The driver's private insurance coverage, at that point in time, is going to take responsibility for the wreck.
Uber Driver Waiting For Ride Request
Let's say that the driver was actually logged in, and they were waiting for a passenger, at this point the Uber insurance is going to kick in. However, this is going to be secondary to any other policy. Therefore, you cannot seek more damages than what the private policies benefits provide.
Uber Driver Had A Ride Request
If the Uber driver did accept a ride request, then the $1 million insurance policy is now in effect. This will cover the damages for the driver, injured third parties, and also many passengers. However, this is again a secondary policy. It is necessary to exhaust every single benefit that is available through the Uber driver's primary insurance policy when seeking compensation from Uber. That million-dollar coverage is going to terminate once the passenger has been dropped off and the driver signals on the app that the ride is over.
Is It Possible To Sue Uber Because Of A Wreck?
In most cases, this is not going to happen. Uber has specifically stated that their drivers are independent contractors and not employees. This is why they do this so that they can limit their liability if the driver is involved in a wreck. Therefore, you are going to be limited in how much compensation you can seek from this insurance provider.
Common Injuries in Wrecks Involving Uber Drivers
When you are in an accident, and an Uber driver is involved, this can be very devastating. Cellino Law Will be there with you every step of the way to pursue compensation for the injuries you may have suffered during an Uber accident, such as:
Eye injury
Degloving
Head injury
Neck injuries
Crushing injury
Burns
Broken bones
Chest injury
Concussion
Paralysis
Lost limbs
Soft tissue damage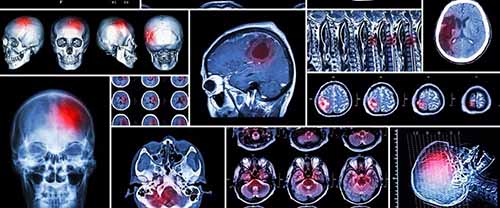 Are you not able to make it to one of our Cellino Law offices? There are certain injuries that people may sustain that may prevent them from doing so. However, you should not let that stop you from speaking with us. Our legal team is ready to come out to your location. Simply set a time for us to come out to your place of employment, home, or even in the hospital room that you are currently at right now. We will allow you to set up a time with us so that we can meet and go over all of the details.
Rideshare Accident Damages That Might Be Available
If someone else is at fault for an accident you are in, you have a couple of options. You should never allow anyone to get away with what they did to you, and also not get the compensation you deserve. It is so important to never sign anything until you speak with someone at our office. Cellino Law is here to help you get compensation for all of the damages caused during the accident. This could include money for:
Pain-and-suffering
Property damages
Lost wages
Disability
Medical bills
Emotional distress
Loss of enjoyment for life
What you will find is that every insurance company is going to try to get the claim numbers down. If we are representing you legally, we can help prevent this from happening. We are going to work with you, providing you with experienced personal injury attorneys that understand motor vehicle accident laws to build your case. Our lawyers will understand how to apply the extent of your injuries to the claim, and they also understand how these can affect your life. This is important when determining the value of your case.
How Much Is An Uber Case Worth?
There will always be specific circumstances surrounding the value of your case. Whether you are a driver working for a rideshare company, or another company, you need to know that you have to carry the proper insurance. The insurance should cover any potential expenses related to an accident including medical bills in regard to who is actually at fault. If you're not at fault, you can easily file the claim against the other driver for pain-and-suffering. This is often regarded as non-economic damages. If it is a serious injury, state law defines these as:
Death
Loss of pregnancy
Disability for a period of 90 days
Disfigurement
Limitation caused by injury to organ or body part
Broken bones
Filing lawsuits in regard to vehicular damages, or even a financial loss that exceeds $50,000, is possible. A Garden City Uber accident lawyer at Cellino Law can help you improve your claim. In general, the statute of limitations for an Uber accident is three years in New York. It is even possible that it's a shorter amount of time depending upon each case.
Contact Cellino Law To Speak With Our Garden City Uber Accident Professionals
It is absolutely vital that you speak with our attorneys right after the accident. The statute of limitations expires three years from the time that the accident occurred in New York. Our Garden City injury firm is ready and willing to help you, which is why you should contact Cellino Law so that we will have enough time to gather and process all of the evidence that can help get your claim case approved.
I am writing this letter to say how much I appreciate your services pertaining to my case. Your injury attorney took a hands-on approach and left me fully informed at all times as to where my case was going as well as how much ground we had to cover; leaving the final decisions in my hands but making sure that I knew all of the risks involved in the choices. I have dealt with a few law firms in my life on various different cases and this is the first time that I never had to call and/or track down my lawyer… because of this, I have and will continue to recommend Cellino Law to my friends and associates.

Denise

Cellino Law was a great company to work with. From the beginning they came out and met with my uncle and myself and assured us that everything would be taken care of from beginning to end our lawyer state and constant contact with us to make sure that everything would go smoothly and it did. I would definitely recommend anybody to go to Cellino Law for whatever help they need. And specifically please ask for the lawyer that we had Mr. Alan Silverstein. He was amazing and his staff was always attentive. Please go with them for your next law needs.

Eshaunda

Joe and I just wanted to send you this note thanking you for the professional way you handled our lawsuit. Your kindness was extremely appreciated in a very difficult time. When we found out the people that caused the accident had no insurance, we thought our chances of receiving any settlement was nonexistent. Once we met with you and released you were able to help us our minds were put at ease. Your aggressive manner of handling the case exceeded our expectations. Please feel free to use us as a reference. Thank you so much and best wishes,

Danielle and Joe

I highly recommend Cellino Law to anyone involved in a car crash. I worked with Michael Lovecchio, and had a wonderful experience given the circumstances. He was very attentive, and got the best possible outcome I could have wanted.

Susan

Cellino Law and more specifically my attorney, Gregory V. Pajak, Managing Attorney, and as a whole the Cellino Law Firm and its organization. This is by far one of the most professional law firms and attorney I have ever engaged with and retained in my 35 years. The level of professionalism goes beyond words, the care and constant engagement with me as the client was touching. I was never ever just treated as simply a CASE with potentially a significant dollar number attached to my file. I was engaged regularly, Tracey (Ass't) and Greg always made sure to remain constant, as well as consistent in overseeing that my case was handled properly and that it did matter in many ways - ensuring that the end result(s) would be fair and reasonable to my case/injury. The regular follow-up calls were very satisfying, knowing that you're involved in your case matters significantly AND always. One of my main items to recognize Cellino Law and Gregory is that whenever I called, I was able to get through to speak directly to my Lawyer and he would answer any if not all of my questions in a very professional and genuinely caring manner. I always felt cared for and protected legally and more importantly, I was made feel as a human being that was being cared for and always keeping me abreast of all matters connected to the case. There was never a point I felt let down, on the contrary -the level of service was "STELLAR". Greg is the consummate professional, a 'role model', if you will, for what other attorneys should strive to become when dealing with their clients.

Anthony

Thank you for your time, effort, and hard work on my case. I appreciate your expertise and compassion. I never experienced what I went through and I would have been completely lost without you.

Martha