If you have been in a car accident, you need to speak to a lawyer so you can get help in obtaining the compensation you deserve. Maybe you are asking yourself if the insurance company is going to take care of the medical bills, car repairs, and compensation for lost wages. At Cellino Law our Garden City car accident lawyers are going to help with this process. We offer a free initial consultation. No matter how serious the car crash was, we can answer any questions you might have, and you will be getting advice from an experienced lawyer.
Our Garden City personal injury lawyers will be there to help you with your case and defend your rights as the victim of a car crash. We go the extra mile to make sure you get the compensation you deserve. Our goal is to get you the maximum amount possible. We will be with you during the tough times. Our knowledge and experience is the reason why we are considered one of the most experienced injury law firms in New York.
There is a good high chance you are under a lot of stress if you have been in an accident. Our goal is to take that stress away and let you focus on getting better as we handle the case on your behalf. Schedule your free consultation to learn how we can help at 800-555-5555.
When Do You Need To Report A Car Accident In New York?
Drivers are required to inform the authorities about a car accident under New York state law, especially when the accident resulted in injury or death of another person. The first one to file the report needs to be the driver at fault or any other driver involved. Some car accidents result in property damage. If this is the case, the at-fault driver needs to be the one reporting whether or not the other driver is there. Drivers are required to make an accident damage report if the damage is more than $1,000.
Drivers have to write the report within ten days of the accident happening. The law does not specify accident reports, but if the accident caused the injury of another driver, a personal injury lawyer recommends writing an accident report and filing it as soon as physically possible.
Common Reason For Auto Accidents
In New York, there is compensation for drivers injured because of a car accident. For a driver to be compensated for personal injury, a report must be filed by the driver. The report is going to contain more information about the accident. It must detail the type of car accident such as:
Following too close
Texting/talking while driving
Illegal lane changes
Distracted driving
Vehicle or mechanical defect
Failing to stop at a stop sign/light
Inclement weather
Driving over the speed limit
Driving under the influence of alcohol and/or medication
Making an unlawful U-turn
Hazardous road conditions
There are cases where the driver is at fault for the car accident because they were negligent. It is important to talk to a personal injury lawyer. With an experienced attorney, you will get to understand how your negligence might have played some part in the accident.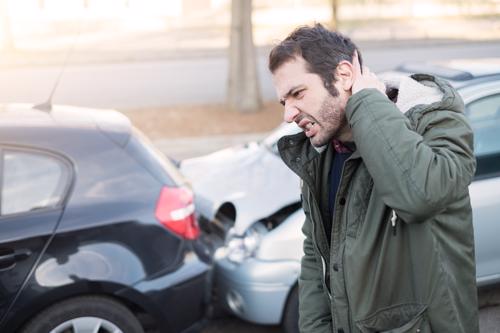 There are a lot of accidents taking place in Garden City's highways and roads every year, and this can make it a little challenging and nerve-wracking to drive on them. Drivers can easily become impatient and frustrated and even end up in road rage. When a person is feeling these emotions, they can make impulse decisions that can lead to a car accident.
When you give us a call, you will have the chance of speaking to an experienced personal injury lawyer focusing on personal injury claims. The attorney is going to look at your claim after suffering an injury after being in a car accident in New York state.
What Are Some Of The Common Injuries Caused By A Car Accident?
Injuries that are caused by car accidents can be very serious. Some of the accidents that can cause injury include truck accidents, rental cars, failure to yield or stop, young drivers, accidents occurring in parking lots, side-swipes, motorcycles, pedestrians, rear-end accidents, head-on collision, roll-overs, hit and runs, and other kinds of vehicles.
The New York state law provides compensation for drivers who have been involved in a car accident no matter the party at fault. The compensation covers medical bills and lost wages. By hiring a personal injury lawyer, you can relax knowing that a highly trained representative is handling the case and is going to do everything possible to make sure you get the compensation you deserve.
New York State law considers it a personal injury when one or more of the following is true;
Permanent limitation of using a body part or an organ
Loss of limb or extreme physical disfigurement
Extreme limitation in body function or using a body system
Bone fracture
Permanent loss of using a body system, organ, body function, or body part
A physical ailment that affects you at least three months after the accident
Death
How Much Does It Cost to Hire A Car Accident Attorney In Garden City?
When you hire Cellino Law Firm to help you with your personal injury case, you don't have to worry about paying any upfront fees before we can start working on the case. This means anyone can get our legal services even if they don't have any money. We know many families struggle to cover the medical bills of their loved ones after they are in a car accident, and this is why we offer our service with no upfront fees. We will only get paid after you win your case and you have gotten the maximum compensation possible.
We work on what is known as a contingency-fee-basis. What this means is that we are going to cover all the expenses to do with the case. The fee we are going to get will depend on winning the case and getting you the compensation that you deserve.
This structure of payment should be reason enough for you to work with us on your personal injury case. We will look at the merit of a case before we decide to work on it. We will look at all the details of the case, and if we think there is even a small chance of winning, we are going to take the case.
If you or your loved one has been involved in a car accident, you can get started by giving us a call so we can schedule our no-risk consultation. During this consultation, we are going to find out more information about the car accident. You will be asked some questions so we can gain a better understanding of your case and what exactly happened. Once we are done with the initial consultation, you can decide on whether to hire us or not.
What Compensation Can I Expect After Being in A Car Accident?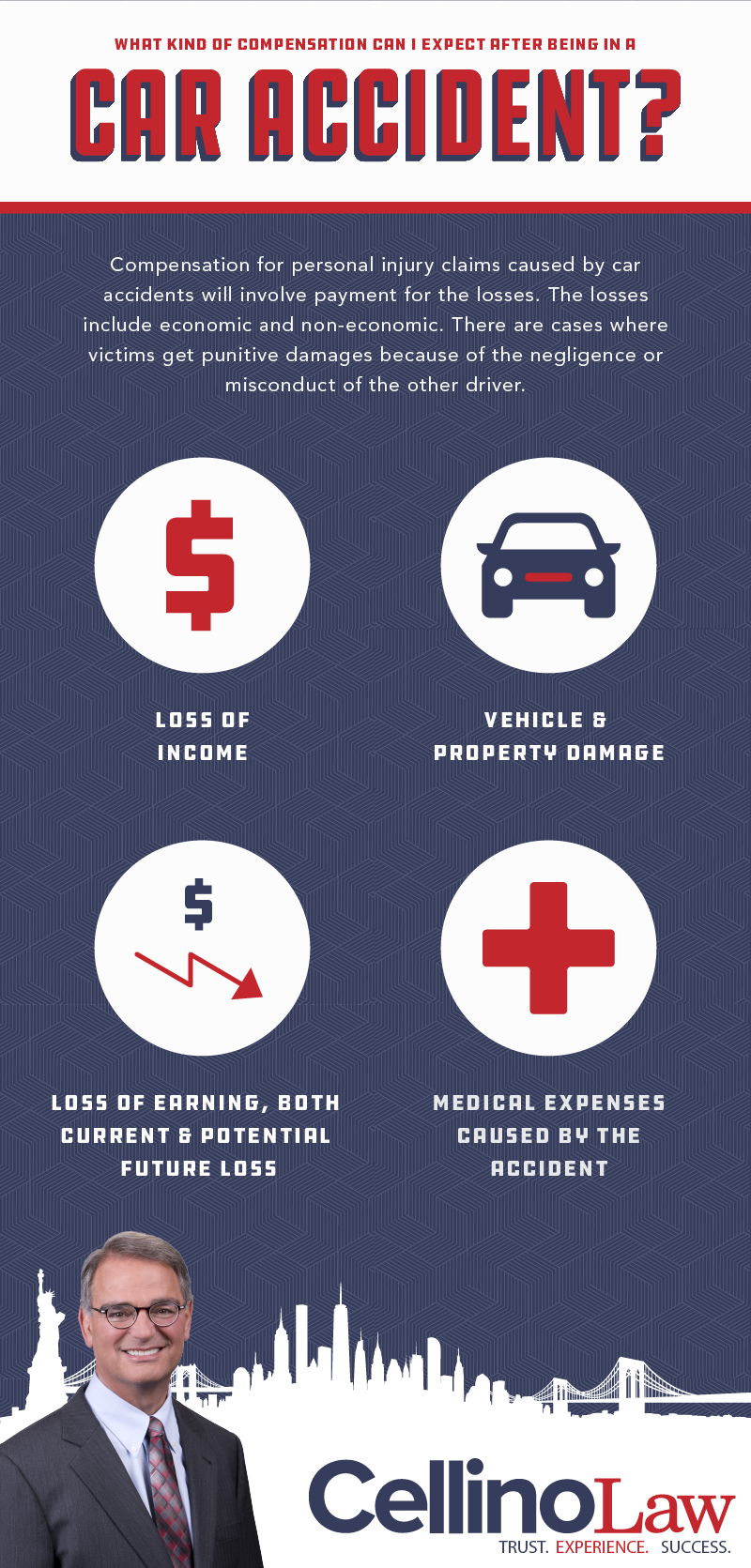 Compensation for personal injury claims caused by car accidents will involve payment for the losses. The losses include economic and non-economic. There are cases where victims get punitive damages because of the negligence or misconduct of the other driver.
Economic compensation is there to give direct repayments to the victim for the losses they have suffered as a result of the car accident. Economic compensation will include;
Loss of income
Medical expenses caused by the accident, both current and the estimated future costs
Loss of earning, both current and potential future loss
Vehicle and property damage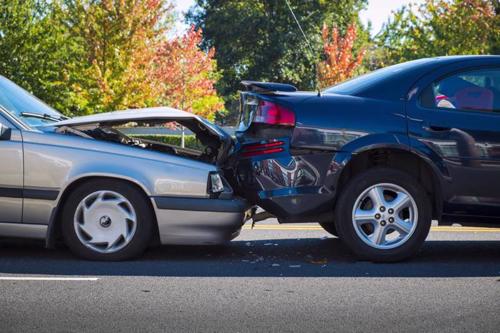 According to the New York State Insurance Law Section 5102, you can be entitled to get non-economic payment when you have suffered a "serious" injury. You can receive compensation for your non-economic losses if you have;
Losing a limb
Bone fracture
Lost function of the body system or body organ
Physical disfigurement
Lost an infant in utero
As mentioned before, on top of getting compensated for economic and non-economic loss, you can also get compensated as punitive damages if the other driver was negligent or his/her misconduct caused the car accident. In most cases, the amount the victim gets as compensation is going to be many times over the amount received as compensation for damages only.
How Can An Attorney Prove A Car Accident Claim?
After being involved in a car accident, it is important to call a car accident lawyer near Garden City quickly, because you have a limited time period to file the claim. If you delay filing the claim, you might end up missing out on compensation.
The State of New York has a statute of limitations, and this means you make sure the claim has been filed within this time. You need to file the claim against the defendant within seven days of the accident taking place. The statute of limitations is one of the most important things when it comes to many types of lawsuits.
Accident victims have three years from the date of the accident to file the lawsuit against the defendant. If the defendant in your case is a government agency, you only have 90 days to file the lawsuit. Some victims have missed out on getting compensated because they did not know that the statute of limitations when a government agency is involved is different. This is why it is important to work with an experienced personal injury lawyer.
Time is one of the most important things when it comes to personal injury cases. It is a good idea to talk to a lawyer as soon as you can. The sooner you do it, the better it is for you. The attorney knows everything to do with such cases, and they are in a good position to make sure the case remains within the statute of limitations, and this increases your chances of getting the compensation you deserve.
There is one thing you need to keep in mind, solving such cases is not going to take a couple of days. Cases to do with personal injury tends to be very complex, and this is why you can expect them to take a long time to solve. There are investigations the lawyer has to do when building your case. This will involve examining property damage and medical bills.
The lawyer is also going to talk to medical authorities so they can get a good understanding of the injuries sustained. They also have to interview any witnesses. Attorneys usually work with a team of respected representatives from various fields so they can get experienced minds on a given subject. They will work with professionals to replicate the accident so they can understand how the accident happened. The lawyers also need time to get all the necessary court orders needed before obtaining certain evidence, including receipts and cell phone records.
Which Information Should You Collect After An Accident?
After being involved in an accident, it is a good idea to gather information because it will help with your claim, but only if you can do it. Some information you can gather include;
The location of the car accident
The police officer's name, badge number, precinct, and the police division.
The kind of car (make, model, year) and the license tags of all the cars involved in the car accident
Every driver's name, address, phone number, current registration information, insurance information, and license number.
Will A Car Accident Claim Need To Go To Trial?
Lawyers usually like to settle personal injury claims out of court when possible. They try their best to reach a deal so that the case doesn't end up in court. If the insurance company rejects the claim, the case will need to go to the courtroom.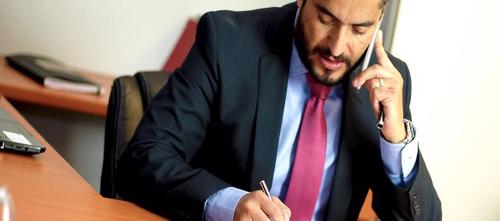 Here at Cellino Law Firm, we put a lot of time reviewing the incident so we can get a good understanding. This will allow us to determine how much you can get as compensation for the car accident. We are going to be negotiating with the lawyers of the other party to come up with a fair settlement. It is important to do things right so that the case doesn't get dismissed. If the attorneys of the other party are not willing to settle, then we will take the case to the courtroom so that you can get the compensation you deserve.
How Long Do I Have to File a Car Accident Injury Claim In NY?
It is very important to keep in mind the statute of limitations of the state of New York when you have been involved in a car accident. It does not matter whether you are the plaintiff or defendant. There is a specified time for filing a personal injury claim.
In normal conditions, you will have up to three years to file from the personal injury case. It is counted from the day of the accident. If you have been involved in a car accident, the best thing to do is hiring a lawyer who is going to make sure everything is done the right way and within the set time limit.
Car accidents lawyers usually do a lot of investigations and interviews that will help with your case. Doing all of that work will take time. This is why it helps to hire a lawyer as soon as possible. This gives them more time to work on your case.
Call A Cellino Law To Get A Free Consultation With A Garden City Car Accident Lawyer
If you have been involved in a car accident and you were not the one at fault, then you should contact our Garden City injury firm. There is a team of professionals ready to get started with your case. We offer a free initial consultation for your personal injury case so we can give you legal advice. You get the chance to ask any questions you might be having about your case, and the options you have. You will feel more confident speaking with a consultant about the case.
At Cellino Law our Garden City auto accident lawyers ready to help you with your car accident case. Our attorneys are experienced and will help you get the compensation you deserve. We make sure the compensation is enough to cover your car damages and injuries. You can get started with a free consultation by giving us a call.
Thank you for your efforts on my behalf. I am very pleased (and surprised) at the amount of the settlement. We will use the funds to help pay down the debt on the truck we had to purchase after ours was totaled. Thank you again.

Linda

We want to send a big "Thank you" from the both of us. We know you both fought for us and did a great job with our case. You did it in a timely manner and we appreciate it.

Kerrijo & Jerry

I really just wanted to say thank you so much for taking my case, answering all my questions, and mostly for being very patient with me. I feel that without you and Roza I would not have been able to get anything at all. I hope to never need a lawyer again, but if I do I will definitely want you both working for me. Again thank your for you hard work, time and patience.

Veola

This is to express our gratitude to you and your team in helping us and Stephanie navigate through the legal process following her car accident. We are very satisfied with the outcome and grateful for your hard work and attention to details. We fell confident that with this compensation, Stephanie will be able to move forward with her studies and her life with the ability to care for some of her health needs resulting from the injuries sustained following her car accident. Thank you very much and may God continue to bless your efforts.

Jose & Rose

I am writing this letter to say how much I appreciate your services pertaining to my case. Your injury attorney took a hands-on approach and left me fully informed at all times as to where my case was going as well as how much ground we had to cover; leaving the final decisions in my hands but making sure that I knew all of the risks involved in the choices. I have dealt with a few law firms in my life on various different cases and this is the first time that I never had to call and/or track down my lawyer… because of this, I have and will continue to recommend Cellino Law to my friends and associates.

Denise

Cellino Law was a great company to work with. From the beginning they came out and met with my uncle and myself and assured us that everything would be taken care of from beginning to end our lawyer state and constant contact with us to make sure that everything would go smoothly and it did. I would definitely recommend anybody to go to Cellino Law for whatever help they need. And specifically please ask for the lawyer that we had Mr. Alan Silverstein. He was amazing and his staff was always attentive. Please go with them for your next law needs.

Eshaunda