When an individual has been injured in a dramatic accident, their life and the life of their loved ones will change dramatically. In some cases, the trauma may create a permanent disability such as paraplegia or quadriplegia which will restrict the victim's mobility and leave them confined to a wheelchair for the rest of their life.
The professionals at Cellino Law are some of the most accomplished spinal cord injury lawyers in the Garden City area and will help guide you through the process after you have suffered an injury that has left you permanently disabled. We have vast resources and experience in personal injury cases to recover the compensation that you need to be financially secure and comfortable throughout your life.
It is impossible to undo events that have already happened, but we will offer compassionate service that is going to give you the future you deserve. You can contact a Garden City spinal cord injury lawyer for a free consultation by calling 800–555-5555.
Understanding A Spinal Cord Injury
A spinal cord injury is simply the process that happens when the spinal cord is damaged. The spinal cord is an essential organ that comprises vertebrae. When the vertebrae are damaged it may lead to multiple long-term detriments to an individual's overall health. These determinants have the ability to affect nerves that are responsible for various bodily systems including the urinary, gastrointestinal, respiratory, and musculoskeletal systems. And injury of the spinal cord may also affect an individual's overall mental health which can lead to depression and anxiety.
Studies have shown that the lifetime care for the cost of an individual who was diagnosed with a spinal cord injury can range between $500,000-$3 million.
What Are The Most Common Causes Of A Spinal Cord Injury?
Spinal cord injuries can happen to anyone at any time and from some of the most normal activities, a simple backflip gone wrong can result in a spinal cord injury. However, there are some spinal cord injuries that are more typical than others. These can include:
Car Accidents
A car accident is a devastating experience for all involved and can result in multiple types of injuries including spinal. When high speeds are involved even the best protective equipment can be just moderately effective. If the accident is the result of the negligence of the other driver they are responsible for medical expenses and overall pain-and-suffering to the victim of the spinal injury.
Slips And Falls
A slip and fall accident can be quite dangerous, especially for senior citizens, which can lead to a multitude of injuries that may involve the spine. Depending on the cause of the slip and fall, it is possible somebody may be liable for those consequences. An example of this would be a property owner who disregarded a staircase and it fell into disrepair and an individual fell due to the status of the staircase, that property owner would be liable for any spinal injuries for their overall negligence to the property.
Bicycle Accidents
An injury suffered while cycling can be quite serious due to the fact that bicyclists have little protection wall riding at an overall high speed. While a bicycle helmet will protect the head it offers no support for the back and neck, leaving the spinal cord quite vulnerable. Regardless of how careful or well protected you are, a bicycle accident can happen due to the reckless behavior of another individual. A motorist that hits a cyclist may be responsible for their injuries and accidents from the incident.
Sports Injuries
Spinal injuries can often occur to victims who were participants in sports activities, which can include high impact sports where two individuals slam into one another as well as other activities such as diving. A spinal injury can occur when an individual dives into water that is too shallow whereby the driver hits the bottom and causes their spinal cord to be violently compressed. Improper training and supervision may lead to such injuries whereby the negligent parties may be forced to pay for their own negligence.
Violent Acts
Acts of violence that may include the use of physical force or firearms may lead to spinal cord injuries as well. In these types of situations, it is easier to identify the party who is responsible for the injuries that occur due to the fact that they are not accidents but deliberate acts of violence. However, trying to prove negligence and liability in a court of law is best handled by an experienced attorney who fully understands the types of costs that can be recovered through a civil lawsuit as well as the criminal charges to be pressed against the responsible party.
Common Symptoms Of Spinal Cord Injuries
A spinal cord injury is a medical emergency that will require immediate treatment. Some of the most common symptoms of a spinal cord injury can include:
Weakness or paralysis
Sensory changes
Pain
Numbness
Spasticity
Loss of bladder and bowel control
Partial loss of feeling at or below the injury
If the spinal cord injury occurred in the neck, the symptoms can affect the arms, legs as well as in the neck and the muscles that are used in breathing. If the injury occurred at chest level, the individual may suffer from blood pressure issues, abnormal sweating as well as the inability to maintain normal body temperature.
How Is Spinal Injury Diagnosed?
In many cases, a spinal injury is not easy to identify. Ideally, an individual should be medically assessed after they have experienced any of the following injuries:
Pelvic fractures
Head injuries, including face trauma
Penetration injuries close to the spinal cord
Injuries related to falls
If an individual has sustained any of the above symptoms from one of these types of injuries, they may have sustained a spinal injury. Whenever it is possible, emergency responders should be called immediately. They will immobilize the individual to help prevent any further damage to the spinal cord and bring the victim to the nearest emergency room or trauma center.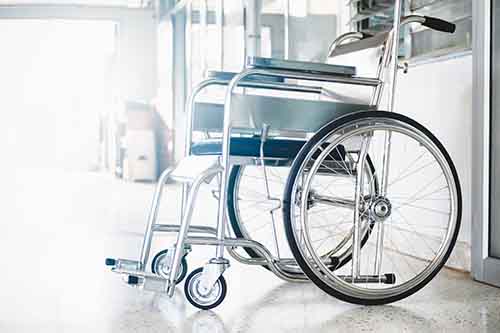 When the individual arrives, medical personnel will conduct a full physical examination to determine the full extent and location of injuries. Additional testing may include:
Electromyography (EMG): used to diagnose muscles in addition to the nerves that control them
CT (CAT) Scan
MRI: used to offer a complete picture of the body
X-Rays, or a Myelogram
How Spinal Cord Injuries Are Treated
In many cases, the outcome will be affected by the time between the treatment and injury. In hopes to lessen overall long-term effects from a spinal cord injury, quick medical response is absolutely essential.
Typical treatments can include the following:
Medications for the reduction of inflammation
Traction will be used to help stabilize the spine
Dependent upon the form of trauma that caused the spinal injury, surgery may involve the following:
The removal of fluids or tissue in an effort to reduce pressure
Removal of disc fragments or bones
The fusing of broken vertebrae
Implantation of spinal braces
Removal of foreign objects
The National Spinal Cord Injury Statistical Center has placed the average number of initial hospital stays for a spinal injury at 11 days. While the average number of stays for rehabilitation is about 36 days.
The rehabilitation for spine injuries may include the following:
Physical therapy designed for communication skills, mobility, and muscle control.
Learning how to operate assistive devices such as wheelchairs and walkers.
Occupational therapy designed for the improvement of motor skills.
Vocational therapy designed to assist people to resume their workplace duties. The use of assistive devices.
If an individual does not recover within the timeframe of six months, the loss of the function will more than likely be permanent. In fact, the National Spinal Cord Injury Statistical Center has estimated that 30% of all individuals diagnosed with spinal injuries need to be rehospitalized at least one or more times any given year after the initial injury, averaging about 22 days.
Various Types Of Paralysis Injuries And Cost Of Care
Individuals suffering from a paralysis injury along with their families in the Garden City, New York area as well surrounding areas will be faced with the difficulties of a modified lifestyle as well as the financial burdens of medical treatment and additional care.
Paraplegia
Individuals who have suffered lower spine injuries may suffer from paraplegia. This is a typical condition that involves the overall loss of motor functions within the lower limbs. Paraplegics will still have use of their upper body, meaning they will still have limited mobility for the use of a wheelchair.
The estimated cost of care for a typical paraplegia injury in the state of New York may cost upwards of a half $1 million and an annual cost of about $70,000 per year afterward. An estimated cost of care for an average 25-year-old after an accident could easily exceed $2.5 million.
Quadriplegia And Tetraplegia
Quadriplegia or tetraplegia refers to the paralysis of the upper and lower body. Tetraplegia may occur in various forms and limits the types of movements and sensations dependent upon where the spinal injury has been located.
Low tetraplegia patients will have a limited amount of motor functions in the upper body whereas those who have high tetraplegia may need to rely on the exclusive care of another individual for the remainder of their lives.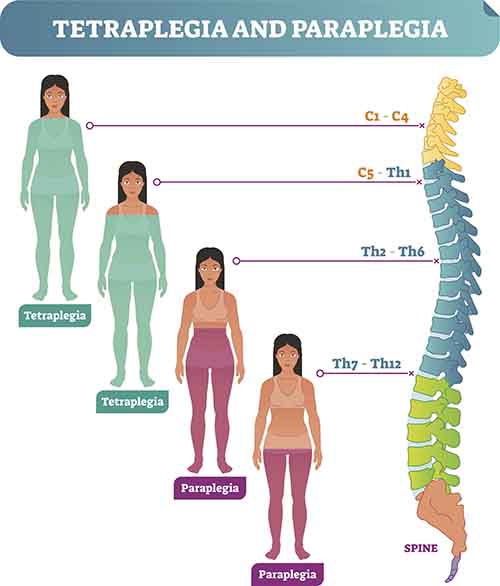 The overall cost of care for low tetraplegia can exceed as high as $800,000 for the first year, with high tetraplegia patients expected to cost of over $1 million.
Once again, an individual at the age of 25 at the time of injury can expect the lifetime care cost to be in the range of $3.5 million-$5 million.
When one considers the overall financial costs from not only the time of the accident but the lifetime care as well as pain and suffering, lost wages one can see the essential need for a personal injury lawyer in Garden City, New York.
Understanding The Costs Often Associated With Spinal Cord Injuries
The overall costs that are associated with living with a spinal injury are exceedingly high. It is estimated that 43% of all people diagnosed with such injuries are considered paraplegic while just about 57 percent are considered to be quadriplegic. This simply means that these individuals are going to require medical and living assistance for the rest of their lives.
The estimated lifetime cost of an individual dealing with a spinal injury is going to vary depending upon the severity of their injuries as well as their age when the injury occurred. At the low end of the spectrum, the lifetime cost for an individual at the age of 50 with a spinal cord injury that loses motor function would be about $450,000. Whereas, a 25-year-old that has suffered high quadriplegia can expect the lifetime cost to be close to $3 million.
How A Garden City Spinal Cord Injury Lawyer Can Help Your Situation
Along with serious physical harm, a spinal cord injury can also create further issues. Spinal injuries will also lead to serious financial hardships such as large medical bills and lost wages. This is why it is absolutely essential to seek out the proper legal aid from a personal injury lawyer from Cellino Law. Our attorneys will work to obtain compensation from the party or parties who may be held liable for your injury, including:
Drivers
The National Spinal Cord Injury Statistical Center has estimated that about 37% of all spinal injuries are attributed to vehicular collisions. The accident attorneys from Cellino Law are well versed in all of the traffic laws throughout New York State and are able to pursue any violations within that traffic law that have led to your spinal injury. Cellino Law also includes relaible practice within motorcycle accidents and pedestrian accidents.
Property Owners
The National Spinal Cord Injury Statistical Center has reported that an estimated 29% of all spinal injuries are attributed to slips and falls and 10% to sports-related injuries.  These can be the result of another individual's negligence.
Contact us today if you or your loved one has suffered a spinal cord injury due to a fall which may be from a lack of compliance or safety regulations or a poorly maintained property. If the fall happened on commercial property, private residence, or public space, the lawyers of Cellino Law are available to identify any possible negligent acts or legal violations.
If you or one of your loved ones has suffered a spinal injury while playing a sport, the property owner where the sport was being played may be held liable for those specific injuries. When a property owner is liable for your specific spinal injury, please get in touch with their legal services.
Perpetrators Of Violence
According to the National Spinal Cord Injury Statistical Center, about 14% of spinal cord injuries are caused by violent acts. If you have suffered a spinal injury in this way, it is essential to seek out legal help from a Cellino Law injury lawyer. The individual or individuals that acted upon you in a violent manner that resulted in your injury can be held liable, opening the possibility for an injury settlement.
How We Achieve The Highest Possible Amount Of Compensation For You And Your Family
From our legal experience when dealing with serious spinal cord injury cases, we believe that going to trial as opposed to a settlement is a better strategic action. This is especially true in cases where the insurance provider or defendant is refusing to play fair during basic negotiations.
A good law firm must have superior negotiation skills, which is why you need an injury lawyer who is going to get down and fight hard for you and your needs in the courtroom. Cellino Law has years of experience in the trial courtroom leading to successful litigation of personal injury cases which have included back injuries and spinal cord injuries of all types.
Cellino Law has been successful in recovering millions of dollars in settlements for injury victims throughout the years. In fact, we're proud to say that we have awarded some of the top settlements and verdicts in the history of New York State. We truly understand that a personal injury is a dramatic and life-changing event not only for the individual but the family as well and it can be challenging to find a way back into a sense of normalcy.
Our Garden City personal injury lawyers are going to be there by your side to ensure you get the compensation you are entitled to and need for not only medical bills but pain and suffering and lost wages as well. To truly understand all your rights and options please call us today at 800-555-5555 for a full free consultation about your spinal cord injury case.
Choosing the right attorney to represent you after an accident can make all the difference. This is no cliche. I recently experienced these words to live by first hand. After a tractor trailer rear ended me at high speed in 2017 I retained Allan Silverstein to handle my case. I quickly realized that bringing a lawsuit rapidly snowballs into a mountain of details that can make or break your results. Documents, case histories, doctor visits, bills, and lots of phone calls all need to be accurately kept track of if a successful outcome it to be attained. To complicate matters I reside in New York and the incident took place in New Jersey. Luckily, Allan was licensed in multiple states. I was fortunate to find Allan to handle this matter from the New York area. Armed with an accurate account of the facts Allan went to work on the difficult job of negotiating with the defending insurance company as well as my no fault carrier in order to obtain the best possible outcome for my set of circumstances. In a lawsuit communication is key and and events can be of a timely nature. Allan never failed to return my calls - usually the same day! He fought skillfully and respectfully to get me the best possible settlement. He is easy to deal with and a likeable down to earth guy. He always listened with compassion and respect to my issues. He guided me with objective understanding as well as a realistic analysis of the merits of my case. When we finally settled Allan got me a fair agreement beyond my expectations and negotiated with my doctors to make sure all my bills were paid. It was a great experience having Allan represent me. Quality work in any aspect of life is hard to find. Quality is what I got with Allan Silverstein. I highly recommend him if you find yourself in need of a personal injury attorney.

Theodore

I am so grateful for your expertise, patience, and perseverance which resulted with such a successful settlement regarding my car accident. I also want to let you know how impressed I was with you and your firm and I won't hesitate to recommend you to anyone who needs assistance from an accident. I truly appreciated your care and professionalism. Thank you again for your kindness and support

Lisa

My experience during the time of negotiations was extremely positive. Josh Sandberg handled my lawsuit with the utmost integrity. He returned all my phone calls in a timely manner and answered all my questions. Josh made things less stressful. I would highly recommend Josh and the entire staff at Cellino Law.

Arthur

We'd like to thank you for all the assistance and time you spent on our case. Your professionalism and honesty will always be appreciated. The staff was always courteous and we were always impressed with your accountability. Your passion and dedication will never be forgotten, nor will you.

Sarah

Thank you for your efforts on my behalf. I am very pleased (and surprised) at the amount of the settlement. We will use the funds to help pay down the debt on the truck we had to purchase after ours was totaled. Thank you again.

Linda

I highly recommend Cellino Law to anyone involved in a car crash. I worked with Michael Lovecchio, and had a wonderful experience given the circumstances. He was very attentive, and got the best possible outcome I could have wanted.

Susan