Biking can be a wonderful way to travel around Garden City. However, most riders are often ignored by motorists who focus on other vehicles around them. Since bicycles are smaller and often a challenge to see, there's a better chance for motorists to crash into them. This puts most if not all cyclists in the blindspot of drivers zooming through Garden City streets.
Most of the time, drivers tend to turn without realizing that bicycles are there. While it may be dangerous for cyclists to ride on the streets, they are just as welcomed as drivers. However, several serious accidents have been recorded involving bicycles and drivers. If you didn't already know, the drivers are usually held accountable for these accidents.
The personal injury attorneys at the Cellino Law Firm are very experienced with these types of injury claims. Our main goal for each case is to ensure that the defendants are held accountable for their wrongful acts of negligence. So if you need a Garden City bicycle accident lawyer, give our firm a call at (800) 555-5555.
What Are The Common Causes Of Bicycle Accidents In Garden City?
The following are some of the most common instances that result in a bicycle accident:
Failure To Stop When Turning
Before a driver can make a left-hand turn, they should ensure that there's no one coming. This just simply means that they should be responsible and check for oncoming cyclists. However, most drivers tend to collide head-on with cyclists since they don't pay proper attention to what's happening around them.
On the other hand, drivers who are turning right in front of bicycles are also making a dangerous move. Drivers often forget that they're coming in contact with a blind spot and cause some of the most catastrophic accidents of all time. Drivers often find themselves turning in front of cyclists while miscalculating the distance between them.
This often leaves the cyclists without any room between themselves and the car. This often leaves cyclists in a dangerous situation where they cannot stop or even swerve to save their lives.
Crossing Bike Lanes
These coveted lanes were designed to keep cyclists safe since it provided them with a special spade to ride. However, drivers are often careless and cross the bike lanes too often resulting in fatal crashes and life-threatening accidents.
Additionally, drivers often tend to never accurately stop at stop signs and it isn't unnatural for them to run through stop signs. Garden City isn't any different. Some drivers slow down and then as they get closer they still just run through the stop signs. This in itself is very dangerous and causes collisions between cars and cyclists since cyclists expect drivers to completely stop.
Opening Car Doors
Some drivers have also been hit by car doors. Drivers sometimes don't pay attention and open their doors right into an oncoming cyclist. As sad as it is, the bicycle usually crashes into the car door and the rider is severely injured.
Driving Too Close To A Bicycle
When drivers drive too close to cyclists, they often move too close towards them without leaving enough room. More than often enough, this occurs when drivers are in a rush. This presents the perfect situation for cyclists to suddenly stop and have cars crashing into them causing serious accidents. So the next time you're driving, be sure to leave enough space between yourself and the bicycle in front of you.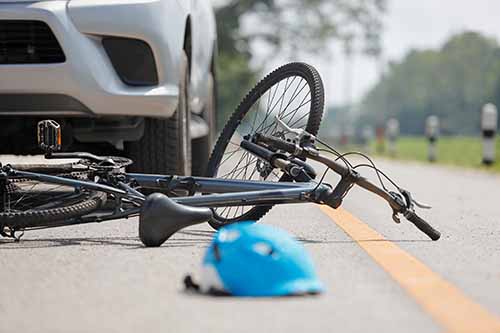 Exiting Driveways
Drivers exiting certain driveways make it seem as though they're not even looking out for cyclists. While most people tend to overlook bicycles, they're not focusing as they make their moves.
Speeding And Aggressive Driving
Aggression and speed are two of the most dangerous things that result in accidents. These types of accidents usually come from drivers having road rage. Other times, it's because they're always in some big hurry and they fail to stop.
More than often enough, drivers tend to become very angry and aggressive if they're forced to wait on a cyclist that is following or passing to close. The result of these situations is often death or other life-threatening injuries. Speeding is the number one cause for bicycle accidents.
Distracted Driving
Drivers need to pay close attention to what they're doing since they often get distracted. However, when drivers use their smartphones and other GPS devices, they distract themselves. This usually leads to some of the most frequent collisions that occur with bicycles.
Intoxicated Driving
Alcohol and drugs impair the abilities of drivers. Drugs and alcohol tend to make it very difficult for them to focus on the road and it even reduces their reaction time. In essence, this increases the rates at which bicycles are involved in accidents.
No matter the reason for an accident, they all leave cyclists with life-threatening injuries. So if you or a loved one has suffered from a bicycle accident, call us today for your free consultation session. Our attorneys will review your case and they'll advise you on what steps you need to take to get the compensation that you deserve today.
Injuries Commonly Associated With Bicycle Accidents
The following injuries are commonly involved with bicycle accidents:
Head Trauma And Brain Injuries
Cyclists tend to suffer from head traumas when their head impacts on the ground. This can also happen when they hit other objects such as the car and even nearby stationary objects. Head injuries usually tend to lead to skull fractures, concussions, and brain injury. Most of not all head injuries tend to turn into permanent disabilities at the same moment or later on in life.
Spine Injuries
Cyclists have also been known to suffer from full or partial paralysis that occurs if the spinal cord becomes injured during an accident.
Fractures And Broken Bones
Fractures and broken bones are not unusual for persons to suffer during these types of accidents. They can even experience breaks and fractures in the lower parts of their bodies such as their ankles, foot, knees, hips, saddle, pelvis, and even the upper part such as their collarbone. They can also suffer from fractured facial bones because of sudden trauma.
Sprains, Dislocations, And Strains
When the body experiences an accident, the musculoskeletal system can also become easily damaged. However, these injuries tend to be only short term and cyclists usually make a complete recovery.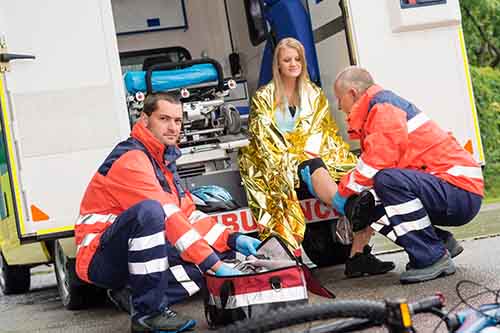 Internal Organ Injuries
When the abdomen or the chest is impacted, persons can suffer from internal organ damage. This includes the bowels, the pancreas, the lungs, the spleen, and other organs. These damages usually take quite a long period before they heal and they can easily leave a person suffering from permanent damages.
Soft Tissue Injuries
Accidents usually leave cyclists suffering from soft tissue injuries. These include bruises, abrasions, contusions, and even lacerations along with other injuries to their skin and tissue. Most of these injuries look as though they are mild but they are often painful for the persons suffering from them. These types of injuries often leave persons hospitalized during their recovery period.
According to the National Highway Traffic Safety Administration, cyclists are usually involved in at least 2% of deaths on the roadways. Victims usually suffer from brain injuries and organ damages. However, wearing a helmet can reduce the head injuries that persons suffer from.
Even though persons wear helmets, they can still suffer from brain damages and other serious injuries. The best way to avoid these types of accidents is to pay attention and be aware of the traffic situation around them. When persons follow the traffic laws, they give themselves a better chance of avoiding a life-altering accident.
What Are New York's Bicycle Laws?
Most bicycle accidents can easily be prevented. Drivers should be encouraged to always follow the laws so that they don't find themselves paying a fortune for injuring another person. Laws were put in place for a reason and drivers should always ensure that they follow them.
Laws ensure that everyone is kept safe and it helps to prevent a lot of accidents. When the laws are actively followed, it's easy for both parties to make the next move and act accordingly in any situation. Hence the risk of a collision is avoided.
When the state's traffic laws are properly followed, drivers can rest assured because they no longer need to worry about being held responsible for another person's life. Persons can even be able to get settlements if they're actively following the laws. Bicycle laws are governed by the state of New York. These include the following:
Helmet Laws
Within the state of New York, passengers and cyclists who are under 14 must wear helmets. This ensures that they meet federal and state safety regulations. According to the New York Vehicle and traffic laws, those who fail to wear one decrease their chances of being rightfully compensated according to section 1238.
Locations For Riding Bicycles
Cyclists should ride according to the flow of traffic. This comes directly from the New York State law and they should also stay as close as they can to the right side of the road. In the case of obstacles, they are permitted to ride alongside each other.
However, left-hand turns are also included in this law. According to the law, cyclists are prohibited to suddenly split from their lanes. This just simply means that riders shouldn't ride between two lanes.
Within the state of New York, cyclists should not ride on the sidewalks unless there are clear signs that indicate otherwise. Cyclists should also follow the bike lane when the roadways are present.
Intoxication
Since the laws don't recognize bicycles as vehicles, there are no direct laws that govern cyclists as they ride under the influence. In this case, it's basically up to the police to determine if cyclists are riding under the influence or not. If an accident occurs when the rider is intoxicated, they can be held liable and their compensation will be greatly reduced.
It should be noted that when the laws are broken, it doesn't mean that you're liable for the accident. According to the laws, persons can be deemed as comparatively negligent. This just simply means that both parties are responsible for a certain percentage whether they were at fault or not. Even if someone was 99% at fault, they can still easily seek compensation from the other person for any injuries that they sustained.
When you work with professional attorneys in Garden City, you'll do yourself a favor and ensure that you receive the compensation that you deserve. Even if you broke the laws, you'll still be able to receive compensation.
Determining Fault And Damages In Bicycle Accidents
If we lived in a perfect world, bicycle accidents would probably never happen. However, these accidents happen at an alarming rate all the time. Within New York, the main question everyone is after is who was responsible. Determining the at-fault party is important since they are the ones who'll likely pay for damages and other associated bills of the accident.
When accidents involve a bicycle and a vehicle, the cyclist tends to suffer a lot of damages. However, there are instances where the driver isn't the one at fault. Hence the at-fault part needs to be determined.
This involves a complete investigation of the entire accident. This is done to ensure that the party responsible is held liable. In some cases, the judge or jury can determine that the cyclist was partly responsible for the accident.
One prime example is if the biker was riding while under the influence of drugs or alcohol. Other cases involve riders who were not obeying the law and riding on the wrong side of the road. The responsible party can be a third party or even another biker, a defective product, or another reason. Determining the at-fault party is sometimes very difficult.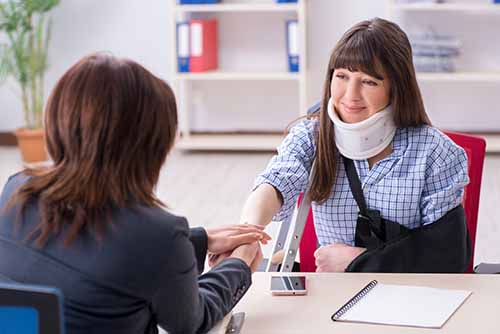 How Does A Garden City Bicycle Accident Lawyer Prove Liability?
The first major step after an accident has occurred is to investigate how the accident happened. In most cases, these are the crucial steps that led to the accident. While the blame may be placed on both parties, there is often more than one liable person during these accidents.
Our attorneys will work with you and ensure that you get the compensation that you deserve from the party at fault. However, according to the law, the state allows victims to pursue compensation from the party at fault. Careless behavior or negligence will ensure that you receive compensation for your pain and suffering.
The following are parties that are liable during an accident:
Other riders
Other drivers such as commercial buses and others
Pedestrians and those who are walking
Sometimes parts can be defective so the manufacturers are blamed
Government parties
The employer of commercial drivers
Public transportation
When you contact the Cellino Law firm, our trained attorneys will review your case to properly determine the part at fault. When your case has been reviewed, our attorneys will ensure that you follow the correct steps to get the compensation that you need from the at-fault party. This ensures that you're maximizing the amounts received to deal with your injuries and damages.
What If The Other Party Says That You Were At Fault For The Accident?
If you didn't already know, both parties will try to blame the other for the accident. The other party will do this in an effort to avoid paying compensation as much as they can. However, if these claims are truly untrue and there isn't any evidence to suggest that the biker was at-fault, their claims will fall through.
It's best to hire a Garden City bicycle accident lawyer so that you don't have to deal with the insurance company alone. Insurance companies have been known to be quite intimidating and all it takes is one call to help you. In the case where you're slightly responsible, the attorneys at Cellino Law will assist and fight so that you get the compensation that you deserve.
Within the state of New York, comparative negligence applies to these cases. So even if you're partly to blame for the accident, you'll still receive compensation. However, the amount you receive in compensation is determined by the percentage of fault that you've received.
Contact a Garden City Bicycle Accident Lawyer
If you're interested in receiving more compensation, allow the Cellino Law Firm to reduce the at-fault percentages for you. Our attorneys will work in your favor to ensure that you'll be blame-free. When your at-fault percentage is lowered, you'll be able to receive more compensation for your suffering.
So if you're interested in getting fair compensation for your bicycle accident, call our law firm and let our attorneys assist you by reducing your at-fault percentages. Our experienced lawyers will ensure that they evaluate your case thoroughly to raise your compensation value as they reduce your at-fault percentage in the accident.
I am writing to let you know what an outstanding job George Gridelli did for me in my personal injury lawsuit. His professionalism and expertise were evident at our first metting and he and his paralegal Diane D'Andrea took care of me as if I was a friend and not merely a client. They both went above and beyond for me in so many ways that it would be too numerous to list and I am grateful to have had such an exemplary team represent me. When working with George and watching him in court he personified to me what a lawyer is supposed to be - an honest, extremely compentent man who helped guide me through the legal system. I could not have obtained better representation anywhere else at any price. To me that says a lot abut you and your firm's integrity. Thank you again for representing me and for having such stellar individuals working for you! I will continue to recommend your firm.

Carol

Tim Cellino handled my case beautifully. He is very knowledgeable and patient with all my questions. He kept in touch with me through out my ordeal. Tim also got a settlement for more than I expected. I highly recommend Tim Cellino!

Jayne

I want to thank your law firm for settling my lawsuit where others failed. You treated me with the utmost respect and care, because of your law firm the dream of owning my own home finally came true. For the first time in a long time, we're living out our dream home. Thank you a million times over. Thank you for making my dream come true.

Marcy

Cellino Law and more specifically my attorney, Gregory V. Pajak, Managing Attorney, and as a whole the Cellino Law Firm and its organization. This is by far one of the most professional law firms and attorney I have ever engaged with and retained in my 35 years. The level of professionalism goes beyond words, the care and constant engagement with me as the client was touching. I was never ever just treated as simply a CASE with potentially a significant dollar number attached to my file. I was engaged regularly, Tracey (Ass't) and Greg always made sure to remain constant, as well as consistent in overseeing that my case was handled properly and that it did matter in many ways - ensuring that the end result(s) would be fair and reasonable to my case/injury. The regular follow-up calls were very satisfying, knowing that you're involved in your case matters significantly AND always. One of my main items to recognize Cellino Law and Gregory is that whenever I called, I was able to get through to speak directly to my Lawyer and he would answer any if not all of my questions in a very professional and genuinely caring manner. I always felt cared for and protected legally and more importantly, I was made feel as a human being that was being cared for and always keeping me abreast of all matters connected to the case. There was never a point I felt let down, on the contrary -the level of service was "STELLAR". Greg is the consummate professional, a 'role model', if you will, for what other attorneys should strive to become when dealing with their clients.

Anthony

It was a great pleasure working with you on my lawsuit. You certainly gave 150% of your time and interest in settling my case and for that, I am extremely grateful. Therefore, I want to thank you very much for helping me win my settlement and wish you the very best.

Linda

This is to express our gratitude to you and your team in helping us and Stephanie navigate through the legal process following her car accident. We are very satisfied with the outcome and grateful for your hard work and attention to details. We fell confident that with this compensation, Stephanie will be able to move forward with her studies and her life with the ability to care for some of her health needs resulting from the injuries sustained following her car accident. Thank you very much and may God continue to bless your efforts.

Jose & Rose