Accidents classified as "slip and fall" are linked to several unique challenges. While facts may prove that an owner should compensate you for injuries and damages, it is highly probable that you may be faced with numerous challenges along the way. The first step you should be taking is to focus on your recovery, which is the main reason you should be working with an experienced Garden City slip and fall lawyer. At the same time, you increase your chances to obtain the highest compensation possible.
Our experienced and highly trained personal injury lawyers fight hard to build the strongest case for you, and we always back these cases with reliable and strong evidence. Before we start with the negotiating process with a property manager or an insurance company, we make sure that we have collected compelling evidence and witness testimonies to ensure you receive the compensation that you rightly deserve. In the cases whereby the defendant provides an unsatisfactory offer, we are happy to take your matter to court.
When you have an attorney on your side, it maximizes your chances of receiving the highest compensation amount. Call Cellino Law so that we can provide you with the information that you need about your rights. We offer every client a free, no-obligation initial consultation.
What Should You Be Doing Directly After A Slip And Fall Accident?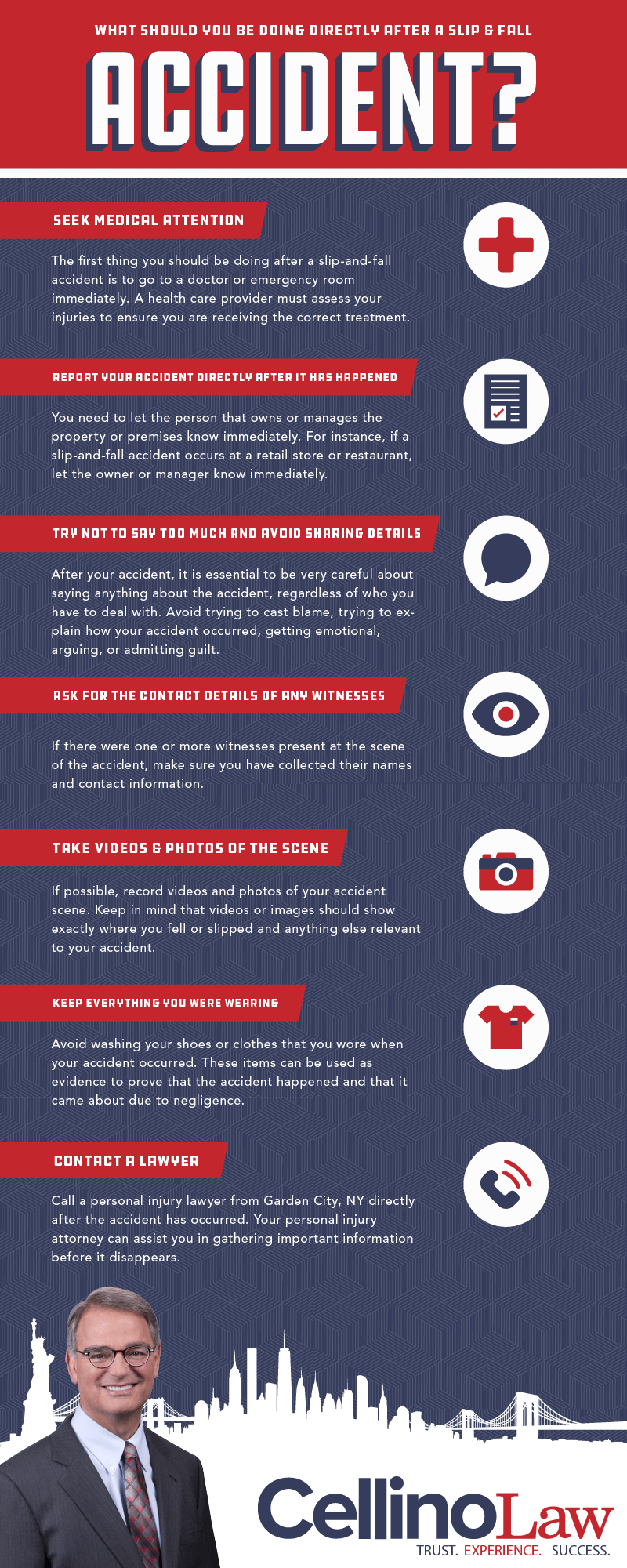 Research proves that more than a million individuals land up in emergency rooms each year across the US due to fall-related accidents. Similar to other accident types, certain people sustain minor injuries such as bruises and cuts, while others suffer from more serious injuries such as head injuries, broken bones, broken hips, spinal cord damage, and concussions. Some of these injuries can prove to be fatal.
The laws in Garden City, New York allow citizens to go after compensation when you fall or slip on a person's property. The actual place or location is not important. It could be private or public property, a residential home, or business premises such as a retail store or restaurant. You will be able to take legal action if you sustain a slip and fall injury. Here is a list of the actions you should be taking after your accident:
Seek Immediate Medical Attention
The first thing you should be doing after a slip-and-fall accident is to go to a doctor or emergency room immediately. A health care provider must assess your injuries to ensure you are receiving the correct treatment. This also allows you to obtain an official medical record that is needed when you file a claim. Medical records are important documents that lawyers use as evidence to demonstrate the damages and injuries you have sustained. There are also significant injuries like a TBI (traumatic brain injury) that may display immediate symptoms. At the same time, immediate medical care and timely diagnosis may end up saving your life.
Report Your Accident Directly After It Has Happened
You need to let the person that owns or manages the property or premises know immediately. For instance, if a slip-and-fall accident occurs at a retail store or restaurant, let the owner or manager know immediately. If your accident occurs on a rented property, the landlord should be alerted. The person or company that you informed about your accident should be making a "formal" report of your accident. It is important to ask for a copy of the report. If your injuries require you to seek immediate medical attention, call the manager or owner back when you can and ask them for a copy of your accident report.
Try Not To Say Too Much And Avoid Sharing Any Details Of The Incident
After your accident, it is essential to be very careful about saying anything about the accident, regardless of who you have to deal with. Avoid trying to cast blame, trying to explain how your accident occurred, getting emotional, arguing, or admitting guilt. Keep in mind that anything that you have said might and can be used in your case at a later stage when working out the payout you will receive. Try your best not to get into an argument about the situation. The only thing that is required from your side is that you have reported the incident to a relevant party in the best way possible.
Ask For The Contact Details Of Any Witnesses
If there were one or more witnesses present at the scene of the accident, make sure you have collected their names and contact information. You must be able to contact a witness if you need them to provide backing when it comes to what happened should the owner or manager decide to provide a version that differs from yours.
Take Videos And/Or Photos
If possible, record videos and photos of your accident scene. Keep in mind that videos or images should show exactly where you fell or slipped and anything else relevant to your accident. This could include any factors which might have contributed to your accident, the accident scene, and any other element of importance. Ensure that the images and videos have a timestamp on them. This type of evidence helps when it comes to filing a claim.
Keep Everything That You Were Wearing On The Day Of The Accident
Avoid washing your shoes or clothes that you wore when your accident occurred. These items can be used as evidence to prove that the accident happened and that it came about due to negligence.
Contact A Lawyer
Call a Garden City slip and fall lawyer directly after the accident has occurred. Your personal injury attorney can assist you in gathering important information before it disappears. They will also ensure that you won't have to face questioning from insurance providers such as the questions that do not relate to the damages you have incurred due to the accident. You also don't have to answer a question that may negatively affect the compensation claim.
It is vital that you first consult with an attorney before you sign anything or initiate any negotiation processes with insurance carriers. Insurance companies are like many other businesses which means they are always looking for an opportunity to lower the expenditures and expenses to increase their overall profits. For this reason, they will always attempt to pay out the lowest compensation amounts possible.
Who Can Be Held Liable For Injuries After A Slip And Fall Accident?
Homeowners and property managers have a responsibility to ensure their properties are maintained and kept safe for visitors. When an owner or property manager has failed to follow stipulated guidelines or correct a safety issue that is present, they may become liable for slip and fall injuries or accidents that may occur. For instance, when a visitor is visiting a property for the purpose of business, the owner of that property should be regularly inspecting the property and repairing any problems that may present safety hazards.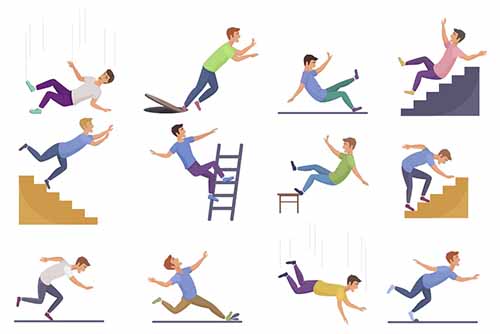 If you are visiting a family member or friend, the owner of the home is not required to regularly inspect their homes for a safety hazard. However, if there are any safety concerns of importance on the property, they should inform any visitors in advance. When the homeowner expected or knew about someone coming to visit the property, they can also be held liable.
In addition to homeowners and business owners, government agencies and property owners can also be liable if you have suffered a fall injury. For this reason, it becomes important to identify a person that may become responsible for a fall incident when it occurred. The laws in New York state that you need to go after compensation from the person that is responsible. A Garden City slip and fall lawyer from Cellino Law will assist you when it comes to investigating the case, finding out what caused the accident, and then identifying the individual who should be held responsible.
What Type Of Compensation Can I Expect From My Slip And Fall Case?
Every slip and fall case is unique, and each case differs from one to the next. This has to do with the unique circumstances that surround these cases. This plays a significant role when it comes to establishing what the case is worth. However, here at Cellino Law, we are experienced when it comes to working out and suggesting an amount that you deserve. These are the factors that we usually use:
Your medical expenses (past and future)
Any income you have lost and your ability to carry on working as a direct result of the injuries you have suffered
The extent and nature of the injuries or damages you have sustained
The extent and nature of any non-economic damages like pain and suffering
Whether your case necessitates punitive damages
Cellino Law is made up of a team of highly-skilled lawyers that work hard to ensure each of our clients is awarded fair and just compensation. When necessary, we can also help you to obtain the services of a life-care planner and economist to obtain the value of certain factors that may impact the outcome associated with your claim.
Common Types Of Injuries Caused By Slip And Fall Accidents
Fall accidents often result in different degrees of damages and injuries. While in most cases, these injuries will be minor, in other cases they can be fatal or very serious. The severity of an injury is also dependent on the age of the person, the environment, and how the person fell. For example, if a worker slips and falls while on the job, their injuries may affect their health and affect their overall productivity.
Gaining an understanding of the common injuries and nature of such accidents can place the individual in a position to better communicate what happened to you to both your lawyer and your doctor. Effective and straightforward communication can assist with creating a better and effective treatment program, along with helping your Garden City slip and fall lawyer to gather the evidence that they need to go after compensation on your behalf.
Here is a list of the common types of slip and fall accidents:
Broken Bones
Bones can break when excessive pressure is applied to specific areas. Falling is a common way that causes this type of pressure. For this reason, fall accidents can result in a wrist, ankle, or hip fracture, which is usually very painful and can negatively affect your quality-of-life. For older people, the chances of breaking bones after a fall are heightened.
When an accident occurs, the age of the person and their health status is not very important from the legal side. It won't matter if you have fragile bones, you still have a legal right to go after compensation from a party that is negligent.
Bruises And Cuts
Cuts and bruises are common injuries that occur in slip-and-fall accidents. These injuries can be internal or external. While these injuries are usually not regarded as serious, any type of disfigurement is typically viewed as serious when it comes to Garden City injury laws. After your accident, you should take videos and pictures of bruises and cuts for documentation.
Trauma To The Brain
Injuries that are sustained from slip and fall accidents can also include trauma to the brain. This typically occurs when you have fallen headfirst or you are jolted without direct impact. These injuries can become dangerous and can result in life-threatening complications. This is also true in the cases when injuries have been left untreated over a long period of time. If you have suffered a brain trauma injury, it is important to go to a medical specialist to examine your injuries.
Shoulder Dislocations And Muscle Strain
Other common injuries often occur when the person reaches out to grasp something and it causes them to fall. In certain instances, these are injuries that lead to the need for surgical treatment, and you may take a long time to fully recover.
Spine And Nerve Damage
The spine and nervous system are both quite fragile. Spinal injuries and nerve damage can occur through cuts and stretching. When the spine or nerves are damaged permanently, this can affect many factors such as your ability to carry on earning a living.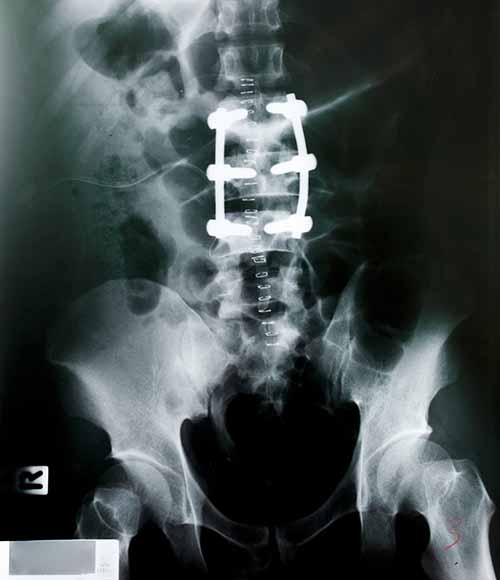 Knee Damage
This is one of the common injuries that occur in slip-and-fall accidents. Since the knee is made up of bones and ligaments, it is an area that takes a long time to heal. Some of the common injuries to the knees include ligament tears or a dislocated patella, which may mean that you have to go for a surgical knee reconstruction.
Sprained Ankles Or Wrists
Fall accidents also often result in wrist or ankle sprains. This usually occurs when you put an arm or leg out to try and stop your fall. A sprain occurs when ligaments tear and are often extremely painful. The ligaments take a long time to heal and many sprains often do not appear to be serious directly after the accident but can have a negative impact on your overall quality-of-life. It could affect your ability to perform normal day-to-day tasks such as walking, cooking, or even buttoning your shirts.
What Is The Statute Of Limitation In Slip And Fall Injury Cases In New York?
It is highly advisable to call an attorney straight after your accident occurs. The laws in NY only give you an allocated time frame to file claims, from the date that the accident occurred. If you are not aware of the statute of limitations it may mean that you lose your case forever, meaning that you will not be permitted to go after compensation or file your claim. The statute of limitations in New York is set at 3 years for any type of slip and fall accident.
The statute of limitations is typically based on the case type. For example, when you file claims against government agencies, the statute of limitations is set at 1 year and 90 days.
Should I File An Accident Report Immediately After My Fall?
A slip-and-fall accident that has resulted from the negligence of an entity or person could mean that you are entitled to seek compensation. Accident reports often serve as reliable evidence, yet they are not always regarded as necessary. The process involved to file accident reports will differ from one location to the next, and other factors which include whether the location was a private residential home, a business, or government property.
Contact An Experienced Slip And Fall Lawyer In Garden City
Cellino Law is made up of professional and experienced personal injury lawyers in Garden City, NY, who are dedicated to building strong cases that are backed by strong and reliable evidence. Before our injury firm in Garden City starts the process of negotiations with the negligent party and their insurance company, we make sure we have gathered testimonies from witnesses and experts, along with compelling evidence to ensure we can secure the highest amount when it comes to your settlement. If they provide you with an unsatisfactory offer, we are prepared to take your case to court.
I can only say great things about my attorney Allan Silverstein. He is professional, he calls back right away, he keeps me informed, and makes me feel comfortable as this entire ordeal is stressful. I have total confidence in his ability to handle whatever comes his way. He is no nonsense and very good at his job. Thank you Allan... he is a true asset to the team!

Mrs Steward

Tim Cellino handled my case beautifully. He is very knowledgeable and patient with all my questions. He kept in touch with me through out my ordeal. Tim also got a settlement for more than I expected. I highly recommend Tim Cellino!

Jayne

My experience during the time of negotiations was extremely positive. Josh Sandberg handled my lawsuit with the utmost integrity. He returned all my phone calls in a timely manner and answered all my questions. Josh made things less stressful. I would highly recommend Josh and the entire staff at Cellino Law.

Arthur

Thank you for all your help. It has been a long journey. At last, the light at the end of the tunnel. Also, thank Tom for the help and work he put in.

Ron

This is to express our gratitude to you and your team in helping us and Stephanie navigate through the legal process following her car accident. We are very satisfied with the outcome and grateful for your hard work and attention to details. We fell confident that with this compensation, Stephanie will be able to move forward with her studies and her life with the ability to care for some of her health needs resulting from the injuries sustained following her car accident. Thank you very much and may God continue to bless your efforts.

Jose & Rose

We want to send a big "Thank you" from the both of us. We know you both fought for us and did a great job with our case. You did it in a timely manner and we appreciate it.

Kerrijo & Jerry