The last thing that anyone is thinking about when they have recently lost a loved one is filing a lawsuit in New York. However, sometimes filing a lawsuit with the help of a Garden City wrongful death lawyer is the right course of action, particularly if your loved one's death was due to another person's negligent actions. Sometimes, wrongful death lawsuits are the best way to receive compensation for your loss and to find closure.
If you're thinking of filing a lawsuit over a loved one's wrongful death, Cellino Law encourages you to call us and talk to one of our experienced and caring attorneys in Garden City as soon as possible. That is because the deadlines for wrongful death cases are stricter compared to other types of cases, and we want to ensure you get this process going as soon as you can.
What is Wrongful Death?
When a death is caused by the negligent or reckless act or another person then it is considered to be a wrongful death. Often wrongful deaths are caused by car accidents, construction accidents, nursing home abuse or neglect, medical malpractice, or truck accidents.
For wrongful death cases, the representative of the decedent's estate can file a wrongful death lawsuit against the party or parties who are responsible for the decedent's death.
Usually, wrongful death claims will seek to cover those damages that the deceased suffered as well as her or his heirs and beneficiaries. In a majority of cases it includes the following:
The significant other of the decedent
The offspring of the decedent
The parents of a minor child
If a loved one of yours has died due to the negligent or reckless actions of another individual, call the Garden City Cellino Law office at (800) 555-5555 for your no-obligation, free consultation. Our phone lines are open 24 hours per day and seven days per week. We know this is a very tough time for you and that is why our lawyers can come to you. Also please note that we do not charge a fee until we win your case.
We know emotionally difficult these cases can be and will always treat you with the utmost concern and care. Understanding that it is a very complex process, our attorneys take the time to listen to what your situation is and to try their best to explain all of the legal details that are involved in the process. We are your go-to Garden City legal representatives and always here to assist you whenever you need us.
What Kinds of Wrongful Death-Related Cases Are Handled By Our Lawyers?
Wrongful death claims may be based on various circumstances. However, the following are the types of wrongful death cases that Cellino Law handles quite often:
Airplane accidents
Drunk driving accidents
Defective products
Dangerous drugs
Medical malpractice
Terrorist attacks
Police brutality
Criminal acts
How Can A Wrongful Death Claim Be Proven?
In a majority of cases, to successfully prove a wrongful death claim, it must be shown that the responsible party's negligence or recklessness led to your loved one's untimely death. You will also need to prove that the neglect or recklessness of the defendant was a direct or contributing cause to your loved one's death.
Negligence can be defined as failing to address a situation or act with the same degree of care that a reasonable person would in a similar situation. On the other hand, recklessness is the conscious disregard of that others will be harmed.
A Garden City wrongful death lawyer from Cellino Law will build a strong case against the defendant. We will prove that the following things occurred:
A Duty Was Owed By The Responsible Party
Individuals accept responsibility for the most likely consequences of the actions they take. It is referred to as a duty. That means everybody is legally obligated to refrain from committing actions that would harm other people or are legally obligated to do things in such a way that other people are kept safe.
The Legal Duty Of The Defendant Was Breached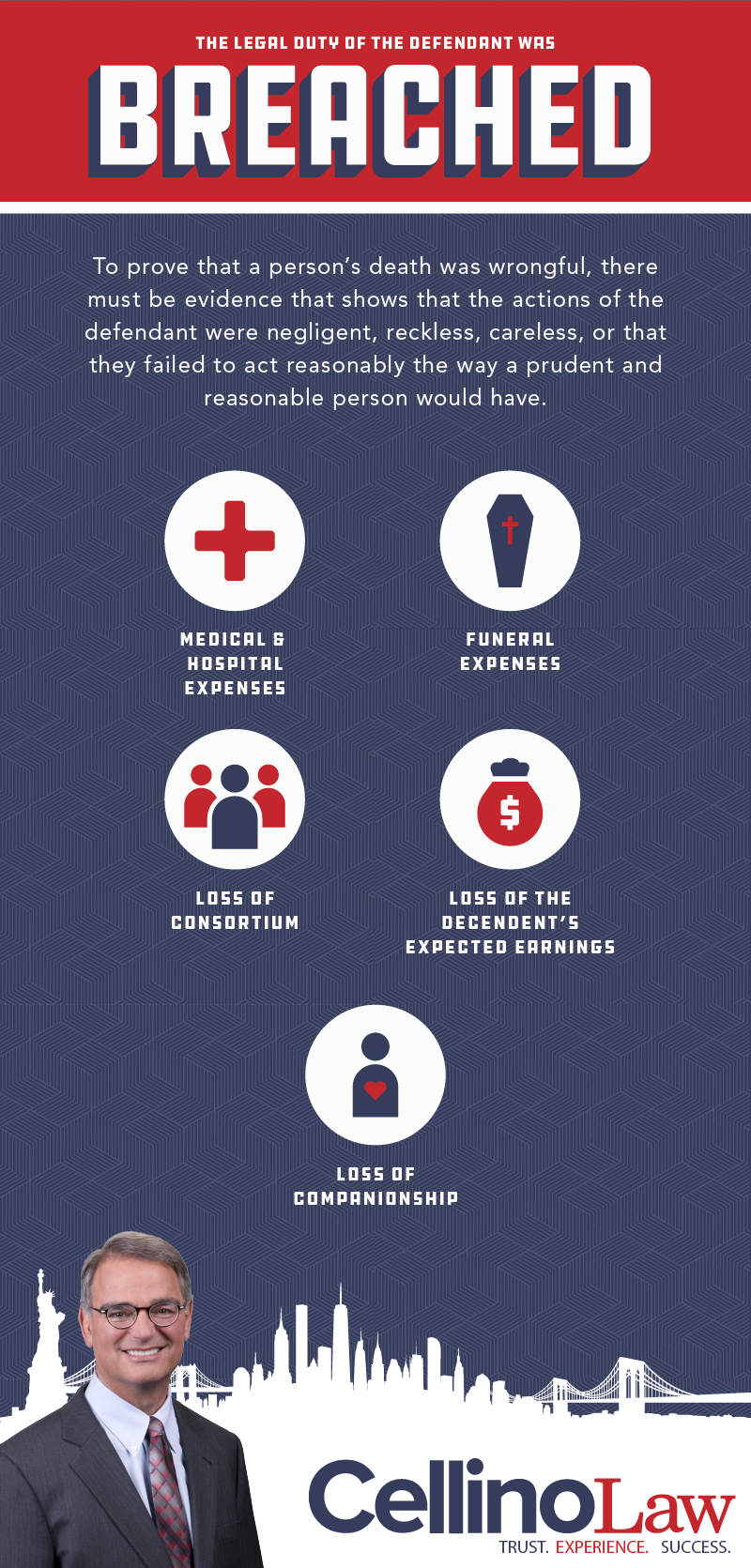 To prove that a person's death was wrongful, there must be evidence that shows that the actions of the defendant were negligent, reckless, careless, or that they failed to act reasonably the way a prudent and reasonable person would have.
For example, anyone who is driving a car owes a general duty of care to make sure they operate their vehicle in the same way that a reasonably prudent person would. Acting like a reasonably prudent individual means adhering to all of the rules of the road.
Therefore if someone dies as a result of another person's reckless driving, not paying enough attention to the road, speeding, or any other negligent conduct, then the plaintiff will have the chance to prove that the defendant breached this duty.
If the conduct or lack of conduct of the defendant was the proximate cause of the death of your loved one, they will be held responsible for the death if the breach of their duty to your family member led to fatal harm that was foreseeable.
For example, if a person dies due to a lethal dose of anesthesia being administered by an anesthesiologist, then family members have the right to file a wrongful death case against this anesthesiologist. That is due to the fact that the defendant in the case, the anesthesiologist, caused damage.
After a loved one's wrongful death, members of the family can recover compensation for the following:
Funeral expenses
Hospital and medical expenses for services rendered before the death of the loved one
Loss of the expected earnings of the decedent
Loss of consortium
Loss of companionship
How Does A Garden City Wrongful Death Lawyer Assist With The Claims Process?
When we handle wrongful death-related claims, typically we retain the services of financial experts to financially analyze your case. Loss may include potential future earnings as well as lost wages. The costs of counseling and lost care are analyzed as well. Financially analyzing a case is among the most critical aspects of the entire claim. When it is done properly, it can provide our clients with desired results.
Cellino Law personal injury attorneys are top-rated on wrongful death claims. So if you are searching for a New York State-based professional wrongful death attorney, call us. Although our office is located close to Garden City, we can handle wrongful-death-related cases across the entire state of New York. If you ever need help from a wrongful death attorney in New York, Cellino Law is here to help you.
Who Can File a Garden City Wrongful Death Case?
State laws in New York require the personal representative (i.e. executor or administrator) of the decedent's estate to file a wrongful death claim. The deceased's estate representative is appointed by the County Surrogate's Court. If a will was left by the decedent, the executor named in the will be the one. An Administrator will be appointed by the Surrogate's Court judge if one is not named.
No matter what their title is, it is the person who is authorized to file a wrongful death suit against the party who is responsible for the decedent's death. A wrongful death claim is filed by the individual who was appointed by the decedent to be their estate's representative. A wrongful death claim can also be filed on behalf of the surviving family members or the decedent's estate.
The following are some family members that frequently file a wrongful death claim in the state of New York:
Parents
Spouses
Adopted or biological children
Dependent blood relatives
Do New York Wrongful Death Claims Have a Filing Time Limit?
Before we discuss New York's time limit for getting a wrongful death claim filed, it is worthwhile to note that there first needs to be a distinction made between the cause of action of conscious pain and suffering and the cause of action for wrongful death. Conscious pain and suffering actions have a similar time limitation to a personal claim that the deceased person would have made if they were still alive. The statute of limitations in New York for actions that involved negligence that resulted in death is two years starting on the day of death. Therefore, any action brought under the wrongful death statute needs to be done within two years of the decedent's death.
However, another thing that needs to be kept in mind is that time limitations tend to be shorter whenever medical malpractice is involved in conscious suffering and pain actions. It is usually two and a half years dating on the date that the misconduct occurred. Another thing that is worth noting is that they are much shorter when the defendant is a municipality or public authority. In those cases, a 30-day Note of Claim must be filed before you are able to sue.
Each action in a wrongful death case must have the time limitations calculated separately. A case could be timely under the wrongful death statutes, but untimely in terms of the cause of action such as conscious pain and suffering. In those cases, claims only can be recovered for causes of action that are timely.
What Is The Worth Of A Wrongful Death Claim?
Although no amount of money can ever eliminate or ease the grief of losing a loved one, the damages that are most commonly awarded in New York State of wrongful death lawsuits are economic. There are two major kinds of damages that are recovered by most people. Compensating for the suffering and pain that the victim probably experienced before they passed away is the most common one. Generally, expert analysis determines this through the testimony provided by a forensic pathologist. Although it is unpleasant to think of this, it is one of several methods that are used to ensure that the family of the deceased receives compensation for the untimely death of their loved one.
The other type of damage that the family can recover in a wrongful death claim is the post-death damages that relate to financial loss. Generally, those damages are focused on how a loved one's death financially affects the remaining family members of the decedent. In these types of cases, the victim's family may claim damages for the financial losses that they will endure due to their loved one's death. Some example of post-death damages include the following:
Costs that are associated with the victim's burial, funeral, or cremation
Medical expenses that were incurred due to the accident
Services that were provided by the decedent, like childcare or health insurance
Lost wages that were being earned and could have continued to earn if they were still alive
The parent guidance that the deceased's children have lost
A reduction in the inheritance or assets that the victim would have left to the family
When economic damages are calculated, there are two major factors that are considered, particularly for lost wages. The two factors are the victim's age and life expectancy at the time they died.
Unfortunately, the laws in New York regarding wrongful death currently do not recognize the emotional pain and suffering of surviving family members as damages that can be compensated for. Unfortunately, the law is lacking in compassion and is an area in New York State's law that many New York wrongful death attorneys have been fighting to change for a long time.
What If A Wrongful Death Victim Is Blamed For The Accident?
Unfortunately, it is very common for people to blame the individual who died for their accident. However, that doesn't mean that the victim is blameless at all times. There are times when the negligence of a victim leads to their own death. However, that also doesn't automatically mean that you are unable to file a wrongful death claim and receive compensation. It is worth note that it can affect how much you are able to recover in the end.
New York is a comparative negligence state. Everyone in New York sharing the blame is to some degree held responsible. If the victim did contribute to the accident, then the amount of money you get for damages will be reduced to reflect this. For example, if the decedent was 25% to blame for the accident, then the amount you would receive on the wrongful death damage is reduced by 25%.
Please contact a Garden City wrongful death lawyer at Cellino Law if you need assistance, especially if insurance companies or at-fault parties are attempting to blame your family member. We will do everything that we can to minimize your loved one's role in the death-causing event. The lower the amount of fault is attributed to the decedent, the more money you can recover.
If You Need Help With Your Wrongful Death Case, Call Cellino Law
The most critical thing that needs to be done is to consider the deadlines for starting any actions, particularly if a municipality or public authority is involved in the case. Therefore, you need to ensure that you consult with a legal representative just as soon as you can for advice and guidance. Although the trauma and pain of losing a loved one may make it difficult for you to consider calling a personal injury attorney in Garden City, courts do not offer an option for extending the state's statute of limitations.
One sensitive topic that might arise, is whether an autopsy should be performed. Although we make no comment or judgments on an individual's personal or religious beliefs regarding autopsies, being able to prove the cause of the decedent's death at a trial is frequently the difference between having a credible case or not. Often that is the case in lawsuits where it is suspected that medical malpractice has occurred.
I am writing this letter to say how much I appreciate your services pertaining to my case. Your injury attorney took a hands-on approach and left me fully informed at all times as to where my case was going as well as how much ground we had to cover; leaving the final decisions in my hands but making sure that I knew all of the risks involved in the choices. I have dealt with a few law firms in my life on various different cases and this is the first time that I never had to call and/or track down my lawyer… because of this, I have and will continue to recommend Cellino Law to my friends and associates.

Denise

We'd like to thank you for all the assistance and time you spent on our case. Your professionalism and honesty will always be appreciated. The staff was always courteous and we were always impressed with your accountability. Your passion and dedication will never be forgotten, nor will you.

Sarah

Thank you for your help in settling the case of my father's accident. I could always count on you to answer my questions honestly and in terms I could understand. If all lawyers at Cellino Law are like you, I understand why they are an A-1 law firm.

Bedner

Thank you for all your help. It has been a long journey. At last, the light at the end of the tunnel. Also, thank Tom for the help and work he put in.

Ron

Cellino Law is an amazing firm with a great team. I worked with Greg Pajak and his assistant, Tracey Falconer. I cannot express enough how dedicated they are. The personal attention I received was excellent; they were always available to help with questions and concerns and put me at ease in the unknown territory I found myself in. I highly recommend them to anyone needing representation. A huge thank you to them for all they accomplished for me!

Liane

Cellino Law and more specifically my attorney, Gregory V. Pajak, Managing Attorney, and as a whole the Cellino Law Firm and its organization. This is by far one of the most professional law firms and attorney I have ever engaged with and retained in my 35 years. The level of professionalism goes beyond words, the care and constant engagement with me as the client was touching. I was never ever just treated as simply a CASE with potentially a significant dollar number attached to my file. I was engaged regularly, Tracey (Ass't) and Greg always made sure to remain constant, as well as consistent in overseeing that my case was handled properly and that it did matter in many ways - ensuring that the end result(s) would be fair and reasonable to my case/injury. The regular follow-up calls were very satisfying, knowing that you're involved in your case matters significantly AND always. One of my main items to recognize Cellino Law and Gregory is that whenever I called, I was able to get through to speak directly to my Lawyer and he would answer any if not all of my questions in a very professional and genuinely caring manner. I always felt cared for and protected legally and more importantly, I was made feel as a human being that was being cared for and always keeping me abreast of all matters connected to the case. There was never a point I felt let down, on the contrary -the level of service was "STELLAR". Greg is the consummate professional, a 'role model', if you will, for what other attorneys should strive to become when dealing with their clients.

Anthony