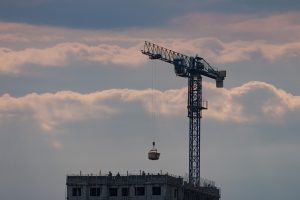 Though construction is a job that provides a great deal of satisfaction, it is also one that poses significant risks for workers. It is consistently among the top industries for fatal and non-fatal accidents. In 2019, 1,102 construction workers died from on-the-job accidents, and another 79,700 sustained injuries. In 2020, the industry ranked at the top of the list for the number of fatal accidents.
If you are in the construction industry and sustain injuries while performing your job, you may wonder whether contacting a construction accident attorney is worth it. No matter how severe you think your injuries are, an experienced lawyer can help you understand your options and recover your losses.
Why Construction Accidents Are Complicated
The construction industry is like few others when it comes to the industry's structure. On any given worksite, you can have a network of individuals and companies involved in bringing a project from conception to completion. Property owners, vendors, contractors, employees and subcontractors often overlap on a single job and cross paths in day-to-day operations.
With a typical job, when an employee sustains injuries while at work, their employer's workers' compensation insurance covers their medical bills and a portion of lost wages. New York workers' compensation law prevents employees from suing employers when they sustain on-the-job injuries. In some cases, third parties are liable for the accident. However, in the construction industry, roles are often unclear, and the collaboration of numerous parties makes it more likely that a third party is responsible for the accident.
Teasing apart the various lines of evidence presents challenges, as does determining the relationship between you and the other parties involved. Furthermore, every potentially responsible individual or company will deny their liability and attempt to blame you for your injuries. If you are an employee, your employer's workers' comp insurer will likely dispute your claim. A significant percentage of workers' compensation claims get disputed. Construction claims are particularly susceptible, given the industry's complex structure. These factors all combine to make a construction accident claim exceptionally complicated.
How a Construction Accident Attorney Can Help
A construction accident attorney has the knowledge and experience you need to help you recover your losses. You don't have to accept the denial of responsibility by other parties involved. Cellino Law is here to assist you through the entire process, whether you have a workers' compensation claim or third-party lawsuit on your hands.
Helping You Understand Your Rights
You have rights as an individual and a worker, though it may not always be clear to you exactly what they are. You can be sure that the insurance companies and any other party with a stake in the outcome of your claim will not be looking out for your best interests. A construction accident attorney fully understands your rights and the responsibilities of others involved.
A lawyer's priority is to protect your rights. At your first consultation, your Cellino Law attorney will help you understand your rights and how to protect them, even if you don't hire our firm to represent you.
Assessing Your Case
A construction accident attorney assesses your case. The lawyer can evaluate the facts to determine whether you have a valid claim and your options for pursuing compensation. Your attorney offers legal advice and informs you of the benefits and pitfalls of each option. You gain a clear understanding of your case's strengths and weaknesses before deciding how to proceed.
Investigating Liability
If you decide to hire a construction accident attorney, your lawyer will build a solid case for you. The first step is investigating liability. Your legal team examines the facts in your case and the function of every potential party involved at the site on the day your accident occurred. More than one party may hold liability.
An experienced attorney knows what to look for on a construction job to determine who may be responsible for the conditions and factors that led to your accident. You must understand that even if you are an employee of a construction firm, liability for the accident may extend beyond your relationship with your employer.
Compiling Evidence
Once your construction accident attorney identifies which parties are potentially liable for your injuries, your legal team aggressively pursues the evidence to back your claim. Possible lines of evidence include the following:
Documentation proving third-party activity or presence at the site
Witness statements
Photos and surveillance video footage
Hospital and doctor's records and reports
Reports and statements from other relevant professionals
Medical and rehabilitation bills
Your attorney compiles all the evidence to create a compelling account of the events that led to your injury.
Navigating Your Claim
A construction accident attorney navigates your claim while you attend to your recovery. The lawyer handles every aspect that does not demand your presence or attention. However, you can count on Cellino Law attorneys to maintain close contact with you so you always know how your case is progressing.
Workers' Compensation Claims
You can file a workers' compensation claim if you are an employee. New York law compels almost every employer to have workers' comp insurance. Even so, insurers dispute a significant number of claims every year.
Your construction accident attorney puts together required and supporting documentation and evidence to create a strong claim and reduce the likelihood of a dispute. If the insurer still disputes your case, your lawyer pursues resolution and represents you in the resolution proceedings.
Workers' compensation laws are complex, and the resolution process is long and complicated. Having an attorney who understands the law and can devote the time and effort in arguing for your rights to compensation may give you a better chance at obtaining a satisfactory result.
Third-Party Lawsuits
In the many instances that a third party plays a role in a construction accident, it is often necessary to pursue a lawsuit. Though these parties may have liability coverage, it is doubtful their insurers will be forthcoming in a settlement. If another party's negligence contributed to the accident that caused your injuries, a construction accident lawyer negotiates the legal process.
Your attorney will complete the court-required documents, ensuring a thorough accounting of the details and justification for the suit. The legal team will also make sure your lawsuit is filed on time. In New York, you have a three-year deadline to file. Missing the deadline leaves you on the hook for your damages.
Very few lawsuits ever make it to court. Most settle in negotiations. A construction accident attorney handles the negotiation process for you. You can rest easy knowing that Cellino Law has a strong track record in obtaining a fair settlement during negotiations for its clients. However, our attorneys won't settle for less than you deserve. When negotiations are unsuccessful, your lawyer represents you in the courtroom.
Where You Can Turn for Legal Assistance After a Construction Accident
Cellino Law has a team of construction accident attorneys standing by to assist you in obtaining fair compensation for your injuries. We offer personalized attention and treat you with the respect and dignity you deserve. Our goal is to help you get your life back on track. We provide a free consultation, so you can find out your rights and the options you have for recovering your losses. Get in touch with us today. You won't pay anything until we win your case for you.
I just want to let you know that I did receive my settlement check. More importantly, I want to thank you again for all you did for both me and my family. I could not be more pleased with my experience at Cellino Law. From the moment I first spoke with you I felt comfortable - you took a sincere interest in my case, clearly explained the process and effected a quick settlement. From this day forward, when someone asks if I can recommend a good lawyer I will, without hesitation, say "Cellino Law". Thanks again.

Walter

Cellino Law is an amazing firm with a great team. I worked with Greg Pajak and his assistant, Tracey Falconer. I cannot express enough how dedicated they are. The personal attention I received was excellent; they were always available to help with questions and concerns and put me at ease in the unknown territory I found myself in. I highly recommend them to anyone needing representation. A huge thank you to them for all they accomplished for me!

Liane

Mark Kochanowicz is from far the best attorney you can have. Mark treats you like a friend more than a client. He truly cares and go the extra mile for you and your case, contacts you to update you in regards to your case and keep you informed at all times. Mark represented me twice and settled my cases for way more than I expected. I highly recommend Mark Kochanowicz because he is just the best on what he does!!! Thank you Mark!!!!

Maria

Thank you for your efforts on my behalf. I am very pleased (and surprised) at the amount of the settlement. We will use the funds to help pay down the debt on the truck we had to purchase after ours was totaled. Thank you again.

Linda

Thank you for your help in settling the case of my father's accident. I could always count on you to answer my questions honestly and in terms I could understand. If all lawyers at Cellino Law are like you, I understand why they are an A-1 law firm.

Bedner

My wife and I would like to take this opportunity to thank you for a fantastic job as our attorney. We could not have been more pleased with the work you and your team has done on this case. This past four years or so has been such a roller coaster for our family. We are very pleased and grateful with the result. We have made a good choice by choosing you. Thank you.

Dave