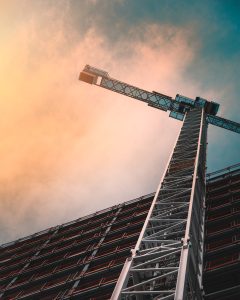 In 2019, the construction industry reported more than 200,000 non-fatal injuries and illnesses, with nearly 80,000 of those resulting in missed workdays. In 2020, there were more deaths related to on-the-job accidents and illnesses in construction than in any other industry. There is no doubt construction work is a dangerous job. When workers sustain injuries, it is also costly.
Estimates place the average annual cost of fatal and non-fatal construction worker illnesses and injuries at $13 billion. The calculated costs are for medical expenses, wage losses and quality-of-life losses. A serious or fatal injury impacts the worker, loved ones and employer. Though numerous risks exist, the U.S. Occupational Health and Safety Administration identifies four accidents responsible for more fatalities than any other.
What Are OSHA's Fatal Four?
OSHA's top four hazards lead to more deaths, but not necessarily more non-fatal injuries, annually across the industry. The fatal four are: falls, struck-by, caught-in/between and electrocution.
Falls
Falls account for more deaths in the construction industry than any other type of accident. Most fatal falls occur from heights, though slip-and-fall accidents are often included in this category. According to the Center for Construction Research and Training, 418 construction workers died in a slip, trip or fall accident in 2019. This accident was also the second most common cause of non-fatal injuries, with 25,500 incidents that same year.
Slip-trip-and-fall accidents are the leading cause of traumatic brain injuries. These accidents can also cause bone fractures and internal injuries. Falls to a lower level are particularly hazardous and may result in temporary or permanently debilitating conditions.
Struck-By Accidents
The struck-by category covers a wide range of accidents. According to OSHA, most fatal struck-by accidents on construction sites involve heavy equipment such as cranes or trucks. Transportation accidents were the second most common cause of fatalities in 2019, with 284 deaths reported. It was the fourth most common non-fatal injury accident. However, contact with objects and equipment — also in the struck-by category — was the leading cause of non-fatal injuries.
OSHA identifies falling or flying objects as another source of this type of accident. Tools, moving materials on a crane, masonry materials and construction debris are all potentially hazardous objects. Struck-by accidents can cause many of the same types of injuries as falls but may also include blindness and crush injuries. The injury type and location depend on the object's size or equipment and where it strikes the worker.
Caught-In/Between
Caught-in/between accidents involve a worker getting trapped in a hazardous environment or stuck between two objects. Cave-ins are one common cause of this type of accident. These occur during excavation and trenching activities when the soils or other substrate materials are not stabilized. They can also occur when a worker gets caught between two moving parts or equipment.
These types of accidents can lead to crush injuries, amputations and suffocation. They may also result in drowning and exposure to hazardous chemicals. In 2019, exposure to harmful substances or environments was the fifth leading cause of non-fatal injuries and the third most common cause of construction site fatalities.
Electrocution
Electrocution is the fourth most common fatal accident in the construction industry. These accidents may be included in the exposure to harmful substances or environmental statistics. OSHA identifies the following sources of electrocution as the most hazardous:
Power line contact
Lack of ground-fault protection
Discontinuous or missing path to ground
Misuse of equipment
Misuse of extension and flexible cords
Injuries from electrocution can be serious and may lead to fatalities. Burns, heart attacks, muscle damage and nerve damage are all possible outcomes. Electrocution can also lead to brain damage.
How Can a Construction Accident Lawyer Help?
Construction industry accidents are complicated cases for those seeking fair compensation. Depending on the worker's employment status and the cause of the accident, the injured party may be eligible for workers' compensation or a third-party legal claim.
Workers' Compensation Claims
Employees who sustain injuries on the job are eligible to file for workers' compensation. Nearly every employer in the state must have coverage for their employees. Workers' comp benefits cover medical expenses, a portion of wages from missed work and survivor benefits in the event workers die from their injuries. Workers cannot file a lawsuit against their employer.
However, one of the challenges construction workers face is the insurance company's unwillingness to provide their due benefits. Dispute resolution can be a lengthy process requiring the experience and knowledge of a legal professional. An attorney understands the complexities of workers' compensation cases and can help clients navigate the system.
Third-Party Claims
While employees can't sue their employers, many construction workers don't realize they may be eligible to file a third-party claim. The construction industry often involves a network of responsible parties, only one of which might be the employer.
Independent contractors, subcontractors, vendors, property owners and motorists are potentially liable parties, depending on the type of accident. When equipment is involved, manufacturers may also bear responsibility. A construction accident attorney often provides invaluable services to those seeking fair compensation.
Assessing the Case
The complexity of the industry and laws often makes it difficult for injured workers to know what to do. An attorney can evaluate the facts in the case to determine the available options for the worker. Experienced construction accident lawyers understand the law and know what parties may be liable under specified circumstances. They can determine whether workers' compensation is the most viable solution or if the injured party has a valid third-party lawsuit claim.
Gathering Evidence
Lawyers are adept at obtaining the required evidence to support a valid third-party claim. Often, they have the resources to access information their clients could not get on their own. A successful personal injury lawsuit requires sufficient evidence proving that a third party's negligence contributed to the accident that caused the worker's injuries.
Filing Paperwork
To file a lawsuit, plaintiffs must submit the required paperwork to the courts. Completing the forms is not just a formality. The documents contain all the information the courts need to determine whether the worker has the right to file. They also must meet the deadline for filing. The statute of limitations for personal injury cases in New York is three years from the accident.
Dealing With the Defense
A construction accident lawyer deals with the defense in a personal injury claim, so the client doesn't have to. Attorneys know how to handle communications professionally while asserting their positions and not backing down in the face of defense attorney tactics. They also handle the negotiations.
Most personal injury cases never make it to court. Instead, they are resolved in pre-trial negotiations. Negotiating is a skill as well as an art form, and an experienced attorney knows how to navigate the process to give the client the most favorable outcome.
Where Can You Find an Experienced Construction Accident Lawyer
Cellino Law's construction accident lawyers have the experience, knowledge and perseverance construction accident victims need on their side. Throughout the process of a personal injury construction accident case, our attorneys protect their clients' rights. Their priority is their clients' best interests.
If you sustained injuries in a construction accident, our lawyers are here to support you. They provide a free evaluation to help you determine your best way forward. Cellino Law doesn't collect any payments unless we win your case. Get in touch with us today to learn your options for receiving fair compensation for your construction accident injuries.
I want to thank your law firm for settling my lawsuit where others failed. You treated me with the utmost respect and care, because of your law firm the dream of owning my own home finally came true. For the first time in a long time, we're living out our dream home. Thank you a million times over. Thank you for making my dream come true.

Marcy

This letter is to thank Ms. Diane D'Andrea, assistant to Mr. George Gridelli, Attny for all the hard work, dedication, and attentiveness she showed during the representation of my case. She was always cheerful and ready to help in whatever way she could. All messages left for Mr. Gridelli were always relayed and Mr. Gridelli always promptly returned our calls. She was a very competent assistant. Cellino Law has proven to be a model of what legal representation should be. Throughout the 6 ½ years of this case, I have heard many horror stories from people with "bad lawyer stories." We consider ourselves to be very lucky to have chosen Cellino Law and will always recommend you to those looking for good, honest representation with a personal touch.

Joseph

I really appreciated your determination and efforts on handling my case. You have done an outstanding job, and I am very satisfied with the outcome of the settlement. Thank you so so much John.

Amparo

Joe and I just wanted to send you this note thanking you for the professional way you handled our lawsuit. Your kindness was extremely appreciated in a very difficult time. When we found out the people that caused the accident had no insurance, we thought our chances of receiving any settlement was nonexistent. Once we met with you and released you were able to help us our minds were put at ease. Your aggressive manner of handling the case exceeded our expectations. Please feel free to use us as a reference. Thank you so much and best wishes,

Danielle and Joe

Thank you for your help in settling the case of my father's accident. I could always count on you to answer my questions honestly and in terms I could understand. If all lawyers at Cellino Law are like you, I understand why they are an A-1 law firm.

Bedner

My experience during the time of negotiations was extremely positive. Josh Sandberg handled my lawsuit with the utmost integrity. He returned all my phone calls in a timely manner and answered all my questions. Josh made things less stressful. I would highly recommend Josh and the entire staff at Cellino Law.

Arthur