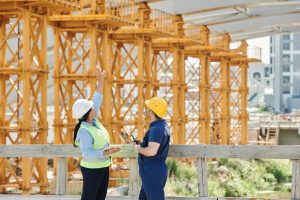 When workers face OSHA violations, it can feel like an isolating experience. Turning to other workers can often land other people in trouble or cause those same people to betray their trust. Consequently, workers need third-party interventions from professionals who focus on protecting their interests. Hiring an experienced attorney is an excellent solution.
What Is OSHA?
OSHA is the acronym for the Occupational Safety and Health Administration, an arm of the U.S. Department of Labor. It oversees health and safety conditions in workplaces across America. The professionals on this team are tasked with ensuring employee safety by conducting inspections or issuing fines for employers who neglect their responsibilities under OSHA laws.
What Are OSHA Rights?
Workers have several rights through the OSHA laws. These include the right to know about hazards in their workplace, the right to file complaints, and even the right to take civil action if they face retaliation or discrimination because of their actions. When workers know these rights and how they can protect them, they are much more likely to take action.
OSHA identifies these as the leading rights it supports:
To receive the necessary personal protective equipment, such as harnesses and gloves
To receive workplace safety and health training in a language that workers understand
To ask for an OSHA inspection and speak with the inspector conducting it
To report illnesses and injuries and receive copies of medical records
To see the results of tests taken to identify hazards at work
To review records of diseases and injuries related to the job
To be protected from toxic chemicals
To work on safe machines
What Can an Attorney Do When Protecting OSHA Rights?
Working with an experienced OSHA rights attorney is an excellent way to protect your rights under OSHA laws. Experienced attorneys confirm your rights and guide you through the process of navigating challenging legal situations at work.
Review the Evidence You Collected
One of the key elements in protecting OSHA rights is having evidence that supports your position. An attorney can review your collected evidence and help you prepare a strong case. He or she may also advise you on what you need and how to safely collect more proof.
Confirm Your Rights
An attorney can help you understand and confirm your rights under OSHA laws. This includes ensuring that you are aware of your right to know about hazards in the workplace, your right to file complaints, and your right to take action if you face retaliation or discrimination for exercising these rights.
Guide You Through Legal Challenges
When facing violations at work, navigating the legal system on your own can be difficult. An experienced attorney can work with you to help you understand your rights and advocate for them to ensure the desired outcome for your situation.
Prepare Your Case
Once you have determined which legal options are available, an experienced attorney can work with you to build a strong case and represent you in all legal proceedings. This can ensure that your rights are fully protected and that you have the opportunity to obtain a fair outcome in your case.
File an OSHA Complaint
You might not need an attorney to file an OSHA complaint, but involving one in the process can help things move along more smoothly. The attorney can handle the paperwork and the follow-up steps.
File a Workers' Compensation Claim
If you decide to pursue OSHA violations through the workers' compensation process, an attorney can also help you navigate these proceedings. He or she will ensure that your claim is filed correctly and that you receive all of the benefits to which you are entitled.
Pursue Social Security Disability Benefits
If you experience long-term injuries or illnesses that affect your work, you might become eligible for SSD benefits. An experienced attorney can help you apply for these benefits and work with you to ensure your application is successful. He or she may also appeal denials.
Argue Your Case in Court
When all other options have failed, you may choose to take your case to court. An attorney experienced in OSHA law and litigation can also help you prepare for this step and represent you in court proceedings.
What Kind of Attorneys Protect OSHA Rights?
OSHA violations can fall under a wide range of law practice areas. An experienced attorney must review the details to determine whether they can handle the case.
Personal Injury Attorney
If you are injured on the job, an attorney with a background in personal injury law can help you file an OSHA complaint and pursue workers' compensation benefits. You might choose this route if you sustained injuries at work while off your shift.
Workers' Compensation Attorney
An attorney who specializes in workers' compensation law or work injuries will be able to help you understand your rights and guide you through the process of filing a claim. Note that it is fairly common for attorneys to work on both personal injury and workers' compensation cases.
Employment Law Attorney
When OSHA violations involve discrimination or retaliation, an attorney with a background in employment law can help you protect your rights. He or she will review the facts and determine whether federal or state laws are applicable.
Social Security Disability Attorney
If you have long-term injuries or illnesses that interfere with work, an attorney specializing in Social Security Disability cases can help you apply for benefits. He or she may also represent you in appeals hearings.
What If the Employer Retaliates After Exercising Your Rights?
OSHA rights also include provisions for protection from retaliation. It reminds workers that it is illegal for employers to take the following actions in response to them exercising their rights:
Refused promotions
Terminations
Demotions
Transfers
Hostility
OSHA asks workers to file a complaint within 30 days of the alleged activities taking place, giving little room for error. Speaking with an attorney as soon as possible can better ensure timely filings.
What Should You Look for in a Good Attorney for Your OSHA Case?
Workers should first attempt to determine what law area(s) their cases fall under. Knowing this ahead of time can help them narrow down their options. Next, workers can speak to family members and colleagues working in similar fields but at different companies. Workers often want to confide in coworkers, but this is not always a good idea.
When narrowing down options, workers should ask themselves the following questions:
Has the attorney ever represented the employer in court and are there any other risks for conflict of interest?
How much experience does the attorney have working on similar cases?
What results has the attorney achieved while working on similar cases?
What reputation do the attorney and the law firm have amongst its former clients?
Does the attorney require upfront payment for its services or will it work on a contingent fee?
When workers suspect OSHA violations, it's essential that they understand their rights and how to protect them. Working with an experienced attorney can help them achieve this and much more.
At Cellino Law, we handle the personal injury aspect of OSHA cases. Our attorneys have decades of experience successfully handling work injury cases. For example, we recovered $3.5 million for a construction worker struck by debris at a site. Contact us at 800-555-5555 to see what we can do for you.
I highly recommend Cellino Law to anyone involved in a car crash. I worked with Michael Lovecchio, and had a wonderful experience given the circumstances. He was very attentive, and got the best possible outcome I could have wanted.

Susan

Thank you for your efforts on my behalf. I am very pleased (and surprised) at the amount of the settlement. We will use the funds to help pay down the debt on the truck we had to purchase after ours was totaled. Thank you again.

Linda

Thank you for all your help. It has been a long journey. At last, the light at the end of the tunnel. Also, thank Tom for the help and work he put in.

Ron

Joe and I just wanted to send you this note thanking you for the professional way you handled our lawsuit. Your kindness was extremely appreciated in a very difficult time. When we found out the people that caused the accident had no insurance, we thought our chances of receiving any settlement was nonexistent. Once we met with you and released you were able to help us our minds were put at ease. Your aggressive manner of handling the case exceeded our expectations. Please feel free to use us as a reference. Thank you so much and best wishes,

Danielle and Joe

I want to thank your law firm for settling my lawsuit where others failed. You treated me with the utmost respect and care, because of your law firm the dream of owning my own home finally came true. For the first time in a long time, we're living out our dream home. Thank you a million times over. Thank you for making my dream come true.

Marcy

This letter is to thank Ms. Diane D'Andrea, assistant to Mr. George Gridelli, Attny for all the hard work, dedication, and attentiveness she showed during the representation of my case. She was always cheerful and ready to help in whatever way she could. All messages left for Mr. Gridelli were always relayed and Mr. Gridelli always promptly returned our calls. She was a very competent assistant. Cellino Law has proven to be a model of what legal representation should be. Throughout the 6 ½ years of this case, I have heard many horror stories from people with "bad lawyer stories." We consider ourselves to be very lucky to have chosen Cellino Law and will always recommend you to those looking for good, honest representation with a personal touch.

Joseph