Nothing can suffice to replace the pain and emotional anguish that comes with losing a loved one, especially in a wrongful death incident. We at Cellino Law have helped different clients seek justice for their late loved ones. And we are all too familiar with the tactics that insurance companies and their legal teams use to discredit a claim and reduce the possible settlement.
Such facts push our Babylon wrongful death lawyers to use all available resources when fighting for your interests to ensure you are duly compensated for your loved one's untimely demise. Call our law offices in Babylon, New York, at (800) 555-5555 to speak to a seasoned personal injury attorney to learn how we can help you.
How Is Wrongful Death Defined In The State Of New York?
According to New York State laws, you have the right to sue those responsible for your loved one's wrongful death, be it due to their intentional, reckless, or negligent actions. Cases of wrongful deaths are mostly associated with things such as:
The use of defective products like vehicles, electronics, processed/packaged foods, drugs, medical devices, and machinery.
Surgical mistakes, misdiagnosis, medication errors, and other medical malpractices
Criminal acts such as premeditated murder
Hit-and-run, DUI vehicle collisions, and other road accidents
Hiring a reputable lawyer at Cellino Law Firm is the best measure to take if you want to improve your chances of getting compensated for your loved one's wrongful death.
Who Qualifies To File A Wrongful Death Lawsuit In New York?
If you wish to sue for wrongful death in Babylon, NY, you should contend with the fact that some parameters define your eligibility to file the case. According to New York State laws, you should be related to the deceased by birth, marriage, blood (family relative), or designated representative.
If you are a designated representative to the deceased, you must transfer the recovered damages to the surviving relatives. The attorneys handling your case will help you fulfill this as stated in the deceased's will.
What Types Of Damages Are Recoverable?
As the claimant, you can sue for compensation, seeking to recover the deceased's value of life in its entirety including potential expenses the deceased's decedents incurred. If the dead person is survived by a family comprising a spouse and kids, the spouse is entitled to a third of the awarded damages, and the other proceeds are divided equally among the children.
The legal team handling your wrongful death lawsuit will seek both tangible and intangible damages, covering medical costs, lost wages (the family's income source), funeral and burial expenses, and the pain and suffering of losing a loved one. Your lawyer might also pursue punitive damages if there are substantive circumstances that warrant taking such a direction.
Can The Deceased's Family File For Punitive Damages?
If we are to file for punitive damages, we must validate the associated losses with the survival actions. Therefore, the legal team assigned to your case will work hard to prove to the court that the offender's actions were intentional, reckless, negligent, or grossly indifferent to other people's safety and wellbeing. Thus they led to your relative's untimely death. The punitive damages might include additional punishment, such as the defendant serving jail time.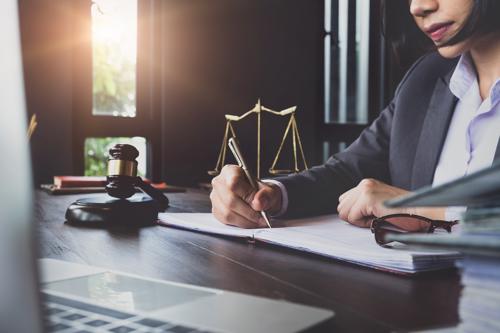 How Is Negligence Proven In A Wrongful Death Case?
Your wrongful death attorney will gather enough evidence to support your claim, which will significantly improve your chances of getting the maximum compensation. Some of the most notable factors that your lawyer will present in court will highlight the following:
The Duty of Care
That the offender owed your loved one a duty of care, proving they were legally obligated to ensure your loved one's safety and wellbeing.
Breach of Duty of Care
Showing the defendant breached the said duty of care, giving examples of how any other person would have acted if they were in the same situation.
Damage
Highlight how the breach of the duty of care resulted in our loved one's untimely death.
Causation
Your attorney will also strive to prove to the court that the defendant's actions (breach of duty of care) amount to a criminal act that warrants the appropriate legal punishment aside from forcing the accused to compensate the plaintiff for your losses, pain, and suffering.
Why Do I Need an Attorney For a Wrongful Death Claim?
The factors surrounding a lawsuit make it a challenging issue, especially when you are unfamiliar with the legal requirements to adhere to when pursuing the case. That is why it is wise to consider the services of an experienced and dedicated attorney when filing a wrongful death claim. At Cellino Law, we have the legal expertise and resources needed to ensure that your interests are upheld as you fight for your late relative's rights. We shall conduct thorough investigations and gather enough evidence to help us put together a winning strategy for your case.
What Is The Difference Between A Wrongful Death Claim And An Estate Claim?
A wrongful death lawsuit and estate claim often have a codependent standing. That means the estate claim can be pursued independently or be part of a wrongful death claim, depending on the prevailing circumstances. For instance, the lawsuit can be handled in a manner where we help you recover monetary damages for lost income, loss of intangible benefits such as parental love and related responsibilities, loss of consortium, and others. As for the estate claim, we can focus on compensation for damages you're your deceased loved one's treatment and medication costs, funeral and burial expenses.
Call Cellino Law To Review Your Claim With a Babylon Wrongful Death Lawyer
If you and your family wish to pursue a wrongful death lawsuit, you should consider getting an experienced lawyer's help. At Cellino Law, we will review all the facts surrounding your claim and advise you on the best way forward. We have accomplished attorneys who are committed to helping you fight for your relative's rights. Get in touch with us today at (800) 555-5555 to schedule a free consultation and have the best team of legal professionals fight on behalf of our deceased loved one.
Choosing the right attorney to represent you after an accident can make all the difference. This is no cliche. I recently experienced these words to live by first hand. After a tractor trailer rear ended me at high speed in 2017 I retained Allan Silverstein to handle my case. I quickly realized that bringing a lawsuit rapidly snowballs into a mountain of details that can make or break your results. Documents, case histories, doctor visits, bills, and lots of phone calls all need to be accurately kept track of if a successful outcome it to be attained. To complicate matters I reside in New York and the incident took place in New Jersey. Luckily, Allan was licensed in multiple states. I was fortunate to find Allan to handle this matter from the New York area. Armed with an accurate account of the facts Allan went to work on the difficult job of negotiating with the defending insurance company as well as my no fault carrier in order to obtain the best possible outcome for my set of circumstances. In a lawsuit communication is key and and events can be of a timely nature. Allan never failed to return my calls - usually the same day! He fought skillfully and respectfully to get me the best possible settlement. He is easy to deal with and a likeable down to earth guy. He always listened with compassion and respect to my issues. He guided me with objective understanding as well as a realistic analysis of the merits of my case. When we finally settled Allan got me a fair agreement beyond my expectations and negotiated with my doctors to make sure all my bills were paid. It was a great experience having Allan represent me. Quality work in any aspect of life is hard to find. Quality is what I got with Allan Silverstein. I highly recommend him if you find yourself in need of a personal injury attorney.

Theodore

Joe and I just wanted to send you this note thanking you for the professional way you handled our lawsuit. Your kindness was extremely appreciated in a very difficult time. When we found out the people that caused the accident had no insurance, we thought our chances of receiving any settlement was nonexistent. Once we met with you and released you were able to help us our minds were put at ease. Your aggressive manner of handling the case exceeded our expectations. Please feel free to use us as a reference. Thank you so much and best wishes,

Danielle and Joe

Thank you for your time, effort, and hard work on my case. I appreciate your expertise and compassion. I never experienced what I went through and I would have been completely lost without you.

Martha

I can only say great things about my attorney Allan Silverstein. He is professional, he calls back right away, he keeps me informed, and makes me feel comfortable as this entire ordeal is stressful. I have total confidence in his ability to handle whatever comes his way. He is no nonsense and very good at his job. Thank you Allan... he is a true asset to the team!

Mrs Steward

I really just wanted to say thank you so much for taking my case, answering all my questions, and mostly for being very patient with me. I feel that without you and Roza I would not have been able to get anything at all. I hope to never need a lawyer again, but if I do I will definitely want you both working for me. Again thank your for you hard work, time and patience.

Veola

Thank you for all your help. It has been a long journey. At last, the light at the end of the tunnel. Also, thank Tom for the help and work he put in.

Ron