Being involved in a New York car accident can be a very traumatizing and devastating experience. While it is impossible to anticipate an accident, some accidents are unnecessary and preventable. Every driver has a legal responsibility to exercise proper care and precaution while driving to ensure their safety and that of other road users. However, when a driver is negligent or acts in a reckless manner, they not only put themselves at risk, but they also endanger the lives of others.
In the unfortunate event that you or a family member is injured in a New York car accident, you may be eligible for compensatory damages. Dealing with all the expenses resulting from your injuries can have significant financial implications on you and your family. And without the proper financial support you need, life can become extremely challenging. While you may be entitled to compensatory damages, receiving this compensation is often difficult, especially if you have no experience with the law. A Babylon car accident lawyer can provide the assistance that you need.
To protect your rights and ensure that you receive the full compensation owed to you, you need to seek the services of an experienced personal injury lawyer at Cellino Law. We are committed to helping victims of car accidents caused by others get the compensation that they deserve. Our team has extensive experience dealing with personal injury cases involving car accidents and we have a proven track record. Get in touch with our personal injury attorneys at (800) 555-5555 to schedule your free consultation.
How Much Does a Car Accident Lawyer Cost?
Fortunately, most reputable car accident lawyers don't charge any fees upfront. We work on a contingency fee basis. This means that you don't have to pay us anything until we secure a favorable settlement for you or win your case in court. As payment for our services, we will deduct a certain agreed-upon percentage from the compensation amount.
What Should I Do After a Car Accident?
The steps you take immediately after an accident will be crucial to both your recovery and personal injury claim. To protect yourself, here are some key things that you need to do:
Contact Police
You should always call the police whenever you are involved in an accident. This applies even if the accident is seemingly minor. Not only is it required by law, but a police report helps to provide a standard in your claim or lawsuit. In addition, it provides you with defense should the other driver decide to file a claim against you, even if the accident was their fault.
Check on Other Involved Parties (Do Not Leave!)
Under no circumstances should you attempt to leave or flee the scene of the accident before the responding police officers allow you to. If you are in a position to do so, take a look around and ensure that everyone else involved in the accident is okay. Move to a safer spot if there is a risk for a fire or explosion.
Exchange Info
Under New York state law, you are required to stop at the scene of the accident to exchange information with the other driver(s) involved in the accident. You should provide your names, license number, vehicle registration number, name and address of your insurance company, as well as your insurance policy number. The other driver should also provide the same.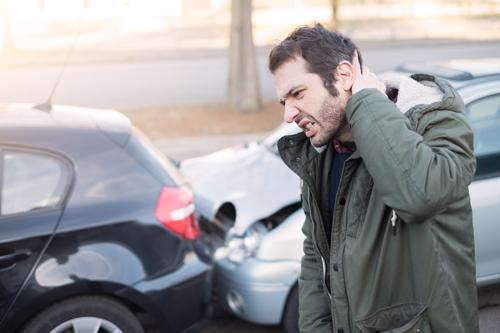 Record the Scene
Documenting the scene of the accident helps to preserve crucial evidence while it is still fresh. Use your smartphone camera to take as many photos and videos of the scene as possible. Take pictures of the damages inflicted on both cars, your injuries, nearby road signs, presence or absence of skid marks, etc.
Never Admit Fault
No matter what you do, you should never apologize or admit fault for the accident, especially if you are planning to file a claim. Besides politely asking the other driver to provide you with their information, avoid talking about the accident with anyone and let the police and investigators do their work. The last thing you want is to jeopardize your case.
Seek Medical Attention
It goes without saying that your health and wellbeing should be a top priority. You can't handle anything without your health. Not only does seeking immediate medical treatment help speed up your recovery, but it also helps to document your injuries. It will also help to reveal any hidden internal injuries.
Call a Car Accident Lawyer!
Being involved in a New York accident can be a stressful event involving complex legal issues in regards to injuries and liability. It is in your best interest to get in touch with an attorney as early as you can to help you navigate the murky waters of personal injury law. A skilled attorney at Cellino Law will guide you through the process of filing your claim and will also help to ensure that your rights are protected.
Having an attorney on your side significantly increases your chances of securing full compensation.
When Should I Get a Lawyer for my Auto Accident?
The sooner you retain the services of a lawyer, the better the outcome of your case. This is particularly important if you or a loved one was seriously injured in the accident. While you aren't legally required to hire a lawyer, doing so is highly advisable.
If possible, you should contact an attorney on the day of the accident or as soon as you can. An attorney will get to work right away collecting and analyzing information and evidence before it is tampered with or deteriorates. Remember, the at-fault driver's insurance company may ask you to provide a recorded statement, having an attorney on your side will help to ensure that you don't give any statement that the insurance can use against you.
Why do I Need a Lawyer For a Car Accident Claim?
While many victims of car accidents are usually eligible for compensation for various damages and losses, they end up receiving settlement amounts that are way below the full value of their claim due to not having a qualified lawyer fighting for their rights. Remember, the top priority of the insurance companies and their lawyers is to ensure that you are paid the minimum amount possible to protect their bottom line.
An attorney can assist you in a number of ways to ensure the best outcome for your case:
Dealing With Insurance Adjusters
Keep in mind the fact that insurance companies are businesses and it is in their best interest to ensure that they pay out as little amount as possible. Insurance adjusters are highly skilled at negotiating settlements and will do everything to help minimize the amount the insurance company has to pay. They may also try to discredit your claim ensuring that the insurance company doesn't pay anything.
Fortunately, personal injury attorneys have experience dealing with insurance adjusters and know all the tactics they use to devalue a victim's claim.
Investigating the Accident
An attorney will seek to determine the exact cause of the accident. There may be several contributing factors to a serious car accident, and your attorney will take the time to identify all these contributing factors to better understand how the accident happened and who is at fault.
Proving Liability For Your Injuries
Proving that your injuries were a result of the negligent actions of another party can be complicated. Keep in mind that no one will willingly admit liability and will seek to shift the blame. However, an attorney has the necessary skills and resources to obtain relevant evidence, determine exactly who is responsible for your injuries and build a strong case against them.
Determining and proving the full value of your claim
An insurance company will rarely present a settlement offer that reflects the true value of your damages and losses. They will try to pressure you into accepting a lowball offer. However, an experienced lawyer will be able to effectively determine the extent of your damages and ensure that you receive compensation that covers all your past, current, and future losses in regards to your injuries.
Handling negotiations
As mentioned above, insurance adjusters are highly skilled at negotiating settlements but so are personal injury lawyers. While the insurance adjusters will be fighting for the best interests of the insurance companies they work for, your attorney will fight aggressively and represent your best interest. Your attorney won't accept any offer lower than what you deserve.
Filing a personal injury lawsuit and representing you in court
If a favorable settlement agreement isn't reached in the negotiations phase, your attorney may opt to formally file a lawsuit. This step often motivates the insurance company to present a better offer to avoid having to go to court. However, if need be, your attorney will take your case to trial and provide you with skilled legal representation in court.
What Type of Damages Can I Recover In a New York Car Accident Claim?
If you've been injured in a car accident caused by another person, you may be entitled to different kinds of damages.
Economic
This refers to financial losses resulting from your injuries. They include medical expenses, home care costs, rehabilitation, therapy, home and car modifications, lost income, and so on.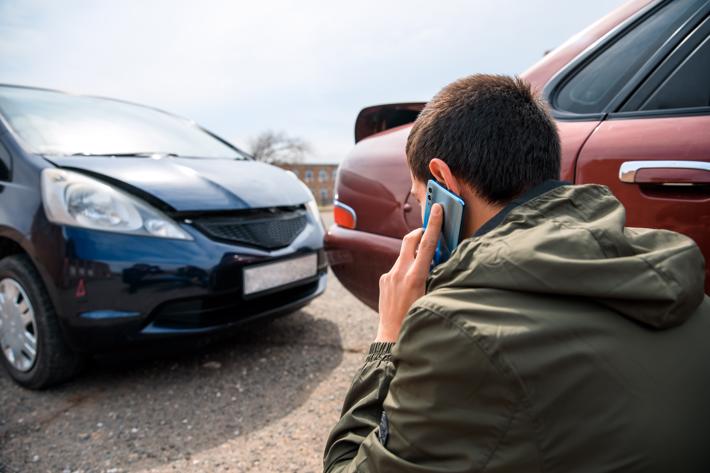 Non-Economic
This refers to damages that can't be quantified in monetary terms. They include pain and suffering, emotional distress, loss of enjoyment of life, etc. The state of New York hasn't put a specific cap on the amount awarded for non-economic damages.
Punitive
These types of damages aren't awarded in all cases and are largely dependent on the conduct of the at-fault party. Punitive damages are usually awarded in cases where the responsible party acted in an intentional, dangerous, or extremely reckless manner. There is no cap on the amount that can be awarded for punitive damages in New York.
How is Fault Determined?
When determining fault in a car accident, negligence is a key factor. One has to prove the following four elements of negligence:
Duty of care
Breach of duty of care
Causation
Damages
In short, one has to prove that the accused party failed to act in a particular way that a reasonable person in the same situation would have thus caused the accident that resulted in the victim's injuries. One also has to prove as a result of these injuries the victim suffered damages compensable by law.
It is important to note that New York is a no-fault car insurance state which means that drivers involved in a car accident are required to first pursue compensation from their own insurance companies, regardless of who is at-fault for the accident. The victim can only pursue compensation from the at-fault party if their injuries meet certain criteria.
In such cases, New York applies the comparative negligence law. Under this rule, you can recover damages based on your level of fault for the accident. Your awardable damages are reduced by your percentage of fault.
How Long do I Have to File a Claim?
The statute of limitations for personal injury cases in the state of New York is 3 years when filing a claim against a private party. When filing a claim against a government entity, you have 3 months from the date of the accident to file a Notice of Claim, then one year and 90 days to initiate legal action.
Call Our Babylon Car Accident Lawyers For a Free Consultation
If you or a loved one has recently been involved in a car accident in Babylon, New York, you may be overwhelmed, confused, and going through a lot of pain. It is not fair that you bear the burden of someone else's reckless actions alone. You are entitled to receiving compensation for your injuries and damages.
A skilled car accident lawyer at Cellino Law can help you get the financial support that you need and deserve. We are ready to fight aggressively for your rights and ensure that you are fully compensated. Get in touch with us today at (800) 555-5555 to schedule your free consultation.
Thank you for all your help. It has been a long journey. At last, the light at the end of the tunnel. Also, thank Tom for the help and work he put in.

Ron

I am so grateful for your expertise, patience, and perseverance which resulted with such a successful settlement regarding my car accident. I also want to let you know how impressed I was with you and your firm and I won't hesitate to recommend you to anyone who needs assistance from an accident. I truly appreciated your care and professionalism. Thank you again for your kindness and support

Lisa

Joe and I just wanted to send you this note thanking you for the professional way you handled our lawsuit. Your kindness was extremely appreciated in a very difficult time. When we found out the people that caused the accident had no insurance, we thought our chances of receiving any settlement was nonexistent. Once we met with you and released you were able to help us our minds were put at ease. Your aggressive manner of handling the case exceeded our expectations. Please feel free to use us as a reference. Thank you so much and best wishes,

Danielle and Joe

Thank you for your help in settling the case of my father's accident. I could always count on you to answer my questions honestly and in terms I could understand. If all lawyers at Cellino Law are like you, I understand why they are an A-1 law firm.

Bedner

I really just wanted to say thank you so much for taking my case, answering all my questions, and mostly for being very patient with me. I feel that without you and Roza I would not have been able to get anything at all. I hope to never need a lawyer again, but if I do I will definitely want you both working for me. Again thank your for you hard work, time and patience.

Veola

It was a great pleasure working with you on my lawsuit. You certainly gave 150% of your time and interest in settling my case and for that, I am extremely grateful. Therefore, I want to thank you very much for helping me win my settlement and wish you the very best.

Linda