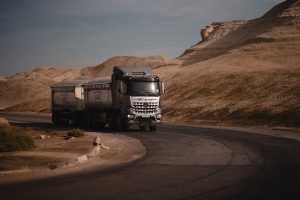 Surviving any truck accident is a cause to celebrate, but it might not feel that way in the days following the accident. Instead, you could experience severe pain and even lose mobility. Prioritize your present health and future recovery options, but remember that you might have limited time to hold the trucker accountable. Acting quickly is crucial for preserving evidence and moving ahead of the statute of limitations.
Get the Truck Driver's Information
Get the truck driver's name, company information, insurance details and truck number if you can. This will come in handy later when you start building your case. If possible, take pictures of the driver's license and truck cab so that you have a visual record. In hit-and-run cases, dash cam and nearby CCTV footage could help.
It would help if you also took pictures of the accident scene and any visible damage to the vehicles involved. If there are witnesses, try to get their names and contact information. These people could play an essential role in your case by testifying about what they saw happen.
Seek Medical Care
The first thing you should do is get a complete medical evaluation, even if you feel fine. Adrenaline could be masking injuries. Some conditions, such as traumatic brain injury, might not produce symptoms immediately. Ideally, you seek medical attention immediately or within the first 24 hours.
Your doctor will likely provide instructions on what to do next. Follow these instructions carefully, even if it means missing several days of work. Failure to do so could cause your injuries to become worse. If that happens, courts could hold you partially liable.
Hire an Experienced Personal Injury Attorney
While you focus on your health, let a qualified personal injury lawyer handle the legal details of your case. An attorney will investigate the accident and identify every liable party. The truck driver, the trucking company and the manufacturer of defective parts could all be held accountable for the damages you've suffered.
Your attorney will also negotiate with the insurance companies on your behalf to help you recover the maximum compensation possible. This is important because insurance adjusters are not necessarily looking out for your best interests. Remember, they work for the insurance company. They might try to get you to accept a lowball settlement or blame you for the accident.
Confirm Your Health Insurance Options
If you don't have health insurance or if your policy has limited coverage, find out about your other options for paying medical bills. Sometimes, the trucking company's insurance might cover your medical expenses. If not, the at-fault driver's insurance policy might provide coverage.
It's also helpful to look into state and federal assistance programs that help accident victims with medical bills. These programs ensure that people can get the care they need after an accident, regardless of their ability to pay.
Don't Give a Recorded Statement
The trucking company's insurance adjuster might contact you soon after the accident and ask for a recorded statement. Avoid giving one of these statements. The insurance company will use anything you say against you later, so it's best to wait until you have a lawyer present. After an accident, pain and medications could make it difficult for you to think clearly, which increases the risk of you saying something they can use against you.
An experienced attorney can coach you and your family members on handling these calls. Good attorneys will often handle the entire process on your behalf so that you can focus entirely on your health. Knowing a professional is on the job can also give you peace of mind. Your mental state can play a critical role in your ability to heal.
Be Mindful of What You Share on Social Media
In our social media-driven world, sharing too much information about ourselves is easy. After a truck accident, you should be especially careful about what you post on sites like Facebook, Twitter and Instagram. Be especially mindful of what you share about the accident online. Insurance companies could use anything you say against you in court.
For example, if you post pictures of yourself smiling and having fun with friends, the other side might argue that you can't possibly be in as much pain as you claim. Similarly, if you complain about your injuries online, the defense might argue that you're not really injured at all if you can afford to type all of that out. It's best to limit your social media use or, better yet, avoid it altogether until your case is resolved.
Notify Your Employer of the Incident
Few people will receive the green light to go to work in the days following an accident. Even if you work from home, you might not be able to work at all. Work is often the last thing on your mind when your life and health are hanging in the balance, but be sure to contact your manager and notify them of the accident. Doing so increases your chances of keeping your job, which could also mean the difference between having health insurance and not having it.
Your employer will likely need proof of the incident for its records. Some employers must comply with ADA requirements, which means they may need to make allowances for you to return to work in a more suitable capacity later. Work with your doctor to ensure your employer gets the information it needs.
Retain all Documents Received After the Accident
Keep all documents related to the accident, including medical bills, police reports and insurance correspondence. Review each document carefully to make sure it's accurate. If you spot any errors, notify the relevant party right away and ask for a corrected version.
These documents will come in handy when you file a claim for compensation. Your lawyer will also likely request copies of these documents as he or she builds your case. Documentation can make or break a case.
File a Claim as Soon as Possible
You might be so focused on your injuries that you forget the financial burden an accident can cause. In addition to mounting medical bills, you might lose wages if you can't work. You might also have to deal with damage to your vehicle. These expenses can quickly add up, leaving you struggling to make ends meet.
The good news is that you might be able to recover compensation for these damages by filing a personal injury claim. Sometimes, attorneys might recommend waiting for a detailed prognosis to estimate current and future medical expenses accurately. Attorneys might also delay filing if doctors suspect the person might not survive, as it would become a wrongful death suit.
Choose the Attorneys at Cellino Law
Your ability to recover the compensation your case deserves will depend on the capabilities of your legal team. That's why so many people turn to Cellino Law for assistance with their cases. We have recovered more than $2 billion in settlements for our clients. This total number includes several multi-million-dollar settlements, including one for $47.4 million.
We cannot guarantee large settlements for every case we handle, but we do everything we can to get our clients the compensation their cases deserve. When people reach out to us for help, they can do so risk-free. We charge nothing until we recover compensation. Book a free consultation to discover how much your case is worth.
Now that reality has set in, I want to thank you for all your work and assistance in obtaining my settlement for the pelvic mesh. This money will make my life so much easier in the future. Medicare just isn't sufficient. I know that I will have enough to live on. I truly appreciate of your efforts. Thank you!

Loraine

Joe and I just wanted to send you this note thanking you for the professional way you handled our lawsuit. Your kindness was extremely appreciated in a very difficult time. When we found out the people that caused the accident had no insurance, we thought our chances of receiving any settlement was nonexistent. Once we met with you and released you were able to help us our minds were put at ease. Your aggressive manner of handling the case exceeded our expectations. Please feel free to use us as a reference. Thank you so much and best wishes,

Danielle and Joe

Thank you for all your help. It has been a long journey. At last, the light at the end of the tunnel. Also, thank Tom for the help and work he put in.

Ron

Mark Kochanowicz is from far the best attorney you can have. Mark treats you like a friend more than a client. He truly cares and go the extra mile for you and your case, contacts you to update you in regards to your case and keep you informed at all times. Mark represented me twice and settled my cases for way more than I expected. I highly recommend Mark Kochanowicz because he is just the best on what he does!!! Thank you Mark!!!!

Maria

My experience during the time of negotiations was extremely positive. Josh Sandberg handled my lawsuit with the utmost integrity. He returned all my phone calls in a timely manner and answered all my questions. Josh made things less stressful. I would highly recommend Josh and the entire staff at Cellino Law.

Arthur

Thank you for your time, effort, and hard work on my case. I appreciate your expertise and compassion. I never experienced what I went through and I would have been completely lost without you.

Martha