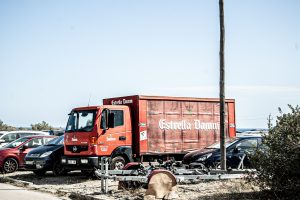 There are almost 3 million tractor trailers and roughly 285 million cars driving on America's roads. With 95 times as many cars as trucks on the road, you would think car accidents are deadlier. However, that's not the case. Collisions involving trucks account for almost 10% of traffic fatalities.
Unfortunately, it's not always easy to recover compensation for your injuries and other damages. Regardless of the type of accident, many injured accident victims hire personal injury lawyers to represent them.
Cellino Law handles car, truck, and other kinds of motor vehicle accident cases. We understand the physical and financial anguish these wrecks can cause, and we are here to help.
How Are Truck and Car Accidents Different?
There are many differences between truck accidents and those involving only passenger vehicles.
Severity of Injuries
Car crashes can produce significant injuries or fatalities, but truck collisions typically cause more severe issues. Why? Truck vs. car size is often the reason.
Average Tractor-Trailer Size
Length: 70 feet
Height: 13.5 feet
Width: 8.5 feet
Weight: 80,000 pounds
Ground Clearance: 5 feet
Average Car Size
Length: 14.7 feet
Height: 6.5 feet
Width: 5.8 feet
Weight: 4,156 pounds
These dimensions can vary, but you can see that a fully loaded tractor-trailer is much larger and heavier than a car. Cars or SUVs rolling over can cause damage, but they're not likely to crush other vehicles and their passengers; trucks can. When trucks roll over onto their sides and slide, they can potentially hit several cars, causing a multiple-vehicle collision.
You don't have to be a physics expert to realize that trucks can cause more damage than cars, often creating catastrophic results in accidents.
Types of Accidents
Many types of accidents are the same for most vehicles, including large trucks. However, trucks can have a few accidents due to their construction that cars can't.
Jackknife
Override
Wide-turn
Number of Responsible Parties
Car drivers usually own the car they operate, but truckers don't always own their trucks. In fact, there can be several parties potentially responsible for truck accidents:
Truck owner
Trucking company
Those responsible for maintaining the truck
Cargo shipper
This fact is significant because assigning blame for truck accidents is exponentially more challenging than it is for car accidents. Nobody wants to claim responsibility because the guilty party or parties can be liable to pay damages to those injured in the collision. Unraveling the complicated situation is a daunting task unless you have a knowledgeable personal injury attorney on your side.
Cargo Issues
The cargo tractor-trailers haul should be appropriately secured, but mistakes happen. Shifting cargo can cause trucks to become unbalanced and difficult to maneuver. Drivers may lose control of the truck, causing a collision.
The cargo can sometimes force the doors open and fall onto the road — or onto cars traveling nearby. Regardless of whether the truck collides with other vehicles, the loose cargo can injure or kill others.
Tankers sometimes haul fuel and other explosive or toxic liquids. If the tank leaks or the truck is involved in a collision, this cargo can have deadly effects on those nearby.
Potential Damages
Although the types of damages you may qualify to receive after truck or car accidents are the same, the amount of those damages is often greater for truck accidents. Each state has laws that govern the types of damages injured accident victims can receive, and many place caps on the amounts. Your personal injury lawyer can tell you about the laws in your state.
Economic Damages
Any kind of accident can incur several types of expenses, and this category of damages reimburses you for things like:
Medical bills
Lost wages due to time missed from work
Certain daily expenses
Vehicle repair or replacement
Because truck accidents usually cause more severe damage to you and your vehicle, many of these expenses are typically greater.
Non-Economic Damages
Collisions can cause other kinds of damage to injured victims, and some of them are invisible. That doesn't make them — and the adverse effects they can have — less real. There aren't bills with specific dollar amounts attached to these damages, and awards may be based on how badly they affect you:
Pain and suffering
Damage to personal relationships
The loss of your ability to enjoy life
Permanent disability or disfigurement
PTSD, anxiety, and depression
Obtaining non-economic damages sometimes takes expert testimony and lots of proof because insurance companies will try to minimize your suffering.
Can Cars Cause Truck Accidents?
Yes, they can. Passenger vehicle drivers usually aren't familiar with the potentially problematic issues of driving a tractor-trailer, so they don't account for them when making driving decisions.
Stopping Distance
Because of their size and weight, tractor-trailers need about twice as much distance than a car to come to a stop. Other factors include truck brake lag, improperly maintained brakes, slippery road conditions, and driver fatigue.
Drivers who swerve in front of a truck may think the truck will be able to slow down quickly enough to avoid a collision if needed, but that's not always possible.
Blind Spots
The blind spot for trucks is so large that it has a name: No Man's Land. Truckers can't see other vehicles, pedestrians, or other obstacles in this area, so they're often unaware that anyone else is present.
Car drivers who try to pass trucks or come between a truck and another obstacle often don't realize that the truck driver can't see them. This fact can cause collisions.
Weather and Road Conditions
High-profile vehicles like tractor-trailers are more vulnerable than cars to some conditions, such as strong winds or wind gusts, slick roads, poorly maintained roads, and loose gravel. For example, a strong wind gust can cause a truck to shift lanes unintentionally and hit those traveling beside them.
Do You Need to Hire an Accident Attorney?
You don't have to hire an attorney if you're injured in an accident, but why wouldn't you? Your time should be spent recovering, not dealing with the mountains of paperwork, in-depth investigations, and meetings with insurance company representatives.
Accident cases are potentially quite complicated, and investigating them takes a lot of resources and long hours. Truck collisions present more layers of challenge. State insurance laws vary, but you'll be expected to understand them and operate within them.
Insurance companies often use underhanded tactics to avoid paying damages, but you deserve compensation for your injuries. A competent personal injury attorney understands how to negotiate favorable settlements.
If those reasons aren't enough, injured accident victims who hire attorneys typically receive more compensation for their damages than those who represent themselves. Hiring a personal injury attorney presents no risks but gives you lots of benefits.
Why Choose Cellino Law?
A Cellino Law firm has represented injured New Yorkers for over 60 years. With the experience and knowledge gained during that time, we are fully equipped to win compensation for you. We are equally capable of negotiating a favorable settlement and taking your case to trial if necessary. Best of all, you won't pay us unless you win.
Whether your accident happened in New York, Pennsylvania, or New Jersey, Cellino Law can help. Contact us for a free case review at (800) 555-5555 or submit our online form. Someone is available 24/7, so there's no need to wait.
Choosing the right attorney to represent you after an accident can make all the difference. This is no cliche. I recently experienced these words to live by first hand. After a tractor trailer rear ended me at high speed in 2017 I retained Allan Silverstein to handle my case. I quickly realized that bringing a lawsuit rapidly snowballs into a mountain of details that can make or break your results. Documents, case histories, doctor visits, bills, and lots of phone calls all need to be accurately kept track of if a successful outcome it to be attained. To complicate matters I reside in New York and the incident took place in New Jersey. Luckily, Allan was licensed in multiple states. I was fortunate to find Allan to handle this matter from the New York area. Armed with an accurate account of the facts Allan went to work on the difficult job of negotiating with the defending insurance company as well as my no fault carrier in order to obtain the best possible outcome for my set of circumstances. In a lawsuit communication is key and and events can be of a timely nature. Allan never failed to return my calls - usually the same day! He fought skillfully and respectfully to get me the best possible settlement. He is easy to deal with and a likeable down to earth guy. He always listened with compassion and respect to my issues. He guided me with objective understanding as well as a realistic analysis of the merits of my case. When we finally settled Allan got me a fair agreement beyond my expectations and negotiated with my doctors to make sure all my bills were paid. It was a great experience having Allan represent me. Quality work in any aspect of life is hard to find. Quality is what I got with Allan Silverstein. I highly recommend him if you find yourself in need of a personal injury attorney.

Theodore

It was a great pleasure working with you on my lawsuit. You certainly gave 150% of your time and interest in settling my case and for that, I am extremely grateful. Therefore, I want to thank you very much for helping me win my settlement and wish you the very best.

Linda

Thank you for your help in settling the case of my father's accident. I could always count on you to answer my questions honestly and in terms I could understand. If all lawyers at Cellino Law are like you, I understand why they are an A-1 law firm.

Bedner

I just want to let you know that I did receive my settlement check. More importantly, I want to thank you again for all you did for both me and my family. I could not be more pleased with my experience at Cellino Law. From the moment I first spoke with you I felt comfortable - you took a sincere interest in my case, clearly explained the process and effected a quick settlement. From this day forward, when someone asks if I can recommend a good lawyer I will, without hesitation, say "Cellino Law". Thanks again.

Walter

We'd like to thank you for all the assistance and time you spent on our case. Your professionalism and honesty will always be appreciated. The staff was always courteous and we were always impressed with your accountability. Your passion and dedication will never be forgotten, nor will you.

Sarah

I am writing this letter to say how much I appreciate your services pertaining to my case. Your injury attorney took a hands-on approach and left me fully informed at all times as to where my case was going as well as how much ground we had to cover; leaving the final decisions in my hands but making sure that I knew all of the risks involved in the choices. I have dealt with a few law firms in my life on various different cases and this is the first time that I never had to call and/or track down my lawyer… because of this, I have and will continue to recommend Cellino Law to my friends and associates.

Denise