In the unfortunate event that you or a loved one is injured following a truck accident in Queens, then you need to get in touch with Cellino Law. We have a team of Queens truck accident lawyers ready to help you file a claim against the truck driver, the trucking company or even both. We will also assist you to identify any other parties that may be held liable for your injuries. If the truck acted in a negligent manner, then they can and should be held responsible. To prove that a driver was negligent, you need to show that they either broke a rule or behaved in a manner that any reasonable CDL driver wouldn't have.
You also have the option to file a claim against the trucking company based on the negligence of their employee, who is considered to be acting on their behalf. In case there was a safety policy that the company didn't put in place or failed to implement, for example, performing stringent checks on the truck driver's driving records prior to hiring them, then the company can be found to have acted negligently.
What this means is that the company will be held liable for the injuries you suffered. Trucking companies often have insurance policies with high limits, meaning that they have a high capacity to pay out claims. Our team of Queens personal injury lawyers will assist in establishing which option is most suitable for your case.
What's the Difference Between Truck Accidents and Car Accidents?
Truck accidents are usually a lot more complex than passenger car accidents. This is why consulting a truck accident attorney who has extensive experience dealing with truck accident cases is crucial. So, why are crashes involving trucks more complicated?
The sheer size and weight of the average truck. An average truck can weigh upwards of 80,000 pounds when loaded and up to 10,000 pounds when it is empty. This is the reason why truck crashes are usually worse. In addition, there is plenty of physical evidence that has to be evaluated after the accident.
A truck driver will have the support of their employer. Trucking companies have teams of professional attorneys and investigators whose main purpose is to protect the drivers and the companies from facing any consequences from the accident.
Truck operations usually involve multiple parties when hauling cargo in New York, meaning that multiple parties might be held liable for the accident.
Truck accident investigations need a clear understanding of the trucking industry regulations, which include reports and records that should be maintained by the trucking companies as well as their drivers.
At Cellino Law, our Queens car accident attorneys have extensive experience in handling accidents with trucks. We will quickly initiate the process and make sure that all the crucial records and evidence aren't interfered with. We will seek a court order that will grant us access to all these documents and also the wreckage. We will request the trucking company to provide us with the Event Data Recorder (EDR) or "black box". The EDR contains information on all the truck's operations before the accident. Also, we will seek access to information like dashboard video systems.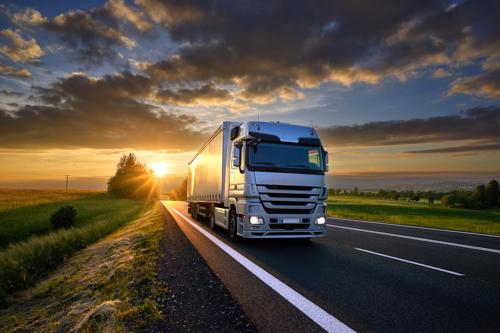 Additionally, we will interview the company's employees and any other relevant third party. This will enable us to acquire more information on the actions that contributed to the accident.
In case the crash is more complicated, then we are going to seek the assistance of accident reconstruction specialists and forensic experts who can help in establishing the manner in which the accident occurred. These experts will come up with detailed reports based on both engineering and physics. Additionally, they will assist in providing CGI animation demonstrations and witness testimony that will be beneficial in giving the court a better picture of everything that transpired.
Determining the Cause of the Accident
When investigating a crash involving a truck near Queens, there are numerous factors that we have to put into consideration, and they include:
Negligence of the Truck Driver
Passenger car crashes and commercial truck crashes often share one thing in common; they are normally caused by something that the driver did or failed to do. Some truck collisions are caused by truck drivers who break traffic rules by doing unsafe maneuvers such as improperly changing lanes, failing to yield right of way, or running a stop sign. A truck accident can also be caused by a driver who doesn't far ahead enough or close enough when making a turn.
Here are some common actions that demonstrate truck driver negligence:
Speeding
According to the Federal Motor Carrier Safety Administration (FMCSA), which is the body that governs the trucking industry, speeding is the prime cause of truck accidents. Overspeeding makes it difficult to stop in time when in conditions like extreme weather and heavy traffic. The truck driver will be unable to slow down the truck enough to prevent a collision. Speeding, in combination with tailgating, creates the perfect scenario for a rear-end collision involving a truck.
Distracted Driving
Also referred to as "distraction/inattention" by the FMCSA, distracted driving is the second leading reason for truck accidents. Distracted driving such as texting while operating a motor vehicle has proved to be a serious problem. While regulations have been put in place to combat this issue and the potential consequences of texting while driving documented, the problem still lingers.
Inattention refers to when an individual is daydreaming or thinking about something else, which causes the driver to divert their attention from driving and cause an accident.
Drowsy and Fatigued Driving
This is often caused when a truck driver drives for long periods without getting sufficient or any rest. This is usually a violation of the FMCSA Hours of Service Laws. While there are instances where the driver might have been directed by their employer to drive more hours so as to meet certain deadlines, at times, the driver may be the one who opted to drive for long hours and hence fail to take breaks and rest.
Drugged Driving
This type of negligent behavior has been observed more in truck drivers compared to drunk driving since truck drivers have to undergo strict alcohol consumption tests. A lot of truck drivers involved in accidents have been found to have been under the influence of meth, cocaine, and amphetamines.
They regularly use these substances as they help to keep them awake and drive for more hours. There are also some truckers who use prescription and over-the-counter drugs whose side-effects include drowsiness or driving impairment, and most aren't usually even aware. Though this is uncommon, cases of drunk driving by truck drivers have been reported.
Cargo Shift
In the case of a truck jackknife – where the cab and trailer of the truck assume the shape of a folding knife due to sliding – or rollover accident, investigators will begin by establishing whether the accident might have been caused by the cargo shift. When cargo isn't properly loaded or secured properly, it tends to move about and it can even break free. This alters the truck's center of gravity, which can lead to a rollover or jackknife accident since the truck loses control and eventually crashes.
Cargo Spill
If the shifting cargo is able to break free, it could pose a serious risk to other road users as they can end up getting hit by the cargo or swerve their cars to avoid colliding with the truck but end up in a crash. If the cargo contains hazardous materials and it spills, it can cause significant damage, such as contaminating waterways and personal injury.
Vehicle Failure
While truck-related issues are far less than human error, they do happen. Crashes can occur in cases where the braking systems, coupling systems, power trains, tires, wheels, lighting, and other crucial parts fail. A study conducted in 2010 by the Insurance Institute for Highway Safety revealed that more than 50% of the trucks involved in crashes had mechanical issues that violated FMCSA regulations, and more than 30% had problems that should have rendered the trucks unroadworthy.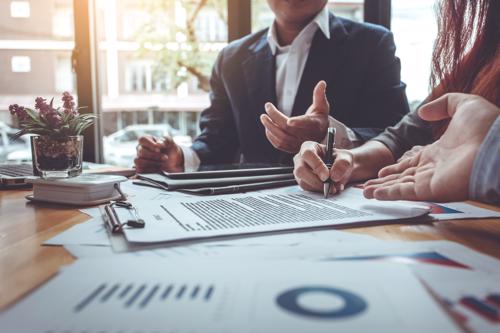 Accidents are bound to occur in cases where there was faulty manufacturing of parts and/or systems, or where the trucks haven't been properly maintained as required.
Road Conditions
Chances of an accident increase when a road is in poor condition or it has a faulty design. The presence of trees and vegetation on an intersection that obscures the view or the presence of potholes that cause drivers to lose control are some of the unsafe road conditions. The government authority and local contractors mandated to take care of this road can be held liable for the accident.
Dangerous Work Zones
There are various design protocols that contractors have to follow when working on construction or carrying out roadway maintenance, for example, they have to provide motorists with warnings and enough time to slow down. They also have to maintain ample space between the workers and traffic. They should also install barriers. There are various factors that the contractors have to put into consideration when in the process of setting up a work zone, for example, the time and distance it takes to slow down a truck, expected amount of traffic, and highway speed limits, amongst others.
You can pursue a personal injury case against the trucking company, the truck driver, and any other third party involved such as a contractor who was responsible for loading the cargo, the government, the supplier or manufacturer of the faulty truck parts.
If you choose to retain the services of Cellino Law, you will gain a team of highly skilled and experienced truck accident attorneys ready to offer the necessary assistance with your investigation into the accident and in determining the liable parties.
Common Injuries in Accidents Involving Trucks
A car is no match to a truck in terms of size and weight. A semi-truck that is loaded can weigh upwards of 80,000 pounds, while a car, on the other hand, will weigh just about 3,000 pounds. This is mainly why when a crash that involves a truck and a car happens, the car occupants are the ones who often suffer the most severe injuries, and in some cases, are killed.
Considering that trucks can cause very serious injuries, the government requires that truck companies take out insurance policies with high policy limits. Throughout the years, Cellino Law has offered legal representation to victims of truck accidents who have sustained serious injuries such as:
Facial injuries
Brain injury and traumatic bleeding
Head injuries, including concussion
Emotional trauma
Internal injuries
Burns
Loss of limbs and amputations
Broken bones
Accident victims who sustain such types of injuries need to receive specialized treatment, rehabilitation, and sometimes life-long care. Our lawyers will use everything in their power to ensure that you and your family are fully compensated for your injuries and any other damages that you may have suffered following the accident.
Federal Regulations on Large Trucks
Larger trucks such as tractor-trailers are usually more powerful and pose an even greater danger to motorists. Due to this, the government came up with stringent regulations that trucks and operators have to adhere to. The maximum load for a truck is capped at 80,000 pounds.
In addition, there is a limit on the number of hours that a truck driver can operate consecutively in a day and week. Owners of trucks are required to schedule regular maintenance checks and conduct repairs in case there are any issues with the truck. The regulations have been put in place to protect both the truck drivers and other motorists.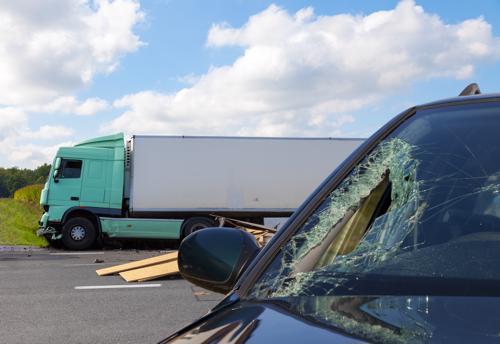 Unfortunately, most trucking companies continue to flaunt these regulations, and they pressure their drivers to violate these regulations to ensure that they beat their deadlines and maximize profits. Here are some of the illegal practices;
Driving while fatigued
Failing to take required breaks
Exceeding the number of hours stipulated by the law
Driving in extreme weather conditions
Overloading the trailers
Speeding
Important Steps to Take After Being Involved in a Truck Crash
In case you or someone close to you has been involved in an accident in Queens, NY, that involves a large truck or commercial vehicle, here are some of the steps you need to take to ensure that you protect yourself and your compensation claim.
Contact 911
Regardless of whether you've sustained injuries or not in a truck accident, it is always crucial to inform the police about the accident. This helps to ensure that an official report is filed, and this will come very much in handy when you commence the process of pursuing compensation either via a claim with the insurance company or a personal injury lawsuit. When you contact 911, emergency responders together with the police will show up at the accident scene.
Seek Medical Attention
Crashes involving trucks often result in the victims sustaining severe injuries. This is why it is crucial to let a paramedic examine you, alternatively, you can head to the emergency room following the accident. As some injuries don't usually manifest themselves immediately, for example, brain injuries and internal injuries, it is essential to have a full-body examination done.
Document the Scene of the Accident
If you are in a position to do so, take pictures and videos of the scene. This will help in preserving evidence of the damages inflicted on your vehicle and nearby property. It is also beneficial to document any injuries you've suffered.
Exchange Contact Details
Request the truck driver to provide you with their name and contact information. Don't forget to request the name and contact details of their employer. Ensure that you get their insurance information. You should also give them your details.
Collect Witness Information
In case there were any witnesses present during the crash or if there were people who came through to offer assistance, then you need to collect their contact information. Your attorney will use this information to contact them to get their statements.
Inform the Insurance Company
You should notify the insurance company as early as possible. Ensure that they know the accident involved a truck.
Contact a Truck Accident Attorney
In case you were involved in a crash in New York, then consulting a skilled attorney who has experience handling such types of cases should be your next step.
How Can A Lawyer Help My Truck Accident Claim?
According to the DMV, more than 5,000 people lose their lives annually in New York as a result of large truck accidents. Due to the sheer weight and size of trucks, accidents involving them are often serious. This is the reason why they cause a greater deal of damage compared to the damage caused by smaller cars.
In case you were injured in a truck accident, then an attorney will assist you in seeking the compensation that you are owed for your damages. Here are some of the damages that a lawyer can help you recover;
Medical expenses, both current and future, resulting from the injuries suffered
Loss of income and earning capacity
Rehabilitation and physical therapy costs
Pain and suffering, and this includes emotional distress and mental anguish
Permanent disability
Property damage and/or loss
Vehicle and home modification costs, for example, lifts and wheelchair ramps
How Much Can You Recover for Injuries Suffered In a Truck Accident?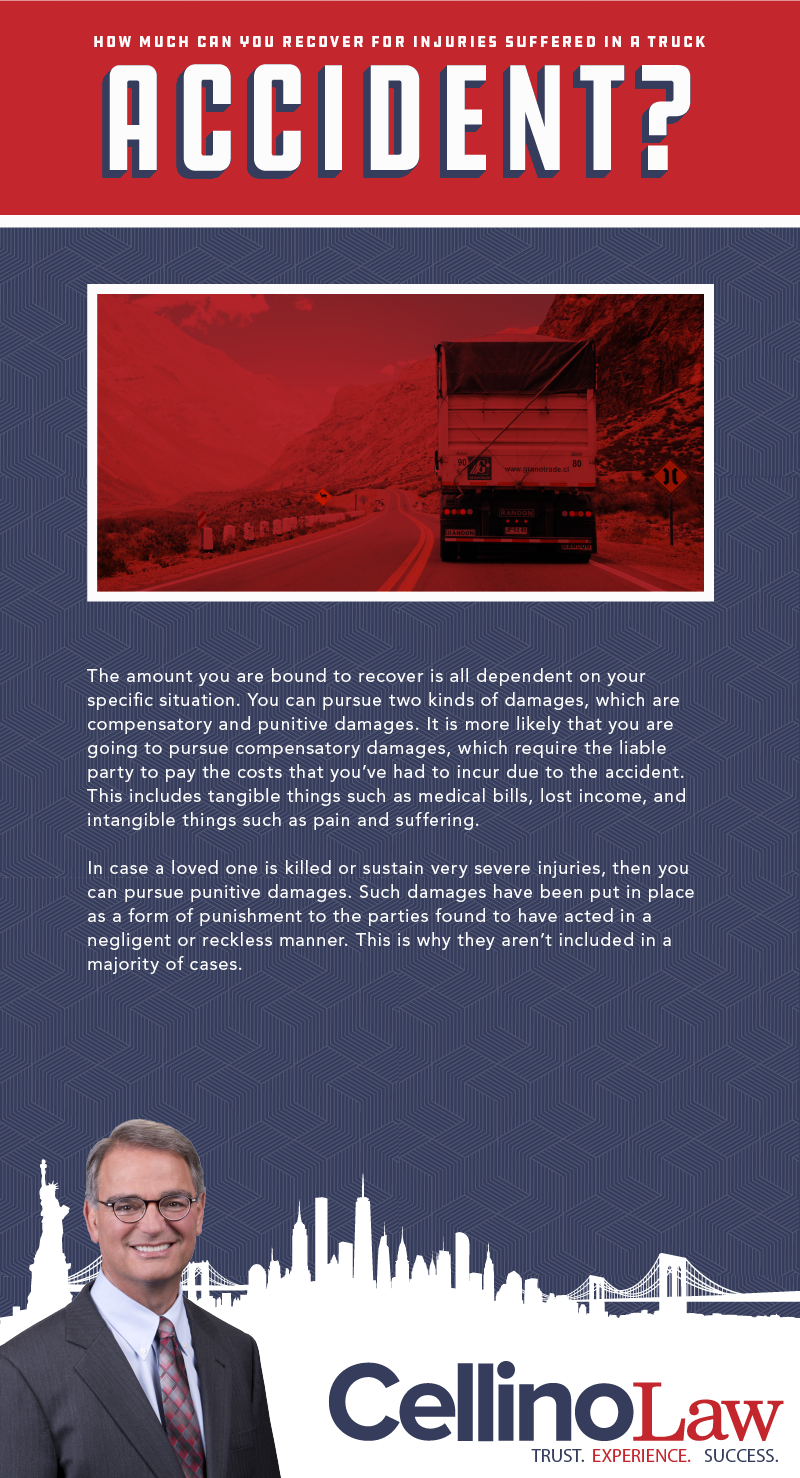 The amount you are bound to recover is all dependent on your specific situation. You can pursue two kinds of damages, which are compensatory and punitive damages. It is more likely that you are going to pursue compensatory damages, which require the liable party to pay the costs that you've had to incur due to the accident. This includes tangible things such as medical bills, lost income, and intangible things such as pain and suffering.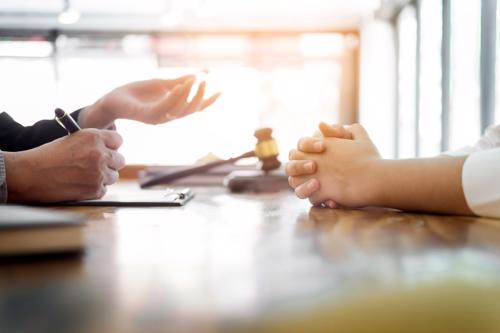 In case a loved one is killed or sustain very severe injuries, then you can pursue punitive damages. Such damages have been put in place as a form of punishment to the parties found to have acted in a negligent or reckless manner. This is why they aren't included in a majority of cases.
Can an Employer Be Responsible for a Drunk Truck Driver?
Truck drivers aren't allowed to operate their trucks when their blood alcohol content level is 0.04% or above. In case you or a loved one sustained injuries in an accident where the truck driver was drunk, then both the driver and their employer will be held liable for any injuries and damages suffered in the truck accident.
Who Is Responsible if a Truck Accident Is Caused by a Malfunctioning of the Truck?
This will depend on the situation. The truck owner, the driver, and the company they work for can be held responsible. The owner of the truck or the company could be held responsible if they failed to properly inspect the vehicle. If the tires of the truck had defects, then the manufacturer could be held liable for the damages.
Should I Speak With a Truck Company's Insurance Provider After an Accident?
You should only communicate directly with other insurance companies when informing them that you have representation. Alert your attorney if the insurance company is trying to contact you. Never agree to sign anything in the absence of your lawyer as you may end up compromising your chances of getting maximum compensation. The lawyer should be the one handling all the negotiations and communication with the insurance company.
What Can Cellino Laws Queens Truck Accident Lawyers Do For You?
Here at Cellino's Law, we have a team of professional attorneys who have extensive experience handling truck accident cases. Our Queens personal injury firm will gather all the necessary and relevant evidence to build a solid case for you. We will conduct witness interviews, take photos of the scene, acquire video footage of the accident, and work with specialists to reconstruct the scene of the accident.
There are various documents that need to be acquired including the driver's Trip Sheet, Log Books Time Card, and Route Schedule, in addition to manifests, logs, amongst other documents prepared for or by the driver in the last 30 days prior to the accident.
We will obtain inspection reports, which include inspection reports of the truck that was involved in the crash, the inspection report on the day of the accident, and the truck's checklist after the accident. Our attorneys have the necessary knowledge and skills to identify the documents that will be beneficial to the case.
Injuries resulting from truck crashes will often have a catastrophic effect on the lives of victims. This is the reason why they deserve to receive financial compensation. You shouldn't have to bear the burden caused by another party's negligence in a truck accident when you are completely innocent. Filing a personal injury lawsuit can enable you to get the financial support that you need to pay for medical expenses, lost earnings, and other damages.
Mark Kochanowicz is from far the best attorney you can have. Mark treats you like a friend more than a client. He truly cares and go the extra mile for you and your case, contacts you to update you in regards to your case and keep you informed at all times. Mark represented me twice and settled my cases for way more than I expected. I highly recommend Mark Kochanowicz because he is just the best on what he does!!! Thank you Mark!!!!

Maria

Cellino Law is an amazing firm with a great team. I worked with Greg Pajak and his assistant, Tracey Falconer. I cannot express enough how dedicated they are. The personal attention I received was excellent; they were always available to help with questions and concerns and put me at ease in the unknown territory I found myself in. I highly recommend them to anyone needing representation. A huge thank you to them for all they accomplished for me!

Liane

This is to express our gratitude to you and your team in helping us and Stephanie navigate through the legal process following her car accident. We are very satisfied with the outcome and grateful for your hard work and attention to details. We fell confident that with this compensation, Stephanie will be able to move forward with her studies and her life with the ability to care for some of her health needs resulting from the injuries sustained following her car accident. Thank you very much and may God continue to bless your efforts.

Jose & Rose

Cellino Law and more specifically my attorney, Gregory V. Pajak, Managing Attorney, and as a whole the Cellino Law Firm and its organization. This is by far one of the most professional law firms and attorney I have ever engaged with and retained in my 35 years. The level of professionalism goes beyond words, the care and constant engagement with me as the client was touching. I was never ever just treated as simply a CASE with potentially a significant dollar number attached to my file. I was engaged regularly, Tracey (Ass't) and Greg always made sure to remain constant, as well as consistent in overseeing that my case was handled properly and that it did matter in many ways - ensuring that the end result(s) would be fair and reasonable to my case/injury. The regular follow-up calls were very satisfying, knowing that you're involved in your case matters significantly AND always. One of my main items to recognize Cellino Law and Gregory is that whenever I called, I was able to get through to speak directly to my Lawyer and he would answer any if not all of my questions in a very professional and genuinely caring manner. I always felt cared for and protected legally and more importantly, I was made feel as a human being that was being cared for and always keeping me abreast of all matters connected to the case. There was never a point I felt let down, on the contrary -the level of service was "STELLAR". Greg is the consummate professional, a 'role model', if you will, for what other attorneys should strive to become when dealing with their clients.

Anthony

I am writing to let you know what an outstanding job George Gridelli did for me in my personal injury lawsuit. His professionalism and expertise were evident at our first metting and he and his paralegal Diane D'Andrea took care of me as if I was a friend and not merely a client. They both went above and beyond for me in so many ways that it would be too numerous to list and I am grateful to have had such an exemplary team represent me. When working with George and watching him in court he personified to me what a lawyer is supposed to be - an honest, extremely compentent man who helped guide me through the legal system. I could not have obtained better representation anywhere else at any price. To me that says a lot abut you and your firm's integrity. Thank you again for representing me and for having such stellar individuals working for you! I will continue to recommend your firm.

Carol

I want to thank your law firm for settling my lawsuit where others failed. You treated me with the utmost respect and care, because of your law firm the dream of owning my own home finally came true. For the first time in a long time, we're living out our dream home. Thank you a million times over. Thank you for making my dream come true.

Marcy