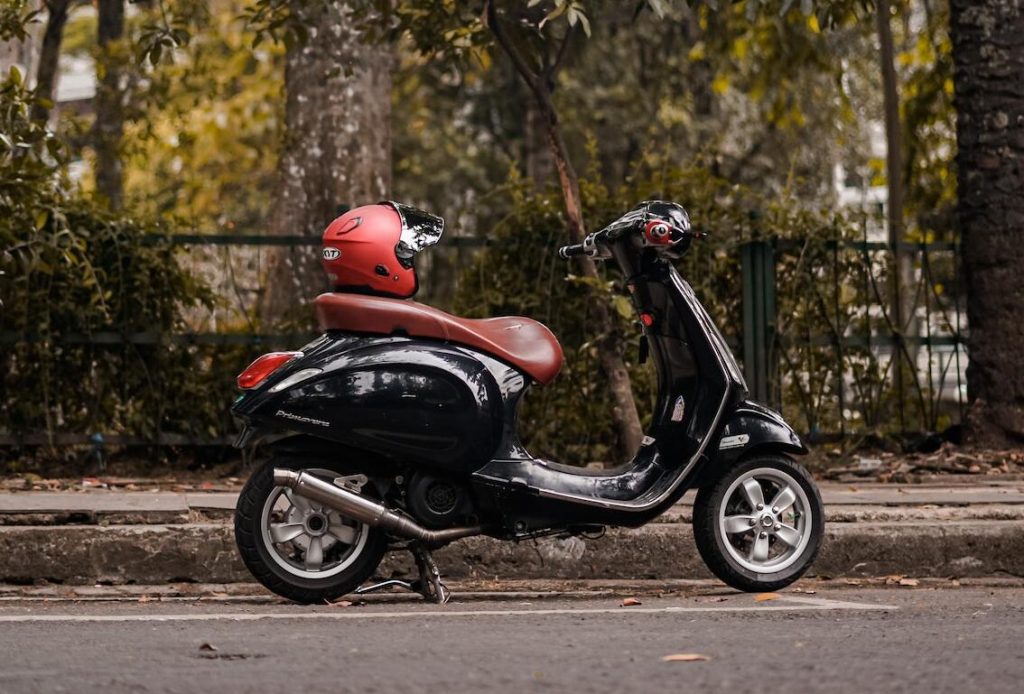 Millions of people travel on New York's congested streets and sidewalks daily. Whether it's to avoid high fuel prices or traffic delays, some New Yorkers use mopeds. This popular option allows the autonomy of having your own ride without the hassles of owning a car.
What is a moped, and do you need a license to drive one? Cellino Law explains.
What Is a Moped?
The New York Department of Motor Vehicles classifies a moped as a limited-use motorcycle or vehicle. Mopeds typically have two wheels, although some have three. Early mopeds combined a motor with pedals, hence the name. Today's models have platforms for operators to rest their feet.
Mopeds are faster than bicycles but much slower than motorcycles. Even so, moped operators must have valid learner's permits or driver's licenses. Requirements vary by moped class. You must have a motorcycle license or learner permit to drive a Class A moped. You can operate Class B or Class C mopeds with any license class.
All mopeds must have a valid registration, and riders must turn on headlights while operating the bike. Other requirements vary by class. The moped's top speed capabilities designate its class.
Class A, 30-40 mph:
Eye protection and helmet: required
Insurance: required
Inspection: required
Permitted to travel in: all traffic lanes
Class B moped top speeds are 20-30 mph, while Class Cs are 20 mph or under. Both can only travel in the shoulder or right-hand lane unless they're making a left-hand turn. Insurance, eye protection, and helmet usage are required for Class B mopeds but only recommended for Class C. Inspections for these classes are recommended but not required.
If operators meet these requirements, they can legally travel on New York streets and highways. However, moped operation on sidewalks is illegal.
Is Riding a Moped Dangerous?
Like riding a motorcycle, traveling by moped can be dangerous. Although most operators use eye protection and helmets, these items don't provide much protection if the moped collides with a larger vehicle. Injuries sustained in moped accidents are often serious.
While every driver should be aware of road and traffic conditions, this is especially true for those riding mopeds. Many accidents result from driver error, whether by the cyclist or other drivers.
Lane Splitting
Lane splitting is illegal in New York, but many cyclists do it anyway. Because of a moped's small size, riders can maneuver them between other vehicles by riding along the lines that designate traffic lanes.
Motorists don't usually expect a moped to appear beside them at such close range. The space between two cars in adjacent lanes is minimal, and a moped's presence decreases that space. A sudden shift by any of the vehicles involved can cause a collision.
Poor Road Conditions
Wet or slick pavement and loose objects on streets or highways are hazardous to mopeds. While automobiles have four wheels and significant weight to counteract some of these dangers, mopeds have neither. It's easy for these bikes to slide out of control, throwing their riders.
Open Doors
Mopeds colliding with open vehicle doors are common in areas with congested traffic. The vehicle's driver may open their door suddenly, or the moped rider may not see an open door in front of them. Regardless, this type of accident can severely injure moped riders. The car's occupants may also be caught if they're entering or exiting their automobile.
Blind Spots
Although mopeds and other kinds of bikes are a common sight, automobile drivers' conditioning makes them look for other large vehicles rather than small mopeds. Drivers may not notice mopeds, especially at night.
Speeding
Motorists and bikers traveling over posted speed limits increase the risk of having an accident. A moped's instability can make it difficult to maneuver safely. Even hitting a piece of loose gravel at higher speeds can prove deadly to moped riders.
What Are Common Moped Accident Injuries?
Moped accident injuries typically happen because of collisions or falls. Falls can happen for many reasons, including overbalancing, attempting to avoid obstacles, or slick roads. Injuries sustained during falls may not be as severe as those received during collisions.
Moped accidents often produce:
Broken bones
Scrapes, cuts, and road rash
Head, neck, and back injuries
Burns
Facial wounds
Regardless of how these injuries happen, victims usually still require medical treatment. Seeking compensation for medical expenses and other eligible damages is sometimes challenging in moped accidents, but Cellino Law can help.
Who Pays Damages in Moped Accidents?
New York's personal injury protection insurance typically doesn't cover electric scooter or other types of moped riders. However, these riders can still seek damages from parties who cause an accident. You'll first need to establish the guilty party's negligence through an accident investigation. While you may not know how to accomplish this, Cellino Law does.
Everyone who uses New York's streets and roads owes a duty of care to others. They must use reasonable care to avoid causing harm. To prove negligence, an investigation will show that:
Someone owed you a duty of care.
That person breached their duty of care.
The breach caused an accident.
You sustained injuries or other harm in the accident.
When an investigation determines who causes a moped accident, that party or parties must pay damages to those injured. However, liable insurance companies may attempt to deny your claim or pay only minimal amounts. Having an experienced moped accident attorney from Cellino Law on your side can ensure you receive the compensation you deserve.
What Compensation Can You Receive?
Every vehicle accident is different, and compensation amounts can vary significantly. Your legal team from Cellino Law will tell you how much your case is worth. Generally speaking, injured moped accident victims may qualify to seek three kinds of damages.
Economic Damages
This category reimburses victims for expenses directly incurred by their accident, including:
Medical bills
Lost wages
Replacement services
Property damage
Your compensation for economic damages matches your expenses dollar for dollar, so it's vital that you keep your bills and receipts.
Non-Economic Damages
Non-economic damages compensate you for losses that aren't financial, such as:
Pain and suffering
Anxiety, depression, and PTSD
Inconvenience
Losing your ability to enjoy life
Permanent disfigurement
Although not necessarily physical, these wounds can adversely impact your life, and you deserve compensation.
Punitive Damages
Not many accident victims qualify to receive punitive damages. The guilty party must exhibit reckless or malicious behavior, for instance. When awarded, punitive damages intend to punish the guilty party and discourage them and others from repeating the same behaviors.
How Do Moped Accident Lawyers Help?
If you were injured in a moped accident, you need time to focus on healing. Still, you'll need to accomplish many tasks alone if you don't hire a lawyer for assistance. When you hire Cellino Law, we will:
Present your legal options
Investigate your accident
Speak to insurance companies for you
Negotiate a favorable settlement offer
Take your case to trial if warranted
We won't let greedy insurance companies take advantage of our clients.
Do You Need a Moped Accident Lawyer?
Cellino Law has helped injured New York accident victims for over 60 years, winning more than $2 billion for our clients. Our focus on personal injury law and dedication to fighting for our clients' rights makes us the ideal choice if you sustain injuries in a moped accident.
When you choose Cellino Law, you won't pay us any fees until we win compensation for you. Request your free case review 24/7. Call us now at (800) 555-5555 or use our online form.
Tim Cellino handled my case beautifully. He is very knowledgeable and patient with all my questions. He kept in touch with me through out my ordeal. Tim also got a settlement for more than I expected. I highly recommend Tim Cellino!

Jayne

Joe and I just wanted to send you this note thanking you for the professional way you handled our lawsuit. Your kindness was extremely appreciated in a very difficult time. When we found out the people that caused the accident had no insurance, we thought our chances of receiving any settlement was nonexistent. Once we met with you and released you were able to help us our minds were put at ease. Your aggressive manner of handling the case exceeded our expectations. Please feel free to use us as a reference. Thank you so much and best wishes,

Danielle and Joe

Mark Kochanowicz is from far the best attorney you can have. Mark treats you like a friend more than a client. He truly cares and go the extra mile for you and your case, contacts you to update you in regards to your case and keep you informed at all times. Mark represented me twice and settled my cases for way more than I expected. I highly recommend Mark Kochanowicz because he is just the best on what he does!!! Thank you Mark!!!!

Maria

Thank you for your efforts on my behalf. I am very pleased (and surprised) at the amount of the settlement. We will use the funds to help pay down the debt on the truck we had to purchase after ours was totaled. Thank you again.

Linda

My experience during the time of negotiations was extremely positive. Josh Sandberg handled my lawsuit with the utmost integrity. He returned all my phone calls in a timely manner and answered all my questions. Josh made things less stressful. I would highly recommend Josh and the entire staff at Cellino Law.

Arthur

I want to thank your law firm for settling my lawsuit where others failed. You treated me with the utmost respect and care, because of your law firm the dream of owning my own home finally came true. For the first time in a long time, we're living out our dream home. Thank you a million times over. Thank you for making my dream come true.

Marcy