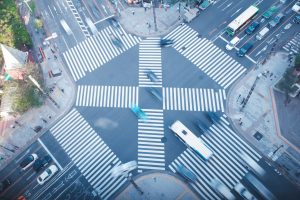 As one of the world's major financial and commercial centers, Manhattan, NY, has a great deal of traffic. If you drive or walk through Manhattan, NY, regularly, you're probably aware that certain intersections are more dangerous than others.
Accidents involving cars and pedestrians can happen anywhere, and injured accident victims may not know where to turn. Cellino Law is here and ready to assist you.
What Are the Most Dangerous Intersections in Manhattan?
The New York Police Department publishes monthly reports detailing motor vehicle collisions throughout the city. In October of 2022, there were 8,620 collisions in NYC; 1,472 of those happened in Manhattan. 665 people were injured, and one fatality resulted from these accidents.
The most prevalent contributing factors were distracted driving, failing to yield the right of way, following too closely, improper passing or lane usage, and passing too closely.
For that same month, the intersections in Manhattan with the most collisions were:
Allen St. & Delancey St.
Essex St. & Rivington St.
10th Ave. & W. 41st St.
2nd Ave. & E. 57th St.
E. 135th St. & Madison Ave.
Avenue of the Americas & W. 13th St.
Broadway & W. 30th St.
Other statistically dangerous intersections in Manhattan include:
W. 40th St. & 8th Ave.
Ludlow St. & Rivington St.
Chrystie St. & Delancey St.
The Bowery & Kenmare St.
6th Ave. & W. 23rd St.
Regardless of where you are in Manhattan, intersections often pose risks. Many buses, taxis, and cars travel through Manhattan daily, and the sidewalks teem with pedestrians. That combination can be a recipe for disaster.
Why Are Intersections Dangerous?
People today always seem to be in a hurry. Many are also distracted and not paying attention to what's happening around them. Whether you're traveling through an intersection on foot, riding a bike, in a wheelchair, or in a car, those facts combined are dangerous.
There are several reasons that intersections can present a safety hazard:
Pedestrians may attempt to cross when they don't have the right of way.
Drivers and pedestrians can be distracted.
Bumper-to-bumper traffic.
Malfunctioning or improper signage or signals.
Drivers not yielding the right of way to pedestrians or other vehicles.
Lack of visibility.
Although posted speed limits tend to be lower in areas with substantial pedestrian traffic, drivers don't always follow them. Pedestrians have no protection if a vehicle hits them and are at a higher risk of sustaining severe injuries.
Are Pedestrians Always Seriously Injured?
When a motor vehicle hits a pedestrian, even at lower speeds, there's a significant risk of serious or fatal injury. Depending on a person's height and the type of vehicle, a car typically hits a pedestrian in the knee area. The person then folds onto the car's hood and may hit their head on the hood or windshield. Then, that person falls or is thrown onto the ground, potentially sustaining further injuries.
When a vehicle is traveling at only 23 mph, there is a 25% chance that a collision with a pedestrian will cause serious injuries and a 10% chance of a fatality.
Can Pedestrians Cause Car Crashes?
Pedestrians don't always have the right of way, contrary to what some people believe. They have rules to follow, just like drivers do. Whether due to ignorance of these rules, distraction, or other reasons, pedestrians can suddenly enter a busy street when they don't have the right of way.
Even if drivers are paying close attention, they may not have time to stop and avoid hitting pedestrians.
What About Accidents That Don't Involve Pedestrians?
Intersections pose a risk to those driving or riding in any kind of motor vehicle. Someone might run a red light. Others may not pay full attention to the car in front of them and start to go when a light turns green, not realizing that the car isn't moving.
Regardless of the cause, injured accident victims deserve compensation. Cellino Law knows how to investigate collisions to determine the responsible party.
Is New York a No-Fault State?
New York drivers are required to obtain personal injury protection insurance. These policies typically pay for medical expenses, a portion of lost wages, certain daily expenses, and a small death benefit. Your policy limits will determine the maximum amount of compensation you can receive.
This insurance pays regardless of who is at fault for causing an accident. However, some exclusions apply. You may need to file a lawsuit to recover some kinds of damages. Your Cellino Law attorney will tell you about your options.
What If a Commercial or Government Vehicle Hits You?
Liability for paying damages can quickly become complicated when a commercial or government vehicle is involved in a collision. Commercial vehicles have multiple potentially liable parties, including:
The driver and employer
The vehicle's owner
Those responsible for vehicle maintenance
Government-owned vehicles can cause collisions. Some accidents result from malfunctioning traffic lights or poorly maintained roads; those also involve the government agency responsible for their maintenance. Any claim against a government agency is subject to stricter guidelines.
These complex claims require an extensive investigation and can be very challenging. Fortunately, the attorneys at Cellino Law know how to handle these claims successfully.
What Should You Do After an Accident at an Intersection?
You should do several things if you're involved in an accident while at the scene.
Assess and Assist
You may not be the only person injured if you're in a crash. Attempt to help others or at least assess their injuries.
Dial 911
More than one person may report the accident, and that's okay. You should call the police also because you may have vital information that other callers don't. Dispatchers use the information they're given to determine how many first responders to send to the scene. If several people have severe injuries, they'll need to dispatch an adequate number of medical personnel.
Use Your Phone
The evidence you gather at the accident scene may be vital in your personal injury claim. Take photos and videos of things like:
Injuries
Vehicle damage and placement
Traffic lights or signals
Witnesses and their statements
Any roadway damage or obstructions
Any detail you think may be relevant
Accept or Seek Medical Attention
You need to accept or seek medical attention even if you don't think your injuries are serious. Some injuries develop over time, and some just aren't visible. This assessment may save your life.
In addition, your attorney will use the record of your initial medical condition as evidence in your personal injury case.
Call an Accident Lawyer
There are other things you shouldn't do because they may damage your case. Calling Cellino Law immediately arms you with that information and allows us to begin investigating your accident.
Why Choose Cellino Law?
A Cellino Law firm has represented injured New Yorkers for over 60 years, winning over $2 billion for our clients. We have the power of a big law firm, but we give our clients the personal attention they deserve. Our extensive experience uniquely qualifies Cellino Law to represent you successfully.
When you choose Cellino Law, you won't pay unless you win. We'll start by assessing your case with a free case review. We'll give you information and options and tell you how much your case is worth. You can reach Cellino Law 24/7 by calling (800) 555-5555 or submitting our contact request form.
I really just wanted to say thank you so much for taking my case, answering all my questions, and mostly for being very patient with me. I feel that without you and Roza I would not have been able to get anything at all. I hope to never need a lawyer again, but if I do I will definitely want you both working for me. Again thank your for you hard work, time and patience.

Veola

We want to send a big "Thank you" from the both of us. We know you both fought for us and did a great job with our case. You did it in a timely manner and we appreciate it.

Kerrijo & Jerry

I am so grateful for your expertise, patience, and perseverance which resulted with such a successful settlement regarding my car accident. I also want to let you know how impressed I was with you and your firm and I won't hesitate to recommend you to anyone who needs assistance from an accident. I truly appreciated your care and professionalism. Thank you again for your kindness and support

Lisa

Mark Kochanowicz is from far the best attorney you can have. Mark treats you like a friend more than a client. He truly cares and go the extra mile for you and your case, contacts you to update you in regards to your case and keep you informed at all times. Mark represented me twice and settled my cases for way more than I expected. I highly recommend Mark Kochanowicz because he is just the best on what he does!!! Thank you Mark!!!!

Maria

I am writing this letter to say how much I appreciate your services pertaining to my case. Your injury attorney took a hands-on approach and left me fully informed at all times as to where my case was going as well as how much ground we had to cover; leaving the final decisions in my hands but making sure that I knew all of the risks involved in the choices. I have dealt with a few law firms in my life on various different cases and this is the first time that I never had to call and/or track down my lawyer… because of this, I have and will continue to recommend Cellino Law to my friends and associates.

Denise

It was a great pleasure working with you on my lawsuit. You certainly gave 150% of your time and interest in settling my case and for that, I am extremely grateful. Therefore, I want to thank you very much for helping me win my settlement and wish you the very best.

Linda