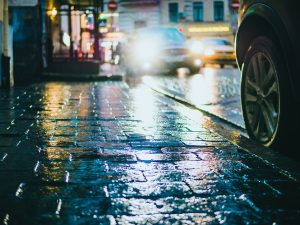 As outlined by the New York City Administrative Code, owners of Manhattan properties must maintain the sidewalks in front of their buildings and keep them free of hazardous conditions. Pedestrians injured after tripping and falling on an uneven sidewalk in Manhattan may initiate a legal action to obtain relief from the harm caused. In many cases, it could require an attorney's assistance to determine the property owner's identity and pursue the amount of financial relief appropriate to the injuries sustained.
Unsafe Sidewalk Conditions and an Owner's Duty To Make Repairs
Conditions considered unsafe for pedestrian traffic include uneven, cracked or broken sidewalks. Hazardous conditions of this nature could easily develop when property owners fail to properly maintain and repair the pedestrian walkways connected to their buildings. Unless exempted by NYC law, the owners of real estate properties situated in Manhattan Borough owe a duty to maintain their sidewalk areas. An owner's responsibilities include removing ice and debris in addition to fixing uneven sidewalk areas that could cause a pedestrian to trip and fall.
Manhattan real estate codes do not require owners' lots to contain a building or structure in order to be covered by New York City's sidewalk maintenance laws. If you fell and were injured as a result of a poorly maintained sidewalk surrounding a vacant lot, you may file a legal action to recover from the property owner. New York City's sidewalk codes do not typically make exemptions for owners of vacant or empty lots.
Determining Whether a Property Owner Received a "Red Flag" Sidewalk Warning Notice
When New York City officials require a property's owner to repair an observed sidewalk defect or reconstruct a damaged pedestrian area, they issue a "Red Flag" warning notice. Hazards that could harm pedestrians generally lead to property owners receiving certified mail warning notices and often result from officials finding uneven sidewalk areas. In addition to creating a trip-and-fall hazard, an uneven and sloping section of a sidewalk can cause water to accumulate and freeze, which could lead to an even greater chance of an accident.
Property owners who receive a warning notice with orders to repair their sidewalks generally have 75 days to comply. New York City's officials may also provide an expected date for a follow-up inspection conducted by a different inspector. Failing to repair sidewalks as ordered may result in the city correcting the sidewalk on its own and then billing the property owner for the work performed.
City records of issued or ignored sidewalk violation notices, follow-up inspections, hearings, disputes and other relevant documentation may play a significant role in the outcome of a legal action filed by a harmed pedestrian. If you were injured after tripping and falling on an uneven sidewalk, an attorney could compile and use the city's documented evidence to show that the property owner knew about the sidewalk's defect and failed to correct it. The fact of a property owner's awareness of a hazard and subsequent failure to correct it may serve to increase the degree of negligence that contributed to the harm caused.
Disputing a Harmed Individual's Comparative Negligence
If a poorly maintained sidewalk causes you harm and you file an injury claim with the property's insurance carrier, the company's claims adjuster may look for ways to assign all or some of the fault to you in spite of your role as the injured party. The claims adjuster may calculate the property owner's contribution alongside what's assumed to be your own negligence. The insurance company may, for example, assert that you should have been aware of the hazard or the posted warnings and that you could have avoided that section of the sidewalk.
Based on the concept of pure comparative negligence or "shared fault" that New York follows, you may still recover damages, but only for the percentage that a property owner contributed to the accident. You may, for example, not receive a 100% settlement offer based on an insurance adjuster assigning you 30% of the liability for your injuries. You may instead receive a 70% financial award. The assignment of comparative negligence reflects an area in which the negotiation skills of an attorney could make a significant difference.
Proving an Owner Did Not Take Reasonable Steps To Warn Pedestrians
Guidelines exist for the courts to determine whether injuries resulted from unsafe sidewalk conditions. The court reviews the circumstances surrounding an accident and considers whether the property owner knew — or reasonably should have known — that the sidewalk's condition could cause a pedestrian to trip and fall.
Owners who discover defects on their properties or receive official notifications of hazardous conditions must correct them. If they cannot make the required repairs, property owners must place clearly visible signs and warnings on the sidewalks around the hazardous areas. Property owners must take reasonable steps to warn pedestrians of any and all hazards that may exist on their sidewalks in Manhattan.
In some cases, New York City may also face liability for accidents that occur on certain sidewalks within its realm of responsibility. A warning, such as yellow caution tape around a sidewalk area, reflects a common way that the city would advise pedestrians to stay clear of the danger. If steps were taken to alert pedestrians to a sidewalk hazard, either an owner or the city could assert that an injured pedestrian assumed the risk by ignoring the warnings.
Litigating in Court Rather Than Accepting an Insurance Company's Settlement
To receive the full amount of your medical expenses and economic damages such as time off from work, you may need to sue the property owner. You may otherwise anticipate the property's insurance carrier attempting to reduce the amount of financial compensation relevant to the injuries you sustained. The insurance company may also attempt to prove that you contributed to the accident, for example, by "not looking where you were going."
In addition to presenting an aggressive argument to counter the insurance company's claims, an attorney could advise you on what you may realistically expect if your case were argued against the property owner in court. A lawyer could help you identify the owner, define for the court the duty breached and present sufficient evidence to prove your injuries could have been prevented. The full extent of the harm that resulted may also be shown. In addition to the medical costs of your injuries and the loss of wages, the degree and length of your pain and suffering could prove a factor in the court's award.
Get the Legal Assistance You Deserve
Tripping on an uneven sidewalk and falling onto hard pavement can cause serious harm. You may not receive a reasonable offer from an insurance company; their settlement may not take into consideration the full extent of the pain and suffering you endured. Overall, you face a much lesser chance of receiving fair and just compensation by dealing on your own with an insurance company.
If you were injured due to another party's fault, there's no need to go it alone. The team at Cellino Law will take your case to court if an insurance company fails to compensate you fairly for the harm caused by a property owner's negligence. We provide a no-fee consultation, and we don't get paid unless you do. Contact us now to learn more about how we have been helping injured clients obtain the outcomes they deserve.
Thank you for your time, effort, and hard work on my case. I appreciate your expertise and compassion. I never experienced what I went through and I would have been completely lost without you.

Martha

This letter is to thank Ms. Diane D'Andrea, assistant to Mr. George Gridelli, Attny for all the hard work, dedication, and attentiveness she showed during the representation of my case. She was always cheerful and ready to help in whatever way she could. All messages left for Mr. Gridelli were always relayed and Mr. Gridelli always promptly returned our calls. She was a very competent assistant. Cellino Law has proven to be a model of what legal representation should be. Throughout the 6 ½ years of this case, I have heard many horror stories from people with "bad lawyer stories." We consider ourselves to be very lucky to have chosen Cellino Law and will always recommend you to those looking for good, honest representation with a personal touch.

Joseph

This is to express our gratitude to you and your team in helping us and Stephanie navigate through the legal process following her car accident. We are very satisfied with the outcome and grateful for your hard work and attention to details. We fell confident that with this compensation, Stephanie will be able to move forward with her studies and her life with the ability to care for some of her health needs resulting from the injuries sustained following her car accident. Thank you very much and may God continue to bless your efforts.

Jose & Rose

I highly recommend Cellino Law to anyone involved in a car crash. I worked with Michael Lovecchio, and had a wonderful experience given the circumstances. He was very attentive, and got the best possible outcome I could have wanted.

Susan

I want to thank your law firm for settling my lawsuit where others failed. You treated me with the utmost respect and care, because of your law firm the dream of owning my own home finally came true. For the first time in a long time, we're living out our dream home. Thank you a million times over. Thank you for making my dream come true.

Marcy

Thank you for your help in settling the case of my father's accident. I could always count on you to answer my questions honestly and in terms I could understand. If all lawyers at Cellino Law are like you, I understand why they are an A-1 law firm.

Bedner