Here at Cellino Law, we have noticed that many construction accident victims aren't fully aware of their rights. In fact, many don't even know they are entitled to seeking compensation for their injury or losses. Whereas, some others believe the level of compensation would be capped at the extent of their bills for medical expenses. The fact is, both the injuries and illnesses can take a lot of time to get better and they can contribute to even more damages or losses including lost wages or additional medical bills. Many of these victims require professional and experienced assistance from construction accident lawyers in order to fully get the compensation they are entitled to.
Information is very important to each and every construction accident case, despite each case is unique. We look to provide each respective client with all of the information they could possibly need through our consultations which are provided free of charge. Our experienced Manhattan construction accident lawyers strive to give all of the victims that come to us the ability to talk about the specifics of their case with experienced and qualified Manhattan construction accident lawyers risk-free with no charge. That way, they will be able to learn more about the state laws, their rights, and how it applies to their specific case. They are also able to learn how much they should be seeking in damages and what the best approach would be.
If you are a victim of a Manhattan construction site accident, we are here for you. By scheduling a risk-free consultation with one of our professional Manhattan personal injury lawyers, you will be able to seek the maximum compensation you deserve. If you don't win, we don't win. That's right, if we don't win your case, you pay absolutely nothing! You can contact us today and we will get right on your case seeking the rightful compensation that you deserve for your injuries resulting from work-related construction accidents.
What Are the Common Causes of Workplace Injury Claims?
It's not uncommon for people to act recklessly at job sites. This is perhaps the main reason why there's such a high risk of accidents. Here at Cellino Law, we understand that Manhattan construction accidents happen for different reasons. If you have been involved in a construction site accident, then it's crucial to know that the law protects your rights. Our construction accident lawyers can provide excellent legal assistance for worksite accident cases such as:
Falling Hazards
It's common for construction equipment and materials to be used at heights in working sites. The hardware and materials need to be correctly secured because if they are not, they may end up falling to the ground, where people are working. Falling objects can easily cause severe injuries of the neck, head, and back even when a person is wearing safety equipment such as a hard hat.
Site Maintenance Issues
If the construction site is not maintained correctly, then there's an increased risk of an incident happening. Manhattan construction workers must be given the right training and safety equipment. Also, the worksite should be maintained regularly to reduce the risk of injury at the site.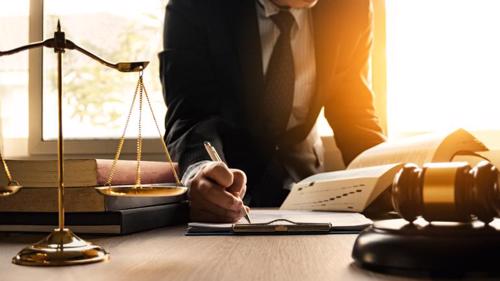 Scaffolding Failure
Scaffolding plays a significant role in construction projects and must, therefore, be appropriately installed to ensure safety. Also, it's vital for scaffolding to get enough maintenance. Scaffolding mishaps can lead to serious construction accidents, which often result in severe construction site accident injuries and even death.
Vehicle-Related Accidents
Most worksites will have construction vehicles like bulldozers, excavators, and cement trucks. There are many risks involved with operating or working around these vehicles. For instance, if an individual is operating a bulldozer without proper training, or if they are careless when operating a cement truck, life-threatening accidents can happen.
Crane Accidents
It's imperative to have all kinds of cranes installed, serviced and operated correctly. If not installed the right way or run incorrectly, it can result in the crane malfunctioning, and the results of these can be catastrophic. Crane-related accidents can have devastating consequences, including death.
Ladder Mishaps
On the list of common construction site injuries, falling off ladders is not uncommon in Manhattan, NY. While most of them don't end with severe accidents, some end up causing severe harm and even death. Besides, the worker surviving the fall might be forced to live with a permanent disability getting in the way of working in construction again.
Falling From Roof
Every year, many construction workers get injured as a result of falling from roofs. When the roofs are at high heights, the fall can lead to fatal construction accident injuries.
Roofing Or Ceiling Cave In
Construction workers also face the risk of being involved in a roofing or ceiling caving in on a worksite. The roofing or ceiling or a building can cave in, and cause the fall of debris or make the worker fall. The fall of debris can result in fatal injuries or even death. Construction site injuries can also happen from falling when the ceiling or roofing collapses.
Electrocutions
Electrical accidents are not a new thing in the construction industry. Some job sites have incomplete electrical systems or are not grounded. When a construction worker uses electrical equipment inappropriately, touches a power line, or steps into an area that lacks ground-fault protection, he or she risks electrocution. Cases of electrocution in construction are fatal, and there's a chance of sustaining electrical burns, suffering cardiac arrest, internal injuries, and other life-threatening injuries.
Being Trapped Between Objects
A worker can also be caught and stuck between two items on a job site. Being trapped between objects is common in excavation and trench accidents. A worker can also get trapped between two heavy machines. When such an incident happens, the worker could end up getting amputated or crushed to death. Plus, there's the risk of lack of enough oxygen. These kinds of accidents tend to happen if the construction site has not been maintained and inspected correctly, or if safety requirements have been ignored.
The cases mentioned above are just a few of the many kinds of worksite accidents that our Manhattan construction accident attorneys dealt with. Many other things can contribute to accidents on a job site. If you have been hurt after an accident in a worksite, you should not hesitate to contact us even if your kind of accident has not been mentioned above. Contact us for a free consultation. Not only will we help you understand how to fight for your rights, but we will also help you take legal action.
New York Construction Labor Laws
Working in the construction industry can be quite dangerous, and according to The Federal Bureau of Labor Statistics, these risks are higher for those working in New York. This is because about 5% of the workforce in New York works in construction, and 27% of severe workplace injuries come from workers in the construction industry. This means that construction workers are at a much higher risk of injury compared to other sectors.
Many laws are in place to protect construction workers and reduce the risk of construction accident injuries when working. Many Manhattan construction accidents can be avoided by adhering to the laws and regulations put in place. If there were any violations of these laws or codes, then the worker injured can file a lawsuit. Such a lawsuit is going to cover more damages than what the worker's compensation benefits covers. There's a lot a worker can claim damages for when they file a lawsuit. Some of these damages include pain and suffering, retirement benefits, lost wages, and medical expenses.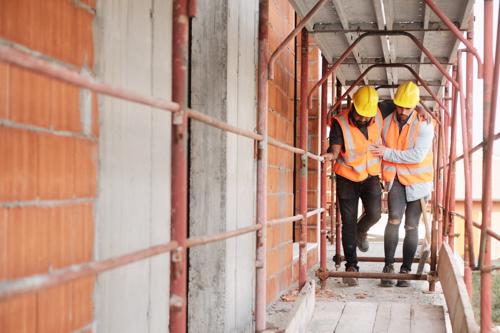 In the state of New York, there are three primary sections of the labor laws – articles 200, 240, and 241 – specifying the guidelines for a safe worksite. Breaking these laws can cause construction site accidents that might lead to fatal injuries. A worker can file a lawsuit to seek damages when injured on a construction site, and the parties that violated the laws will be held accountable.
New York Labor Law 200
This law dictates clearly that all employers including those in the construction industry must provide a safe working site for workers. It also specifies all the measures that must be taken to make sure that construction workers are safe on job sites. Also, when installing and operating construction machinery and equipment, some precautions need to be taken to ensure that individuals working on the site are reasonably protected.
New York Labor Law 240
This law states that a third-party can be held responsible for accidents occurring in a worksite. The worker's compensation might not be enough to cover the damages and losses after the accident; if that happens, this law comes into play. It's quite common for third-parties to be held accountable in scaffolding accidents.
New York labor law 240 mainly focuses on the party responsible for scaffolding-related accidents. If there's an incident when a construction project of a commercial building, multi-family house, or apartment building is underway, then the property owner, tenant, and contractor can be held liable for the harm, injuries, and losses that the worker sustained. Thanks to this law, liability in such a scenario is absolute. Therefore, when a worker files a construction accident claim in such a case, the only dispute left to settle is the number of losses or damages they are seeking.
In case of a fatal construction accident injury, the cost of liability increases. This is why third parties will try their best to argue that this statute should not cover the incident. The type of structure where the accident happened will also be taken into consideration when implementing this statute. The structure can be a building, a tunnel, a water tower, or a bridge. For it to qualify, the injured worker must have been doing the following:
Repairs
Alterations
Erection
Cleaning
Demolition
Painting
Erection of devices or structures such as ladders, braces, scaffolding, irons, slings, stays, ropes, or pulleys
NOTE: Basic maintenance like inspection, interior cleaning, salvage work, and light bulb changes are not covered.
Have you been involved in a construction-related accident? If so, you could be covered under N.Y. Scaffolding Law, so contact a Manhattan personal injury lawyer as quickly as you can. Talking to an experienced attorney is essential since they will help protect your rights. We can help you recover the compensation owed to you by third parties. We will make use of everything at our disposal to get you the right settlement.
New York Labor Laws 241
The N.Y. labor law 241 states that contractors and owners must make sure that workers are well protected against construction site hazards that can cause them injuries. This is where all safety requirements at a construction site are highlighted. An excellent example is that a contractor must erect a barrier around a construction elevator. Also, all workers must be given protective gear. There must be measures taken by the contractor and owner of the property to lower the risk of accidents like slips and falls. This law has been structured in a way that ensures that workers are protected on worksites.
The primary goal of this law is the safety of workers on job sites. If the contractor or owner violates a safety requirement, then they could find themselves dealing with a fatal accident, and the violators will be held liable for the damages that came into existence as a result of not meeting those requirements.
Statistics On Construction Accidents In Manhattan
Manhattan has more construction accidents than any of the other four boroughs. Manhattan had 243 construction accidents in 2022. In those accidents, 255 workers experienced injuries, and one died.
When Do Most Construction Accidents Happen?
Work injuries tend to increase in the summer months. In June, July and August, daylight hours are abundant. Many construction companies take advantage of the opportunity to operate longer, and employees may work overtime.
Longer workdays mean more opportunities for accidents to happen. Workers can become fatigued from extra hours, affecting their judgment and making them more prone to poor decisions.
Summertime heat significantly affects outdoor workers. Continuous sun exposure, high temperatures and humidity put construction employees at risk for sunburn, dehydration, heat exhaustion and heat stroke.
While summertime brings more daylight, some construction firms work the night shift to avoid daytime crowds. According to one study, nighttime construction workers are more likely to get hurt and incur severe injuries than daytime workers.
What Are the Most Common Construction Accidents?
The New York City government data on construction accidents identifies a few major categories:
Excavation work
Falling materials
Scaffold installations
Construction equipment
Falling workers
Other construction-related accidents
Aside from the collective category of other accidents, most injuries result from workers falling. In 2022, falling accidents accounted for more than 37% of injuries in NYC. Workers fall due to inattention, error or equipment failure (such as a harness). They can also fall due to unsafe conditions. One Manhattan worker fell and broke a leg in December 2022 when a hole in the walking area was left uncovered and not clearly identified as a hazard.
The 2022 Manhattan fatality resulted from a fall; the worker's safety harness was not on correctly, and the scaffolding had no planks. It is a tragic example of what can happen when construction-site safety standards and precautions are unmet.
Who is Liable After I Sustain a Construction Accident Injury In Manhattan?
When in New York, you can't miss noticing the many ongoing construction projects. Many people work in the construction industry. This is why there are clear laws to protect the rights of these workers. These laws also specify the parties to be held liable in the event of a construction-related accident.
The Owners Of The Construction Site And General Contractors
If a property owner decides that they need to modify an existing structure or construct a new one, they must take measures to ensure that workers working on the construction site are protected. The law requires the owner of the site and the contractors to provide sufficient protection to people working for them, and this can be found in section 200 of New York Labor Law.
If there are factors that can cause harm or injury to workers, then they have to be taken care of quickly. The workers must have the gear needed to make their job safe.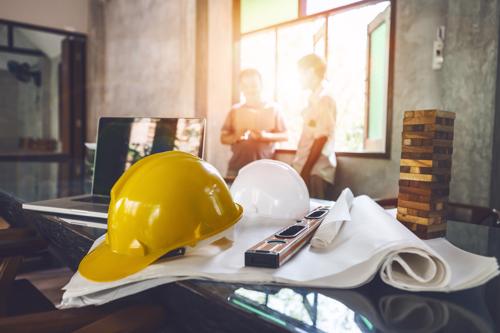 It is also a legal requirement to make sure that workers get the right training. Property owners and general contractors must, therefore, make sure that workers have the right skills to operate equipment in a construction site.
Section 240 of New York Labor Law – also referred to as The Scaffolding Law – states that equipment like the scaffolding used in a construction site must be correctly installed and secured. A general contractor or owner of the site can be held accountable for damages if the worker sustains injuries because of:
Scaffolding
Hoists
Blocks
Stays
Pulleys
Ladders
Ropes
Braces
Hangers
Slings
Iron or other types of devices
"The Scaffolding Law" applies when the employee is repairing, erecting, painting, or cleaning a structure/building. Here, there's no need to prove negligence because the owner of the site and the contractor are considered strictly liable for damages.
Subcontractors
Many moving parts are involved in a construction project. When a contractor secures a bid for a building project, they can decide to outsource some services from subcontractors. And just like contractors, those subcontracted have a 'duty of care' to their workers. This means they must make sure that the job site is safe for workers. If a subcontractor fails to provide a safe working site, and you end up sustaining injuries, then you can get compensation for those injuries.
Architects and Engineers
In New York, site engineers and architects can also be held responsible for injuries and damages a worker sustains from an incident in a construction accident site. These professionals design structures and buildings – and there are codes they must follow when doing their job. For instance, in Manhattan, there is a requirement that the construction site must be inspected regularly.
Were your injuries the result of structural problems that led to the collapse of the structure? Was there an issue with the design of the building? If any of these scenarios apply to you, then the engineer or architect is the party to hold liable for your injuries.
Equipment Manufacturers
There are all kinds of equipment and machinery on a construction site. Faulty equipment can cause fatal injuries, even if the employee operating them has the right training. If faulty equipment caused your injuries, the vendor or manufacturer could be held responsible.
Construction Injuries That Are Common In Manhattan
We are here for you, regardless of the type of injuries you sustained or the severity of these injuries. We will start by determining your rights as a construction worker and then pursue the compensation you deserve. Workers involved in construction accidents can sustain injuries such as:
Burns
Broken bones
Loss of limbs
Spinal cord injuries
Shoulder and knee injuries
Head injuries
Hearing loss
Abrasions and lacerations
Soft tissue injuries
Neck and back injuries
Crush injuries
Loss of vision
Traumatic brain injuries
Fractured bones
The Costs Of Construction-Related Injuries
Many expenses are associated with construction-related injuries. While it's not difficult to see why injuries are expensive, there are factors that many people overlook or don't know about. Here are expenses that a construction worker could be dealing with if injured:
Medical Bills
When a person is injured, they are taken to the ER. Some of the medical bills that the victim has to cover include costs of the ambulance, hospitalization, surgery, intensive care, trauma care, rehabilitation, ongoing care, and prescription.
Loss Of Income/Wages
If a worker sustains severe injuries, he or she could find it tough or even impossible to work for a while. The lost wages could easily add up to thousands of dollars in a month. Lost income adds up quite fast. The longer the victim can't work, the more wages they continue to lose. Some injuries might even stop the person from ever working in construction again. The individual might then be forced to work in an industry with less pay or survive on disability benefits.
Delays To The Project
While injuries directly affect the worker, they also get in the way of the construction project, especially if the injured worker was a specialist. For example, if a foreperson is not able to show up for work due to his or her injuries, then the project will automatically have to be delayed. Plus, when a worker sustains injuries in a job site, all activities are halted so that the injured individual can get medical help. OSHA may also step in to investigate the incident. This will delay the project, and there are cases where the project could be shut down.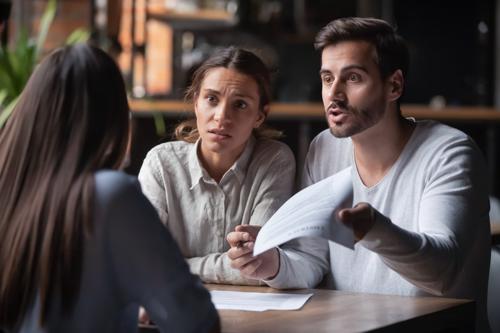 Insurance Costs
After sustaining injuries on a job site, it's only natural that the victim would make a worker's compensation claim. Unfortunately, when he or she makes this claim, insurance premiums for the company increase. That means that the company will have high running costs.
The Cost Of Litigation
If the construction company lacks proper insurance, or if they are dealing with a third-party liability suit because of a work-related accident, then they are forced to face a personal injury lawsuit. That means that the company must hire legal representation. And since it is common for the victim to win such suits, the company must cover the costs of litigation.
The costs of construction-related accidents are quite hefty, and that's why the wise thing to do is to keep these accidents from occurring. While safety measures put in place by OSHA might seem costly and time-consuming, the expenses and time used to implement these measures are nothing compared to the costs that add up when an accident happens because safety requirements were ignored. Construction companies must do their best to provide safe job sites for their workers. Accidents are costly for both the company and the employee, and opting to take precautions could be an excellent way to save everyone money.
Worker's Compensation Benefits And Construction Accidents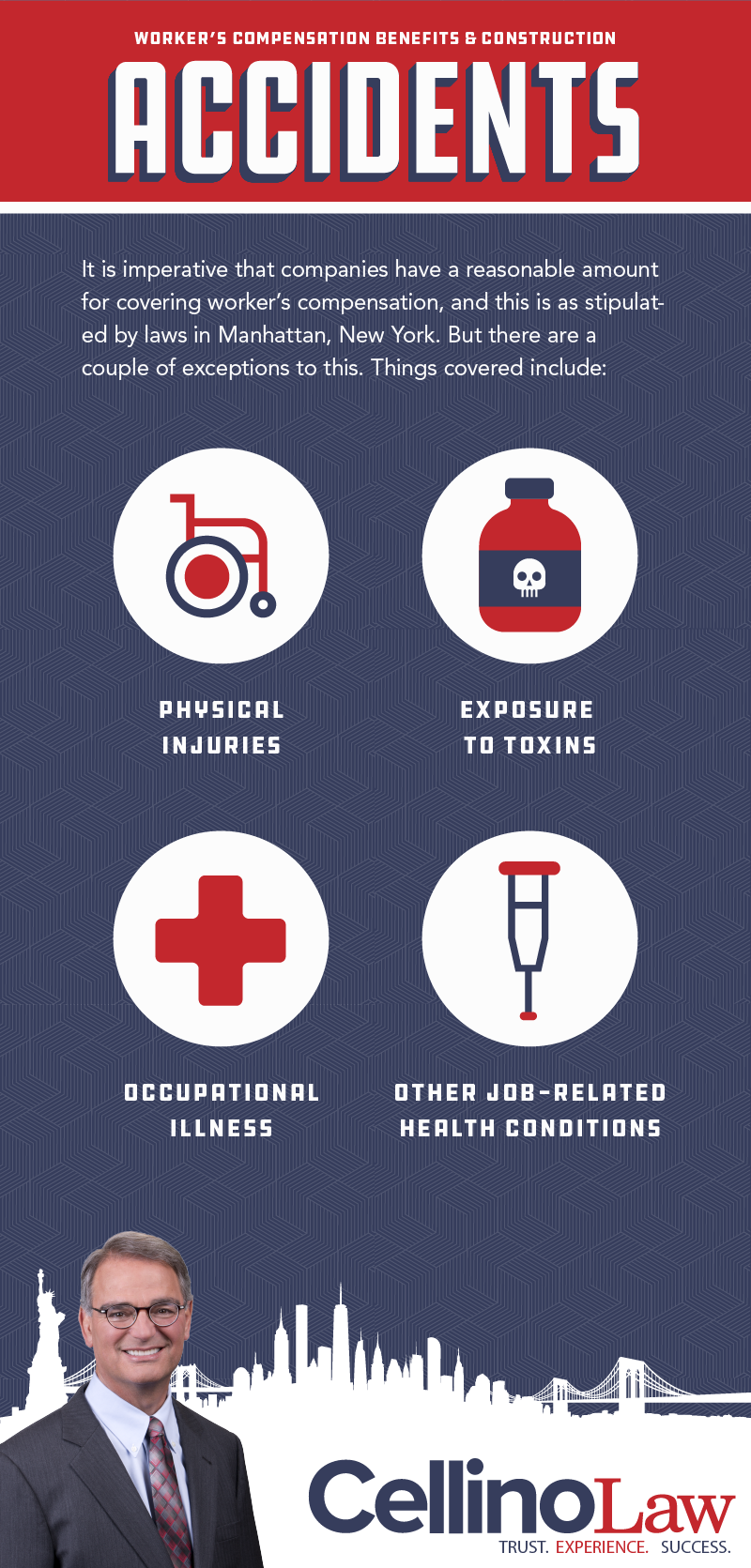 It is imperative that companies have a reasonable amount for covering worker's compensation, and this is as stipulated by laws in Manhattan, New York. But there are a couple of exceptions to this. Things covered include:
Physical injuries
Exposure to toxins
Occupational illness
Other job-related health conditions
The worker's comp does not cover mental illness. However, it can be a lifesaver for individuals with long-term disabilities.
Construction workers in Manhattan should not assume that they will automatically get the worker's compensation benefits after they are injured. Workers must file a claim quickly before the deadline. They also need to have a clue about the right process to follow after sustaining job-related injuries. The correct steps must be taken when reporting a worker's injuries and also when making a claim. If a worker fails to follow the right procedure, they could miss out on the benefits they were supposed to get.
As a worker, what are the benefits that I could receive after a construction site injury? This depends on your injuries. However, some of the potential benefits you could get include:
Sufficient coverage for medical bills
Short-term disability benefits
Up to two-thirds of weekly pay
Permanent disability benefits
More often than not, many workers assume that they will receive the benefits mentioned above after getting injured in a job site. Still, the reality of the matter is that insurance providers fight workers to reduce their benefits. This is why some workers are having a tough time getting the benefits entitled to them.
Like other businesses, Insurance companies aim to cut expenses. For this reason, they will exhaust all options at their disposal, trying to pay out as little benefits as possible to injured workers. Insurance companies employ different tactics to challenge your claim so as not to pay. The insurance providers can:
Dispute the severity of the victim's injuries
Deny that the injuries were job-related
Argue whether or not the victim had to miss that much work
Argue that the victim is ready to return to work
Argue that extra or necessary medical treatment is not needed
Has your claim for worker's compensation benefits been denied? Or perhaps you think that the benefits you're getting are less than what you deserve? Whichever the case, the best course of action is to dispute the decision. This may mean taking the dispute before an administrative judge. If you've made up your mind to do this, then you need an experienced workers' compensation lawyer in Manhattan. With a seasoned Manhattan construction accident attorney from Cellino Law Firm, not only will you get a better understanding of New York's worker's comp system, but you will also be able to get all the benefits owed to you.
What Should I Do After A Construction Accident?
After a construction-related injury, you need to remember that there's no guarantee of getting workers' compensation benefits or third-party compensation. You could end up with zero benefits if you failed to follow the correct procedure, or you might not receive all the much-needed and deserved benefits and compensation. Stick to the following steps to protect your right for compensation.
Seek Medical Treatment
Always prioritize your health and immediately seek medical treatment after a construction accident. You can visit the ER or your physician when calling an ambulance is not needed. If you get treated right away, the chances are that you will have an easier time coping with and recovering from the injuries. Plus, when you visit the ER or your doctor, there will be a detailed medical report of all your injuries. The medical practitioner will also recommend the best treatment method, which will be used to support your claim. Therefore, seeking medical treatment right away not only helps you recover quickly but also strengthens your claim.
Report The Incident
If you want to get your worker's compensation benefits, then you must inform your employer about your injuries. Report on the accident and your injuries as soon as possible. But if your injuries are severe, seek medical attention first. Also, make sure to update your employer regarding your treatment, especially when you receive new information from the doctor.
Confirm Your Employer Filed a Report
After you've notified your employer about your injuries, make sure they file a report. Also, check to confirm that the report contains accurate information, and make a copy of the report because it could be needed later in your construction accident case.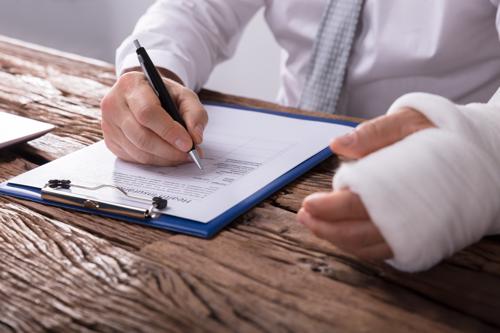 Talk To Eyewitnesses
It's always a smart move to interview eyewitnesses of the incident. Get statements from them because they will help you when making a claim. Besides, if any disputes about your injuries come up, you will have an ace up your sleeve.
Document Your Statement
The odds are that you will be asked to describe the incident more than a couple of times. That's why it's essential to document your statement. This way, you will make sure that any statements or comments you make are correct and without discrepancies. When questioned about the accident, you will go back to your documented statement.
Review Your Injury With A Manhattan Construction Accident Lawyer
Working with experienced Manhattan construction accident attorneys is crucial because of the experience they bring to your claim. The attorney will look after your interests and protect your rights. When working with the right attorney, you don't have to stress yourself with things like delays and denials. Your construction accident attorney in Manhattan, New York will figure out which parties to hold liable and assist you in filing a claim in case there is a third-party responsible.
What You Need To Know About Fatal Construction-Related Accidents
According to a study spearheaded by the U.S. Bureau of Labor Statistics, about 4,000 fatal construction accidents are happening each year, and the construction industry accounts for 25% of that number – which is 1,000 fatal accidents every year. According to these figures, out of five work-related accidents happening throughout the U.S., one of them is construction-related.
If a loved one has been in a fatal construction-related accident, you can recover for some damages with the worker's compensation policy. There are also death benefits included in the worker's comp, such as coverage for funeral and burial costs. You can also get payments in installments for partial disability benefits.
If the accident ends up causing wrongful death, you might be forced to seek extra compensation. So, what qualifies as wrongful death? Well, this is the kind of death that was the direct result of negligent behavior or irresponsible action by another party. If the family of the victim chooses to file wrongful death, they must prove a few things like:
The death of the victim was the result of wrongful or negligent behavior
The careless or wrongful action was from the at-fault party
There were losses/damages sustained by close family members of the victim after the incident
In the state of New York, there are many damages that one can claim for in wrongful death cases that can't be recovered through worker's compensation. These damages could include:
Reduced quality of life
Loss of financial support
Suffering and pain
If a loved one was taken from you as a result of a construction-related accident or other industrial accident, then the best course of action is to talk to a well-reputed wrongful death attorney in Manhattan before you accept any settlement offers. Call Cellino Law and get to work with an experienced team of attorneys who will help you get the settlement figure you deserve.
Manhattan Construction Accident Lawyer
PRACTICE AREAS
Cellino Law was a great company to work with. From the beginning they came out and met with my uncle and myself and assured us that everything would be taken care of from beginning to end our lawyer state and constant contact with us to make sure that everything would go smoothly and it did. I would definitely recommend anybody to go to Cellino Law for whatever help they need. And specifically please ask for the lawyer that we had Mr. Alan Silverstein. He was amazing and his staff was always attentive. Please go with them for your next law needs.

Eshaunda

Thank you for all your help. It has been a long journey. At last, the light at the end of the tunnel. Also, thank Tom for the help and work he put in.

Ron

Thank you for your time, effort, and hard work on my case. I appreciate your expertise and compassion. I never experienced what I went through and I would have been completely lost without you.

Martha

Mark Kochanowicz is from far the best attorney you can have. Mark treats you like a friend more than a client. He truly cares and go the extra mile for you and your case, contacts you to update you in regards to your case and keep you informed at all times. Mark represented me twice and settled my cases for way more than I expected. I highly recommend Mark Kochanowicz because he is just the best on what he does!!! Thank you Mark!!!!

Maria

My wife and I would like to take this opportunity to thank you for a fantastic job as our attorney. We could not have been more pleased with the work you and your team has done on this case. This past four years or so has been such a roller coaster for our family. We are very pleased and grateful with the result. We have made a good choice by choosing you. Thank you.

Dave

I am writing this letter to say how much I appreciate your services pertaining to my case. Your injury attorney took a hands-on approach and left me fully informed at all times as to where my case was going as well as how much ground we had to cover; leaving the final decisions in my hands but making sure that I knew all of the risks involved in the choices. I have dealt with a few law firms in my life on various different cases and this is the first time that I never had to call and/or track down my lawyer… because of this, I have and will continue to recommend Cellino Law to my friends and associates.

Denise