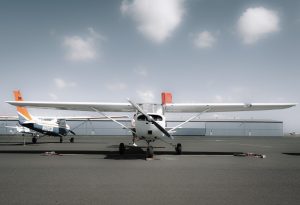 You have likely heard that flying is much safer than driving. After all, car crashes occur daily, many resulting in fatalities. Plane crashes are rarer. However, it is often catastrophic when one happens, leading to more deaths during one accident than in most car accidents. Yet, private and charter planes have a poorer safety record than large commercial airlines. In the 10 years between 2010 and 2020, three charter operator crashes led to 18 fatalities, and 32 private jet accidents resulted in 118 deaths.
You may be entitled to compensation if you were in a charter plane accident and suffered injuries or if a loved one died after a private plane accident. Plane crashes are traumatic, leaving victims and their families to deal with the repercussions for years, if not a lifetime. Don't leave your future in the hands of insurance companies. Aviation accident cases are highly complex, involving multiple potentially liable parties. An experienced Manhattan charter plane accident attorney from Cellino Law can help you obtain compensation that reflects the full extent of your losses.
What Are the Most Common Airplane Crash Causes?
Most charter plane crashes result from negligence by at least one party. Though your first inclination might be to blame the pilot, the truth is that flight safety responsibilities go much deeper in the industry than just the person in charge of flying the plane. Some of the most common causes of charter plane crashes include the following:
Pilot error, inexperience, fatigue or intoxication
Maintenance issues, including failure to maintain the craft, insufficient maintenance procedures and failure to conduct routine pre-flight maintenance checks
Air traffic control errors, including miscommunication and poor directives
Defective or malfunctioning parts, equipment or mechanical operations
Bad weather and inappropriate responses to weather conditions
The decision-making chain for operational aircraft begins with the crews who conduct pre-flight safety checks. Ground, plane, and air traffic control crews all ensure the aircraft and conditions are safe for flight. Though the number of people involved is not as high as for large commercial companies, the responsibilities for maintaining flight safety are the same.
Weather is often cited as a factor in plane crashes. Upon initial consideration, weather conditions may appear as an act of God, out of the control of anyone in the industry. The insurance companies will almost certainly attempt to blame an entity that alleviates their responsibility to pay for damages.
However, if you dig a little deeper, you may find that at least one party did not follow proper procedures, placing everyone on the flight at risk. Sometimes, the fault does not sit with the pilot, and the pilot is as much a victim as others on board the craft. For example, when temperatures drop low enough, ice, snow or frost can accumulate on the place, causing a change in weight and aerodynamics. When the plane is not adequately deiced before takeoff, the crash risk is high, and the crew in charge of deicing may be at fault.
Who Can Be Held Liable in a Charter Plane Accident
The complexity of the airline industry, including charter plane operations, makes determining liability in an accident challenging. Which parties are at fault depends on the facts of the case. Uncovering evidence to hold those responsible accountable requires a thorough investigation. Multiple entities conduct investigations, each with its own goals for doing so. Cellino Law charter plane accident attorneys look for proof of liability throughout the chain of responsibility in the industry. Potentially liable parties include the following:
Pilot: The pilot in command is ultimately responsible for flight operations and safety. Therefore, negligent actions from the pilot may make this individual liable.
Charter operator: This entity or individual owns or operates the charter company. The company is responsible for adhering to safety and operational regulations and ensuring personnel have adequate training. If it neglects to do so, it can be held liable for an accident.
Support crews: Depending on the size of the charter company, support crews may help prepare the plane for flight, including doing a pre-flight safety check. Additionally, companies operating larger planes may have onboard teams partially responsible for maintaining safety during takeoff, flight and landing. Inadequate communication and directives or insufficient training can contribute to passenger harm in an accident.
Maintenance companies: If the charter company contracts out to a company for craft maintenance, that company is responsible for ensuring its employees are skilled and follow proper maintenance procedures. If the craft undergoes regular maintenance or was brought in for issues, the company may be to blame if staff did not perform their duties effectively. Gross negligence is possible if the mechanic or company purposefully engages in shortcuts or signs off on an ill-maintained plane.
Craft manufacturers: Potentially liable manufacturers include those that build the individual parts and the companies that put the whole plane together. New York's strict liability rules make product manufacturers responsible for defective and faulty components, which means plaintiffs do not need to prove fault.
Even if you know what to ask for, you may not have access to the evidence these entities uncover. Working with a charter plane accident attorney alleviates the burden of investigating and exposing the evidence required to prove fault.
Who Regulates the Charter Plane Industry?
The aviation industry has different standards for pilots and operators at different levels of operation. Private pilots are those who don't operate for hire. If they have passengers, they are friends and family members. Charter planes are for hire, but they operate on demand. They don't have set flight schedules. Standard commercial companies are also paid operators but fly according to a pre-set schedule.
Each of these levels has different regulations and requirements, with standards increasing as you move from private to large commercial operations. Regardless, the Federal Aviation Administration and the U.S. Department of Transportation regulate and oversee the aviation industry. It doesn't matter whether a Manhattan-based charter company operates only in the state, nationally or internationally; the federal government has regulatory and oversight authority. When an accident occurs, the National Traffic Safety Board conducts federal investigations with the FAA's support.
What Do Charter Plane Accident Lawyers Do?
Cellino Law charter plane accident lawyers are here to assist you throughout the claims process. We begin by assessing your case to determine your options, including deciding if you are eligible to file.
If you lost your loved one in a charter plane accident, we need to evaluate whether you can legally file a lawsuit for wrongful death. If you can't, then we can help you determine who can. After we assess your claim, we will provide the following for you:
Gathering evidence and investigations reports
Conducting interviews with witnesses, aviation crews and first responders
Assessing losses and calculating damages
Communicating with insurers and defense attorneys
Consulting with aviation industry experts
Negotiating a fair settlement
If the liable parties fail to agree to a fair settlement, our attorneys won't hesitate to bring them to trial.
How Do You Get Started With a Manhattan Charter Plane Accident Attorney?
Cellino Law understands how difficult it is to pick up the pieces of your life after a charter plane accident leaves you injured or a loved one lost. Our goal is to make the process as easy as possible for you while recovering compensation that accurately reflects the totality of your losses. We're available 24/7 to assess your claim and don't charge any upfront fees. Getting started with us is as easy as contacting our office for a free consultation.
This letter is to thank Ms. Diane D'Andrea, assistant to Mr. George Gridelli, Attny for all the hard work, dedication, and attentiveness she showed during the representation of my case. She was always cheerful and ready to help in whatever way she could. All messages left for Mr. Gridelli were always relayed and Mr. Gridelli always promptly returned our calls. She was a very competent assistant. Cellino Law has proven to be a model of what legal representation should be. Throughout the 6 ½ years of this case, I have heard many horror stories from people with "bad lawyer stories." We consider ourselves to be very lucky to have chosen Cellino Law and will always recommend you to those looking for good, honest representation with a personal touch.

Joseph

Cellino Law is an amazing firm with a great team. I worked with Greg Pajak and his assistant, Tracey Falconer. I cannot express enough how dedicated they are. The personal attention I received was excellent; they were always available to help with questions and concerns and put me at ease in the unknown territory I found myself in. I highly recommend them to anyone needing representation. A huge thank you to them for all they accomplished for me!

Liane

Joe and I just wanted to send you this note thanking you for the professional way you handled our lawsuit. Your kindness was extremely appreciated in a very difficult time. When we found out the people that caused the accident had no insurance, we thought our chances of receiving any settlement was nonexistent. Once we met with you and released you were able to help us our minds were put at ease. Your aggressive manner of handling the case exceeded our expectations. Please feel free to use us as a reference. Thank you so much and best wishes,

Danielle and Joe

I am writing this letter to say how much I appreciate your services pertaining to my case. Your injury attorney took a hands-on approach and left me fully informed at all times as to where my case was going as well as how much ground we had to cover; leaving the final decisions in my hands but making sure that I knew all of the risks involved in the choices. I have dealt with a few law firms in my life on various different cases and this is the first time that I never had to call and/or track down my lawyer… because of this, I have and will continue to recommend Cellino Law to my friends and associates.

Denise

I really appreciated your determination and efforts on handling my case. You have done an outstanding job, and I am very satisfied with the outcome of the settlement. Thank you so so much John.

Amparo

I highly recommend Cellino Law to anyone involved in a car crash. I worked with Michael Lovecchio, and had a wonderful experience given the circumstances. He was very attentive, and got the best possible outcome I could have wanted.

Susan