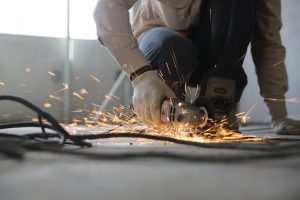 Construction is a large, multi-faceted industry with a wide range of job descriptions and employment structures. It's also dangerous, with New York City logging 24 fatal accidents in 2019 and 13 in 2020. New York's construction worksite fatality rate is higher than the average for the entire country.
Construction site accident cases can be complex, and those involved often have questions about how they can receive compensation for their injuries and other losses. If you've sustained injuries from an on-the-job accident, you won't be able to sue your employer, but you may have alternatives for recovering damages.
Understanding New York's Workers' Compensation Rules
Workers' compensation is insurance coverage that protects employers and employees if a worker has a workplace accident that results in injuries or fatalities. The employer is responsible for obtaining coverage, and the insurance is supposed to provide benefits regardless of fault — though there are exceptions, such as when an employee intentionally harms themselves or is under the influence at the time of the accident. In return for coverage, employees can't sue their employers.
What Are the Benefits?
Workers' compensation provides three benefits: health care coverage, wage loss and survivor.
Health Care
Workers' comp insurance companies must provide coverage that pays for relevant health care expenses, which can include:
Medical expenses
Surgical procedures
Medically necessary drugs
Assistive devices
Dental care
Optometry
In emergencies, injured workers can receive treatment in the emergency room. Otherwise, they must obtain care from providers with Workers' Compensation Board authorization.
If you require medical treatment due to an on-the-job injury, you should not need to pay any out-of-pocket expenses for your car. However, you may be asked to sign a form acknowledging that you would be responsible for paying all your costs if the insurance company denies your claim and the WCB agrees.
Wage Loss
You are entitled to wage loss benefits if you miss work or work fewer hours for more than seven days because of your injury. If your injuries sideline you for more than 14 days, you may receive the benefit for the first seven days.
How much you get depends on your income before the accident, but you'll only receive a portion based on a set formula. However, the minimum amount is $150 per week. The maximum amount changes every year.
Survivor Benefits
Workers' compensation insurance pays survivor benefits if you suffer a fatal injury. These benefits include a weekly cash payment equal to two-thirds of your average weekly wages for the past year and funeral expenses.
Are Construction Workers Employees?
The construction industry had issues in the past with employers hiring "independent contractors" yet treating those workers as employees. The tactic relieved them of the obligation to obtain workers' compensation insurance, among other things. However, in 2010, New York passed the Construction Industry Fair Play Act. The law makes it harder to claim a worker is an independent contractor.
If you work for a company you consider your employer, the state's law likely classifies it the same way. Therefore, you would not be able to sue the employee to recover damages after a workplace injury. A construction accident lawyer can help you determine whether you are an employee according to New York's law.
Can You Sue the Insurance Company?
There is always the potential that the insurance company will deny part or all of your claim. When this occurs, you can't sue the insurer. Instead, you must file a dispute with the WCB. Your dispute will go through one of several potential procedures before you know the outcome.
Knowing Your Options for Compensation After a Construction Accident
The nature of a construction site often means that multiple parties have responsibility for site safety. Though you can't sue your employer, if a third party's negligence led to the accident that caused your injuries, you may be able to file a third-party legal claim.
What Is a Third-Party Lawsuit?
In a construction accident case, a third party is anyone with any responsibilities at the worksite other than your employer and coworkers. Examples of a third party include the following:
Building owners
Contractors
Subcontractors
Equipment manufacturers
Vehicle operators
If you file a lawsuit against any of these individual entities or individuals, it is a third-party lawsuit.
When Can a Construction Worker File a Third-Party Claim?
A construction worker can file a third-party legal claim when there is sufficient evidence demonstrating that negligence on the part of someone other than an employer or coworker caused an accident that led to the worker's injuries. A traffic accident is one of the most common on-the-job injuries for any worker.
However, there are numerous other possibilities on a construction site. Tools, machinery and equipment can malfunction, indicating a potential lack of quality control during manufacture. A subcontractor fails to post a warning for a hazard. An electrician performs substandard work resulting in electrocution. These are just a few examples. A construction accident lawyer has the knowledge and experience to examine the facts in a case and ascertain whether and which third parties may be liable.
Proving Negligence
Before you can file a third-party lawsuit, you need to have evidence supporting your claim. A construction site accident legal case generally falls under a personal injury lawsuit. This type of case often relies on negligence as the basis for fault. In any personal injury lawsuit, proving negligence can be challenging, but it can be even more difficult in a third-party case.
Often, uncovering the at-fault party isn't straightforward, and neither is providing negligence. You need to trace the contributing factors back to the parties that may have had a hand in creating the conditions that led to the accident. To prove fault, you must be able to establish the following:
The other party was responsible for taking reasonable steps to ensure others' safety.
The other party did not do what it should have to maintain a safe environment.
The other party's failure was a contributing factor to the accident.
The accident caused you verifiable harm.
Each element must be present, or you don't have a case. You need sufficient evidence to prove all four.
How Can a Construction Accident Lawyer Help?
The very first service a construction accident lawyer can provide is to evaluate your case and determine whether you have a valid third-party suit. If you don't, the attorney can still help you understand your rights under New York's workers' compensation laws.
Even when you have a case, the legal professional should indicate its strengths, weaknesses and potential hurdles you may have to jump over. If you opt to hire a lawyer, a legal team will provide the following:
Give legal advice
Collect evidence and professional statements
Construct a solid case
Complete and file paperwork
Negotiate a settlement
Though your case would likely settle out of court, your attorney would represent you in the courtroom if necessary.
Hiring Construction Accident Lawyers With Experience
If you sustained injuries on a construction job, you should consult with attorneys who have experience with construction accident cases to find out what your options are. Cellino Law lawyers know NY's workers' compensation laws and understand the construction industry. Whether you need someone on your side in a workers' comp dispute or filing a third-party claim, we're here to help. Contact us today for a no-risk, free consultation.
I am so grateful for your expertise, patience, and perseverance which resulted with such a successful settlement regarding my car accident. I also want to let you know how impressed I was with you and your firm and I won't hesitate to recommend you to anyone who needs assistance from an accident. I truly appreciated your care and professionalism. Thank you again for your kindness and support

Lisa

I just want to let you know that I did receive my settlement check. More importantly, I want to thank you again for all you did for both me and my family. I could not be more pleased with my experience at Cellino Law. From the moment I first spoke with you I felt comfortable - you took a sincere interest in my case, clearly explained the process and effected a quick settlement. From this day forward, when someone asks if I can recommend a good lawyer I will, without hesitation, say "Cellino Law". Thanks again.

Walter

My experience during the time of negotiations was extremely positive. Josh Sandberg handled my lawsuit with the utmost integrity. He returned all my phone calls in a timely manner and answered all my questions. Josh made things less stressful. I would highly recommend Josh and the entire staff at Cellino Law.

Arthur

Joe and I just wanted to send you this note thanking you for the professional way you handled our lawsuit. Your kindness was extremely appreciated in a very difficult time. When we found out the people that caused the accident had no insurance, we thought our chances of receiving any settlement was nonexistent. Once we met with you and released you were able to help us our minds were put at ease. Your aggressive manner of handling the case exceeded our expectations. Please feel free to use us as a reference. Thank you so much and best wishes,

Danielle and Joe

Thank you for all your help. It has been a long journey. At last, the light at the end of the tunnel. Also, thank Tom for the help and work he put in.

Ron

I really just wanted to say thank you so much for taking my case, answering all my questions, and mostly for being very patient with me. I feel that without you and Roza I would not have been able to get anything at all. I hope to never need a lawyer again, but if I do I will definitely want you both working for me. Again thank your for you hard work, time and patience.

Veola