Slip and fall accidents can sometimes cause severe injuries, especially if the accident takes place in a slippery place or high place. Victims have been known to suffer brain injuries and bone fractures. Many of these accidents could be avoided with preventative measures. If you or a loved one was hurt because of unsafe conditions at a business, apartment complex, or someone else's home, a Clarkstown slip and fall lawyer can help you file a claim for compensation.
Our personal injury attorneys at Cellino Law have decades of experience handling slip and fall cases. We will guide you through the legal process so you can focus on recovering. Call today for a free consultation and find out about your legal options.
What Are the Most Common Causes of Slip and Fall Accidents In NY?
The most common causes of slip and fall accidents in this region are the following:
Slick or wet floors
Poor lighting
Curled carpeting
Broken pavements and potholes
Negligence by staff for not cleaning after harsh weather conditions such as rainstorms or snowstorms
How Can a Clarkstown Slip And Fall Lawyer Help With Your Case?
A Clarkstown slip and fall attorney will do more than just file your claim. With the help of an attorney, you can determine how much your case is worth. Furthermore, your slip and fall attorney will also make sure that you get fair compensation for injuries sustained. You can also rely on your attorney to represent you in court even when you are still recovering.
What Steps Can Be Taken to Help a Slip and Fall Case?
Sometimes slip and fall cases take longer to be concluded, especially if establishing fault is complicated. If you get involved in this type of accident, make sure that you do the following to help your case:
Record or Take Photos of the Scene
Recording or taking photos of the scene can help determine the cause of the accident. Your lawyer can also use photos or the footage recorded as evidence when filing your injury claim against the party held liable.
Report the Incident to a Manager
Whether the slip and fall accident took place in a store or at a workplace, it is important that you report the matter to someone who is in charge such as a supervisor or manager. After reporting the matter, ask the supervisor or manager to write a report and give you a copy.
Take Down the Names and Numbers of Witnesses
It is also vital that you talk to potential witnesses who are at the scene and take down their names and contact information.
If You Need Medical Attention, Get It Immediately
If you sustain severe injuries as a result of the slip and fall accident, see a doctor as quickly as you can and seek treatment. Some injuries may be recognized immediately while others take time to show any symptoms. Therefore, let a health specialist determine that you are in good health.
If You Can, See the Problem Is Addressed Right Away
If you are aware of what caused the slip and fall accident, addressed the matter right away so that someone else does not become a victim.
How Can a Slip And Fall Accident Be Proved?
The property owner can be held liable if he or she was aware of the hazardous condition but failed to fix the problem or warn others using warning signs. Moreover, your lawyer will use photos and the accident report as proof of your claim.
Furthermore, a slip and fall lawyer can also use other forms of evidence such as recorded footage to prove that the victim was not aware of the dangerous condition when the accident occurred.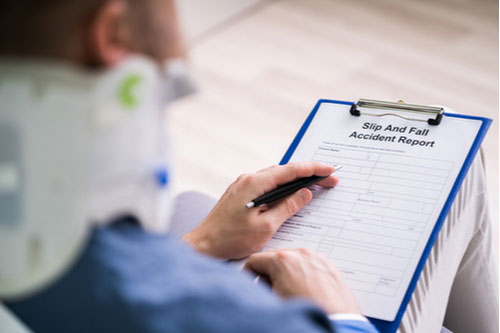 How Is Liability Determined In a New York Slip and Fall Case?
After a slip and fall accident, liability is determined based on the comparative negligence rule. According to this particular rule, your settlement could be reduced if the jury determines that you were also at fault by a certain percentage. Moreover, you might as well be asked the following questions;
Did you have a good reason to be where the slip and fall accident occurred?
Would a person of reasonable caution avoid the same situation if he or she was aware of the dangerous condition?
Did the property owner give any warning of the dangerous condition that led to your slip and fall accident?
Were you engaging in any activities that contributed to your slip and fall injury?
How Much Is a Slip and Fall Case Worth?
After being involved in a slip and fall accident, it is vital that you consult your attorney so that he or she can help you determine how much your case is worth. In Clarkstown, the following factors determine how much slip and fall cases are worth.
Medical Bills
The first factor that contributes to your settlement is medical bills. Make sure that you calculate all your damages include future treatment if recommended by the health specialist. The party held liable should compensate you for both present and future medical expenses related to your slip and fall injuries.
Lost Wages
If you fail to work as a result of the injuries sustained after the slip and fall accident, you can get compensated for lost wages since you are not in a position to work.
Incidental Expenses
Incidental expenses are any other expenses that arise in order to take care of the victim such as adjusting to the house if the victim is now using a wheelchair or in need of special care because of the injuries sustained.
What Are the Time Limits for Filing a Slip and Fall Lawsuit?
According to the state statute of limitations, slip and fall victims have a time limit of three years to file a personal injury lawsuit.
Contact Cellino Law About Your Clarkstown Slip and Fall Case
In the state of New York, falls are the leading cause of injury hospitalizations in children ages 0 to 14 and adults 25 and older. A slip and fall accident can cause serious injuries, such as fractures and traumatic brain injuries.
If you or someone you know has been involved in a slip and fall accident, call Cellino Law at (800) 555-5555 or contact us online to get a free case review. As a leading New York personal injury law firm, we have the experience and knowledge to handle your case. We charge no upfront fees, and you pay nothing unless we win!
Choosing the right attorney to represent you after an accident can make all the difference. This is no cliche. I recently experienced these words to live by first hand. After a tractor trailer rear ended me at high speed in 2017 I retained Allan Silverstein to handle my case. I quickly realized that bringing a lawsuit rapidly snowballs into a mountain of details that can make or break your results. Documents, case histories, doctor visits, bills, and lots of phone calls all need to be accurately kept track of if a successful outcome it to be attained. To complicate matters I reside in New York and the incident took place in New Jersey. Luckily, Allan was licensed in multiple states. I was fortunate to find Allan to handle this matter from the New York area. Armed with an accurate account of the facts Allan went to work on the difficult job of negotiating with the defending insurance company as well as my no fault carrier in order to obtain the best possible outcome for my set of circumstances. In a lawsuit communication is key and and events can be of a timely nature. Allan never failed to return my calls - usually the same day! He fought skillfully and respectfully to get me the best possible settlement. He is easy to deal with and a likeable down to earth guy. He always listened with compassion and respect to my issues. He guided me with objective understanding as well as a realistic analysis of the merits of my case. When we finally settled Allan got me a fair agreement beyond my expectations and negotiated with my doctors to make sure all my bills were paid. It was a great experience having Allan represent me. Quality work in any aspect of life is hard to find. Quality is what I got with Allan Silverstein. I highly recommend him if you find yourself in need of a personal injury attorney.

Theodore

We'd like to thank you for all the assistance and time you spent on our case. Your professionalism and honesty will always be appreciated. The staff was always courteous and we were always impressed with your accountability. Your passion and dedication will never be forgotten, nor will you.

Sarah

This is to express our gratitude to you and your team in helping us and Stephanie navigate through the legal process following her car accident. We are very satisfied with the outcome and grateful for your hard work and attention to details. We fell confident that with this compensation, Stephanie will be able to move forward with her studies and her life with the ability to care for some of her health needs resulting from the injuries sustained following her car accident. Thank you very much and may God continue to bless your efforts.

Jose & Rose

It was a great pleasure working with you on my lawsuit. You certainly gave 150% of your time and interest in settling my case and for that, I am extremely grateful. Therefore, I want to thank you very much for helping me win my settlement and wish you the very best.

Linda

Joe and I just wanted to send you this note thanking you for the professional way you handled our lawsuit. Your kindness was extremely appreciated in a very difficult time. When we found out the people that caused the accident had no insurance, we thought our chances of receiving any settlement was nonexistent. Once we met with you and released you were able to help us our minds were put at ease. Your aggressive manner of handling the case exceeded our expectations. Please feel free to use us as a reference. Thank you so much and best wishes,

Danielle and Joe

I really appreciated your determination and efforts on handling my case. You have done an outstanding job, and I am very satisfied with the outcome of the settlement. Thank you so so much John.

Amparo