Riding through the streets of Brooklyn on a bicycle can sometimes be incredibly stressful. It is no uncommon for drivers to have a form of tunnel vision, being exclusively focused on the cars that are around them. This means that they might overlook the presence of cyclists. For the cyclist, this can be incredibly dangerous. Bikes are small and harder to see on the road, and they are a lot more vulnerable too. If a motorist turns in front of a bike because they misjudged how quickly the bike was moving, it is the cyclist that is going to come off worst in that incident.
Cycling on roadways is legal, even if it is dangerous. One thing that it's important to understand, though, is that being the most vulnerable does not mean 'automatically having right of way'. Cyclists are bound by the laws of the road just as much as motorists are, and if an accident occurs, the cyclist can be held at fault just the same as the car driver.
At Cellino Law, our Brooklyn bicycle accident lawyers have worked on a huge number of injury cases. Our goal is to make sure that the drivers who caused the accident are held to account for their negligence. If you have been injured as a cyclist contact our Brooklyn personal injury lawyers today.
What Normally Causes Bicycle Accidents in Brooklyn?
There are many things that can be a common cause of bicycle accidents in Brooklyn, NY, some of the things we encounter most frequently are:
A Failure To Yield When Turning Left
When a driver is about to make a left-hand turn, they are required to verify that there is no oncoming traffic. This means that they should check for not just other cars, but for cyclists too. Unfortunately, a lot of drivers overlook people on bikes, and this can lead to a collision.
Making a Right Turn With a Cyclist Behind Them
Motorists should always check their blind spot before they turn right, and also take a look into their rearview mirror, to make sure that there are no road users to the right of their vehicle. Again, many motorists think that a quick glance into the side mirror is sufficient, and therefore turn directly into a cyclist that is to their right.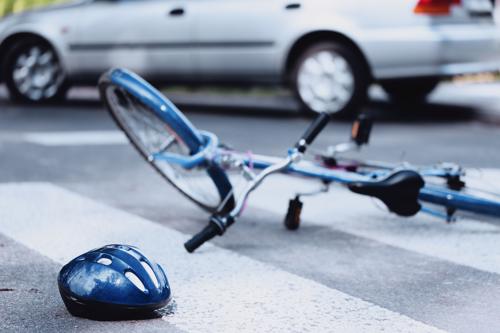 Sometimes, motorists might pass a cyclist, and then turn in front of them without making sure they are far enough away. If they are too close to the cyclist when they turn, then the cyclist may not be able to slow down quickly enough to avoid a collision.
Driving Over a Bike Lane
In Brooklyn, bike lanes are designed to provide a safe, dedicated space for cyclists who do not wish to be exposed to traffic. Many motorists ignore the presence of these lanes and allow their cars to cross into them, sometimes with serious consequences.
Failure to Stop at a Stop Sign
This is a serious transgression that can have consequences for pedestrians and cyclists alike. Some motorists do not come to a complete stop at a stop sign, but rather do a rolling stop, slowing down, but continuing to roll through the intersection. A bicyclist may not see the car moving and could find themselves unable to stop or evade the vehicle that should not have been on the road in the first place.
Opening a Vehicle Door into the Road
Some motorists park on the road, then open the door into the road without checking for the presence of oncoming road users before doing so. If a cyclist is coming up behind the car at the time, then they may collide with the car door, and potentially come off the bike at high speed.
Driving too Close to a Cyclist
Sometimes a motorist may allow their car to get very close to a cyclist while they are on the road. This is often an intimidation tactic, as the driver feels that the cyclist is slowing down the traffic, and wants to get past. If the cyclist, for any reason, has to stop quickly, then the car user may not be able to respond to the incident fast enough to avoid colliding with the cyclist.
Exiting an Alley or Cross Street
Sometimes when a driver enters a road from an alley, cross street, or even a driveway, they may check for cars first, but neglect to look for bikes.
Aggressive Driving or Speeding
As you might expect, speeding and aggressive driving are common causes of accidents. Whether caused by road rage or just people being irresponsible, the consequences of a collision at high speed can be particularly serious for cyclists because they are so much more vulnerable than a motorist who has the protection of a car body around them.
Driving while Distracted
Motorists should be completely undistracted while they are on the roads, but this is not always the case. Smartphones, GPS units, and other portable devices all serve as potential distractions, increasing the risk for everyone on the roads.
Driving While Intoxicated
Driving after having consumed alcohol or taken drugs is incredibly dangerous. Intoxicating substances reduce reaction times and impair focus and judgment. This makes all accidents more likely and puts cyclists at risk.
When accidents occur, vehicle collisions involving a bicycle can result in a life-altering injury. It doesn't matter what caused the accident, the end result is the same. If you are involved in an accident while riding your bike, be sure to call us today to arrange a complimentary case evaluation. We would be happy to review your case, and offer advice on the next potential steps so that you can pursue the compensation that you are entitled to.
What Injuries are Commonly Caused By Bicycle Accidents?
Head trauma and brain injury: If the accident leads to the cyclist's head striking the ground, the vehicle, or anything else while they are flung from the bike, then this can lead to concussion, brain injuries, and skull fractures. In some cases, a brain injury can lead to a permanent disability.
Spinal Damage
If the cyclist suffers an injury to the spinal cord as a result of the accident, this may lead to partial or full paralysis.
Broken Bones or Fractures
The impact of falling, and the impact of the vehicle, can both potentially lead to broken bones. The collar bone is very delicate and breaks easily in the event of the cyclist being flung from their bike. Facial bone fractures are common too, as are broken bones in the hip, ankle, foot, and pelvis.
Strains, Sprains, and Dislocations
It is not uncommon for someone to suffer strains, dislocations, or sprains as a result of falling off their bike or being involved in a collision. The good news is that this kind of injury can often heal quickly.
Internal Organ Damage
If the cyclist is hit in the chest or abdomen, then it is possible their internal organs may be damaged. Damage to the lungs, bowels, spleen, and pancreas are common. A serious injury such as this could require hospitalization and may take a very long time to heal. In some cases, the damage may be permanent.
Soft-Tissue Injury
Where a victim experiences abrasions, contusions, bruising, laceration, or other damage to their soft tissues, they may need extensive treatment for the injuries to heal. Such injuries may sound minor, but there is the risk of scarring and infection, and depending on how extensive the injuries are, it could take a long time for the tissue to repair itself.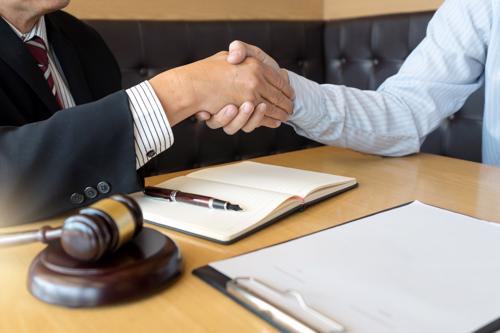 According to statistics published by the National Highway Traffic Safety Administration, cyclists are involved in approximately two percent of all traffic-related deaths. Accidents that involve the brain or internal organs are more likely to lead to death, and the risk of head injury can be somewhat reduced by wearing a helmet.
With that said, even a good helmet will not stop all head injuries. The most effective way to reduce the risk to all road users is for everyone – both car users and cyclists, to pay attention to the roads, obey traffic laws, and minimize distractions while driving.
Bicycle Laws in New York
A lot of bicycle-related accidents occur because of errors in judgment or people failing to follow traffic laws. Reducing the number of preventable accidents should be a priority. If motorists and cyclists follow the traffic laws of the state then everyone will be safer. Obeying traffic laws makes it easier for other road users to predict what you are going to do next, and will greatly reduce the risk of a collision.
If you are following the rules when you are on the road, then you do not have to worry about being held liable if an accident occurs. Indeed, you may be able to claim compensation if you are injured as a result of a traffic accident, and it is proven that you were behaving appropriately, but the other road users were not.
The law in New York requires that cyclists and passengers that are under the age of 14 wear helmets that are manufactured to meet federal and state safety guidelines. However, the New York Vehicle and Traffic Law also clearly states in Section 1238 that not wearing a helmet does not automatically result in the assumption of fault or contributory negligence in the event of an accident. Adults are not required to wear a helmet, and if someone under the age of 14 is not wearing a helmet and is involved in an accident, they still have a chance of getting compensation.
The law requires that bicyclists ride with the flow of traffic and that they stay as close as they can to the right-hand side of the road. They can move away from the right to avoid debris or other obstacles, or if they are making a right-hand turn.
If there is a group of cyclists, then they can ride next to each other, as long as there is not a vehicle next to them. New York does not allow bicyclists to lane split. It is not permitted for bicyclists to ride on the sidewalk in Brooklyn unless there is an official sign that states otherwise, and if there is a bike lane on a given road, then cyclists must use that lane.
New York does not include bicycles in its official definition of a vehicle. This means that there are no laws that explicitly dictate whether riding a bike while under the influence of drugs or alcohol is legal. The police are allowed to use their discretion when it comes to stopping or punishing someone who appears to be intoxicated while riding a bicycle. However, if a cyclist is involved in an accident while intoxicated, they may be viewed as being partly liable, which may reduce the compensation that they are entitled to.
There is a difference between being viewed as being in breach of the law, and being viewed as responsible for an accident. New York uses what is known as comparative negligence. This means that the state tries to determine what percentage of the fault can be assigned to each of the parties involved in the accident. If you were 90% at fault for an accident, you could still chase the other party for compensation because they were 10% at fault. It's important to work with a qualified Brooklyn personal injury attorney to ensure that you get compensation, even if you were in breach of a traffic law at the time of the accident.
Calculating Damages and Determining Fault in a Bicycle Accident
In the ideal world, there would be no accidents. However, accidents do occur, and because of this, we have systems to deal with them. In New York, the first part of the process is working out who was to blame for the accident, and then determining who is liable for any expenses that occurred as a result of it.
If the accident involved a bicycle and a vehicle, the cyclist is likely to be the one that sustains the most damages, but damages and fault are not the same thing. The fault in the accident is determined from a thorough investigation, to work out exactly what happened and if the accident could have been avoided.
A judge or jury could consider the cyclist to be at fault if they were intoxicated, failed to obey right-of-way laws, or were driving on the wrong side of the road. To obtain the maximum amount of compensation, a person has to prove that someone else caused the accident, whether that was another cyclist, a company that made a defective product, or another road user. It is complicated, in legal terms to prove that someone was to blame for an accident and that they were negligent.
How Is Liability Determined in a Bike Accident Claim in New York?
When an accident occurs, there will be a thorough investigation with the aim of working out what happened, and who caused the accident. Often, there are several factors that contributed to the accident, and the blame might be shared by more than one party. If you have been involved in an accident that several people contributed to, we may be able to help you pursue compensation from all of the at-fault parties.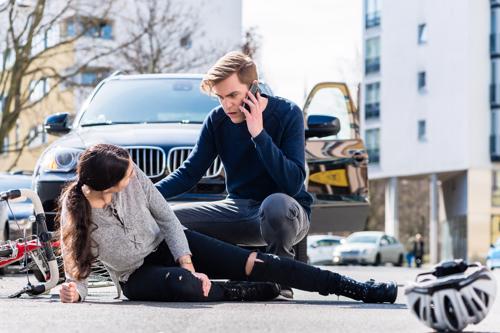 New York gives victims the right to seek compensation from someone that is deemed at fault for an accident. If the other party was careless or negligent, then you may be able to claim damages. There are many parties that could be considered as having potentially been involved in an accident, including:
Other drivers (whether in a car, bus, or commercial vehicle)
Other bicyclists
Vehicle manufacturers, if the vehicle is later found to have been defective
Parts manufacturers, if a specific part was found to be defective.
Government entities
Public transportation service providers
When you get in touch with us at Cellino Law, our attorneys will examine your case to determine who was at fault, and from there work with you to seek compensation from those who were to blame. We can help to maximize the amount of money that you receive for your damages and help to cover any costs associated with your injuries.
How Can A Brooklyn Bicycle Accident Lawyer Help My Claim?
Insurance companies will often try to blame the bicycle user for an accident and hope that the cyclist will be assigned some of the blame because this may reduce the amount of money they have to pay. These claims are often untrue, and not based on any evidence. Do not let an insurance company intimidate you or deter you from seeking compensation.
Even if you were partly at fault, the qualified personal injury attorneys working at Cellino Law can help Brooklyn cyclists get as much money as possible in compensation. New York uses comparative negligence to assign compensation. So, even if you are partly to blame for the accident, if there is some percentage of fault assigned to the other party, you can still claim compensation from them. The more fault that is assigned to the other party, the more compensation you can claim.
The Brooklyn injury firm of Cellino Law will work hard to help you get a big payout for your injuries by disputing attempts to place blame on you for the accident.
Cellino Law was a great company to work with. From the beginning they came out and met with my uncle and myself and assured us that everything would be taken care of from beginning to end our lawyer state and constant contact with us to make sure that everything would go smoothly and it did. I would definitely recommend anybody to go to Cellino Law for whatever help they need. And specifically please ask for the lawyer that we had Mr. Alan Silverstein. He was amazing and his staff was always attentive. Please go with them for your next law needs.

Eshaunda

Thank you for all your help. It has been a long journey. At last, the light at the end of the tunnel. Also, thank Tom for the help and work he put in.

Ron

Now that reality has set in, I want to thank you for all your work and assistance in obtaining my settlement for the pelvic mesh. This money will make my life so much easier in the future. Medicare just isn't sufficient. I know that I will have enough to live on. I truly appreciate of your efforts. Thank you!

Loraine

My experience during the time of negotiations was extremely positive. Josh Sandberg handled my lawsuit with the utmost integrity. He returned all my phone calls in a timely manner and answered all my questions. Josh made things less stressful. I would highly recommend Josh and the entire staff at Cellino Law.

Arthur

Joe and I just wanted to send you this note thanking you for the professional way you handled our lawsuit. Your kindness was extremely appreciated in a very difficult time. When we found out the people that caused the accident had no insurance, we thought our chances of receiving any settlement was nonexistent. Once we met with you and released you were able to help us our minds were put at ease. Your aggressive manner of handling the case exceeded our expectations. Please feel free to use us as a reference. Thank you so much and best wishes,

Danielle and Joe

I want to thank your law firm for settling my lawsuit where others failed. You treated me with the utmost respect and care, because of your law firm the dream of owning my own home finally came true. For the first time in a long time, we're living out our dream home. Thank you a million times over. Thank you for making my dream come true.

Marcy