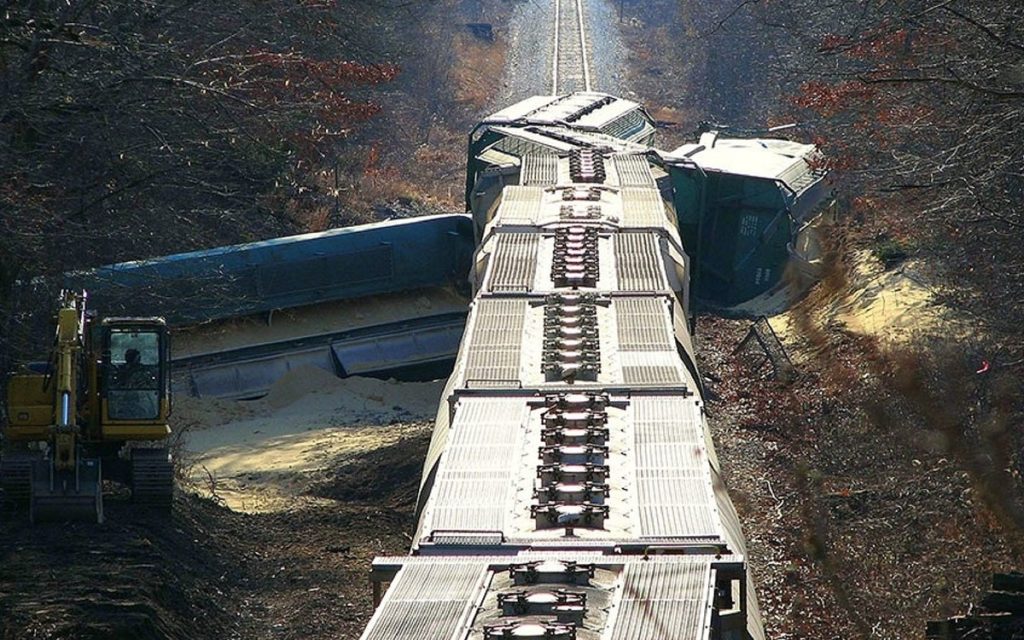 Train derailments are major transportation incidents that affect passengers and nearby residents. They can cause severe injuries, emotional trauma, and death. Additionally, some derailments leave a wake of environmental devastation in surrounding communities.
It is imperative to have professional, dedicated legal representation if you have been affected by a train accident or derailment. Our experienced New York injury attorneys at Cellino Law are ready to help you recover the compensation you deserve so you can focus on healing.
A Look at New York Train Usage Statistics
New York classifies rail transportation into three main categories: passenger rail, freight rail, and public transportation. The majority of passenger and commuter rail services are based in and around New York City.
New York City's public transportation system, operated by New York City Transit, includes:
665 miles of track
665 miles of track
More than 6,455 subway cars
Collectively, these train cars covered about 331 million miles in 2021. While ridership decreased during the 2020 pandemic, numbers continue to rebound. The MTA reports 760 million riders in 2021, which is almost half of the pre-pandemic levels. The MTA also includes the Metro North Railroad and Long Island Railroad, which served a combined average of 9 million riders each month in 2022.
Injuries from train derailments primarily affect passengers. However, according to the industry advocacy group Railroads of New York, freight trains move more than 77 million tons of cargo throughout the state every year. When a freight train derails, it can have lasting effects on nearby residents.
Common Causes of Train Derailments
Objects or Vehicles on the Track
A foreign object on the track can cause significant damage to a train and the tracks, causing improper contact between the two. This scenario often results in the train being unable to remain on the track, causing a derailment.
Objects may be present on tracks for several reasons. For example, a trespasser could leave something behind, maintenance crews could fail to remove equipment, or a vehicle may stall on the tracks. Any of these are sufficient to cause a derailment.
Operator Error
Accidents are commonly used by human error. This can be compounded by inexperienced, tired, or distracted conductors who cannot make the split-second decisions necessary for safely operating massive trains.
Improper Switch Alignment
Rail switches mechanically adjust a train's route by moving it from one track to another. They play a critical role in busy traffic areas where multiple trains pass simultaneously or within a short time period. Improperly setting a switch can put a train on the wrong track, potentially on a collision course with another train.
Multi-Train Collisions
Train collisions can occur between any combination of passenger and freight trains. Because they travel at high speeds, a multi-train derailment can cause catastrophic injuries, loss of life, and property damage. Incorrect switch alignment is often the result of human error, which may be attributable to negligence.
Excessive Speeds
One reason derailments occur during rail accidents is the high speeds at which many trains travel. Coupled with an inability to make sudden stops, excessive speed compounds the dangers of a rail crash.
For example, a driver trying to beat a train at a crossing may fall short and get stuck on the tracks. Because of the sudden impact and high speed of travel, the train is forced off the tracks, causing a derailment.
Insufficient or Faulty Track Maintenance
Rail companies are responsible for maintaining all of their equipment and tracks in safe operating condition. However, they sometimes fall short, with workers cutting corners or delaying needed repairs. This poses a serious safety hazard.
Some examples of faulty maintenance include:
Mechanics leaving equipment or supplies behind
Inferior parts
Poor quality work
Failure to repair or replace broken and outdated equipment
Responsibility for Train Accidents
Responsibility for a train derailment depends on factors such as the underlying cause of the accident. For example, when a rail operator does not maintain tracks, engines, or train cars in proper operating condition, it fails to meet its responsibility to the public and is, therefore, negligent.
This is an essential point because legal claims against train companies must be able to show either negligence or intentional harm. To prove negligence, you must show that:
The rail operator (or other responsible parties) had a duty of care to passengers or the public
They failed to meet that responsibility
You sustained damages or injuries as a result of the company's failure
Injuries Associated With Train Derailments
The National Safety Council reported over 5,700 injuries and nearly 900 deaths from rail accidents in 2021. Some examples of injuries associated with train derailments include:
Spinal cord and brain injuries
Burns
Lost limbs/amputation
Disfigurement
Fractured bones
Internal bleeding
Compensation for Injuries and Trauma
As an accident victim, you are entitled to seek compensation for your injuries that restore you to your state before the derailment. Individual cases will vary, and the best way to determine appropriate compensation is to schedule a case review with an injury attorney. However, the following are some typical examples of compensation for train derailment accidents.
Emotional Trauma
Experiencing a train derailment is a traumatic experience. You may find yourself dealing with the emotional consequences of the accident for many years. Conditions such as PTSD are common after such traumatic events; they can interfere with your ability to work, attend school, or travel.
Lost Wages
You can seek compensation from the train operator for lost wages if significant injuries and emotional trauma leave you unable to work.
Medical Payments
You may be entitled to compensation for the cost of existing and future medical expenses related to your injuries. Establishing a realistic estimate of future costs is critical to ensuring you have the financial means to cover them.
Funeral Expenses
Unfortunately, train derailments are often deadly. If you lost a loved one in a train accident, you might be entitled to compensation for final expenses. Nothing can bring back your loved one, but not worrying about extra costs during such a trying time is a relief.
Time Limits for Filing Claims
Train injuries lawsuits in New York are considered negligence claims. This type of lawsuit must be initiated within three years of the accident. However, you should be aware of other restrictions that may apply. For example, you must file a notice of your claim with New York City Transit within 90 days of the accident. You will then have an additional year to file a lawsuit.
The experienced train accident attorneys at Cellino Law can help you navigate the complexities of time limits after a derailment.
Hold Rail Operators Responsible for Their Actions
New York rail operators have a responsibility to the public to provide safe transportation and freight services. Accidents and derailments can happen when they fail to meet that responsibility. If you were injured or lost a loved one in a train derailment, you may be entitled to compensation.
At Cellino Law, our experienced New York train accident attorneys are ready to help you navigate the state's complex legal system. Contact us to schedule a free case evaluation at one of our New York offices. One of our attorneys will review your case and explain your options for moving forward.
I really appreciated your determination and efforts on handling my case. You have done an outstanding job, and I am very satisfied with the outcome of the settlement. Thank you so so much John.

Amparo

Now that reality has set in, I want to thank you for all your work and assistance in obtaining my settlement for the pelvic mesh. This money will make my life so much easier in the future. Medicare just isn't sufficient. I know that I will have enough to live on. I truly appreciate of your efforts. Thank you!

Loraine

I just want to let you know that I did receive my settlement check. More importantly, I want to thank you again for all you did for both me and my family. I could not be more pleased with my experience at Cellino Law. From the moment I first spoke with you I felt comfortable - you took a sincere interest in my case, clearly explained the process and effected a quick settlement. From this day forward, when someone asks if I can recommend a good lawyer I will, without hesitation, say "Cellino Law". Thanks again.

Walter

Thank you for your help in settling the case of my father's accident. I could always count on you to answer my questions honestly and in terms I could understand. If all lawyers at Cellino Law are like you, I understand why they are an A-1 law firm.

Bedner

Choosing the right attorney to represent you after an accident can make all the difference. This is no cliche. I recently experienced these words to live by first hand. After a tractor trailer rear ended me at high speed in 2017 I retained Allan Silverstein to handle my case. I quickly realized that bringing a lawsuit rapidly snowballs into a mountain of details that can make or break your results. Documents, case histories, doctor visits, bills, and lots of phone calls all need to be accurately kept track of if a successful outcome it to be attained. To complicate matters I reside in New York and the incident took place in New Jersey. Luckily, Allan was licensed in multiple states. I was fortunate to find Allan to handle this matter from the New York area. Armed with an accurate account of the facts Allan went to work on the difficult job of negotiating with the defending insurance company as well as my no fault carrier in order to obtain the best possible outcome for my set of circumstances. In a lawsuit communication is key and and events can be of a timely nature. Allan never failed to return my calls - usually the same day! He fought skillfully and respectfully to get me the best possible settlement. He is easy to deal with and a likeable down to earth guy. He always listened with compassion and respect to my issues. He guided me with objective understanding as well as a realistic analysis of the merits of my case. When we finally settled Allan got me a fair agreement beyond my expectations and negotiated with my doctors to make sure all my bills were paid. It was a great experience having Allan represent me. Quality work in any aspect of life is hard to find. Quality is what I got with Allan Silverstein. I highly recommend him if you find yourself in need of a personal injury attorney.

Theodore

I highly recommend Cellino Law to anyone involved in a car crash. I worked with Michael Lovecchio, and had a wonderful experience given the circumstances. He was very attentive, and got the best possible outcome I could have wanted.

Susan