If you have been in a car accident in Niagara Falls, it is so important to receive compensation for any damages that you have sustained as a result of the negligence of another person. What if there is an insurance carrier that is not going to help you cover the cost of repairs to your vehicle or an insurance company that will not cover your medical expenses? What if you are not able to be compensated for the income you are going to lose because of the injuries that you sustained during this accident?
Cellino Law has dedicated Niagara Falls car accident lawyers that will provide you with an initial free consultation so we can evaluate your case, and if we choose to do so, we can get started on getting compensation for you. It really doesn't matter how large or small the accident is as we will always give you superb legal advice and answer queries and questions that you may have about your incident.
Our Niagara Falls personal injury lawyers have mounted defenses for many other people before, specifically car accident victims that wanted to protect their rights. We will always be there for you, ensuring that you can obtain the maximum amount of compensation available. We know the law and we have a high success rate because of the skills that our attorneys have in the field of personal injury law in New York that sets us apart from all of the other law firms.
How Exactly Do You Report A New York Car Accident?
It is your legal responsibility as a driver to report any accident involving vehicles in New York, especially if there was a fatality involved or even an injury. The driver responsible should be the individual that makes the report first. However, it may not be possible for them to do so, nor should you rely upon them for getting this done.
If there was property damage as a result of this accident, the at-fault driver needs to do an accident damage report, whether or not the other drivers are present at that time. An accident damage report, however, should only be done if there are $1000 in estimated damages.
Once the accident has occurred, drivers have 10 days to make the appropriate report, and they should also do a written statement about the incident. If there are injuries that can literally prevent the driver from making a report of the accident, there are no legal stipulations that determine when that report should be made. It is recommended by lawyers that this report should be completed as quickly as possible, and at the very least, right after the injured party is sufficiently recovered to do so.
What Does It Cost To Hire A Lawyer For A Car Accident Case In Niagara Falls?
Cellino Law Firm understands car accidents can lead to medical and other expenses, and therefore paying for legal representation or advice for a personal injury case could be very difficult for many people. The legal savant that we are able to provide is going to be affordable for everyone because there is no upfront cost. We will not ask for fees until you have received compensation for the injuries you sustained as a result of this accident.
Our lawyers will always work with you on a contingency basis which simply means we will cover all of our costs on our own and only be compensated once you have received your money. The contingency fee model is beneficial in a couple of different ways, primarily because we know that we must help you obtain compensation for your personal injuries to be paid. That is why we will carefully analyze each individual case, determine the likelihood of success before we will pursue a settlement.
Different Types Of Compensation People Can Receive After A Car Accident
There must be some form of a loss involved with the personal injury case for compensation claims to be presented. This could be a non-economic loss, or an economic or financial loss, related to the incident. Punitive damages can be pursued if it can be shown that misconduct and negligence were the results of the accident, specifically caused by the at-fault driver.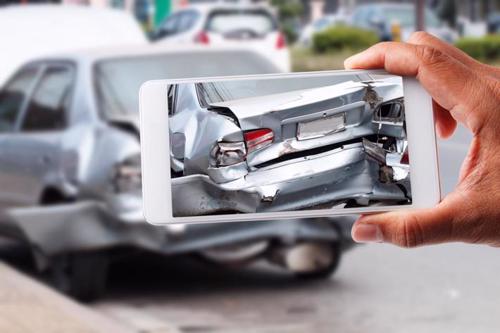 Economic and financial claims for monetary reimbursement for losses and expenses typically come under the following categories:
Loss of income due to the accident
Damage to the vehicle, or other forms of property, because of the incident
Medical expenses which happen because of the accident now and in the future
Sustained future income loss, specifically that which will prevent the injured party from earning a living wage.
If these non-economic losses are awarded, it's typically only because the severity of the injuries merits their disbursement according to State Insurance Law section 5102. These types of injuries include:
The loss of a baby in utero or while in the womb
A physical disfigurement
A bone fracture
Severe limitations caused by damage to bodily systems and organs
The loss of a limb
The loss of functionality due to a bodily organ or system damage
There are many cases where suing for punitive damages can be part of the personal injury lawsuit itself. These damages can fall under the category of noneconomic or economic, typically determined based upon the at-fault driver's level of negligence or misconduct. Compensation is calculated based upon the multiplication of other types of compensation that have already been determined.
What Is The Statute Of Limitations For Car Accidents In New York?
Those that are involved in car accidents, and want to file claims for compensation, can only do so if they file them by a certain date. It is critical to work with an attorney that can help you get this done shortly after the accident has occurred.
Claims for damages against any defendant in Niagra Falls, NY, must be filed within a week of the actual date of the incident or car accident. There is a statute of limitations, and you must meet this deadline if you want to pursue compensation at all.
Claims that result from car accidents have a limit of three years from the day of the accident for the victim per the statute of limitations. However, if this is a victim pursuing a settlement against a government agency, it must be filed within 90 days.
What Type Of Information Should You Obtain Once The Car Accident Has Occurred?
While you are at the scene of the accident, there is certain information that you must get as it will be beneficial at a later point in time:
The driver's license number, name, residential address, insurance information, and contact information of all of the drivers that were there.
The make and model, as well as the license and registration number of every vehicle that was there, including the year of those vehicles as well.
Badge numbers and precinct numbers, along with the names of every officer that was at the accident
the location of the accident itself
Call Cellino Law To Schedule Your Free Consultation Today!
It is vitally important that you get started right away toward pursuing compensation as time is always of the essence. Contact our Niagara Falls injury firm to learn more about how we can help you get compensation for losses that you incurred because of the accident, loss of income, damage to your car, and compensation for your injuries.
Thank you for all your help. It has been a long journey. At last, the light at the end of the tunnel. Also, thank Tom for the help and work he put in.

Ron

Tim Cellino handled my case beautifully. He is very knowledgeable and patient with all my questions. He kept in touch with me through out my ordeal. Tim also got a settlement for more than I expected. I highly recommend Tim Cellino!

Jayne

Cellino Law was a great company to work with. From the beginning they came out and met with my uncle and myself and assured us that everything would be taken care of from beginning to end our lawyer state and constant contact with us to make sure that everything would go smoothly and it did. I would definitely recommend anybody to go to Cellino Law for whatever help they need. And specifically please ask for the lawyer that we had Mr. Alan Silverstein. He was amazing and his staff was always attentive. Please go with them for your next law needs.

Eshaunda

This letter is to thank Ms. Diane D'Andrea, assistant to Mr. George Gridelli, Attny for all the hard work, dedication, and attentiveness she showed during the representation of my case. She was always cheerful and ready to help in whatever way she could. All messages left for Mr. Gridelli were always relayed and Mr. Gridelli always promptly returned our calls. She was a very competent assistant. Cellino Law has proven to be a model of what legal representation should be. Throughout the 6 ½ years of this case, I have heard many horror stories from people with "bad lawyer stories." We consider ourselves to be very lucky to have chosen Cellino Law and will always recommend you to those looking for good, honest representation with a personal touch.

Joseph

I can only say great things about my attorney Allan Silverstein. He is professional, he calls back right away, he keeps me informed, and makes me feel comfortable as this entire ordeal is stressful. I have total confidence in his ability to handle whatever comes his way. He is no nonsense and very good at his job. Thank you Allan... he is a true asset to the team!

Mrs Steward

This is to express our gratitude to you and your team in helping us and Stephanie navigate through the legal process following her car accident. We are very satisfied with the outcome and grateful for your hard work and attention to details. We fell confident that with this compensation, Stephanie will be able to move forward with her studies and her life with the ability to care for some of her health needs resulting from the injuries sustained following her car accident. Thank you very much and may God continue to bless your efforts.

Jose & Rose