Every slip and fall case presents its own unique issues. Even when there is overwhelming evidence of fault against the property owner there will still be a tough fight to establish liability and receive compensation for your injuries. It will be very important to take the time necessary to recover from your accident and this is a good reason to work with a Mount Vernon slip and fall lawyer.
Our team of attorneys knows exactly how to gather and present the evidence in a way that establishes a strong case. This begins with a collection of evidence and testimony from witnesses and professionals called in to testify on the matter. Beginning the case with a strong amount of evidence is always the best way to gain an upper hand and bolster the strength of your claim. If the case cannot be resolved in a negotiation, then the only alternative will be to take the matter to courts. If this happens in your claim our Mount Vernon personal injury lawyers will work hard to prove your claim with witness testimony and evidence.
What Should I Do After Being Hurt in a Slip and Fall?
According to statistics from the CDC, more than a million people will be taken to the ER each year for injuries related to slip and fall accidents. Like most other accidents, the injuries can be minor but they can also be very serious and even life-threatening. Some of the more common injuries associated with slip and fall accidents include:
Concussions
Broken bones
Broken hips
Head injuries
Spinal cord damage
Cuts, bruising and lacerations
There may even be cases when the damage caused is irreparable or fatal. No matter the extent of the damage, it is essential that you take the actions necessary to reach a full recovery. Here are some things that you can do to protect your interests and fight for your rights.
Get Medical Attention
Take Videos and/or Photos
Do Not Share Details of the Incident
Get Witness Contact Information
Report The Accident As Soon as You Can
Call an Attorney
Who Is Liable For Injuries In A Mount Vernon Slip And Fall Accident?
Property owners and homeowners alike have the responsibility to keep their properties safe for anyone who may visit. If the property or homeowner does not take reasonable care to ensure that their property is not a danger to their visitors or guests, they could be liable for any accidents or injuries that result from the dangerous situation.
This will require frequent inspections with great consideration for what your guests or visitors may be doing on the property. For example, if you run a restaurant you would need to make sure there are no issues that could harm the health or well-being of your patrons.
In the case of visiting friends, family, and acquaintances in the comfort of their home. The homeowner is not required to keep their property safe for visitors, but they should at least warn their guests of any potential hazards, this is referred to as a duty of care. A homeowner could be held liable for an accident if there are potential hazards in the area and they made no effort to warn their guests.
It is not just property owners and homeowners that can be held responsible for slip and fall accidents. Government agencies and landlords can also be held responsible for an accident that occurs in their property or location. The law of New York State permits anyone who has suffered damages and injuries because of the negligence or carelessness of another person. At Cellino Law we have experience in making the investigations necessary to establish liability in these cases.
How Is The Value Of A Slip and Fall Accident Calculated?
Every slip and fall case is unique and will have to be carefully examined before the full value can be calculated. The value of the case will depend largely on the nature of the damages and the circumstances surrounding the accident. Call today to arrange a free consultation with our knowledgeable professionals who can examine the details and tell you what your case could be worth.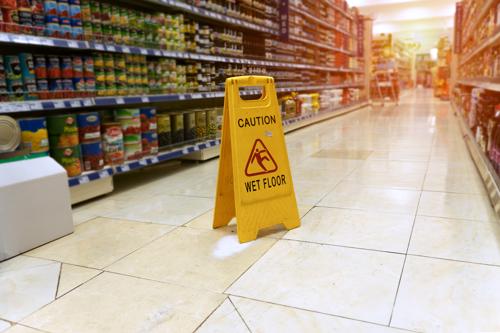 Some of the damages that will need to be calculated include:
Loss of earnings due to injuries suffered, including past and present earnings
Current as well as future medical expenses
Compensation depending on the extent of personal injuries
Compensation for pain and suffering
Punitive damages
A team of qualified personal injury lawyers from Cellino Law firm will help you make the most of your claim and find the maximum compensation due. We will even call in the professionals to place a financial value on things like pain and suffering that can be hard to convert to dollars and cents.
Common Slip and Fall Accident Injuries
As mentioned above, a slip and fall accident often leads to injury. In many cases, these injuries are minor but these can be extremely serious in some cases. In fact, people have lost their lives due to such injuries. As far as the severity of the injury is concerned, it depends on a number of factors including the age, environment as well as the manner in which fall happened. Some of the common injuries that result from a slip and fall accident include:
Sprained Wrists or Ankles
Broken Bones
Muscle Strain and Shoulder Dislocation
Brain Trauma
Cuts and Bruises
Nerve and Spine Damage
Damaged Knees
What Is New York's Statute Of Limitations For Slip And Fall Claims?
The first thing to do after getting involved in a slip and fall accident would be to contact a top-notch personal injury lawyer from Cellino Law Firm. They will be able to tell you how to follow proper procedure and not lose your right to compensation by missing a crucial detail like the statute of limitations. Basically, the statute of limitations is the time frame an accident victim has for filing a claim. If the claim is not filed within this period of time from the date of the accident, the injured party loses the right to file at all. In Mount Vernon, NY, this time frame is 3-years.
Furthermore, you will need to consider that your statute of limitations will also be affected by the type of claim you are trying to file. For example, if you will be filing a claim against a government agency or municipal department, you will only have 1 year and 90 days to file this claim.
Call An Experienced Mount Vernon Slip and Fall Lawyer Today
Slip and fall cases can be serious and it can sometimes be hard to know the full extent of the effects of these problems in the immediate aftermath of an accident. This is why it is imperative to contact one of our professional lawyers from Cellino Law. We will apply all of our skills and experience in building a strong case that will carry heft in negotiations and withstand the rigors of the court floor. We will collect the important evidence and testimonies needed to ensure you the highest compensation allowed by the law. Schedule a free consultation at our Mount Vernon injury firm today, call 800-555-5555
Thank you for all your help. It has been a long journey. At last, the light at the end of the tunnel. Also, thank Tom for the help and work he put in.

Ron

Thank you for your help in settling the case of my father's accident. I could always count on you to answer my questions honestly and in terms I could understand. If all lawyers at Cellino Law are like you, I understand why they are an A-1 law firm.

Bedner

Choosing the right attorney to represent you after an accident can make all the difference. This is no cliche. I recently experienced these words to live by first hand. After a tractor trailer rear ended me at high speed in 2017 I retained Allan Silverstein to handle my case. I quickly realized that bringing a lawsuit rapidly snowballs into a mountain of details that can make or break your results. Documents, case histories, doctor visits, bills, and lots of phone calls all need to be accurately kept track of if a successful outcome it to be attained. To complicate matters I reside in New York and the incident took place in New Jersey. Luckily, Allan was licensed in multiple states. I was fortunate to find Allan to handle this matter from the New York area. Armed with an accurate account of the facts Allan went to work on the difficult job of negotiating with the defending insurance company as well as my no fault carrier in order to obtain the best possible outcome for my set of circumstances. In a lawsuit communication is key and and events can be of a timely nature. Allan never failed to return my calls - usually the same day! He fought skillfully and respectfully to get me the best possible settlement. He is easy to deal with and a likeable down to earth guy. He always listened with compassion and respect to my issues. He guided me with objective understanding as well as a realistic analysis of the merits of my case. When we finally settled Allan got me a fair agreement beyond my expectations and negotiated with my doctors to make sure all my bills were paid. It was a great experience having Allan represent me. Quality work in any aspect of life is hard to find. Quality is what I got with Allan Silverstein. I highly recommend him if you find yourself in need of a personal injury attorney.

Theodore

I really appreciated your determination and efforts on handling my case. You have done an outstanding job, and I am very satisfied with the outcome of the settlement. Thank you so so much John.

Amparo

Now that reality has set in, I want to thank you for all your work and assistance in obtaining my settlement for the pelvic mesh. This money will make my life so much easier in the future. Medicare just isn't sufficient. I know that I will have enough to live on. I truly appreciate of your efforts. Thank you!

Loraine

Thank you for your efforts on my behalf. I am very pleased (and surprised) at the amount of the settlement. We will use the funds to help pay down the debt on the truck we had to purchase after ours was totaled. Thank you again.

Linda