The thought of a lawsuit is probably nowhere to be found in the minds of a family in New York when they're dealing with the loss of a loved one. A lawsuit might be the correct course of action to take if the loss is a result of someone else's negligence. A family can sometimes get the true closure they need by filing a wrongful death lawsuit. The family of the deceased can receive compensation from this.
In the event that a loved one passes away, the Mount Vernon wrongful death lawyers at Cellino Law can provide assistance. The process of filing a lawsuit can be scary, especially after a loved one has passed, but having an experienced attorney's help will make it easier. Lawsuits have deadlines for when they can be filed, and the ones for wrongful deaths are shorter than regular ones, meaning that time is of the essence. The time it takes to complete the process can be lessened with our Mount Vernon personal injury attorneys.
What Counts As A Wrongful Death?
In Mount Vernon, NY, death is considered wrongful if it is caused by someone being reckless or acting in a way that is negligent. Common causes of wrongful death include construction accidents, medical malpractice, neglect or abuse in a nursing home, and traffic accidents. A wrongful death lawsuit can be filed against the party responsible for the death by the deceased's estate representative. These claims are designed to make sure the deceased's heir can recover damages this incident caused. This process is made to protect the following people:
A significant other or spouse
The decedent's children
A minor child's parents.
Proving A Wrongful Death Case
Proving that a responsible party's reckless or negligent behavior resulted in the death of a loved one is the only way that a wrongful death lawsuit can be won. The behavior can be either the direct or contributing cause, as long as it can be proved that it resulted in a death.
When the risk of harm is ignored on a conscious level, the behavior is referred to as reckless behavior. When an individual doesn't exhibit reasonable behavior under certain circumstances or doesn't address a particular situation, the behavior is referred to as negligent behavior, which differs from reckless behavior.
You have to prove two elements in a wrongful death claim:
The Responsible Party Owns A Duty
Acting in a responsible manner is a duty that all people have. An individual owns any consequences that may occur because of their actions. Any actions that may cause harm must be legally avoided by the responsible party to ensure the safety of others.
The Defendant Breached The Legal Duty
For a wrongful death to be proven, there must be sufficient evidence to show that careless, reckless, or negligent actions were done by the defendant, or that they failed to act reasonably.
Who Is Able To File A Wrongful Death Case In Mount Vernon?
The personal representative of the estate of the decedent is the only one with authorization in New York to file a wrongful death claim. This estate representative may be an administrator or an executor. The County Surrogate Court appoints individuals as representatives. The executor is given representative duties when there is a will. The Surrogate's Court judge will name an Administrator as a representative when there isn't a noted executor.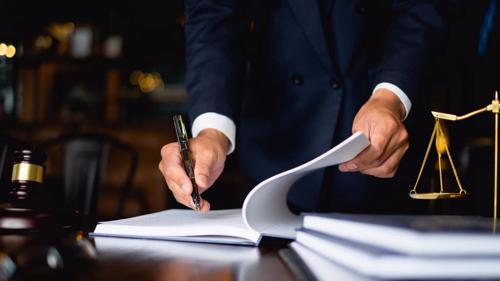 The following family members can receive compensation from wrongful death cases in New York:
Spouses
Adopted or biological children
Parents
The decedent's dependent blood relatives.
What Damages Do New York Wrongful Death Claims Cover?
No sum can truly eliminate the pain and heartache that a person goes through after the death of a loved one. In New York, when wrongful death claims are made, economic impact as a result of death and financial earnings are considered. There are two categories that damages awarded are placed into when a wrongful death lawsuit is made.
The pain and suffering experienced by the victim before death is the first category. A thorough analysis is done by a forensic pathologist and used as a testimony for a claim. Survivors may find it hard to hear about the pain that their loved one experienced in their final moments, but in order for the family to get the compensation they deserve, it has to be done.
The victim's earning potential and their expected contributions to the surviving individual or family members is the second category for damages. Financial records are examined to figure out which finances are lost as a result of the death of a loved one. After a loved one dies, many damages can be fined. The following are damages that can be filed:
The deceased's medical care costs that come from the accident
Cremation, funeral, or burial prices for the deceased
Services provided to the family by the decedent, such as healthcare policies and child care
Wages that can't be provided by the defendant because they are lost or unearned
A loss in value of the deceased's assets or inheritance
Parent's death resulting in a loss of guidance for surviving children
When calculating economic damages, there are two primary factors that are used. When lost wages are involved, these factors will be extremely important. The age of the victim when they died and their remaining life expectancy length carry a lot of weight. During the sudden loss of a parent, a young child will lose wage support that would have been given over the years until they become an adult.
Damage assessments in New York don't take any suffering and emotional pain felt by surviving family members into account. The attorneys at our office are working hard to see that this New York law is changed to provide damages for emotional distress. While the law hasn't changed yet, any filed lawsuits will still be done so with the intention of getting the highest possible amount for damages.
File A Claim With Out Mount Vernon Wrongful Death Lawyers
Wrongful death cases have a time limit that must be considered when filing them. In order to beat this time limit, representatives have to act fast when they want to proceed with legal actions. When public authorities are involved, there is even less time to work within. Survivors of the deceased have to work fast because the statute of limitations can't be extended by the court. Call our Mount Vernon injury firm at 800-555-5555 to get your claim filed.
Thank you for all your help. It has been a long journey. At last, the light at the end of the tunnel. Also, thank Tom for the help and work he put in.

Ron

I am so grateful for your expertise, patience, and perseverance which resulted with such a successful settlement regarding my car accident. I also want to let you know how impressed I was with you and your firm and I won't hesitate to recommend you to anyone who needs assistance from an accident. I truly appreciated your care and professionalism. Thank you again for your kindness and support

Lisa

Thank you for your help in settling the case of my father's accident. I could always count on you to answer my questions honestly and in terms I could understand. If all lawyers at Cellino Law are like you, I understand why they are an A-1 law firm.

Bedner

I am writing to let you know what an outstanding job George Gridelli did for me in my personal injury lawsuit. His professionalism and expertise were evident at our first metting and he and his paralegal Diane D'Andrea took care of me as if I was a friend and not merely a client. They both went above and beyond for me in so many ways that it would be too numerous to list and I am grateful to have had such an exemplary team represent me. When working with George and watching him in court he personified to me what a lawyer is supposed to be - an honest, extremely compentent man who helped guide me through the legal system. I could not have obtained better representation anywhere else at any price. To me that says a lot abut you and your firm's integrity. Thank you again for representing me and for having such stellar individuals working for you! I will continue to recommend your firm.

Carol

Thank you for your efforts on my behalf. I am very pleased (and surprised) at the amount of the settlement. We will use the funds to help pay down the debt on the truck we had to purchase after ours was totaled. Thank you again.

Linda

Choosing the right attorney to represent you after an accident can make all the difference. This is no cliche. I recently experienced these words to live by first hand. After a tractor trailer rear ended me at high speed in 2017 I retained Allan Silverstein to handle my case. I quickly realized that bringing a lawsuit rapidly snowballs into a mountain of details that can make or break your results. Documents, case histories, doctor visits, bills, and lots of phone calls all need to be accurately kept track of if a successful outcome it to be attained. To complicate matters I reside in New York and the incident took place in New Jersey. Luckily, Allan was licensed in multiple states. I was fortunate to find Allan to handle this matter from the New York area. Armed with an accurate account of the facts Allan went to work on the difficult job of negotiating with the defending insurance company as well as my no fault carrier in order to obtain the best possible outcome for my set of circumstances. In a lawsuit communication is key and and events can be of a timely nature. Allan never failed to return my calls - usually the same day! He fought skillfully and respectfully to get me the best possible settlement. He is easy to deal with and a likeable down to earth guy. He always listened with compassion and respect to my issues. He guided me with objective understanding as well as a realistic analysis of the merits of my case. When we finally settled Allan got me a fair agreement beyond my expectations and negotiated with my doctors to make sure all my bills were paid. It was a great experience having Allan represent me. Quality work in any aspect of life is hard to find. Quality is what I got with Allan Silverstein. I highly recommend him if you find yourself in need of a personal injury attorney.

Theodore