Workers' compensation is an insurance policy available to workers to allow them to recover from an occupational illness or on-the-job accident. If you or your loved one sustained an injury at work, workers' compensation is in place to help you. The same goes for someone who has sustained injuries or long-term disability from their job. However, to get the benefit, you need to submit a claim. That's where the most experienced Melville Workers Compensation Lawyers from Cellino Law will help. We will help you prepare and submit the correct documentation to ensure that you receive the right compensation.
Under the Workers' Compensation Laws, any worker or employee is entitled to financial compensation after sustaining an injury, regardless of the cause of the injury. Note that, there is a right of limited protection where if the workers receive compensation for injuries sustained at work, they should not sue their employers for negligence.
Employers are mandated by law to provide workers' compensation benefits to their employees by applying for insurance or self-insuring in New York. There's a formula in place to identify benefits and include medical care payments, lost income, and time off work due to a medical reason linked to the injuries sustained by the employee.
The workers' compensation policy is in place to protect an employee and their family. It also reduces the need for extra litigation. However, with these laws in place, these benefits are often denied. Well, if it happens to you or a loved one, you should contact our Melville personal injury attorneys to ensure proper compensation.
New York State and Workers Compensation Claims
Across the U.S, New York is one of the states with a few of the most hazardous working conditions. The construction sector and many other industries are known for their dangers but there are always accidents in any type of working environment. Here is a list of some of the common types of accidents in various workplaces in Melville, NY.
Building collapses
Office accidents
Defective equipment
Crane accidents
Hospital accidents
Port or dock accidents
Warehouse accidents
Welding accidents
Industrial accidents
Heavy machinery accidents
Chemical accidents
Mining accidents
Scaffold accidents
Refinery accidents
Forklift accidents
These are a few of the various types of accidents we have handled from our clients over the years we have been in business. We are ready and willing to assist anyone who is injured when doing their job.
What Type Of Injuries Qualify For Workers' Compensation in Melville New York?
If you or your loved one has sustained an injury at work, it's important to know what is covered and what is not covered under workers' compensation in New York. There are strict guidelines enforced when it comes to the rights of workers regarding compensation. Even after sustaining an injury at work, it doesn't mean that you automatically qualify for compensation or benefits and will receive them.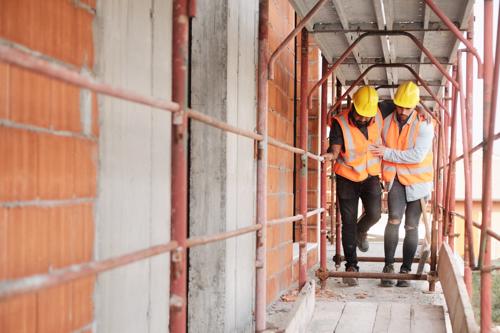 To make sure that you are covered under workers' compensation laws specific to New York state, the incident that caused your injuries must fall under one of the categories listed below.
You must be working for an employer that has been mandated by the New York state laws to apply for workers' compensation coverage.
The disability, injury, or illness you suffered happened because of the work that you do while you were on duty and it relates directly to your terms of employment.
You must have given your employer notice (in writing) regarding the accident or incident that caused your illness or injury, within 30 days from when the event occurred.
Your medical reports should state clearly the illness, disability, or injury and that it was directly caused by the condition or accident at the workplace.
Unfortunately, even accidents or incidents that appear to qualify for compensation from workers' compensation policies are often disputed by employers along with their insurers. That's why you need strong evidence and unwavering support from a medical professional to guarantee that you receive the rightful compensation for the period that you need it.
Who Pays Workers' Compensation Claims in Melville?
Some workers who have sustained injuries while at work often assume that they can't file a claim for workers' compensation since they are scared of being fired. Workers in New York also fear that filing for a workers' compensation claim will cost their employers money. Well, these are both huge misconceptions. Most of the companies operating in New York are covered under workers' compensation insurance. As such, the company is liable for paying for the employee's injuries and it should not affect the job security of the injured employee.
Can Domestic Workers Receive Workers' Compensation in New York?
Various families in New York hire housekeepers, babysitters, nannies, and gardeners. If one of these employees sustains injuries while at work, it's not clear if the homeowner is an employer or if a domestic worker is simply a contractor. Note that homeowners are not required to act as a company when hiring domestic workers. In some cases, a domestic worker is often seen as a resident employee who provides household services. When a homeowner hires one or more people to provide household services at their home, they should apply for workers' compensation insurance to cover their domestic insurance.
What is the Average Settlement For Workers' Comp Claims?
First, we will calculate the compensation you deserve before negotiating a settlement. This amount should be able to cover the following.
Medical care or treatments or care that you have received up to date
Any expected medical treatments in the future such as surgery
Lost wages and any wages that you will be losing in the future
A disability payment if applicable
At Cellino Law, we are an experienced law practice that has recovered millions of dollars on behalf of injured victims. However, we understand that each workplace accident is unique. Insurance companies are experienced and skilled when preparing for each case. As such, they often offer highly favorable settlements for clients in our roster before the case goes to trial. Every insurance adjuster and attorney we have worked with knows that we analyze and prepare each of our cases with the chance that it will end up in a trial.
As such, they have known to offer our great settlements for our clients. We have established ourselves as strong and highly challenging opponents and that's why most of them avoid going to trial where they would have to face the court of law. Well, by choosing us for your workers' comp case, you can rest assured that we will work tirelessly. We are ready to ensure that you receive your rightful compensation in the highest amount possible. Call us today and get a free consultation for your workers' compensation claim in Melville, New York.
What Benefits Can I Receive Through Workers' Compensation?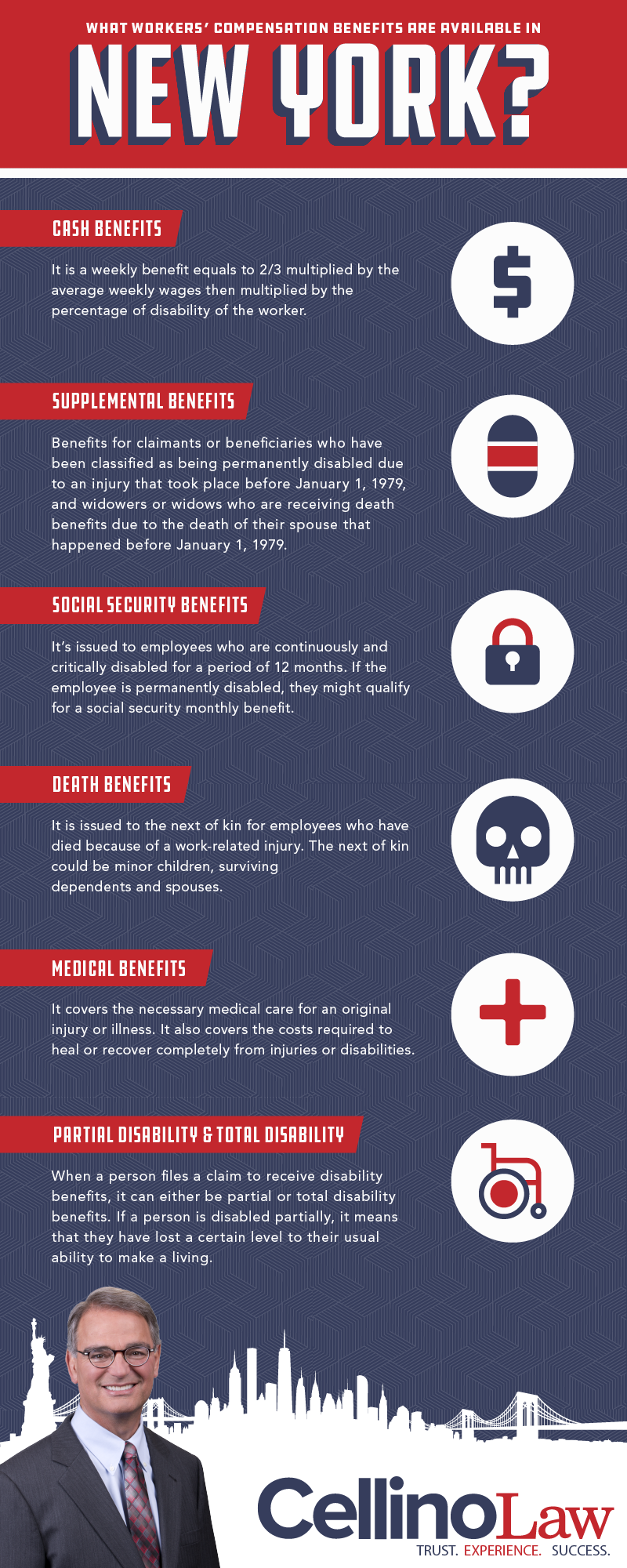 Workers' compensation is an insurance policy that offers cash benefits or medical care to a worker who sustains an injury while at work or experiences an occupational illness or disease. The state agency in charge of workers' compensation in New York is the New York Workers' Compensation Board. Here, the claims for workers' compensation are processed and the employer's insurer pays a weekly cash benefit and medical care under the direction of the board.
Here are the workers' compensation benefits you can qualify for.
Cash Benefits
It is a weekly benefit equals to 2/3 multiplied by the average weekly wages then multiplied by the percentage of disability of the worker.
Supplemental Benefits
These are benefits issued to beneficiaries or claimants who are permanently disabled because of an injury that happened before January 1st, 1979. It is also issued to widowers and widows who receive a death benefit due to the death of a spouse that happened before January 1st, 1979.
Medical Benefits
It covers the necessary medical care for an original injury or illness. It also covers the costs required to heal or recover completely from injuries or disabilities.
Social Security Benefits
It's issued to employees who are continuously and critically disabled for a period of 12 months. If the employee is permanently disabled, they might qualify for a social security monthly benefit.
Death Benefits
It is issued to the next of kin for employees who have died because of a work-related injury. The next of kin could be minor children, surviving dependents and spouses.
Partial Disability and Total Disability
When a person files a claim to receive disability benefits, it can either be partial or total disability benefits. If a person is disabled partially, it means that they have lost a certain level to their usual ability to make a living. Such individuals have a limitation when handling daily activities associated with their role but they are still able to conduct specific tasks. In most cases, it means that they are reduced to handling a role involving part-time or lighter work.
An employee who receives total disability benefits means that they are not able to work any longer to earn an income. With a partial disability benefit, the individual will be required to search for a position where they can perform and accept offers for such type of work.
It can be quite confusing to understand the different restrictions applicable to workers' compensation. However, it is easier if you have legal representation on your side. With Cellino Law, you are in safe hands. We are committed to making everything hassle-free for all our clients. We have workers' compensation attorneys in Melville ready to assist you with filing benefits for your injuries sustained at the workplace. Call us today and get a free evaluation of your case.
Can You be Fired for Filing a Workers' Compensation Claim in New York?
If you are ever injured on the job, you have certain rights that should always be protected. For instance, your employer is required to ensure that your job remains open. It's very easy to secure this especially with the Medical and Family Leave Act that guarantees that some employees can receive unpaid leave up to 12 weeks for a period of 12 months if you are diagnosed with a critical or serious medical issue.
Your employer can't fire you when you make a workers' compensation claim. Also, a new employer is not allowed to ask if you have ever had a workers' compensation case. If you are not able to work, you need to maintain communication. Your employer should know your current status and when you should be able to come back to work. As such, your employer will be informed about your progress and your return to work thereby leaving the position open.
What is the Process of Filing a Workers' Compensation Claim in New York?
Here is what you need to know about the claims process through workers' compensation in New York. However, it might vary depending on your unique situation. Contact Cellino Law and get a free consultation with our skilled and professional workers' compensation attorneys. With this free evaluation, you should get an idea about your legal rights and available options regarding your workers' compensation case.
After your accident, you need to seek medical care. Inform your supervisor or boss about what has happened. Within 30 days of the injury, you should notify your employer in writing about what happened. Within 2 years from the date of the accident or the injury, you should complete a Form C-3 (Employee Claim) then send it through email to the Workers' Compensation District Office in the area.
Once the employer is notified of the accident or injury, he/she should report to the board and their insurer. Here, the employer should complete Form C-2 (Employer's Report Of Work-Related Illness Or Injury) within a period of 10 days. After receiving the employer's report, within 14 days, the insurance adjuster should issue a written statement to you stating your rights under the law. After the employer's report is received, within 18 days, the insurance company should start paying out the benefits, especially if the claim wasn't approved or denied within 7 days.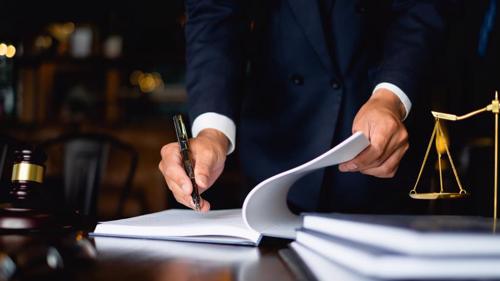 Once the claim is approved through workers' compensation, you should expect payments every 2 weeks from the insurance company. Every 45 days, your healthcare provider should send progress reports to the Board. If you are still recovering after 12 weeks, the insurance provider will determine whether or not you need rehabilitation treatment.
Claiming for workers' compensation can be a very stressful process. However, it's important to go through the whole process and ensure that you receive the benefits that you deserve. Contact Cellino Law today and speak to one of our attorneys. With the help of our experienced Melville Injury law firm, we will guide you through the tough claims process for workers' compensation. We will also ensure that you receive the maximum benefits under the workers' compensation law.
What You Need to Know About Workers' Compensation Appeals and Hearings
After filing a claim, the insurance provider of the employer might accept or contest a claim. They might also contest a portion of the claim that you have filed as the injured party. The workers' compensation claim will be paid out once the employer or insurance company agrees that the illness or injury is work-related. If the claims are contested or disputed by the insurance provider or the employer, no benefits will be paid out until the case is heard by a workers' compensation law judge who will decide the right party.
In certain cases, the workers' compensation board will make sure the hearing is heard before the right judge. When the judge ascertains that the claim is valid, he/she will decide on the total amount and duration of the compensation you should receive for your injuries. Both sides can appeal the decision within a period of 30 days after the judge has filed the final decision. Once granted, a panel with 3 board members reviews the case.
Here, the panel can do any of the following.
Modify the judge's decision
Rescind the judge's decision
Restore the case for ongoing developments to a judge.
If the members of the panel can't come to a united decision, you are allowed to apply for a comprehensive board review. They will change, confirm or rescind the decision made by the judge in the first place. To appeal the decision made by the panel, this needs to be done within a period of 30 days. The appeal should then be represented to the 3rd departments of the Appellate Division of the New York State Supreme Court. The decision from here can also be appealed further in the court of appeals.
Contact a Melville Workers Compensation Lawyer With Cellino Law
Well, with Cellino Law by your side for your case, you can rest assured that your case is in the right hands. It doesn't matter how many courts we end up in because we are ready to fight for you. Call our Melville personal injury firm today and consult with the top-notch representation in Melville NY regarding workers' compensation.
Thank you for your time, effort, and hard work on my case. I appreciate your expertise and compassion. I never experienced what I went through and I would have been completely lost without you.

Martha

Tim Cellino handled my case beautifully. He is very knowledgeable and patient with all my questions. He kept in touch with me through out my ordeal. Tim also got a settlement for more than I expected. I highly recommend Tim Cellino!

Jayne

This letter is to thank Ms. Diane D'Andrea, assistant to Mr. George Gridelli, Attny for all the hard work, dedication, and attentiveness she showed during the representation of my case. She was always cheerful and ready to help in whatever way she could. All messages left for Mr. Gridelli were always relayed and Mr. Gridelli always promptly returned our calls. She was a very competent assistant. Cellino Law has proven to be a model of what legal representation should be. Throughout the 6 ½ years of this case, I have heard many horror stories from people with "bad lawyer stories." We consider ourselves to be very lucky to have chosen Cellino Law and will always recommend you to those looking for good, honest representation with a personal touch.

Joseph

I am so grateful for your expertise, patience, and perseverance which resulted with such a successful settlement regarding my car accident. I also want to let you know how impressed I was with you and your firm and I won't hesitate to recommend you to anyone who needs assistance from an accident. I truly appreciated your care and professionalism. Thank you again for your kindness and support

Lisa

I am writing this letter to say how much I appreciate your services pertaining to my case. Your injury attorney took a hands-on approach and left me fully informed at all times as to where my case was going as well as how much ground we had to cover; leaving the final decisions in my hands but making sure that I knew all of the risks involved in the choices. I have dealt with a few law firms in my life on various different cases and this is the first time that I never had to call and/or track down my lawyer… because of this, I have and will continue to recommend Cellino Law to my friends and associates.

Denise

Cellino Law was a great company to work with. From the beginning they came out and met with my uncle and myself and assured us that everything would be taken care of from beginning to end our lawyer state and constant contact with us to make sure that everything would go smoothly and it did. I would definitely recommend anybody to go to Cellino Law for whatever help they need. And specifically please ask for the lawyer that we had Mr. Alan Silverstein. He was amazing and his staff was always attentive. Please go with them for your next law needs.

Eshaunda