Have you been involved in a car crash and come out with injuries or damages? Has this happened to a member of your family? Then don't wait another minute! It is imperative to your full recovery and compensation that you contact a qualified Melville Car Accident Lawyer from Cellino Law Firm.
You may be wondering who will be responsible for paying for the damages to your car, medical expenses, lost wages, and other costs incurred by the accident. If, so you will need to speak with an experienced lawyer who can explain the situation you face. Here at Cellino Law, we offer a free consultation to help you get started on your claims process. Call to schedule your initial consultation so we can look over the details of your case with a team of experienced Melville personal injury lawyers.
Our team of experienced lawyers is on call to help defend the rights of car accident victims. You will be proud to know that your case will be in the hands of one of the leading personal injury law firms in New York. Our respected team of lawyers always puts the full weight of skill and experience to ensure your clients receive the full compensation allowed by the law. It is our experience, knowledge, and history of success that makes us the choice for you.
There is always a time of confusion and distress following a car crash. This is something we are fully aware of and our knowledgeable attorneys will take on the legalities of the claims process so you can get about the business of recovery.
We don't want you to worry about the costs of professional legal counsel and representation, for this reason, we operate on a contingency fee basis. This means we will only get paid after we have fulfilled our duty to obtain your compensation.
When Should You Report a Car Accident in Melville, New York?
The laws of the state of New York are very clear. In an accident where someone is injured or loses their life, it is the responsibility of the at-fault driver or the driver who has been injured to report the accident to the proper authorities. There may also be instances of property damage connected to many of these car accidents.
Under the laws of the state of New York, all property damage exceeding the amount of $1000 must be reported to the appropriate law enforcement agency. It is always the responsibility of the at-fault driver to make this report whether the other driver is present or not.
In Melville, NY, the law also states that a written report of property damage should be made within 10 days of the accident. There are no such rules that apply to how soon a personal injury report must be made, but most personal law professionals will agree that the report should be made as soon as the injured person is able to make the report.
Most Common Reasons for Auto Accidents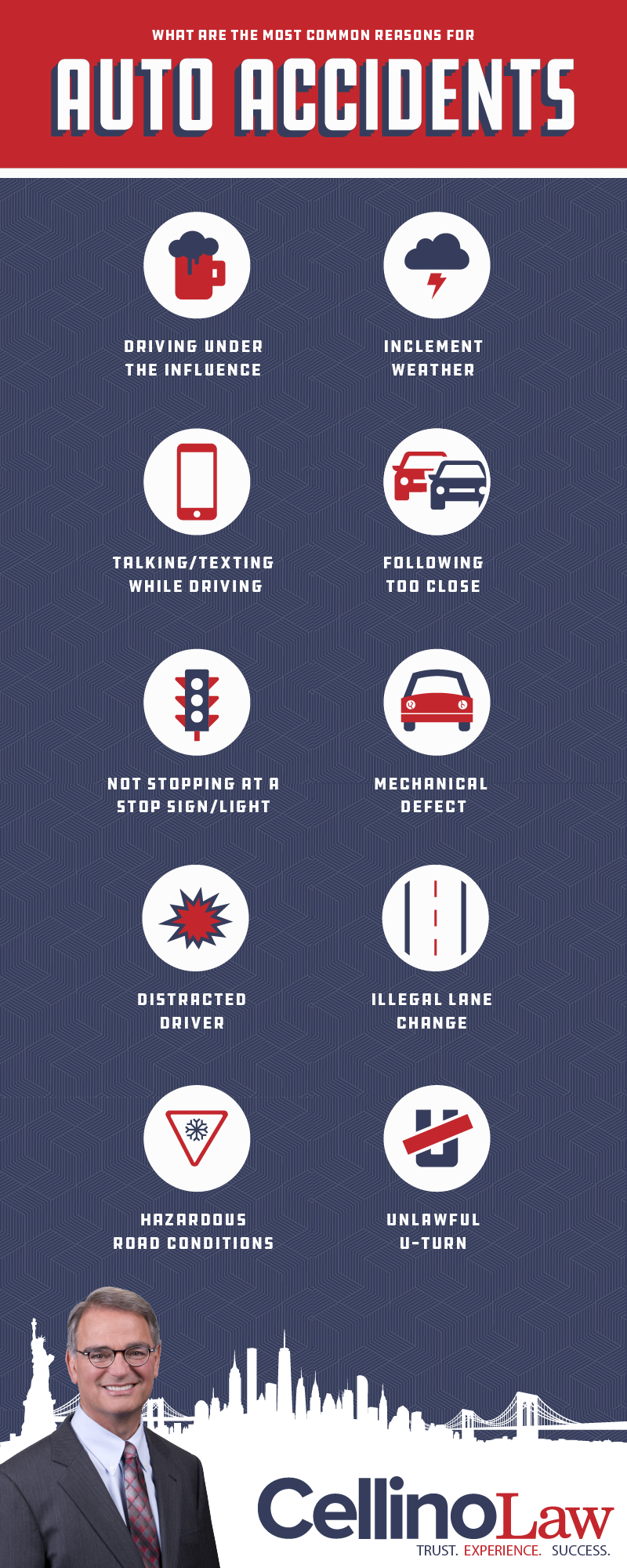 Compensation is made available by the laws of New York for all drivers who have sustained injuries while in an accident. But, there are some guidelines for this eligibility. The first step will be to fill out a report on what happened in the car accident. This will probably include any of the following top reasons for car accidents in New York:
Texting or talking while driving
Driver following too close
Lane change was illegal
Driver was distracted
Hazardous road conditions
The driver didn't stop at the stoplight/sign
Driving over the speed limit
Making an unlawful U-turn
Inclement weather
Mechanical defect
Driving under the influence of alcohol and/or medication
Most of these accidents are caused by someone acting in a reckless or negligent way. If someone is harmed because of an accident caused by these negligent actions, the at-fault person is liable for the damages. A qualified attorney will help you to better understand what actually happened in the car accident, from a legal standpoint. This may prove that you were partly to blame, or that you have no responsibility for the accident.
Just like anywhere, the roads and highways of Melville see a lot of accidents and it will take sharp wits and an alert mind to ensure everyone gets home unscathed. But, the reality is that many drivers are operating under stress which can quickly turn into road rage. This can lead a normally reasonably-minded individual to act in ways that endanger lives and lead to accidents. The many stop-and-go signs in the area add to the heightened emotions and increase the risk of accidents.
No matter the cause of the accident, or even if you are not really sure what the cause was, you must call a legal professional to aid you in protecting your interests and making a claim against the at-fault partner and their insurance providers. Call Cellino Law Firm, we have extensive experience in taking these matters to a positive resolution or taking the matter to courts if necessary.
Car Accidents and Serious Injury
While many people have an observer's understanding of the unpleasant nature of a car accident, it is not until you have actually experienced the horrors of a car accident that you can comprehend how devastating and extensive this impact can be.
Under the laws of New York, any driver that was involved in a car accident has the right to compensation to cover the costs of medical treatment while in recovery and the financial compensation for lost wages and other costs incurred by the accident. This right is the same no matter how much responsibility the driver had in the accident.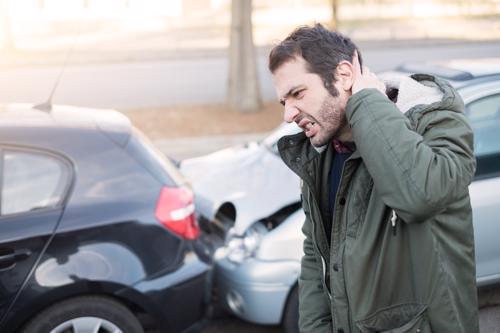 This can be a detailed negotiation, but you can be sure that an experienced personal injury lawyer has the capacity to represent your case in negotiations and court battles and get you the right compensation. For those cases that involve "serious" injuries, the compensation can also include damages for pain and suffering.
In the state of New York, the term "serious injury" includes any of the following injuries:
Loss of limb
Bone fracture
Partial loss of body function or body system
Permanent loss of organ, body part, body system or body function
Extreme physical disfigurement
Death
Physical ailments that last longer than 3 months
Permanent limitation in using a body part or an organ
How Much do Car Accident Lawyers Charge in Melville?
When you retain the services of a lawyer from Cellino Law firm, you will not be required any upfront fees. This is because we fully understand that these accidents can happen to anyone. Not everyone is in a position to take on the high cost of a legal representative in the aftermath of a car accident. For this reason, we operate on a contingency fee basis. This means that you will not have to pay us anything upfront for our initial consultation, representation, exhaustive investigation, or tenacious negotiations. You will not have to pay us anything at all unless we win you the case and you receive compensation for your injuries.
Beyond that, as your legal aid, we will shoulder the full burden of all expenses related to the case until it has reached its conclusion. If the case is lost, we will also have lost a considerable investment of our time and legal efforts. So as you can see, our profits in this arrangement are contingent on winning you the greatest compensation we possibly can.
This also gives us a great incentive to win the case and pull all the stops in creating a case that will be strong in negotiations and bulletproof in the courts. Once we win the case, we will take a portion of the compensation for the time, effort, and extensive resources we bring to every case we agree to take on.
You can also look at this contingency fee plan as extra merit to our credit. When you hire us you know that we carefully analyze and examine the cases we decide to take on. If we believe that your case has even the smallest possibility of being won, we will bring the tools and insights to make it happen.
It all begins when you make that phone call and arrange for a free consultation, during this consultation we will ask you for the full set of details so we can better understand what happened and what kind of value your case has.
What Compensation Can I Receive With a Car Accident Claim
The damages you can expect from a car accident are usually calculated in categories of economic and non-economic. Then, in some cases, punitive damages may also be applied if the actions of the at-fault party were especially egregious.
The idea behind compensation is to restore to the person that suffered injury and damage what was lost because of someone's reckless actions. Some of these damages may include:
Loss due to vehicle or property damage
Income loss
Loss of income – current and future
Medical expenses due to injuries sustained in the accident – past, current, and future
According to section 5102 of New York Insurance Law, victims of car accidents are only eligible for non-economic compensation if they have suffered a serious injury. You could be eligible for this non-economic compensation if you have suffered any of these injuries:
Bone fracture
Loss of function of a body system or organ
Physical disfigurement
Loss of an infant in utero
Partial loss of function in a body system or organ
Loss of limb
In addition to the non-economic and economic damages, your case may be awarded additional punitive damages. These are typically applied when the actions of a defendant have resulted in a death. In these cases, the punitive damages are much higher than the economic and non-economic damages.
How Can an Attorney Help Prove a Car Accident Claim?
If you have been involved in a car accident near Melville, it is very important to contact a car accident lawyer as soon as possible. Personal injury law is a complex task and a knowledgeable professional will be able to help you process your claim properly. This can keep you from making a small mistake that could void your chances of compensation.
For example, there is a time limit in which these claims need to be made. Car accident victims have a week to make a claim against the defendant. After this, the victims of a car accident can take up to three years to file a lawsuit against the at-fault party responsible for the accident.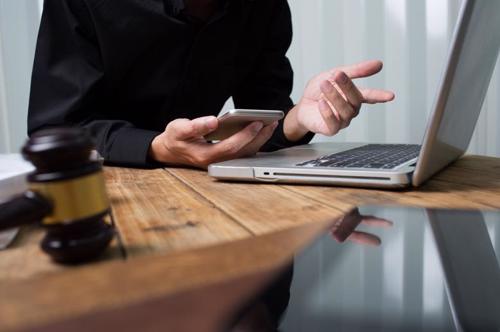 Time is of the essence and we will have a better chance of building a strong case if we are given early information and fresh evidence. Also, an experienced attorney will be able to make sure all the lawsuits and claims are filed on time and properly, which greatly improves the chances of winning your case.
Your lawyer will also have to conduct a considerable investigation into all the details surrounding the incident. There will be witnesses to interview, expert testimony to call, and possibly an accident to replicate. There will also be the considerable time needed to obtain the evidence through correct court orders. All in all the process is detailed and intricate, all we need to do is have a free consultation with you and we can get started on all this and improve your chances of compensation.
Steps to Take After an Auto Accident
One important thing to do after you have been in an accident is to begin collecting information on what happened while you are at the scene. Of course, you will only want to do this if you are not seriously injured and feel it is safe to do so.
Some of the important things to record will be:
Location of the car accident
Name, Precinct, Badge number, Law Enforcement Agency and division of the officer who arrives on scene.
Information on the other drivers involved in the accident including names, insurance information and license plate number.
Make models and license plate numbers of all other cars involved in the accident.
Does a Car Accident Claim Need to Go to Trial?
The vast majority of cases will be resolved outside of the court through a negotiation process. The two sides will sit down and try to negotiate a resolution that will make both sides happy. Once the resolution has been signed, both sides waive the right to bring the matter up in courts.
At Cellino Law Firm, a team of experienced lawyers will examine your case thoroughly and carefully calculate what your damages amount to and what a fair compensation will be to cover them all. We will then negotiate this compensation with the opposition and do all we can to obtain your rightful compensation through negotiations. If this is not possible, we will then resort to taking the matter to courts and achieving your ruling there.
For this reason, we work to prepare a case that will bear heft in negotiations and also stand strong if it ends up before a judge. We always prepare to end up in court, even though most times the negotiations are reached in a settlement.
Ideally, the negotiations will be swift, but if the defendant is not interested in reaching a settlement, the case can take a bit longer to pursue.
Call an Experienced Melville Car Accident Attorney at Cellino Law for a Free Consultation
When you have been injured in a car accident that is not your fault, you will need the experience and insights of a personal injury lawyer to help you get compensation. We have a team of legal representatives just waiting to take a look at the details of your case and provide your advice on where to go from here. Call today to arrange a free consultation.
After we have taken the time to look over your case and answer your question, you will have a better idea of what happened in the car accident, from a legal perspective, and where to go from here. We will also go over some of the important things you will need to keep in mind during the proceedings. We will discuss things you can do and not do to preserve the integrity of your case. Remember that you will be speaking with a legal professional in complete confidence during this meeting.
Allow our experienced professionals to be your guide in the confusing and complex world of personal injury. We have handled many cases like yours and will bring our full skill set and insights to ensuring that your case is given the respect it is due. Call our Melville personal injury firm today to arrange a free consultation.
Tim Cellino handled my case beautifully. He is very knowledgeable and patient with all my questions. He kept in touch with me through out my ordeal. Tim also got a settlement for more than I expected. I highly recommend Tim Cellino!

Jayne

Thank you for your help in settling the case of my father's accident. I could always count on you to answer my questions honestly and in terms I could understand. If all lawyers at Cellino Law are like you, I understand why they are an A-1 law firm.

Bedner

I can only say great things about my attorney Allan Silverstein. He is professional, he calls back right away, he keeps me informed, and makes me feel comfortable as this entire ordeal is stressful. I have total confidence in his ability to handle whatever comes his way. He is no nonsense and very good at his job. Thank you Allan... he is a true asset to the team!

Mrs Steward

My experience during the time of negotiations was extremely positive. Josh Sandberg handled my lawsuit with the utmost integrity. He returned all my phone calls in a timely manner and answered all my questions. Josh made things less stressful. I would highly recommend Josh and the entire staff at Cellino Law.

Arthur

This letter is to thank Ms. Diane D'Andrea, assistant to Mr. George Gridelli, Attny for all the hard work, dedication, and attentiveness she showed during the representation of my case. She was always cheerful and ready to help in whatever way she could. All messages left for Mr. Gridelli were always relayed and Mr. Gridelli always promptly returned our calls. She was a very competent assistant. Cellino Law has proven to be a model of what legal representation should be. Throughout the 6 ½ years of this case, I have heard many horror stories from people with "bad lawyer stories." We consider ourselves to be very lucky to have chosen Cellino Law and will always recommend you to those looking for good, honest representation with a personal touch.

Joseph

We'd like to thank you for all the assistance and time you spent on our case. Your professionalism and honesty will always be appreciated. The staff was always courteous and we were always impressed with your accountability. Your passion and dedication will never be forgotten, nor will you.

Sarah