If you or someone you love has been injured in a truck accident you will need an experienced Melville truck accident lawyer from Cellino Law to help you set your life back in order. We have a team of professionals well-versed in personal injury law to help you make your claim against the truck driver, the company the truck is working for or both depending on what the case calls for.
Call today to organize a free consultation where we will sit down and hear the specifics of your tale. We will help you assemble a case and establish liability against the liable person or parties responsible for the damages and injuries suffered. This will be done by proving they were acting negligently at the time of the accident or at least in a way that a responsible CDL driver would not be expected to behave.
It may also be possible to take out a claim against the company for negligence of their driver, who is considered to be acting on their behalf. It could be that some protocol or safety measure was overlooked. There are important guidelines for the use and maintenance of these vehicles and if they are not performed accidents can ensue. If these were not observed in the letter, the company is also acting negligently and can, therefore, be held responsible for the damages caused by the accident.
Because accidents with large shipping vehicles can be extremely damaging, these companies often have very high insurance policies and are prepared to make large payouts to compensate for the injuries caused. This is where our team of professional Melville personal injury lawyers will be able to help you establish a winning case and get the compensation you need.
Determining the Cause of A Truck Accident
There will be numerous factors that must be examined thoroughly to establish liability in a trucking accident. Some of these factors include:
Negligence of the Truck Driver
There is one thing that car crashes and truck accidents all have in common: they are typically caused by something the driver did or failed to do that resulted in the accident. Sometimes these accidents are caused by truck drivers that failed to exercise caution and follow basic rules of traffic. These accidents can be caused by running a stop sign, failing to yield or changing lanes without proper procedure. This can also be caused by drivers who make a turn before it is 100% safe to do so, something that is far more dangerous in a large vehicle.
Here are some of the most common examples of driver negligence:
Speeding
According to the reports and statistics of FMCSA (Federal Motor Carrier Safety Administration), speeding is the leading cause of traffic accidents involving these large vehicles. Moving at velocities beyond the speed limit makes it very difficult to react with caution and time to avoid an accident, especially in conditions of strong weather or heavy traffic. When combined with tailgating, speeding makes the perfect scenario for a rear-end collision.
Distracted Driving
Labeled inattention or distraction by the FMCSA, this is another leading cause of truck accidents and their subsequent injuries and fatalities. Distracted driving occurs when a driver is doing something other than driving that divides their focus from the operations of the moving vehicle. This could be eating, texting, talking on the cellphone or adjusting the radio. Even though the problem is a considerably large one, it still persists.
Inattention could be when the driver's mind has wandered and is no longer focused on the task of bringing the moving vehicle safely through traffic to its destination.
Drowsy and Fatigued Driving
This will often happen for long-haul drivers and those who take on more work than safety regulations allow. There are FMCSA regulations in place that determine how many hours a driver may remain on the road. But these are often ignored so that deadlines can be met and greater profits can be accrued. However, this is a very dangerous practice and often leads to a bad accident.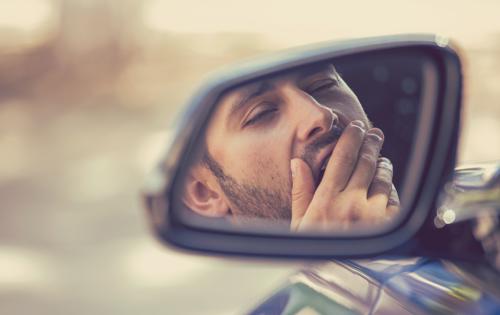 Drugged Driving
This is an especially negligent type of behavior that is more common in the trucking industry than driving while drunk. This is because truck drivers are submitted to a more rigorous plan for alcohol control. Many truck drivers will use other types of drugs like cocaine, amphetamines, and meth while on the job but this can lead to an impaired capacity to operate these dangerous vehicles.
The reason behind the widespread use of these drugs is that they allow the driver to stay awake and alert for longer periods of time. Many times when under the use of these drugs the driver is not even awake when they are operating a vehicle and the chances of a serious accident are increased considerably.
Cargo Shift
One common type of accident for semi-trailers and big rigs is that the truck will jack-knife in the middle of the road while sliding. Rollovers are common as well and these are often caused by a shift in cargo weight that occurs while the goods are in transport. When the cargo is not loaded or balanced properly it can move about and alter the center of gravity of the vehicle. This makes the possibility of dangerous accidents a very real problem.
Cargo Spill
If the shifting cargo within the trailer is allowed to break free, it can also escape the container and fall off the truck. This poses a different level of severity depending on the type of cargo being carried. Motorists may have to swerve to avoid the cargo or hazardous materials that are spilling out the back and causing contamination and hazardous road environments.
Vehicle Failure
While problems with the truck itself are not nearly as common as those caused by human error they do happen. Crashes can occur when there are flaws in the electronic systems of the truck, the power trains, the coupling systems, the tires, and other important parts of the machine. A study performed in a 2010 investigation by FMCSA reported that over 50% of trucks that were involved in traffic accidents had major flaws that were in violation of FMCSA standards. 30% of these vehicles were not even in roadworthy conditions.
Road Conditions
The chances of getting involved in a serious accident are greatly amplified when the road conditions and weather are poor. The presence of potholes and vegetation in certain sections of the road can obscure potholes and traffic signals making it almost impossible to avoid a deadly encounter. It is the responsibility of local contractors and the government authority to have these dangerous problems resolved before they result in damages, injuries, and the loss of life.
Dangerous Work Zones
There are some specific protocols and safety guidelines in place to ensure that road work and construction can be carried out safely. For example, contractors must place proper notification to alert drivers to a possible danger zone with enough time for the motorist to slow down and prevent a collision. There must also be ample space between the traffic lanes and the workers in operations. Safety barriers are also an important part of the safety code. These are only a few of the many regulations, protocols, and time limits in place to ensure that this type of work does not endanger motorists making their ways on roads and highways.
In the end, you will be able to make a claim against the driver of the truck, the company employing the driver, the contractor who landed the truck, the manufacturer of the truck, and any of the other possible entities who may have had a role in the accident.
It will be an intricate task investigating all who may have had a role in the accident. But, this is why Cellino Law Firm is here. We help those who have suffered in a truck accident establish liability and obtain the compensation allowed by the laws of New York State.
Common Injuries in Accidents Involving Trucks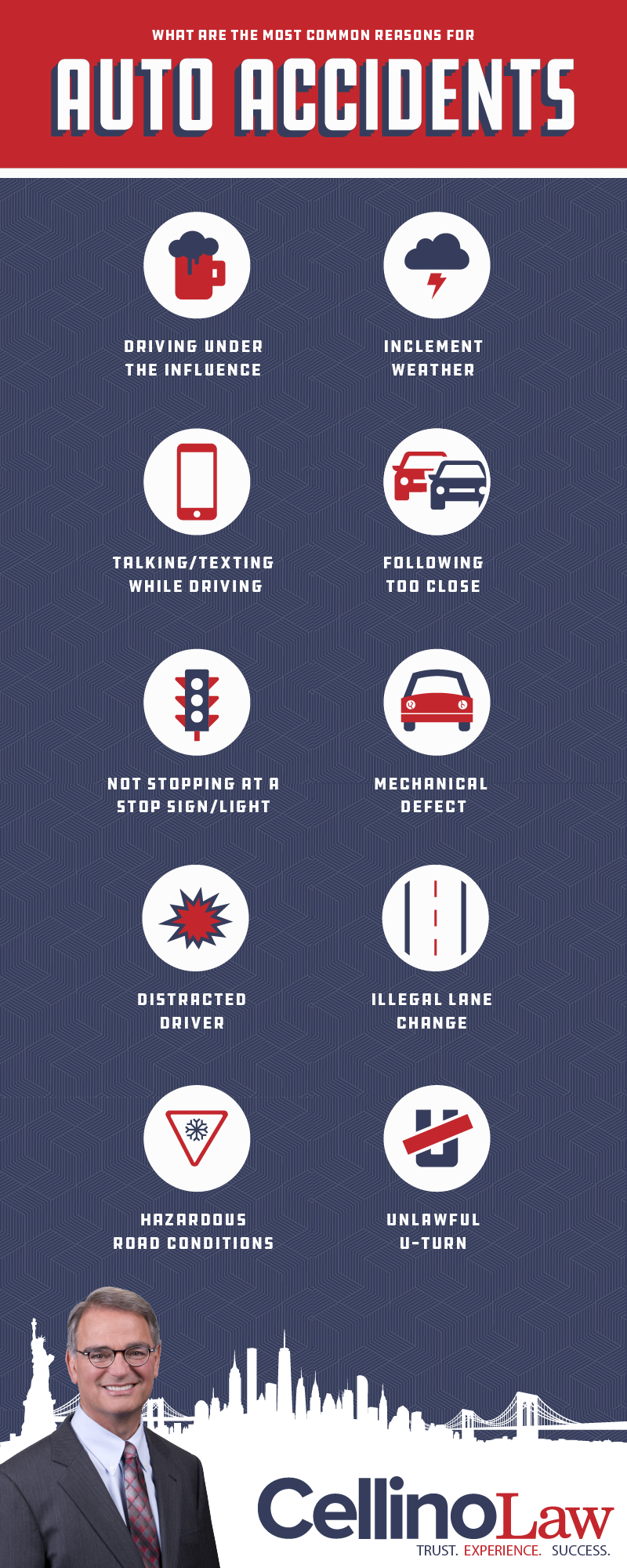 A car is a small obstacle to the massive velocity and ponderous bulk of a truck. A car may weigh in at around 3,000 pounds while an average truck can weigh 80,000 pounds. Size and weight differences are astounding and can play a major role in the devastation associated with truck accidents. Obviously, in such an accident it is the car that will sustain the most damage and while the driver of the truck may escape unharmed the occupants of the car can be seriously injured and often killed.
Because of the incredible capacity, these trucks have for damage and destruction, the laws require trucking companies and truck owners to take out insurance plans with very high policy limits. Over the years, Cellino Law has provided legal representation to those who have suffered from accidents with trucks and the resulting injuries and damages.
Some of the most common types of injuries sustained from a truck accident include:
Facial injuries
Spinal cord and back injuries
Loss of limbs and amputations
Brain injury and traumatic bleeding
Burns
Head injuries, including concussion
Emotional trauma
Broken bones
Internal injuries
Death
Those who have sustained these grave injuries will need to receive special treatment to make a recovery and the rehabilitation may last a lifetime. We will use all the powers at our disposal to ensure that you are compensated fully for the injuries you have suffered and how these can affect your life for the foreseeable future.
Important Steps to Take After Being Involved in a Truck Crash
If you or someone you love has been involved in an accident with a large commercial vehicle in Melville, NY, there are some important things that you can do to protect your claim and improve your chances of obtaining the full compensation you deserve.
Contact 911
Regardless of whether you think your injuries are serious enough to call in the authorities, it is always a good idea to call in the law enforcement agency in charge. This will also help your case by having a police officer make a formal report on what happened. This document will play a key role in making the claim and establishing liability in the event. When you call 911 to state your emergency, the appropriate law enforcement agency will also be dispatched to your location.
Seek Medical Attention
The nature of truck accidents suggests there will always be some sort of injury after such an impact. Even if you feel fine and have no apparent injuries it will be important to have yourself examined by a medical professional. In addition to having yourself examined by a paramedic arriving on the scene, you will also want to have yourself checked up at the emergency room or your GP. Remember that there are a wide variety of injuries that you may not feel now but can have serious effects in the future.
Only a medical examination can provide you with a full readout of the injuries sustained in a truck accident.
Document the Scene of the Accident
If you feel it is safe to do so, you can also begin collecting all the information you can on the scene of the accident. Take several snapshots of the vehicles involved in the accident, the points of impact, and the damage to all vehicles as well as any debris or road markings that indicate what has happened. Take pictures of any physical injuries that were inflicted in the accident as well as all traffic signs in the area.
Exchange Contact Details
Ask the truck driver for their name and insurance policy number. You will also need the name and contact information for their employer. You will also want to supply them with your information.
Collect Witness Information
If there are any witnesses in the area, get their names and information as well. Their testimony will be important in unraveling the events that led up to the accident.
Inform the Insurance Company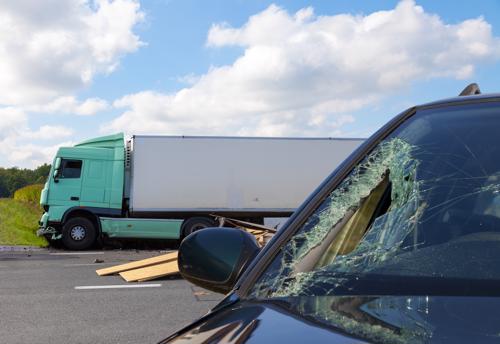 You will need to notify your insurance agency immediately that you were involved in an accident. Make sure you specify that your accident involved a truck.
Contact a Truck Accident Attorney
If you were involved in a truck accident occurring in the state of New York, the next important step will be to contact a reliable truck accident attorney. The advice and direction they provide can prove essential to getting support along the rough road ahead.
How Can a Lawyer Help My Truck Accident Claim?
According to the figures held by the DMV, more than 5,000 people are killed in accidents with large trucks and commercial vehicles. It is the sheer size and weight of these vehicles that can cause such devastating effects on smaller motor vehicles.
In case you were injured in an accident with a truck or a large commercial vehicle, your experienced lawyer will help you calculate the damages you suffered and the compensation you are due. Here are some of the damages you can expect from a truck accident case:
Costs of Medical Treatments, Medications, and Surgeries, including the past, present, and those that will be needed in the future.
Rehabilitation and physical therapy costs
Property damage and/or loss
Pain and suffering
Loss of income and earning capacity
Vehicle and home modification costs
Permanent disability
Should I Speak With A Truck Company's Insurance Provider After An Accident?
The only time you would ever need to speak with the insurance company of the other party will be when you are informing them that you already have representation. If the insurance company has attempted to contact you directly, talk to your car accident lawyer in Melville immediately. Never give any information or agree to sign anything if you have not first received the all-clear from your legal representation. All the negotiations and communications between you and the insurance company that will provide your compensation should be done through the truck accident lawyer you have retained for your case.
What Can Cellino Laws Melville Truck Accident Lawyers Do For You?
At Cellino Law Firm we have an experienced team of lawyers with the skills and insights to bring a positive outcome from all truck accident cases. Our top-notch team of personal injury lawyers will know exactly how to gather and apply the evidence and testimony needed to reconstruct the accident and calculate the full measure of how the accident has impacted your life.
The aftermath of a truck accident can have devastating aftershocks that disrupt lives and seriously affect the lives of the victims There is no reason that you should have to bear the burden of an accident that was the fault of another. Contact Cellino Law Firm and get the help of a professional truck accident lawyer. Call our Melville injury firm at (800) 555-5555 to arrange a free consultation today!
Tim Cellino handled my case beautifully. He is very knowledgeable and patient with all my questions. He kept in touch with me through out my ordeal. Tim also got a settlement for more than I expected. I highly recommend Tim Cellino!

Jayne

Thank you for your help in settling the case of my father's accident. I could always count on you to answer my questions honestly and in terms I could understand. If all lawyers at Cellino Law are like you, I understand why they are an A-1 law firm.

Bedner

I am so grateful for your expertise, patience, and perseverance which resulted with such a successful settlement regarding my car accident. I also want to let you know how impressed I was with you and your firm and I won't hesitate to recommend you to anyone who needs assistance from an accident. I truly appreciated your care and professionalism. Thank you again for your kindness and support

Lisa

I just want to let you know that I did receive my settlement check. More importantly, I want to thank you again for all you did for both me and my family. I could not be more pleased with my experience at Cellino Law. From the moment I first spoke with you I felt comfortable - you took a sincere interest in my case, clearly explained the process and effected a quick settlement. From this day forward, when someone asks if I can recommend a good lawyer I will, without hesitation, say "Cellino Law". Thanks again.

Walter

My wife and I would like to take this opportunity to thank you for a fantastic job as our attorney. We could not have been more pleased with the work you and your team has done on this case. This past four years or so has been such a roller coaster for our family. We are very pleased and grateful with the result. We have made a good choice by choosing you. Thank you.

Dave

Choosing the right attorney to represent you after an accident can make all the difference. This is no cliche. I recently experienced these words to live by first hand. After a tractor trailer rear ended me at high speed in 2017 I retained Allan Silverstein to handle my case. I quickly realized that bringing a lawsuit rapidly snowballs into a mountain of details that can make or break your results. Documents, case histories, doctor visits, bills, and lots of phone calls all need to be accurately kept track of if a successful outcome it to be attained. To complicate matters I reside in New York and the incident took place in New Jersey. Luckily, Allan was licensed in multiple states. I was fortunate to find Allan to handle this matter from the New York area. Armed with an accurate account of the facts Allan went to work on the difficult job of negotiating with the defending insurance company as well as my no fault carrier in order to obtain the best possible outcome for my set of circumstances. In a lawsuit communication is key and and events can be of a timely nature. Allan never failed to return my calls - usually the same day! He fought skillfully and respectfully to get me the best possible settlement. He is easy to deal with and a likeable down to earth guy. He always listened with compassion and respect to my issues. He guided me with objective understanding as well as a realistic analysis of the merits of my case. When we finally settled Allan got me a fair agreement beyond my expectations and negotiated with my doctors to make sure all my bills were paid. It was a great experience having Allan represent me. Quality work in any aspect of life is hard to find. Quality is what I got with Allan Silverstein. I highly recommend him if you find yourself in need of a personal injury attorney.

Theodore