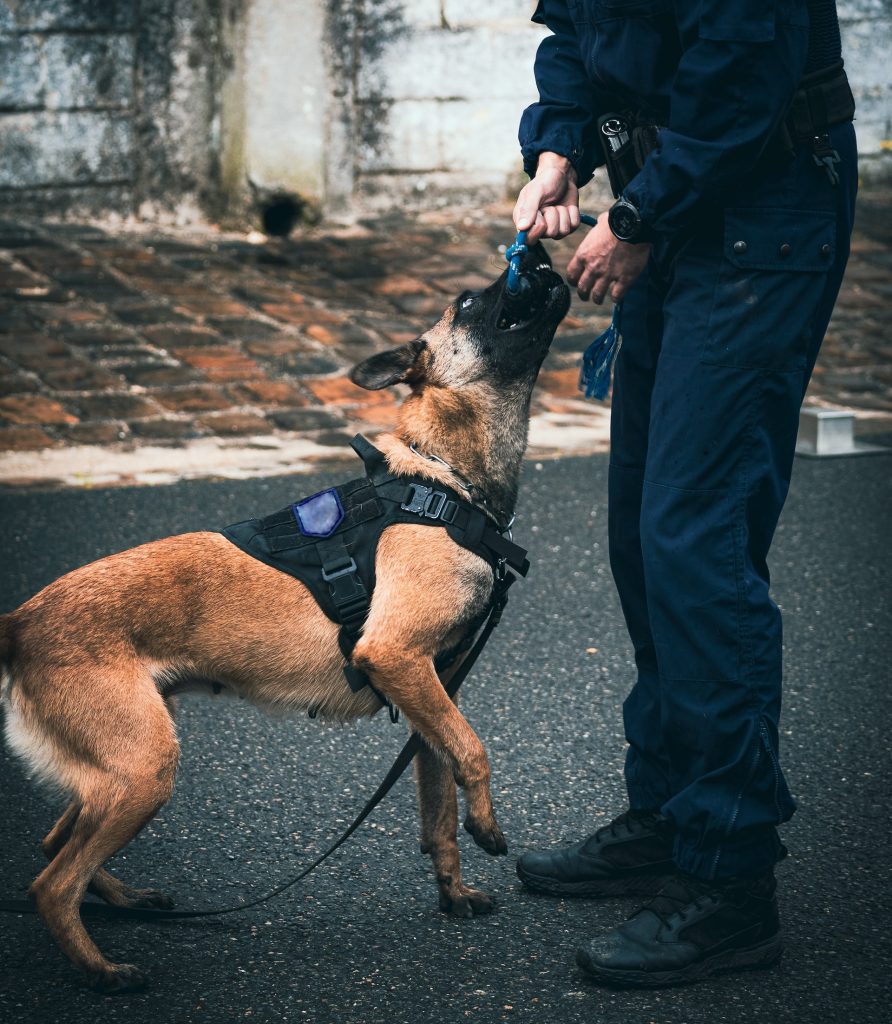 Police dogs undergo extensive training to ensure they follow commands unwaveringly. However, sometimes innocent bystanders may suffer the consequences of a rogue dog, or an officer may exert excessive force using a K9. When this happens, the victims often have the right to file a civil claim against the party responsible for the encounter, and a Manhattan police dog attack lawyer can help them hold the at-fault party liable and seek fast and fair compensation for the resulting damages.
What Does a Manhattan Police Dog Attack Lawyer Do?
The process for seeking compensation for a police dog attack differs from a standard dog attack claim. When you hire an experienced attorney to represent you, they relieve the burden of building a case while you focus on recovering from your injuries. As the plaintiff, you are responsible for proving the defendant is responsible for the accident and your injuries. Your attorney will investigate the accident to look for evidence of excessive force or negligence, likely to show that the officer in charge of the dog is at fault.
Your attorney will also represent you in all conversations with the insurance company, protecting you from potential bad faith tactics the adjustor may employ to avoid paying your claim. A critical element of a dog attack attorney's job is to identify all available recoverable damages to ensure you receive a fair settlement to accommodate your losses.
Finally, having an attorney means you have a professional guiding you through the legal process. They are a source of compassionate understanding while fighting to protect your rights. Most provide their services at no upfront cost, only receiving payment when they secure an award or settlement for you.
What Types of Injuries Can a Police Dog Attack Cause?
One of the first questions your Manhattan police dog attack lawyer will ask is what type of injuries you sustained in the attack. Most police dogs are German Shepherds, which are larger, more powerful dogs that can exact severe injuries when engaged. Victims often require sutures and even surgery after an attack. Consider some examples of injuries a police dog could inflict:
Deep lacerations and puncture wounds
Muscle tearing and damage
Crushed and broken bones
Internal injuries from punctures or blunt force drama
Dog's mouths are also full of bacteria that can cause serious infections around wound areas that can spread quickly. Victims can suffer severe complications in the aftermath of the attack, and more vulnerable people, such as older adults, are more susceptible to severe injuries and even death.
When Is the Use of a Police Dog Considered Excessive Force?
Despite the availability of less dangerous measures, police will sometimes unleash their dogs to catch suspects. However, the law classifies these trained animals as weapons that law enforcement should handle with great duty of care. Using them unnecessarily constitutes excessive force.
The law defines excessive force in New York as using more violence or force than necessary to manage an incident sufficiently. Officers are only allowed to resort to more violent means of control when their lives or the lives of others are in danger. Therefore, they have a responsibility to hold handle their dogs with care.
Factors the Court Will Use To Determine Excessive Force
When presenting an argument that the police used excessive force, the court will consider several factors before deciding whether they did. Some questions that may come up include:
Was the victim a bystander or a suspect? When the injured party is a bystander, the use of a police dog is more likely a presentation of excessive force.
If the victim was a suspect, what type of crime did the police suspect them of committing? Using a K9 for minor offenses like traffic violations would likely constitute excessive force.
How long did the attack last? Did the officer allow the dog to bite the victim repeatedly?
How extensive were the victim's injuries? If the attack resulted in life-threatening injuries, the court may consider it excessive force.
Did the officer suspect the victim had a weapon or was a danger to their lives? If the officers had reason to suspect the victim was dangerous and armed, that might justify using force.
Police also should not allow their dogs to continue an attack after the suspect surrenders. For example, if the police issued a warning and you stopped and lay on the ground, they should pull the dog off of you immediately. Once the court deems the use of force excessive, you can likely seek compensation for the damages you incurred from the incident with the help of a Manhattan police dog attack lawyer.
What Damages Can You Recover From a Police Dog Attack Case?
The law refers to your physical, emotional and financial losses sustained due to a personal injury as damages. Every case is different, and more severe attacks resulting in serious injuries may have significantly more recoverable damages. However, some common examples of economic and non-economic damages from a police dog attack include:
The cost of medical care. You can request compensation for emergency medical services, hospital stays, doctor visits, physical and occupational therapies, medications, necessary medical devices and any ongoing treatments required to treat your injuries.
The value of lost wages and future earnings. You could claim current and future lost wages and the loss of earning capacity if you sustained injuries that rendered you temporarily or permanently disabled.
Pain and suffering. The court recognizes the mental anguish and emotional distress a dog attack can cause and allows you to assign a monetary value to those losses and seek compensation.
In rare cases, you may receive an award of punitive damages. The law reserves this payment for cases where the defendant's actions were particularly egregious. Punitive damages do not compensate for an economic or non-economic loss. Instead, the court orders payment to punish the defendant.
When a Police Dog Attack Results in Wrongful Death
If the dog attack results in the victim's wrongful death, a personal representative of the deceased or their surviving spouse, child or parent can file a claim seeking damages. These losses may include funeral and burial expenses and the value of the deceased's financial contributions to the household, including lost income, job opportunities, inheritance and benefits. Again, the family can recover compensation for their emotional distress, including loss of consortium or companionship and the loss of love, society, nurturing and guidance their loved one provided.
If the victim underwent medical care before their passing, those expenses are also recoverable through a wrongful death claim. The court cannot make whole what the victim and their family lost, but it can hold the at-fault party financially accountable.
When Do You Need To Contact a Manhattan Police Dog Attack Lawyer?
Did you recently suffer an injury or lose a loved one in a police dog attack? If the answer is yes, you may be able to recover compensation for your losses based on the details of the incident. At Cellino Law, we represent personal injury victims to ensure they have the financial means to recover from severe injuries caused by another party's negligence. Do not hesitate to access the legal assistance you need to right the wrong done to you. Contact Cellino Law online or at (800) 555-5555 to schedule your free case evaluation and speak with an experienced Manhattan police dog attack lawyer today.
I just want to let you know that I did receive my settlement check. More importantly, I want to thank you again for all you did for both me and my family. I could not be more pleased with my experience at Cellino Law. From the moment I first spoke with you I felt comfortable - you took a sincere interest in my case, clearly explained the process and effected a quick settlement. From this day forward, when someone asks if I can recommend a good lawyer I will, without hesitation, say "Cellino Law". Thanks again.

Walter

I am writing this letter to say how much I appreciate your services pertaining to my case. Your injury attorney took a hands-on approach and left me fully informed at all times as to where my case was going as well as how much ground we had to cover; leaving the final decisions in my hands but making sure that I knew all of the risks involved in the choices. I have dealt with a few law firms in my life on various different cases and this is the first time that I never had to call and/or track down my lawyer… because of this, I have and will continue to recommend Cellino Law to my friends and associates.

Denise

Thank you for your help in settling the case of my father's accident. I could always count on you to answer my questions honestly and in terms I could understand. If all lawyers at Cellino Law are like you, I understand why they are an A-1 law firm.

Bedner

Joe and I just wanted to send you this note thanking you for the professional way you handled our lawsuit. Your kindness was extremely appreciated in a very difficult time. When we found out the people that caused the accident had no insurance, we thought our chances of receiving any settlement was nonexistent. Once we met with you and released you were able to help us our minds were put at ease. Your aggressive manner of handling the case exceeded our expectations. Please feel free to use us as a reference. Thank you so much and best wishes,

Danielle and Joe

We'd like to thank you for all the assistance and time you spent on our case. Your professionalism and honesty will always be appreciated. The staff was always courteous and we were always impressed with your accountability. Your passion and dedication will never be forgotten, nor will you.

Sarah

I am so grateful for your expertise, patience, and perseverance which resulted with such a successful settlement regarding my car accident. I also want to let you know how impressed I was with you and your firm and I won't hesitate to recommend you to anyone who needs assistance from an accident. I truly appreciated your care and professionalism. Thank you again for your kindness and support

Lisa